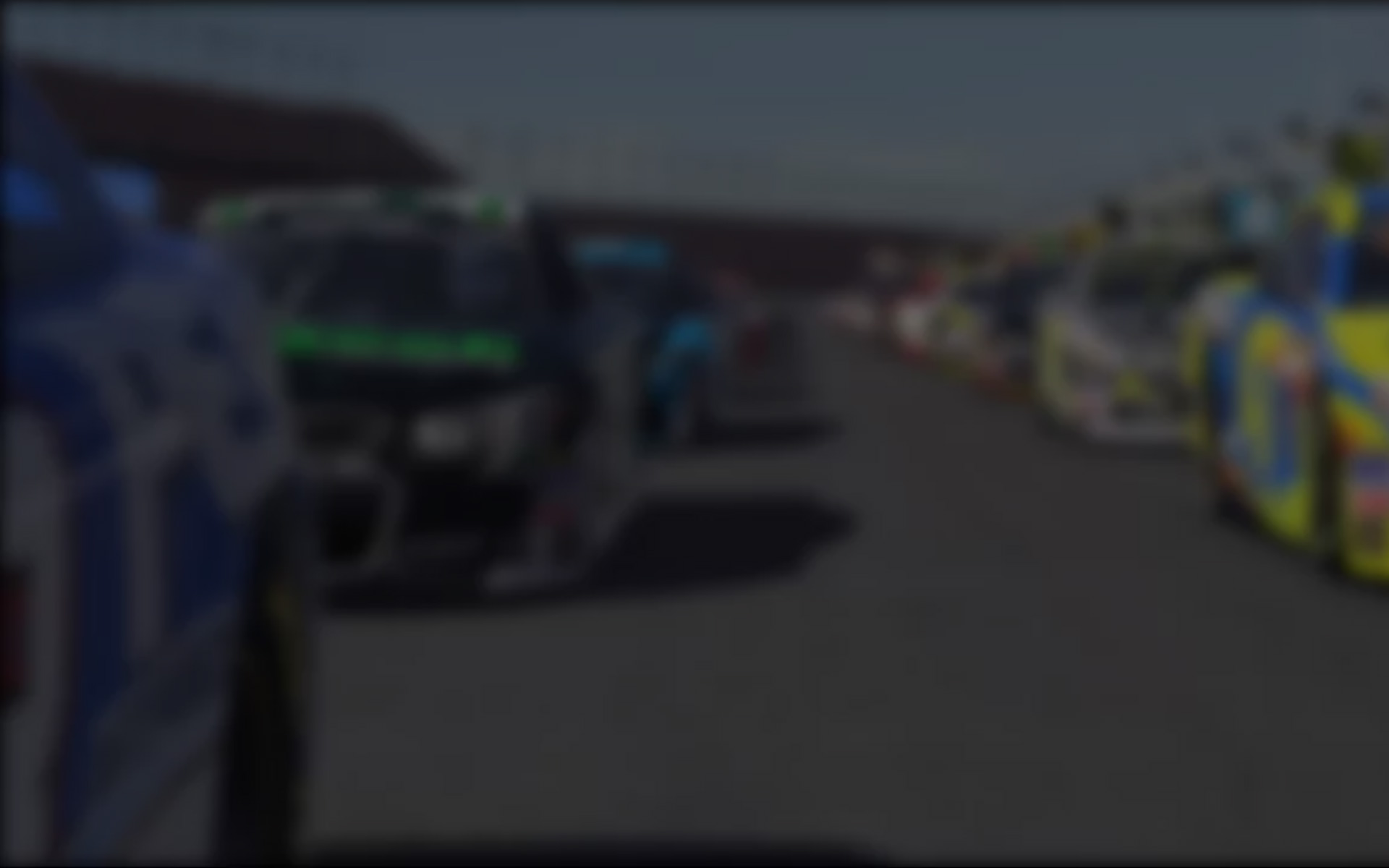 May 11th, 2016 by Jason Lofing (French translation by Anthony Drevet follows)
Corey Vincent (Overclock Motorsports) broke through for his first victory of the 2016 NASCAR PEAK Antifreeze Series season at Las Vegas Motor Speedway, narrowly holding-off Slip Angle Motorsports' Ray Alfalla and Tyler Hudson (One Up Motorsports) on a 33 lap run to the checkered flag. Alfalla started on the pole and ran up front throughout the race but did not have the long-run speed to get the best of Vincent while Hudson took the lead late but could not hold on over the long run to the finish.
Tyler Hudson finished third after leading inside of ten laps to go, earning his first top five finish of the season. The TEAM's Kenny Humpe followed his win at Richmond with a strong fourth place result after starting forty-first and Cody Byus rounded out the top five.
Alfalla led early from the pole but lost the top spot when Vincent pitted a lap earlier for tires. The two were content to run nose-to-tail during the second tire run as they pulled away from the field. During the next round of stops, Alfalla pitted first and his extra lap on fresher tires propelled him back to the front by nearly two seconds.
However, Vincent was unfazed by the deficit and slowly began chipping into Alfalla's lead. It took nearly 20 laps but Vincent finally wrested the top spot from Alfalla and began to pull away once again, but another pit stop was looming.
Further back, Mitchell Hunt (High Performance Motorsports) was holding third but had dropped more than a full straightaway behind Vincent and Alfalla, making it a two-car race for the win barring a yellow. The caution held off for a third round of green flag stops and once again, it was Alfalla who hit pit road first; but this time his one lap advantage on tires did not gain him the lead.
Vincent took complete command of the race after the third stop, gapping Alfalla by 2.5 seconds. Unfortunately, that lead would evaporate when the yellow flew for the first and only time of the race on Lap 131.
The caution drew the leaders to pit road for their last set of fresh tires and adjustments with Vincent winning the race off pit road followed by Alfalla and Hudson. With 33 laps to go, the field went green and the three quickly jumped out ahead of the field. Hudson used the inside to his advantage and moved ahead of Alfalla, then set his sights on Vincent for the lead.
Two laps after the restart Hudson made his move, drawing alongside Vincent after getting a great run off Turn Four. Hudson cleared Vincent in Turn One but Vincent attempted a crossover move off Turn Two, pulling back alongside Hudson down the backstretch. The two raced side-by-side through Turns Three and Four with Hudson getting the best of it to take the lead with 30 laps to go.
For the next 20 laps Vincent hounded Hudson but could not find a way around until Hudson got tight off Turn Two with just nine laps remaining. Vincent capitalized on the mistake, surging to the race lead and bringing Alfalla to second while Hudson fell to third. The three simracers would ride in their respective positions to the finish with old tires making passing all but impossible barring a mistake.
Alfalla's runner-up finish helped grow his series points lead, which now sits at 14 markers over seventh place finisher PJ Stergios (ineX Racing). Allen Boes (Deadzone) lost ground after dropping out of the race and now finds himself 60 points back of the lead in third, tied with Jake Stergios. Humpe bookends the top five, a remarkable rebound considering the poor start to the season he endured.
With Vegas in the history books the NASCAR PEAK Antifreeze Series moves to another 1.5-mile track – Charlotte Motor Speedway – for the longest race of the season. Charlotte may be the same size as Vegas, but the tracks could not be more difference surface-wise.  Smooth and very fast, CMS requires a much different setup than the rough corners at LVMS. In addition, the high corner speeds at Charlotte tend to make passing difficult, making a good qualifying effort all the more important. Who is up to the challenge of 300 miles? Find out in two weeks by catching all the simracing action on iRacing Live!

Corey Vincent s'impose en patron à Vegas !
Corey Vincent (Overclock Motorsports) a remporté sa première victoire de la saison 2016 de NASCAR PEAK Antifreeze Series sur le Las Vegas Motor Speedway, devançant d'un rien Ray Alfalla (Slip Angle Motorsports) et Tyler Hudson (One Up Motorsports) à l'issue d'un sprint final de 33 tours mené tambour battant.
Si Alfalla s'élançait de la pole position et restait dans les positions de tête tout au long de la course, il n'était pas en mesure de prendre le meilleur sur Vincent sur les longs relais au contraire d'Hudson qui s'emparait des commandes de la course à quelques encablures de l'arrivée. Ce dernier n'était toutefois pas en mesure de rivaliser avec son adversaire dans les dix derniers tours de cette épreuve.
Finalement troisième sur la ligne derrière Vincent et Alfalla, Tyler Hudson décrochait son premier top-5 de l'année. Kenny Humpe (The TEAM), dernier vainqueur en date à Richmond, terminait à une solide quatrième position après s'être élancé de la quarante-et-unième place et devançait Cody Byus, cinquième.
Parti de la pole, Alfalla menait en début de course mais perdait sa position de leader lors des arrêts aux stands. Vincent s'arrêtait un tour plus tôt que son adversaire pour changer de pneus et ressortait juste devant le pilote Slip Angle Motorsports. Le duo se livrait alors une bataille portières contre portières jusqu'à la salve de ravitaillement suivante. Cette fois-ci, Alfalla s'arrêtait un tour avant Vincent ce qui lui permettait de bénéficier d'une boucle complète en pneus neufs et de reprendre la tête de course avec une avance de près de deux secondes.
Peu impressionné par ce choix stratégique, Corey Vincent débutait progressivement sa remontée sur Alfalla. Vingt tours plus tard, Vincent dépassait Alfalla pour s'emparer des commandes de la course et commençait à creuser un petit écart avant son arrêt aux stands.
Derrière les deux hommes de tête, Mitchell Hunt (High Performance Motorsports) était bien installé en troisième position mais avec une ligne droite quasi-complète de retard sur Vincent and Alfalla. Sans drapeau jaune, la course se résumait ainsi à un duel pour la victoire. A défaut d'interruption, ce sont les arrêts aux stands qui allaient une fois encore s'avérer cruciaux. Alfalla s'engouffrait dans la voie des stands en premier mais ne tirait cette fois pas profit de son tour supplémentaire avec des gommes fraîches pour prendre la tête. Pire, il se retrouvait à 2,5 secondes du leader Vincent ! Malheureusement pour le pilote Overclock Motorsports, cette avance s'évaporait lorsque le premier et seul drapeau jaune de la course était agité au tour 131.
Cette interruption entraînait l'ultime salve de ravitaillements, une phase de course remportée par Vincent devant Alfalla et Hudson. A trente-trois tours de l'arrivée, le restart était donné et le trio de tête s'échappait rapidement du reste de la meute. Hudson choisissait alors la ligne intérieure pour se défaire de Ray Alfalla et avait déjà Vincent en ligne de mire.
Deux tours après la relance, Hudson portait son attaque sur le leader après être ressorti impeccablement du virage 4. Le pilote One Up Motorsports effaçait Vincent dans le virage 1 mais ce dernier prenait à son tour la ligne intérieure au virage 2 et se retrouvait côte-à-côte avec Hudson dans la ligne droite arrière. Les deux hommes effectuaient les virages 3 et 4 ainsi, avant que Tyler Hudson ne prenne finalement l'avantage à trente tours de l'arrivée.
Lors des vingt boucles suivantes, Vincent se montrait dans les rétroviseurs d'Hudson mais n'était pas en mesure de le déborder jusqu'à ce que le leader ne commette une légère erreur de trajectoire dans le virage 2, à neuf tours du but. Corey Vincent n'en demandait pas tant et profitait de cette erreur pour s'emparer de la première position, emmenant dans son sillage Alfalla, alors qu'Hudson retombait en troisième place. Les trois hommes restaient dans cet ordre jusqu'à leur passage sur la ligne, leurs pneumatiques usagés les empêchant de tenter une manœuvre franche sur leurs adversaires.
Grâce à sa deuxième position, Alfalla augmente son avance au classement général sur PJ Stergios. Septième de cette course, le pilote ineX Racing est désormais à 14 unités d'Alfalla. Allen Boes (Deadzone) perd gros après son abandon à Vegas et se retrouve troisième à égalité avec Jake Stergios, à 60 points du leader. Humpe revient dans le top-5 après avoir connu un début de saison très difficile.
Après Las Vegas, la NASCAR PEAK Antifreeze Series se dirige désormais vers un autre ovale d'un mile et demi – le Charlotte Motor Speedway – pour y disputer la plus longue course de la saison. Si elle est identique à Vegas en terme de longueur, la piste de Charlotte ne peut être plus différente en terme de surface. Très lisse et favorisant les vitesses de pointe élevées, les pilotes devront donc adopter des réglages totalement nouveaux. Sur un ovale où les dépassements sont difficiles, l'exercice de la qualification va revêtir une importance cruciale. Qui sortira donc vainqueur de cette épreuve de 300 miles ? Découvrez le d'ici deux semaines en regardant les simracers à l'œuvre sur iRacing Live!
---
You may also like...
---