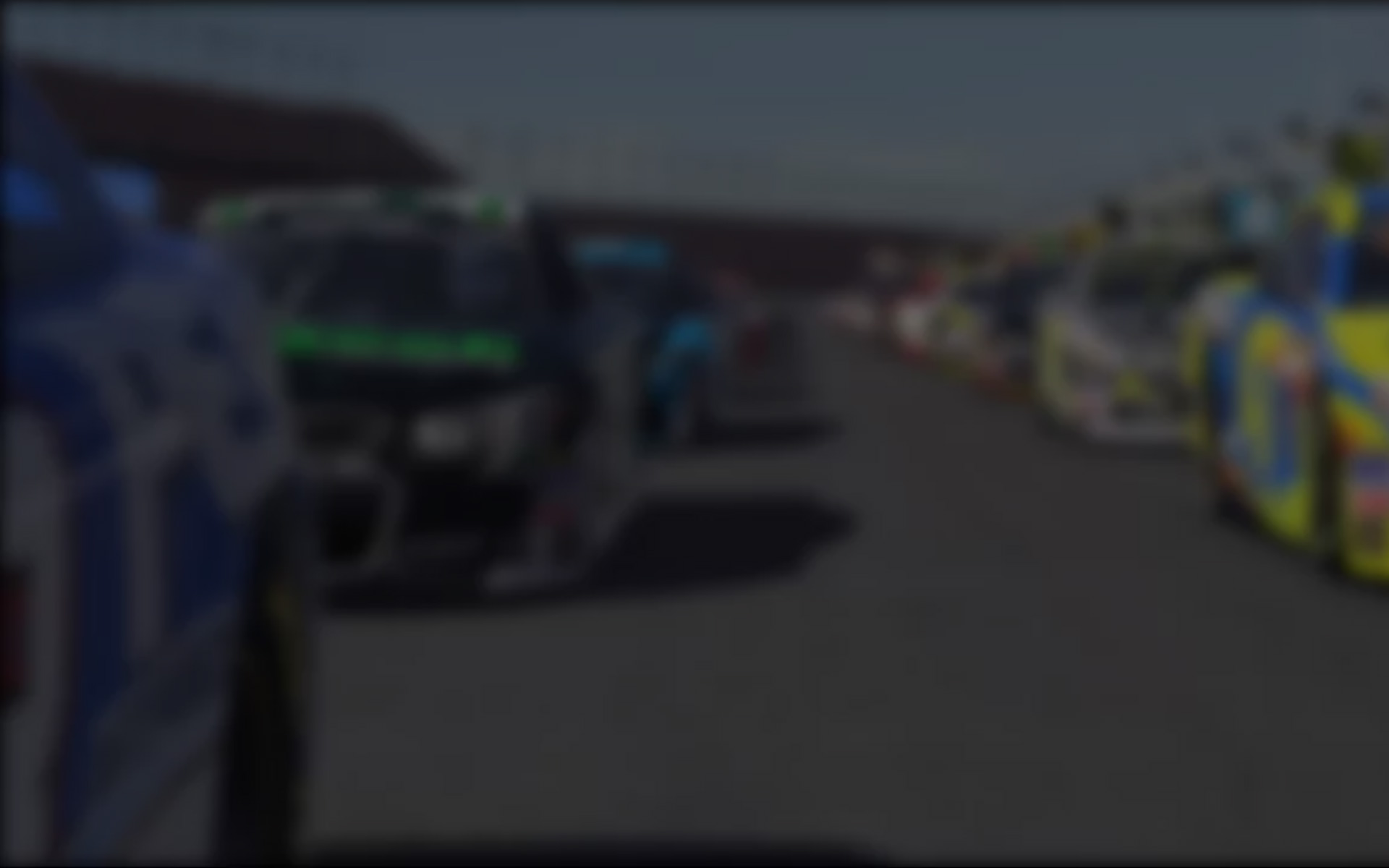 Week 16 of the NASCAR iRacing Class B Open Series took to the 1.5-mile Kentucky Speedway, and on Tuesday evening the top split was broadcast on iRacingLive and FANSCHOICE.tv for some live neck-and-neck sim-racing action!
Despite the first half of the race looking like it would be a two-horse battle between Logan Clampitt and Ryan Lowe, it was Deadzone Racing's, Allen Boes, keeping his nose clean through seven caution flags to lead a race high 44 laps, en route to his fifth victory in the series this year.
The race started a bit clumsily with four yellow flags in the first 25 laps of competition.  Point standings leader Trent Ringler did not have luck on his side.  He got loose exiting Turn One, resulting in contact with Joshua Filyaw . . . and it was on from there.  Ringler ricocheted off of other cars like a pinball, finally coming to a halt at the end of the backstretch as the second caution flag of the night was displayed.  After many attempts by Ringler's virtual crew to mend his battered Axalta Chevy, he struggled to maintain minimum speed, resulting in a lowly 28th place finish, 57 laps off the pace.
By the halfway point the field was strung-out across the entire race track.  Lowe's Camaro was setting the pace, followed in hot pursuit by the similar car of Clampitt.  The two sim racers combined to lead 53 of the races' first 56 laps and they looked to be the class of the field while also being fairly evenly matched.
However, with the fifth yellow of the race waiving on Lap 55 for contact between Jay Beasley and Shane Williamson, the tides began to change.  A lap later and all the leaders hit pit-road for fresh Goodyear Eagles and adjustments to battle – what many were complaining of – loose conditions.  The shift in momentum was in full affect at this point.  Boes' #7 drakontech.com Chevrolet Camaro was running P4 as the field slowly rolled towards their pit boxes, and then, with a blisteringly fast pit stop, Boes rolled off pit road first.
The ensuing restart saw Lowe get loose off of Turn One, losing ground to Boes and second place runner, Clampitt.  This green flag run would be short lived, and on Lap 66 the yellow hankie was displayed for the sixth time as a gaggle of cars attempted to run four-wide into Turn One with only a few making it out on the other side.
Another restart; and this time Lowe aggressively pushed his way into third place, inches off of Clampitt's bumper, as both shadowed Boes' lead line.  Unfortunately for Lowe, he once again began losing ground to the leaders and fell back to the fourth position behind Victor Bartlett.  Lap 73 saw Lowe push his virtual machine to the limit as he tried a slide-job on Bartlett's NAPA Auto Parts Chevrolet in an effort to regain third place.  Instead, Lowe looped it into the outside retaining wall, ending his chances at victory and triggering the final caution of the race.
Another round of pit-stops and more quick work by Boes' crew, enabled him to remain on the point and, with ten-to-go, it was a three-horse race between, Boes, Clampitt, and Bartlett.  As the laps clicked off, Kentucky's lumps and bumps began taking their toll on Bartlett and Clampitt.  Suffering from a lack of rear grip, the two-some slowly lost touch with Boes and their chances at grabbing the win became nothing more than a distant mirage.  Doing his best Formula Drift impression, Boes punctuated his win by sliding sideways across the start/finish line after 100 laps of sim racing.
"The car was really good tonight," Boes said.  "I was actually surprised at how good it was.  Overall, a fantastic set on the long run that not many people could touch tonight."
"The car was really good . . . a fantastic set on the long run that not many people could touch tonight." – Allen Boes
"Boes, he made a certain change at the end, so I couldn't catch him," explained Clampitt, who brought his Goody's Chevrolet Camaro home runner-up.   "I was a lot looser than Boes, I could tell, but, I mean, second, hey, I'll take it.  It was an awesome race, it was really, really, really, fun."
And after a dominant display early on, Lowe rebounded from his difficulties to take a fifth place finish in his SPY Chevrolet.  After the race he still seemed to be in good spirits and said he was "on a mission" after his Lap 73 spin.  "I put two pieces of tape on for, like, right before I spun," he said.  "Apparently that makes the car just out-of-control loose."
Mark your calendars now!  July 21st will see the series do battle on the legendary Indianapolis Motor Speedway, and once again iRacingLive and FANSCHOICE.tv will handle live streaming of the race.  If that race has half the amount of action that we saw here tonight, it will be must see TV!
---
You may also like...
---