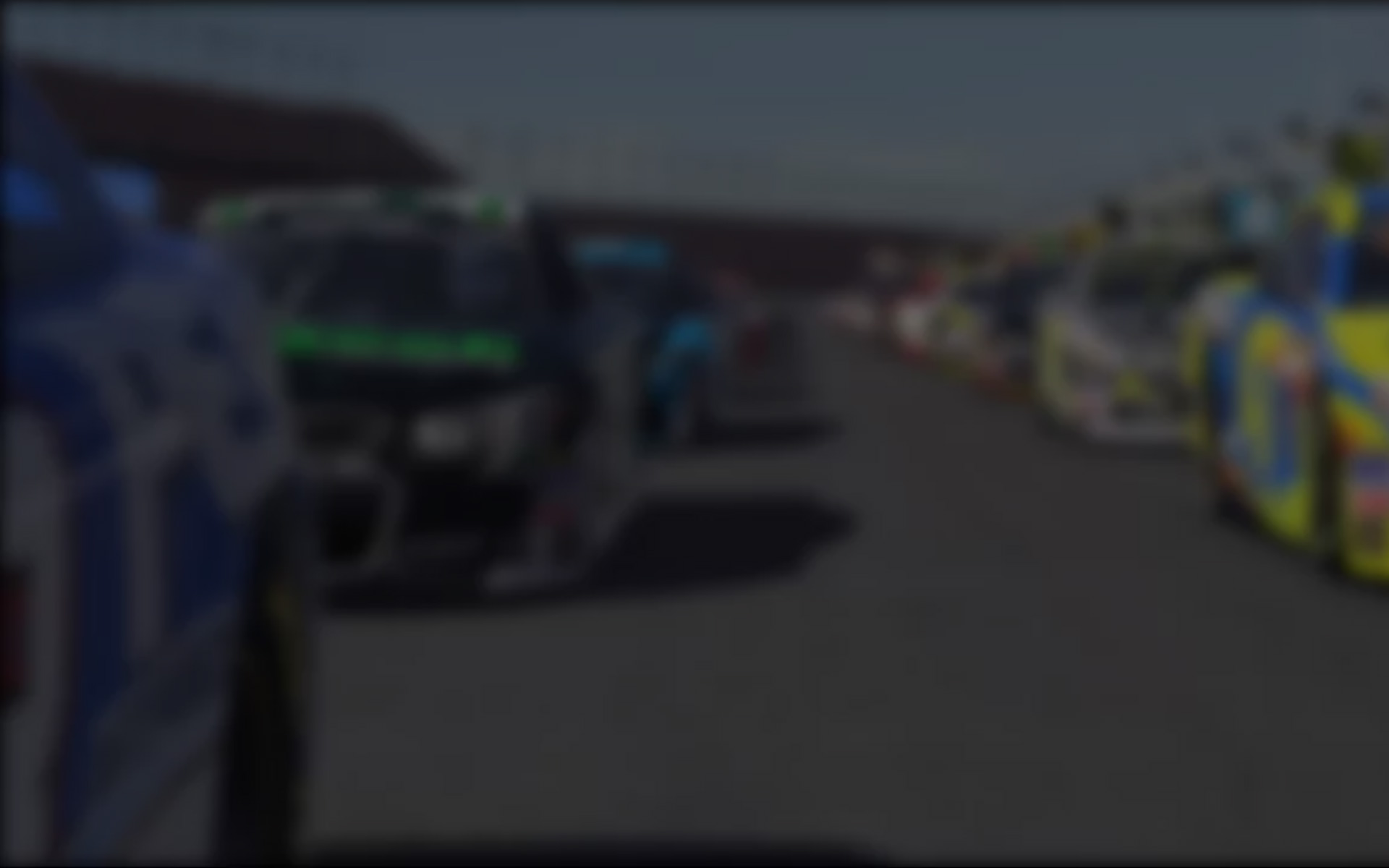 Week Eleven took the NASCAR iRacing.com Series World Championship (NiSWC) to New Hampshire Motor Speedway for some flat track online racing action. Fresh off wins at Pocono and Michigan, Steve Sheehan grabbed the pole at The Magic Mile but fell just short in his quest for three wins in a row as JR Motorsports teammate Derek Wood claimed a hotly-contested battle for the victory.
Qualifying saw Wood join Sheehan on the front row and, right from the drop of the green flag, the two teammates battled for the top spot.  Racing throughout the whole field was intense from the get-go as dirty air made it very difficult for anyone to make a pass even if they had the faster car. The first 46 laps went caution-free with Sheehan pacing the field and building a lead of nearly two seconds until he caught the slower traffic at back of the field.
When the yellow finally did fly the leaders all ducked to pit road for some much needed tires and fuel. On the restart, disaster struck as series point leader Thomas Hazard couldn't avoid Richard Towler and spun into the Turn Three wall, ending his chances of contending for the win and knocking him from the points lead. This opened the door for Ray Alfalla to seize the point lead if he could stay out of trouble as well . . . but it would not be easy.
After a quick cleanup for Hazard's incident, the field took the green once more only to be slowed by another wreck less than a lap later. Coming off of Turn Four, Thomas Lewandowski slipped up the track a bit and spun Jordan Erickson around, sparking a melee in the middle of the pack which ended a few drivers' nights.
On the ensuing restart, Wood made a bold move on the outside into Turn One and cleared Sheehan, only to be passed right back a few laps later. The race again settled into a green flag run with Sheehan opening up a gap on Wood and the rest of the field. Green flag pit stops started to take place around Lap 100 with both Sheehan and Wood hitting pit road together before another caution flew, trapping some drivers a lap down. As the field cycled around, Wood and Sheehan once again found themselves occupying the top spots.
Wood got past Sheehan once more on the Lap 114 restart and this time, there was no looking back. Despite a run-in with Josh Berry, Wood survived many late race restarts to hold off Sheehan and collect his first win of the 2011 season. Berry held on with a damaged car for third, Alfalla rallied for fourth, and Brian Schoenburg continued his strong runs of late with a solid fifth.
"Man, it feels really good to finally get a win after a rough first half of the season," said the victorious Wood.  "I had been pretty fast in practice this week, so I was very optimistic going into this race."
Sheehan was gracious in defeat, but was a bit miffed at a scoring glitch that lined him up incorrectly on a restart. "Anyway, didn't really have a shot at Derek after that and just tried to get a good finish and perhaps catch Derek sleeping on a restart," he said. "We had some fun crossing over and stuff but it's hard for me to not be bitter about the glitch deal. I'm happy for Derek though."
With another top five finish, Alfalla (391 points) exits The Magic Mile with a 19 point lead over Hazard. After coming home eighth at New Hampshire, Brad Wright is right behind Hazard in third with 364 points while Tyler Hudson and Schoenburg round-out the top five with seven races remaining.
Week Twelve sees the NASCAR iRacing.com Series World Championship make its annual stop at the storied Indianapolis Motor Speedway. The track is notoriously challenging for the big stock cars and track position will be of the utmost importance as there is only one groove, making for mostly single file racing.  The winner will be the one that qualifies well and makes the right calls in the pits and with the momentum both Wood and Sheehan will bring to the track, either one would be a good bet to roll into victory lane again. Check out the action in two weeks on iRacing.com!
---
You may also like...
---