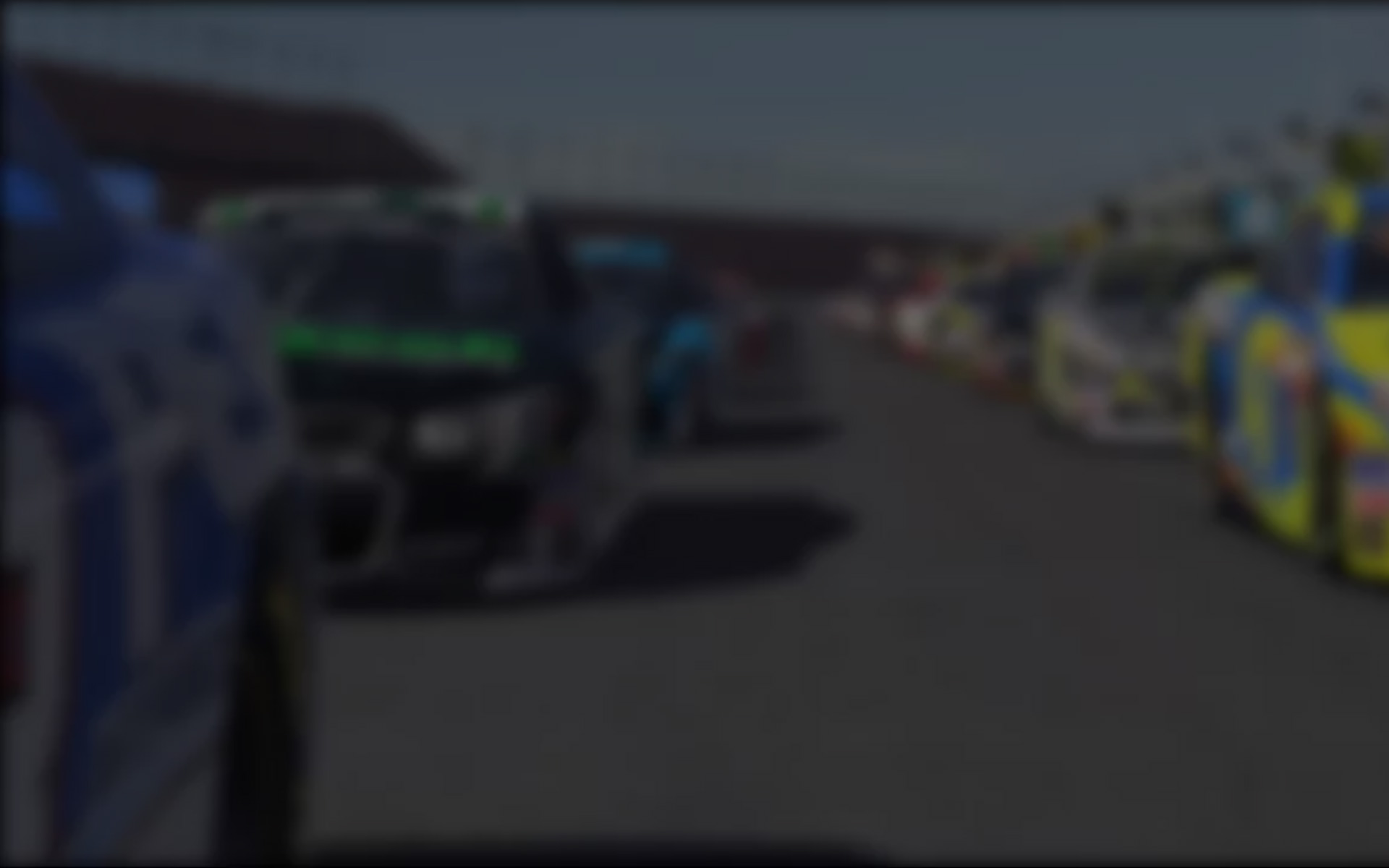 July 21st, 2017 by Wayne Strout

Round 6 of the 60+ Racing Adventures League for drivers age 60 and older ran Wednesday, 7/19 at Japan's Suzuka Grand Prix Circuit featuring the Pro Mazda. 26 sim racers participated in an event that lived-up to the league's name–an adventure! So much so, this report is in two parts – one for the Group 1 Race and another for the "second chance" Group 2 Race.
Part 1.
Portugal's Antonio Reis, aka "James Bond." won the first race in the 007 car. But unlike last week at Mazda Raceway Laguna Seca, he did not start from the from row or set the fastest lap time. Canada's Bill Lawrence seemed unbeatable as he was fastest in practice and earned the pole with a time of 1:56.676, a third of a second faster than the UK's Andrew Fidler. Lawrence would hold his lead for the first five laps. Lawrence pulls away thru the esses on the first lap below.
With the exception of contact between Reis and Steven Carkner entering the Hairpin on lap 1 (with Reis suffering wing damage), the first four laps was pretty much a Conga Line of Lawrence, Fidler, Carkner, Reis, Jos van de Ven, Donald Strout and John Unsbee.
On Lap 5, things started to heat up. First, The Netherlands' Jos van de Ven, nearly spins in T1, but recovers by taking a "country drive" way off track, remaining in control and losing only one spot as he is passed by Strout who gives chase to Reis. (Note that Reis's wing damage from the first lap contact with Carkner is miraculously "healed.")
As the Conga Line of six approaches the Casio Triangle after flying thru the 130R, Carkner (P3) boots Filder (P2) under braking sending Fidler through the corner so fast that he actually passes the lead car of Lawrence.  Momentarily.  An instant later, Lawrence "T bones" Fidler and is launched into the air.
Remarkably, Lawrence lands safely and retains the lead thru the corner. Reis assumes P2, and Carkner is able to hold off Strout, keeping P3. Reis is able to pass Lawrence for the lead before the start finish line and he would lead every lap thereafter.

Carkner, Strout and van de Ven also passed Lawrence who found himself now in P5. Donald Strout and Jos van de Ven would overtake Carkner and battle for P2. After passing Strout, van de Ven spun again in T1 on lap 9, this time going to the inside and again recovering to rejoin without damage, but loses two positions.
On lap 10, Carkner uses the draft to pass Strout for P2. Note, like Reis, Carkner's wing damage from contact with Fidler is now miraculously "healed"!
But, on lap 12, Carkner loses it exiting the Esses, just in front of Strout who is chasing him as they both turned in very fast 1:56.xx laps. Strout was able to avoid getting damage but did show a 4X contact. He would cruise five seconds behind Reis to finish 2nd.
Just behind, another "drama" was unfolding between five cars battling to reach the Podium. Bill Lawrence had clawed his way back to P3, with Canada's Bruce Poole close behind. Just behind them was Jos van de Ven, John Morgan, and Remigio di Pasqua.
Cool as a cucumber, with great resolve, Poole passed Lawrence on the last lap with an astonishingly difficult move around the outside thru T1/T2 corners.
The Podium: Antonio Reis P1, Donald Strout P2, and Bruce Poole P3. The first Group 1 Race this season where Team #1 did not have at least one team member on the Podium. And, the first Podium for Strout and Poole in a Group 1 Race this season. (Strout has won 3 Races-more than any other driver this season- but all have been in Group 2 "second chance" races.) Reis shown below.
Part 2–Group 2 "Second Chance" Race
The Podium from the Group 1 Race is ineligible for the "second chance" Group 2 Race, but it too proved to be VERY exciting. Again, Bill Lawrence proved to be the "class of the field" qualifying on the Pole, again, with another remarkable 1:56.6 second time. This time, his Team # 1 Teammate, Steven Carkner shared the front row.

Team #1 is known for their "team racing" strategy and tactics. Carkner slingshots past Lawrence approaching the Spoon on the first lap.
Clearly the Team #1 tactics are in place as UK's Andrew Fidler's inside pass attempt approaching First Turn on lap 9 is discouraged by Lawrence.
But, as everyone knows, Fidler races with a symbol of a Fox on his car for good reason. As Lawrence defends the inside line entering the Casio chicane, he is surprised by a masterful and clean "outside" pass executed by Fidler.
Now, Fidler applies pressure on the race leader Carkner by "lurking" in wait of a mistake. And, sure enough one lap later, Carkner goes wide exiting the Spoon, allowing Fidler to take over the lead.
But, as mentioned, Bill Lawrence knows how to go particularly fast at Suzuka, and this time, on the attack on lap 12, he outbrakes Fidler on the inside entering the same Casio chicane where Fidler had passed him on lap 9. Payback!
While Lawrence and Fidler battle for the lead, Carkner and Jos van de Ven are dueling for P3. On lap 14, van de Ven becomes a bit over exuberant and unintentionally violates Carkner's corner rights entering the Hairpin. As expected, they make contact. (The 60PLUS League has very strict rules defining "Corner Rights" as belonging to the car that is ahead at the "corner turn in" point.) Being the good sport he is, van de Ven allowed Carkner to retake his position ahead.
Fidler was able to retake the lead and hold off Lawrence as they both turned blindingly fast laps. Lawrence turned the fastest lap of the entire event on the last lap (15)—a 1:56.5 second lap–but still came up 0.126 seconds short as Fidler took the win.
As Carkner and van de Ven were battling, John Unsbee was able to catch up and overtake them both to finish P3.
A frustrating day for sure for Bill Lawrence. He sat on the Pole for both races. He was clearly the fastest car, setting an incredible 1:56.5 second lap. He was the clear leader in the first race until he suffered damage from an incident he did not cause. He missed wining the second race by just a few feet.
And, a sweet and sour day for Andrew Fidler, clearly in contention for the lead in the first race until he too suffered damage from an incident he did not cause. But, he did achieve victory and vindication at the end of the day.
Finally, a frustrating day for Steven Carkner, the winningest driver in the league. Starting P3 in the first race and P2 in the second race. Leading 9 laps of the second race. Just not "his day". It is part of what makes racing fascinating. Outcomes are always uncertain.
An incredibly competitive league!
After six events, the Team #1 of Carkner, Lawrence and Robertson still holds a substantial lead over the Team #6 of John Unsbee, Jim Oliver, Michael Key and P J Salley. Moving into third place in the Team Championship is the Team #7 of Bruce Poole, Joel Martin and Jay Freels . Team #3 of Jos van de Ven, Rolf Just, Mark Lison and Gerard Florissen falls back to fourth while Team #4 of Remigio di Pasqua, Campodonico and Reis remain in fifth place, only 29 points behind the second place Team #6.
The series maintains a Driver Championship and a Team Championship. Team assignments are determined by the League Organizer to team-up three or four drivers who, together, have a "fair" chance compared to other teams. In other words, less experienced or accomplished drivers are paired with the more experienced so each team is deemed to have a "fair" chance to win the Team Championship that pays $100 to the winning team, $50 to the Runner-Up Team and $25 to the third place team for the season. In an effort to insure this continued "fair" chance, three teams that have had members unable to participate/contribute will be combined for the second half of the 12 race season.
Despite not placing on the podium at Suzuka, Jos van de Ven remains in the top spot. Bill Lawrence jumped into second, with Steven Carkner falling to P3 as he failed to add any Driver Championship points in this event. John Morgan is in fourth just ahead of Andrew Fidler.
Winning drivers this Season:
Steven Carkner (2) Grp 1
Bill Lawrence (2) (1 in Grp 1, 1 in Grp 2)
Andrew Fidler (2) (1 in Grp 1, 1 in Grp 2)
Antonio Reis (2) (1 in Grp 1, 1 in Grp 2)
Donald Strout (3) (Grp 2)
Jos van de Ven (1) (Grp 1)
The next event for the 60+ guys is at Montreal, aka Circuit Gilles Villeneuve on July 26
---
You may also like...
---