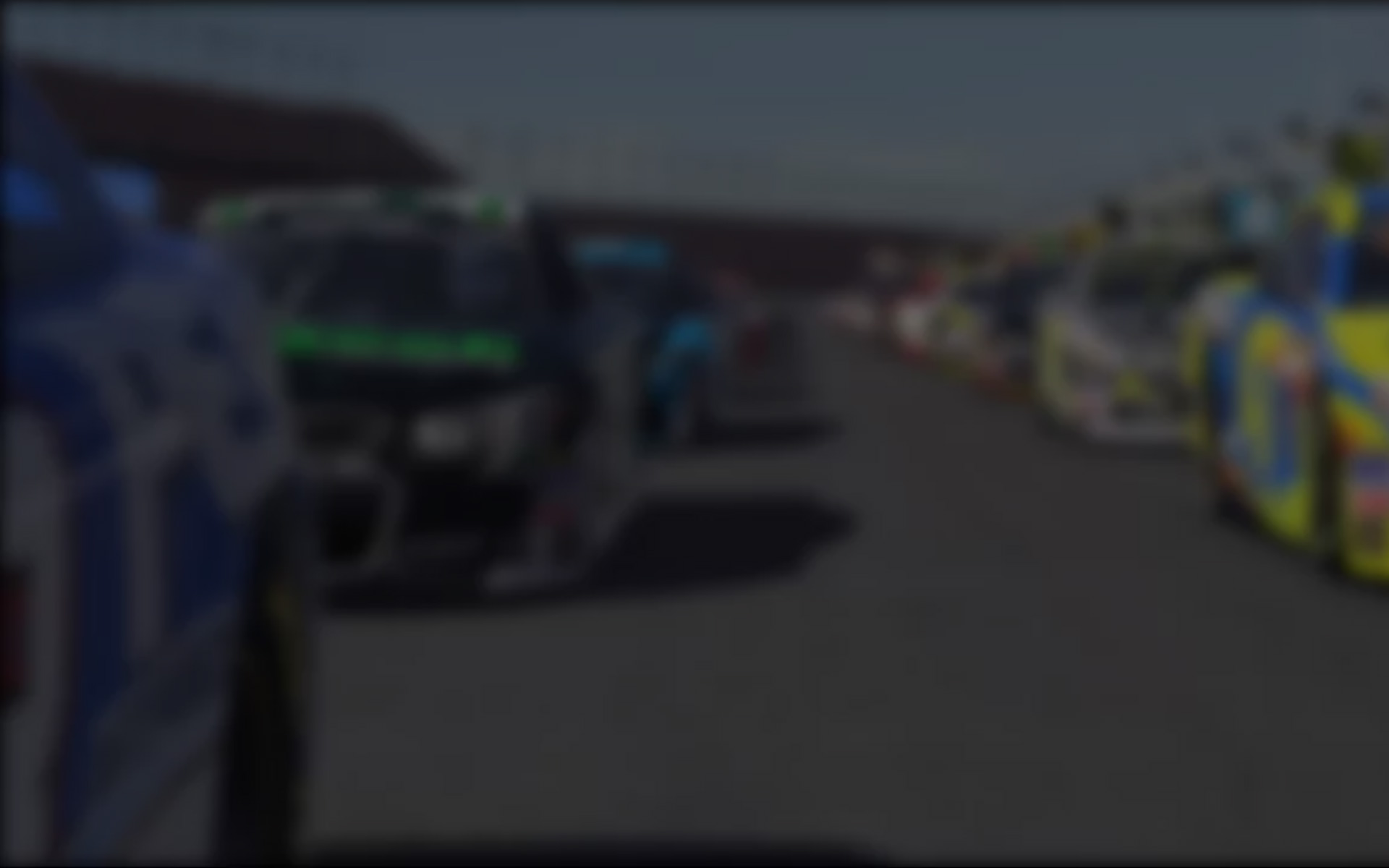 November 28th, 2017 by Bill Lawrence

One more week until Spa and the finale of season 4 in the 60Plus Racing Adventures league. Looking ahead to next week we anticipate an excellent finish which will be broadcast on RaceSpot TV. But that is next week, the story that unfolded before us is this week's penultimate race. We are at New Hampshire Motor Speedway, otherwise known as the "Magic Mile". Leading into this week's race only 12 points separate the top three positions for the Driver's Championship. Steve Carkner, last season's winner, sits on top once again just 6 points ahead of his teammate Mark Robertson. Mark hasn't any wins this season but has been remarkably consistent, his driving bringing home many top 5 finishes. Finishing well has placed him in contention for the Championship title this season. In third is league newcomer Donal Fitterer. Donal has also driven well over the course of the entire season. It is anyone's championship and this race will certainly set the stage for the finale coming next week. The Team Championship has effectively concluded this season with Team SBMA taking the season championship for the second time.
The weather could not have been better, and the track conditions were perfect for week 11 at the Magic Mile. Practice sessions the day before race day showed an extremely tight field. Consider these times with a 15-car field on the Tuesday before race day. Fastest lap was 26.9 while 15th position was 27.1 seconds. This is an amazingly close field and passing here is going to be very difficult. This seasons schedule placed our road course drivers onto an oval for this challenge. The challenge not only includes the oval track, but a pit stop is mandatory with limited fuel being loaded at the beginning the race.


Qualifying was intense with the pole going to Georgia's "Big" John Kelley. Championship contender Donal Fitterer sat in 2nd while another American driver, Kenneth Baldwin took 3rd. The U.S.A. is famous for fast oval racing and highly skilled oval drivers. It is no surprise therefore that the field showed North Americans holding the top 11 positions. The Canadian Steve Carkner, who is often a pole sitter, found himself 7th on the grid as the pace car exited to pit lane beginning a race that would have some interesting outcomes.


The race began with the field hoping to complete the 55 laps or make the 30-minute time limit for the event. Following are some highlights of this hard-fought battle. As stated in the introduction, the cars are all very competitive here and it was obvious from the beginning that racing would be close.
We often focus at the front of the field missing some very good driving at the back and middle of the pack. It is here where we often can witness someone patiently making their way through the field and gaining may positions. In today's race we witnessed just this thing with perhaps one of the biggest movers being Kenneth Dummer of the UK. We have mentioned how the North Americans excel at the ovals, well Ken, who started 14th in the pack, and later dropped as low as 17th ended up with a podium finish at 3rd. It is not only the driving that got him there but good strategy as well, taking the early pit stop on lap 6.


It was on lap 6 where we had the first caution of the race when two Turtle Team members came together. Mark Lison came out of turn 2 a little fast, drifting up to the wall. Bouncing off the wall his car dove to the inside where his teammate, Remigio Di Pasqua, was moving left hoping to avoid his fellow driver. Just prior to that happening, and before the yellow, it appears John G Hill took an evasive move to avoid a collision and went airborne landing on top of the wall in turn 2. When the yellow came out and the pits opened on lap 8, quite a few cars decided to make their first and perhaps only pit stop. This is where strategy can make or break a driver and team. All of Team SBMA came in and we were told post-race that this was a team strategy. This is also where Ken Dummer entered for his pit stop as well as the eventual 2nd place finisher Kenneth Baldwin. Another mover in this race was John Morgan who did not take the early pit stop and found himself moving from 18th to 11th during the first round of pit stops and thereafter eventually finished 4th. Strategy is important but for Team SBMA this pitting strategy did not pan out for Lawrence or Carkner, but it did for their other team member, Mark Robertson who went on to win the race. At this stop, Lawrence and Robertson only took fuel, they rejoined the field dropping to 12th and 13th and falling in right behind the non-pitting Morgan, while Carkner decided to take some new tires dropping him back to 18th.


Coming up to the green flag beginning Lap 10 it was not to remain green for long. Lawrence thought he had a gap between two of the Turtle teammates Gianni Raspaldo and Remigio and it did not prove wide enough when he came down to far bouncing off Gianni's tire and bringing out the second caution of the race. It was at his second caution where John Morgan decided to enter pit road while in 11th at his point. After fueling up and reentering the field he had only lost two positions putting him at 13th.
Back to full throttle beginning lap 17 we saw Kelley, Fitterer and Joel Martin in the top three leading off another green flag. Hardly a lap passed when Carkner and Jeff Kanter came together as Lawrence slowed to enter pit lane after receiving a penalty. This would be the end of the race for points leader Carkner and Lawrence would also hang it up in another lap due to black flags. A sad day for two of team SBMA members. Having a good plan and strategy sometimes does not work out and it was a very disappointing day for these two teammates.
Back to green flag racing on lap 23! It appeared to be shaping up for some disappointment for another team beside Team SBMA. For 2 laps after going green, Team Green's teammates Bruce Poole and Joel Martin came together near the end of the back straight. This brought out the next caution and it was time for Donal Fitter to take a pit stop at the end of lap 26. Race leader, John Kelley, had not yet pitted. We new from practice that these cars were getting about 25 laps to the 2-gallon tank as the fixed setup allowed but John had run through many yellows extending the pit window. With Donal pitting it allowed Mark Robinson, who now did not need to pit, to move into 2nd place. When the race went to green again on lap 29 Fitterer found himself in 12th with just over half the race behind him.


Now it seemed like the cautions were diminishing and this would not play well for race leader John Kelley. John had led all 35 laps of the race when approaching the front straight, his car started to sputter almost running out of fuel and forcing him to pit road. Rolling the dice and gambling to lead for many laps and with yellow flag to help him cost Kelley many positions and he finished the day, after a brilliant drive, back in 17th.
Mark Robertson inherited the spot given up by John and didn't look back driving a perfect line for the remaining laps. On lap 40 Bruce Poole and John Kelley came together exiting turn 2 causing heavy damage and bringing out another yellow.
The race ended on time rather than laps run with congratulations extended tothe podium finishers, Mark Robertson, Kenneth Baldwin and Kenneth Dummer.
This race has set up what appears to be a real challenge for the Drivers Championship to end Season 4 of 2017. Please join us next week at Spa for RaceSpot coverage of the 60Plus Racing Adventures finale!

---
You may also like...
---