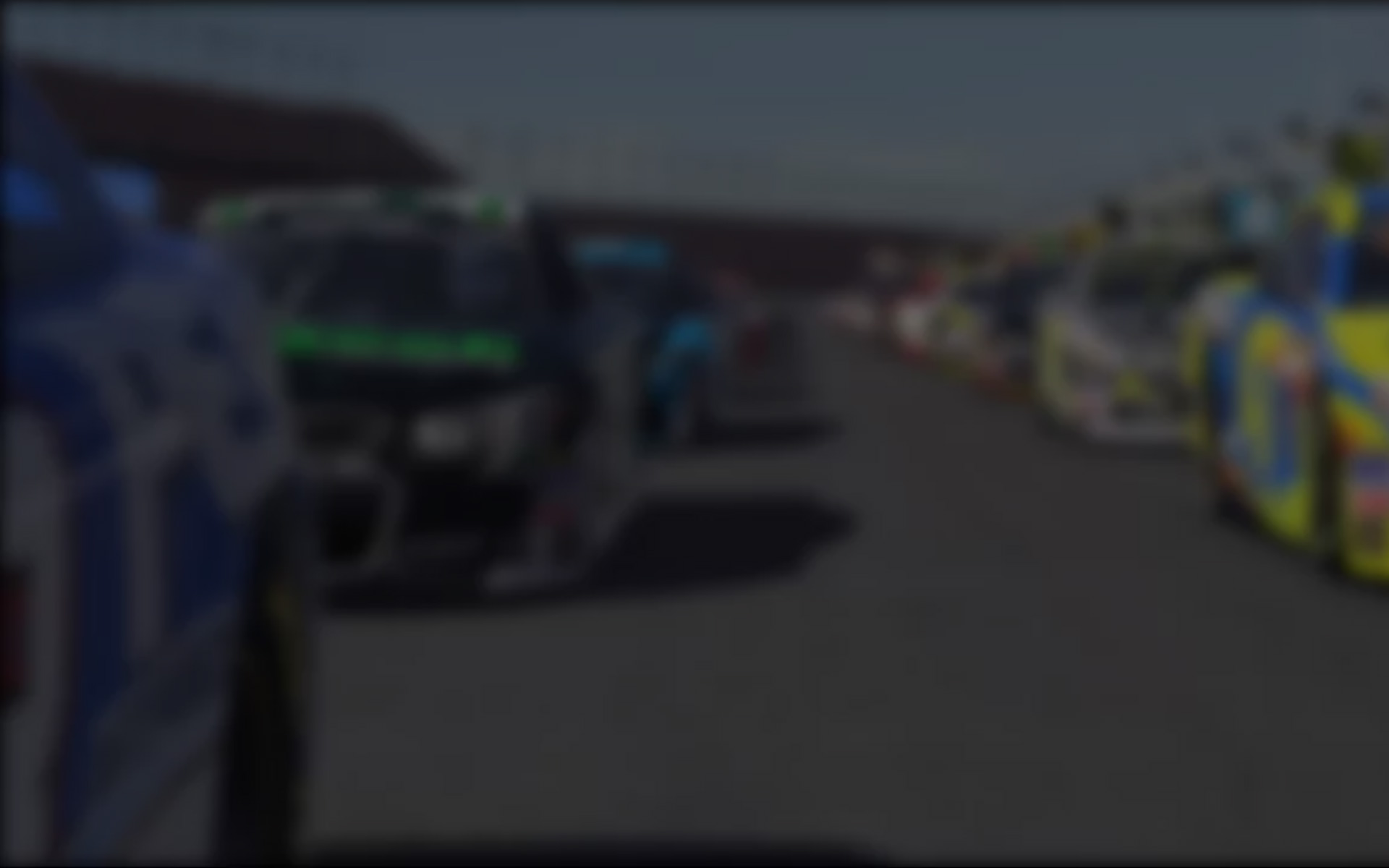 Dan Segolson from Stockholm, Sweden, has been into racing games since 2000.  He switched to serious sim-racing with a clear road focus in '07 in leagues at swedishsimracers.com where he is also one of the administrators.  Segolson works in user experience in the online gaming business and has written numerous papers on what drives a player.  He signed up at iRacing in the first wave in '08 and says he never looked back.

"I decided to write this after a lengthy discussion on the growth and the future of eSports where I felt that the model of sanctioned virtual racing has to 'get out there' to all those who nourish the dream of racing for real. Not just for us who are already there and active."

Although the opinions expressed are those of Dan Segolson and not necessarily of iRacing.com, he clearly has a passion for eSports – iRacing.com in particular.  We hope you enjoy it. – Ed
You are closing in on the last corner of the formation lap, your heart is pounding in your chest, your stomach tickles and your leg trembles as you try to keep an even speed as close as possible to the car in front.
There! The safety car turns into the pits and lets the field go! Your spotter yells GREEN GREEN GREEN in your earpiece. The engines are howling as 30 cars race down towards corner one.  You lift slightly and brake a bit earlier than normal trying desperately not to hit the cars around you. Your eyes are everywhere trying to look in all directions simultaneously. It's way too easy to hit someone in turn one and end your race before it really begins. You manage to get through the corner without damage, in the mirrors you see a dust cloud from a car that ended up in the sand trap, a deep breath, now the chase can begin for real…
Nope, this is not a game like Need For Speed, Dirt or similar. This is something completely different. Here you can forget about things like AI cars, autoshift, anti-lock brakes, driving lines and similar. If it's not in the original racecar, it's not here, period.
The game, or rather, the simulation, in question is iRacing.com, probably the most advanced racing simulation a mere mortal can lay his hands on without diving head first into bankruptcy. Of course there are different PC games that fall under the more serious "simulation" tag.  Swedish SimBin with its roots in GTR and GTR2 and currently the Race07 series is one of them, rFactor, Live For Speed, NetKar are others, but iRacing has taken this sport to a new level.
Some things that differentiate iRacing from the other racing sims out there are that iRacing is an online service; you download its content, then you do everything except drive through their web-interface. This means that you cannot go into the game shop and pick up a copy of iRacing as you can with most other games. The next big thing is that iRacing is 100% focused on online racing and competition between humans, ergo, you can't jump into a car and race the computer as in other racing games. One positive aspect about this is that you and everyone else are expected to show proper respect on track as you race.
Looking at the technology behind iRacing, it's hard not to be impressed.
No, it does not look like GT5, Dirt3 or Shift2 from a purely graphical aspect.  However… every track you drive is officially licensed and 3D-laser scanned to such a minute level that you can see where the paint on the asphalt is in the scans, the track surface is modeled so you can feel every bump and crack in the track on the exact same place as on the real track. Every car in the sim is also licensed and scanned on the same level, things like suspension geometry, torque curves, transmissions etc are modeled as closely as possible on the original car and data from the manufacturers.
In addition, iRacing is a living product. It's not like buying a box, get a patch or two then nothing more. iRacing evolves over time and release regularly. Every 12 weeks a new release is issued to every member, and in between, smaller updates and fixes are released.
In the big releases you can get everything from new tracks and cars to changes in the physics engine, graphical optimizations etc, up to completely new services that can be used to — for example — organize your own races outside of the service's official series.  Simply put, iRacing has long term goals with both the service and the technology that they are working towards. This means that if iRacing has a choice between releasing a quick fix with a "so-so" solution to an issue, or waiting and release a proper, long term solution, they will wait and do it right.
So how serious is this then, really?
It's serious on a level that iRacing even managed to get an official license on the Williams-Toyota FW31, together with the same telemetry- and data-analysis software from McLaren that is used in F1. And yes, you as a user have full access to that so you can log and analyze everything from suspension, dampers and a lot more, to throttle and brake usage, G-loads etc around a track.
Williams-Toyota FW31
But even with all this top notch approach to technology there is one thing that really stands out, especially from an eSports perspective. iRacing is not just a great car simulator, it is an actual racing simulator…
iRacing works with what they call "sanctioned series," meaning they have an extensive regulatory system for behavior on-and off track as well as for championships in different series.  These rules are enforced through automated systems that count different types of incidents on track which affect your licensing level.  And should you encounter bad behavior on track you can send in a replay through a manual protest system for review by the administrators. In the absolute top-level series of iRacing you can also find race stewards logged-in monitoring races in real time.
License levels are used as a measure of how safe you are on track together with other drivers; the your higher license, the faster and more demanding cars and series you are eligible to compete in. If you mess up on track too much, you may get demoted one level and need to re-prove yourself again.  All this exists because iRacing's main ambition is to not only have a  superb simulator, but to establish online racing on the same level as all other types of motorsport.
So can they do that?
Well, yes, it definitely looks like they can. Today iRacing has officially-sanctioned series in direct collaboration with NASCAR, IndyCar, GrandAm, Australian V8 Supercars and Skip Barber. Results from these series in iRacing are reported on the official websites of NASCAR, Grand Am Rolex series etc, just as their real world counterparts do.
V8 Supercars
Grand Am Rolex
NASCAR Sprint Cup
iRacing's collaboration with the top series is actually on the level that when Richard Towler won the 2010 NASCAR iRacing.com World Championship Series (NiSWC), iRacing put him on a plane, few him from England to the NASCAR Sprint Series finale at Homestead-Miami Speedway and held a press conference where he appeared with several leading NASCAR drivers, received an official NASCAR trophy and championship ring . . . and more than $10,000 in prize money.  They did the same with the 2011 NiSWC winner, Ray Alfalla. Another example of iRacing's growing impact on "real world" racing is the winner of the inaugural iRacing.com VW Jetta series – Wyatt Gooden — earned a full racing season in the SCCA VW Jetta Series  and, from there, has progressed into the professional Formula Ford series.
A similar pattern accompanies most everything iRacing does, from official sanctioning with large racing organizations, to working protest-systems, to professional webcasts of the top series with commentators, to news sites where virtual news and normal race news are reported with the same weight. Not to forget, their cooperation with known and famous racing drivers.
Some examples of well-known racing drivers who are iRacers and (unpaid) spokesmen for the service include Dale Ernhardt JR, Joey Logano, Juan Pablo Montoya, Marcos Ambrose, Justin Wilson, Will Power, Alex Gurney, Bobby Labonte, AJ Allmendinger, Brad Keselowsky, Takuma Sato, Simon Pagenaud , Chris Dyson, Jordan Taylor and more.
Not only can you see these drivers on TV if you follow series like NASCAR, IndyCar, GrandAm, ALMS etc, you can actually find yourself racing against them online when they have some time to spare, or when they are refreshing a track layout before a big race.  And yes, they are just as fast in iRacing as they are in real life. There is actually a British guy named "Lewis Hamilton" who has been seen driving outrageously fast laps in iRacing's Formula One car. It's not official that it is "that" Lewis, but it makes you wonder…
So if you look at the racing part of eSports you have to say that a company and a simulator of this caliber are in a very good position to become firmly established as a the gold standard in a sport with, according to some estimates, 30-40.000 active hard-core sim-racers. A company with the resources of iRacing and a track record of working on multiple levels to establish virtual racing as part of the overall motorsport simply must be considered an influential force within eSports.
"A company with the resources of iRacing and a track record of working on multiple levels to establish virtual racing as part of the overall motorsport simply must be considered an influential force within eSports."
As iRacing is an American company initially focused on those the segments of racing that work best in USA, we should probably take a look at what's happening outside of the US in order to put things in perspective.
Looking at other commercial initiatives designed to establish online racing as a viable form of motorsport, you can probably say Sweden has given it a more than fair shot, in part, due to the fact that Sweden is home to several online communities running different leagues that closely mirror racing series such as Formula 1, FIA GT, WTCC and STCC.  These leagues are run with different simulators as platforms, and with rules and regulations that mimic their real world counterpart.  This is also due to the fact that, through its inclusion in the Swedish motorsports organization SBF (Svenska Bilsport Förbundet), Virtual Motorsport is now a formal and official motorsport in Sweden.
What about racing as an eSport in media then?
Some examples: Under 2007, SimBin, a Swedish game development company, together with a Swedish TV channel, TV4+, took a big step forward for virtual racing and eSport when they together started VGP, Virtual Grand Prix.
This ran between October and November 2007.  The TV show was sponsored by, amongst others, Telia, Rexona, a Swedish newspaper and Nokia. The winner could collect 100.000 SEK after having qualified for a broadcasted final. Sub competitions with prizes such as gaming gear, mobile phones etc also ran during the VGP. The simulator used was a demo version of SimBins Race07 and the race format was based on WTCC.
The numbers for VGP shows that 26.000 drivers qualified in the different pre-races, there were 70.000 downloads of the demo and 100.000 laps driven, and the site generated 150,000 unique visitors. The TV broadcasts featured commentary by established race drivers Alex Danielsson and Eje Elgh, a commentator for Viasat's Swedish F1 broadcasts.  Each VGP broadcast got approximately 25-30,000 viewers despite airing at 23.00 on Sunday night on what was then a niche TV channel. With those kind of numbers, I'm personally surprised that VGP did not continue in some form, but I can't say that I'm that well versed in commercial TV.
Looking at the rest of Europe and Asia, the picture is a little less clear. Simbin tried an approach similar to VGP in Europé a couple of years ago, with the series final was on location during one of the WTCC races. The winner there won a brand new car.
As a side note it should be mentioned that the winner of both VGP and the European WTCC version was the same person: Sweden's Roland Ehnström, who is widely recognized as one of the world's fastest sim-racing drivers.  In fact, he is currently participating in the 2012 iRacing.com Grand Prix World Championship Series, together with a host of other legends – old and new– in virtual racing.
Founded in 2008, in the past few years iRacing has begun focusing on the European and Asian markets, scanning racetracks like Spa-Francorchamps (Belgium), Silverstone (England), Zandvoort (the Netherlands), Phillip Island and Oran Park (Australia), Suzuka, Okyama, Twin Ring Motegi (Japan) and more. These tracks are ready and available in the simulator today with the exception of Oran Park which is planned for release in the near future . Having local tracks outside of the US is a large part in marketing in Europe and Asia; it's much easier for potential customers to relate if they see content from tracks they've visited as spectators or, in some cases, as competitors.
At the date of this article, there are more than 50 tracks and 30+ cars available on iRacing, with a promise of many more to come.  A number of the tracks have multiple configurations (Oulton Park in England, for example, has ? variations) so there are a lot of variations to race on.  Two cars released in the August 2011 release were the Ford GT 40 which is a FIA GT2 car, and the HPD-ARX-01C P2 car. If that doesn't ring a bell, think of the LMP2 prototypes that race in the 24 Hours of Le Mans.  And in May, iRacing released the Cadillac CTS-V and announced plans to develop the Honda HSV-10 as part of its virtual Japanese Super GT Series.
Check back tomorrow for Part II of A Decidedly Unofficial Guide to iRacing!
---
You may also like...
---