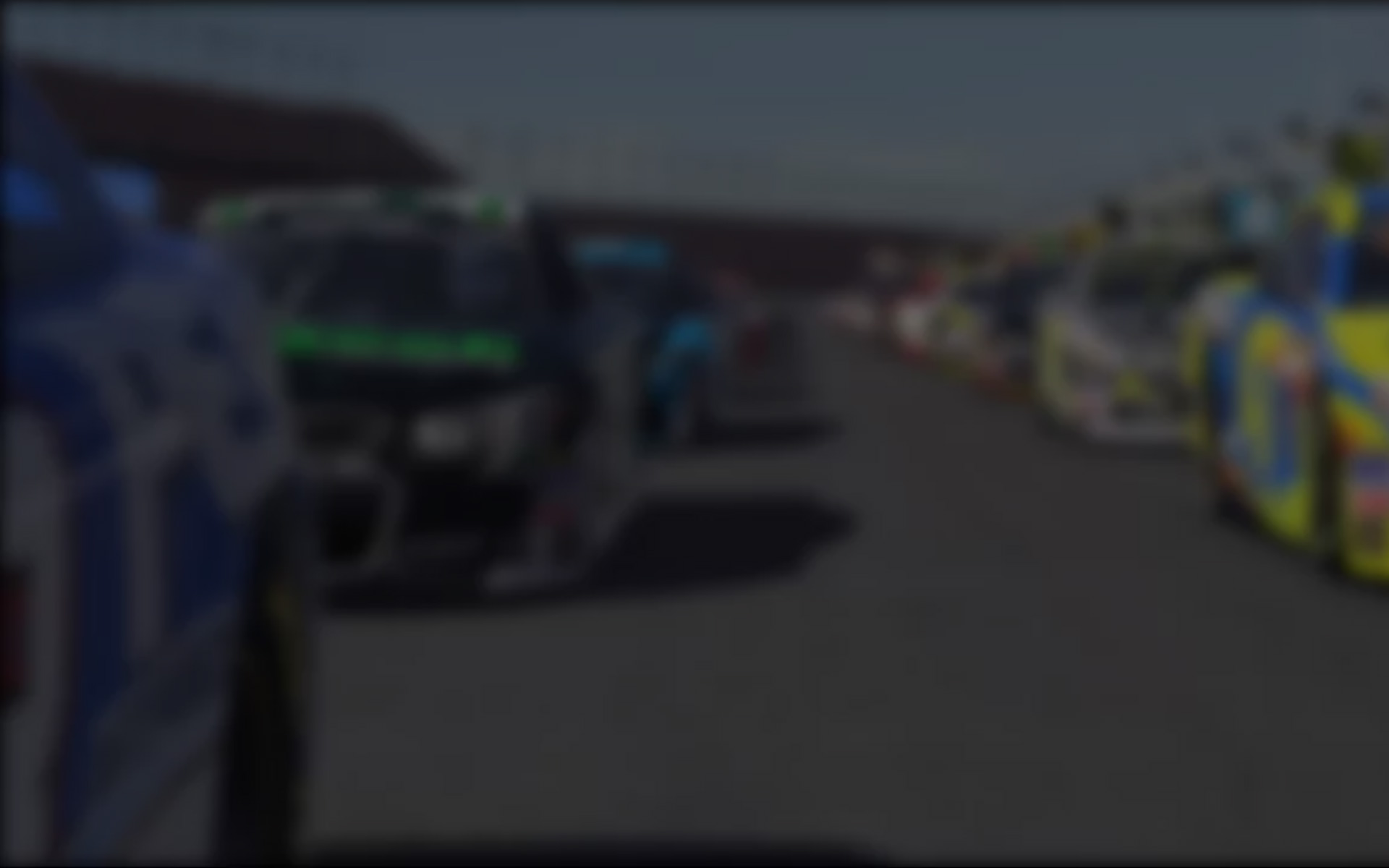 The NASCAR iRacing Series thundered into wine country in Sonoma, California last week for the series' first road race of the season.  NASCAR iRacing.com Series World Championship driver Tyler D Hudson found himself-sitting at the top of the points coming into the week ahead of fellow NiSWC driver Landon Harrison.
Thursday night was the first of four races of the week for the drivers and teams.   Pole-winner Marcus Lindsey led 54 of 55 laps but had to hold-off a late charge from Michael Conti to take the checkered by just 1.414 seconds. NASCAR iRacing series rookie Dylan Dual picked the 3rd in his first race in the series while NASCAR driver Timmy Hill came home fourth ahead of Casey Tucker.  Harrison came home 11th while Hudson has yet to run this week.
I took the time to catch up with Lindsey after his dominating performance in Race One of the week.
Q:    Coming into the race what did you think your chances would be in the race tonight?
A:    I felt I could run top three if I put together a good race with a consistent pace and no mistakes. I fully expected Conti to drive through the field and catch me prior to the first pit stop. We actually had a league race together with The RCRL MPPC Pro Cup which mirrors the NASCAR iRacing Series, and Conti took the pole and gapped me by 20 seconds, even with a spin. His pace and aggression on road courses is excellent and allows him to run exceptionally well.
I never would have figured I would hold off Conti for the closing 10 laps. I think we have a mutual respect for each other and how we have raced each other in the past. This gave us a clean end to the race, even given the close proximity.
Q:    Did you do any different kind of practicing for this race then you would have for a oval race?
A:    I think a lot of my tendencies for practice style cross over. I typically run a lot of single lap runs to learn the track, then start to run three to five lap runs, followed by 10 lap runs.
"I felt I could run top three if I put together a good race with a consistent pace and no mistakes." — Marcus Lindsey
I followed that same format for this race. It took me a good 15-25 lap single file run to get a good pace and fully dial-in how to run the track. After that I worked on running multiple laps to improve on my small mistakes. After that I worked on a few 8-10 lap runs to work on managing tire temperature and lap time fall-off. I think for purely driving in fixed oval races that is pretty similar to my learning style, except with much more time need for road.
Q:    Did you learn anything tonight that might help you in any other races?
A:    I think I learned a little bit, especially with respect to short-shifting and getting drive-off. Richard Dusett informed me after about 15 laps that Conti was short shifting nearly all the gears. I adjusted my method to try and make that work and felt a little more comfortable.
Q:    Who makes it happen for you on the track?
A:    First and foremost my teammates, everyone on Wheelmen. On Thursday Kevin King, Richard Dusett, and Chad J. Laughton were watching and giving me some feedback. And of course my sponsors do a lot for me in the NiSWC, but I try to represent them as much as I can in Class A SOF races and the NiS series. First and foremost Michael Main at Main Performance PC and Obutto Cockpits, he helps a lot of sim racers out throughout the iRacing community. And a big thanks to High Voltage Media Productions, Layne Sim Products and Chris Crosby Chassis."
With Race One of the week in the books, point contender Harrison had trimmed points Leader Hudson's lead down to 681 points due to Hudson not running in race one of the week.
There was a big day of racing on Saturday on Day Two of competition at Sonoma Raceway, with two drivers getting to sip the wine in victory lane. The first race of the day (5am EDT) was early for most the guys outside of the U.S. and all of the road kings came out to try their luck in wine country. Aleksi Elomaa showed he was the class of the field, bringing home the win by leading 30 of the 55 laps and setting the fastest lap. Mate Lorinczy finished second and led 20 of 55 laps while Fernando Bento came home in the third ahead of Maurice Dietzel and Chris Overland, with Dietzel enjoying a four laps stint in the lead.
At noon it was time for the U.S. guys to start race three of the week. Kevin Parrish started from the pole with series points leader starting eighth, one better than Race One runner-up Conti, with and Race Two  winner Elomaa starting P12.  Conti picked-up where he left off Thursday, wasting no time getting to the front and taking the lead on Lap 11.  Conti gave-up the lead when he pitted on Lap 22 to take-on four tires and fuel, retaking the lead on Lap 26.
A good battle developed between Conti and Elomaa.  With about 20 laps to go, Elomaa got to Conti's bumper but could not make the pass. Then on Lap 39 the race fell apart for Conti as he went for a spin, handing the lead to Elomaa who never looked back on the way to his second win of the day. Anthony Roselli finished second while Conti recovered from his spin to take third ahead of Hudson and road racing expert Joni Bäckman.   The results enabled Hudson to extend his lead over Harrison to 898 points.
Sunday marked the final day of racing in Sonoma for the NASCAR iRacing Series so it was the last chance for some drivers to sip the wine until next year and for some road ringers to make their mark in the series for a few weeks.  The last green flag few Sunday night with Lance Gomez Jr on the pole and Conti starting from 20th on the grid.  Although Gomez Jr led the opening 10 laps, Conti was wasting no time getting to the front and took the lead on Lap 13.   The young man from New Jersey looked like he was on a mission the whole race.  He pitted for fuel and tires on Lap 25, handing the lead back to Gomez Jr for the moment.  But when Gomez Jr had to pit on Lap 29, Conti reclaimed a lead he would never surrender.
When the checkered flag flew for the final time at Sonoma, Conti finally got his chance to sip the wine that had slipped from his hand in his last two races.  He finished 41 seconds ahead of second place Sean Robbins, with NASCAR iRacing.com Series World Championship driver Byron Daley coming home third.  Just missing the virtual podium was Gomez Jr, who led 14 laps, while Harrison Widelitz come home fifth.   Second place in the points, Harrison started 25th and worked his way up to 14th  spot at the end. His run was good enough to make some ground on Hudson's still considerable points lead.
There where a lot of good races in Sonoma this week I want to say nice runs by Marcus Lindsey,  Aleksi Elomaa and Michael Conti for picking-up the wins in all of the top splits last week.
The NASCAR iRacing Series is headed to Kentucky next week.  Keep an eye out for my weekly tune-up, where I pick the brain of iRacing NASCAR iRacing.com Series World Championship driver Dylan Duval.  We'll talk about his first start in the NASCAR iRacing Series at Sonoma as well as his season in the iRacing NASCAR iRacing.com Series World Championship.
---
You may also like...
---