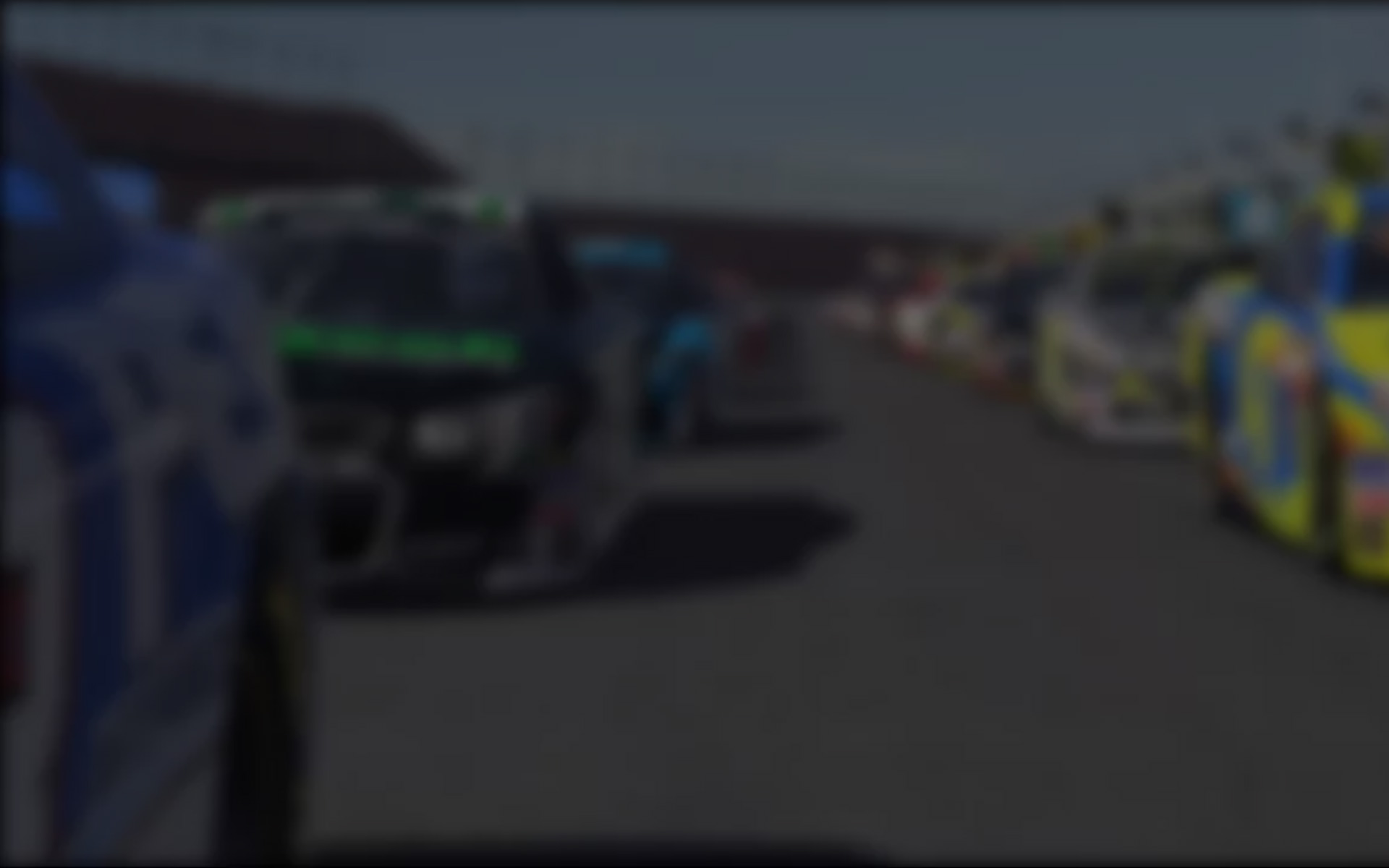 Championship Contenders Make Early Exits
A thrilling shootout at Homestead-Miami Speedway to kick-off the iRacing 16th Street Racing League season featured an unexpected winner, a host of championship contenders on the sidelines and impressive runs by several drivers who qualified via the Transfer Race earlier in the day. The GlacierTV broadcast captured the 225 mph action in breathtaking detail as many of sim-racing's best IndyCar drivers returned Tuesday for the rebirth of the popular IndyCar league.
Homestead-Miami Speedway Notes & Quotes
McCracken Wins UltraForce Sim Pole Award, Donates Winnings
The 11th-hour addition of Mitch McCracken to the Top 35 in the 16th Street Racing League proved to be a wise decision, as he quickly captured the first UltraForce Sim Pole Award of the season with a lap of 24.803 seconds, narrowly edging Chris Cahoe's time of 24.804. McCracken had hardly received his Pole Award prize check before insisting that the money be donated back into the league fund, a nice gesture for the native iRacer. McCracken was equally impressive in the race, leading a total of 10 laps and contending for the lead throughout until getting caught up in an accident with Mike Peters while running in the top four late in the race.
Bad Luck, DNFs Plague Championship Contenders
It was a long night for many of the big names in the series, as Shaun Stroud, Yang Ou, Niles Anders and Tim Doyle all suffered their own respective dose of misfortune on the way to DNFs on Tuesday night. Yang, who many expected to dominate, qualified on the outside of the second row but wasn't a factor before being caught up in a messy accident on Lap 100 that also collected Stroud, who appeared to be making his way into contention. Anders was also caught up early in the race and due to connection issues Doyle never made the green flag. A frustrating night for some of 16th Street's most talented may have equaled itself out, as Yang, Stroud, Doyle and Anders all find themselves on equal footing in the championship with an entire season left to play out.
Negotiations to Broadcast Entire Season Intensify
With TV Ratings surprisingly high for last night's GlacierTV broadcast at Homestead, rumors are circulating that there is a preliminary deal in place to have all the remaining 16th Street races broadcast. While full funding it not yet in place, many league participants have stepped-up and expressed interest in helping fund additional race broadcasts. Drivers interested in making donations to this fund should send a PM to Scott Manifold. Insiders have said there is no truth to reports SPEED channel's Robin Miller has applied for an open pit reporter position with GlacierTV.  Click here to watch a replay of Tuesday night's race,
Transfer Racers Advance, Compete in Feature Race
The addition of a Transfer Race appeared to be a resounding success as the Top Five who advanced to the Feature (Brandon Traino, Christopher Peters, Doug Lierle, Martin Miller and David Jinks) not only qualified well for the Feature, but were factors in the race. Miller led the qualification efforts of the transfer drivers and started in the seventh position with Traino – the Transfer race winner – just behind in ninth position. But it was experienced Californian Doug Lierle who led them all to the checkered flag with an impressive drive from a 30th-place start to a fourth-place finish. With a total of 192 career iRacing victories on road courses, many feel Lierle could emerge as a surprise championship contender. Among the rest of the Transfers; Traino finished seventh, Jinks 11th, Miller 12th and Peters, who was among the leaders for a majority of the race until a crash, in 28th.
Neffry Downplays Surprise Victory, Credits Team, Luck
Former lawnmower racer Neffry Aawg wasn't on anybody's short list to capture the first victory of the 16th Street Racing League season, but an impressive performance from Panther Racing, who swept the podium with Cahoe (second) and Chris Manifold (third), has put the sometimes laughable driver atop the 16th Street point standings for at least a week. League officials were disappointed following the race when Neffry, who led a race-high 66 laps, was seen chasing the Fuzzy's Vodka girls after the victory celebration and missed the post-race winners TV interview.
"Hay, it's pretty fitting that with everything that's going on out east with the hurricane that three National Guard cars took the podium tonight, so this is all about recognizing the men and women out there helping with relief efforts," Neffry said. "This win is about our team guys, they busted their (butts) to build us a good car so we could do well tonight and I just benefitted from the work they put in. And I'm smart enough to realize that I got lucky that Yang, Shaun, Niles, Doyle and Mitch had problems. I'm well aware those guys, Norton, Branch and a bunch of other guys are going to be up there contending for race wins all year."
"It's pretty fitting that with everything that's going on out east with the hurricane that three National Guard cars took the podium tonight." – Neffry Aawg
Celebrities Miss Homestead, Vow to Compete This Season
Participation from real-world drivers has always been a unique – albeit inconsistent – part of the 16th Street Racing League. While there were no celebrities on the grid at Homestead, Justin Wilson, Ed Carpenter and Martin Plowman each issued Email apologies respectively to league officials for not being able to attend the season opener. All three assured they would take the green in the 16th Street Racing League during the season. IndyCar Series championship runner-up Will Power is also in communications with league officials and efforts to court Simon Pagenaud and Scott Speed are expected to intensify in the coming weeks.
Etc.
There were a total of 10 lead changes during the race and four caution periods … Both Bettenhausen brothers finished inside the Top 10 with Cary (ninth) and Todd (sixth) … Series officials were concerned yellow flags were not turned on after an early incident did not cause a caution period, but concerns were alleviated shortly thereafter when the first yellow came out … Jonathan Goke received a black flag late in the race for having a poor connection … Ryan Norton started in 22nd position and drove all the way into the Top Five … McCracken said in his TV interview following his incident that Peters was driving "too much car", an accusation that Peters refuted … Chris Manifold set the fastest lap of the race at 24.708 seconds …Transfer Race star Doug Lierle and Carlos Bolanos Jr. had the most incidents with eight apiece … Connection issues hampered several drivers including Joe Branch, James McClure, Goke and others … Gary Borkenhagen started 34th and drove all the way to an eighth place finish … A total of 18 drivers started the Transfer Race …. Vincent Sciuto was the one notable no-show for the race … The 16th Street Racing League travels to Mazda Raceway Laguna Seca next Tuesday night for Round Two of the championship.
---
You may also like...
---