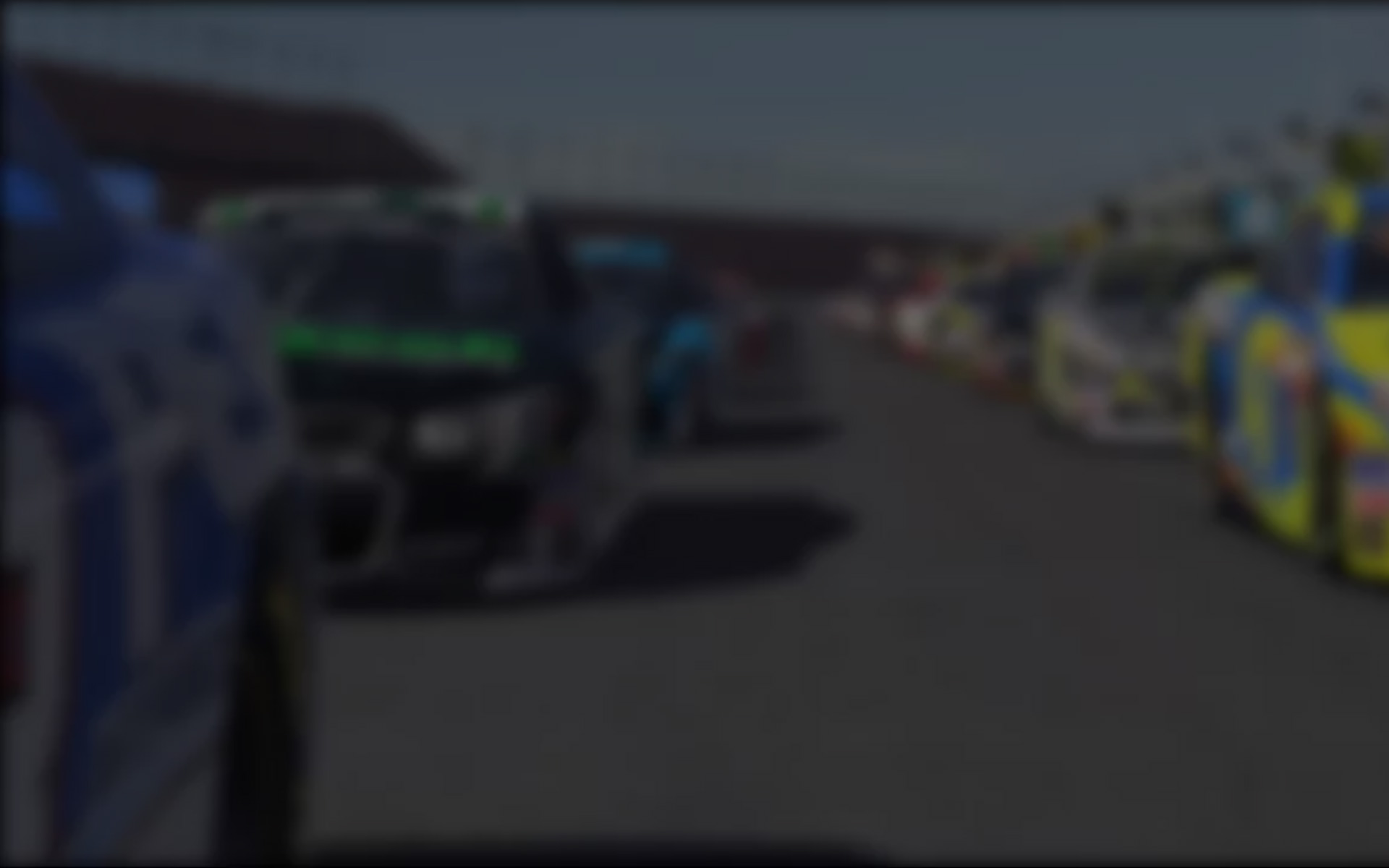 With the NASCAR iRacing.com Pro Series (NiPS) starting to wind down for 2011, sim racers took to Pocono Raceway for the ninth race of the season. The Tricky Triangle is a very demanding track, with three very different corners, requiring drivers to compensate on their setup to ensure their car drives well in all three turns.  Throw-in a dash or two of the unexpected — such as the number and timing of caution periods and the resulting havoc they play on pit stop strategy — and you had the makings of a thoroughly unpredictable online race.   Jon Adams got it right on all counts, emerging as the fastest man on the track in the second half of the race and then playing the fuel strategy perfectly to power home to the win as those ahead of him either made late 'splash 'n goes' or coasted to a stop waiting for a yellow that never came.
Adams posted sixth fastest time in qualifying, not quite as good as Nick Ottinger who started from the pole position for the third time in four races . . . but a whole lot better than championship leader Matt Whitten, who started well back in nineteenth. With only a four point advantage on Ottinger in the standings, Whitten would have a lot of work to do if he hoped to leave Pocono with the points lead.
It only took three laps for the first incident of the race.  Last week's winner, Alex Warren, got into Turn One a little too hot and nearly spun, which sparked a massive crash behind him as the field took avoiding action. Jake Stergios, Matthew Moose, and Steven Gilbert were among those taken out of contention as nearly a dozen cars received some sort of damage in the skirmish.
When the field went back green, Ottinger quickly came under pressure from Kevin King, who was all over Ottinger's back bumper looking for a way by. It looked like it was only a matter of time before there would be a lead change, then disaster struck on Lap 10 when King got loose off of Turn Three and crashed into the pit wall, ending any hope of coming home with a good finish.
Ottinger stayed in control for the rest of the run and was just about to start a round of green flag pit stops when the second caution of the race flew on Lap 31 after Chris Overland got turned around in Turn One.  This gave the pack the chance to head to the pits for under yellow for some much needed adjustments. Ottinger won the race off pit road but, with Adams right behind, he would have to work to keep the lead.
As the green flew, it was quickly apparent that Adams had the faster car; he just needed to find a way around the leader. He made his move out of Turn Two on Lap 38, pulling alongside Ottinger as they raced towards Turn Three. The two then made contact, shooting Ottinger up the track and into the wall, badly damaging his car and putting him out of contention. There was no caution for the incident, and Adams now led Patrick Baldwin and Joshua Laughton, with all three running very close to the same lap times.
Adams retained the lead until he pitted for new tires and fuel on Lap 64. The rest of the lead lap cars followed during the next few laps and when the cycle was complete, Adams regained a comfortable lead. Everyone would still need to make one more pit stop to have enough fuel for the finish and the question was when the best time would be. Adams opted to pit again on Lap 73 since Pocono is big enough that you can pit and not lose a lap. Adams rejoined the race in eleventh, but not had enough fuel to make it to the end.
A few drivers decided to stay out and hope for a yellow flag or two to fly and help them make it without stopping for fuel.  As as the laps clicked down, however. they started to peel-off and pit for fuel as well. Adams worked his way back up to third with ten laps to go and now the question was, could Nicolas Morse or Justin Lowery make it on fuel and steal a win?
Lowery gave way on Lap 93, putting Adams in second with eight more laps to catch Morse, who was three seconds ahead and conserving fuel. Morse's only hope was a yellow, and for it to come quickly.  But the yellow never came and, with only five laps remaining, Morse ran his car dry and had to pit, giving Adams the lead and the victory. Baldwin followed Adams across the line in second, with Laughton third, Marcus Lindsey fourth, while Paul Kusheba ended-up fifth.
With his strong run, Lindsey took over the points lead and takes a 19 point lead into Week Ten over Whitten. Richie Davidowitz still sits third, even though he was caught up in the Lap 3 melee. Baldwin moves-up to fourth at the expense of Ottinger, who slips to fifth thanks to his poor finish after the contact with the wall.
With only three races remaining in the series, Lindsey has a bit of a cushion when it comes to the championship.  But the battle for twenty-fifth — and a coveted spot in the 2012 NASAR iRacing.com Series World Championship —  is still up for grabs with six drivers within 16 points of the final transfer spot. With the series shifting back to a mile and a half next week as Las Vegas Motor Speedway, the driver who can keep his momentum rolling will be in the best position to gain ground. Will Lindsey build on his points lead, or will someone else rise to the occasion? Find out on inRacingNews next week!
---
You may also like...
---