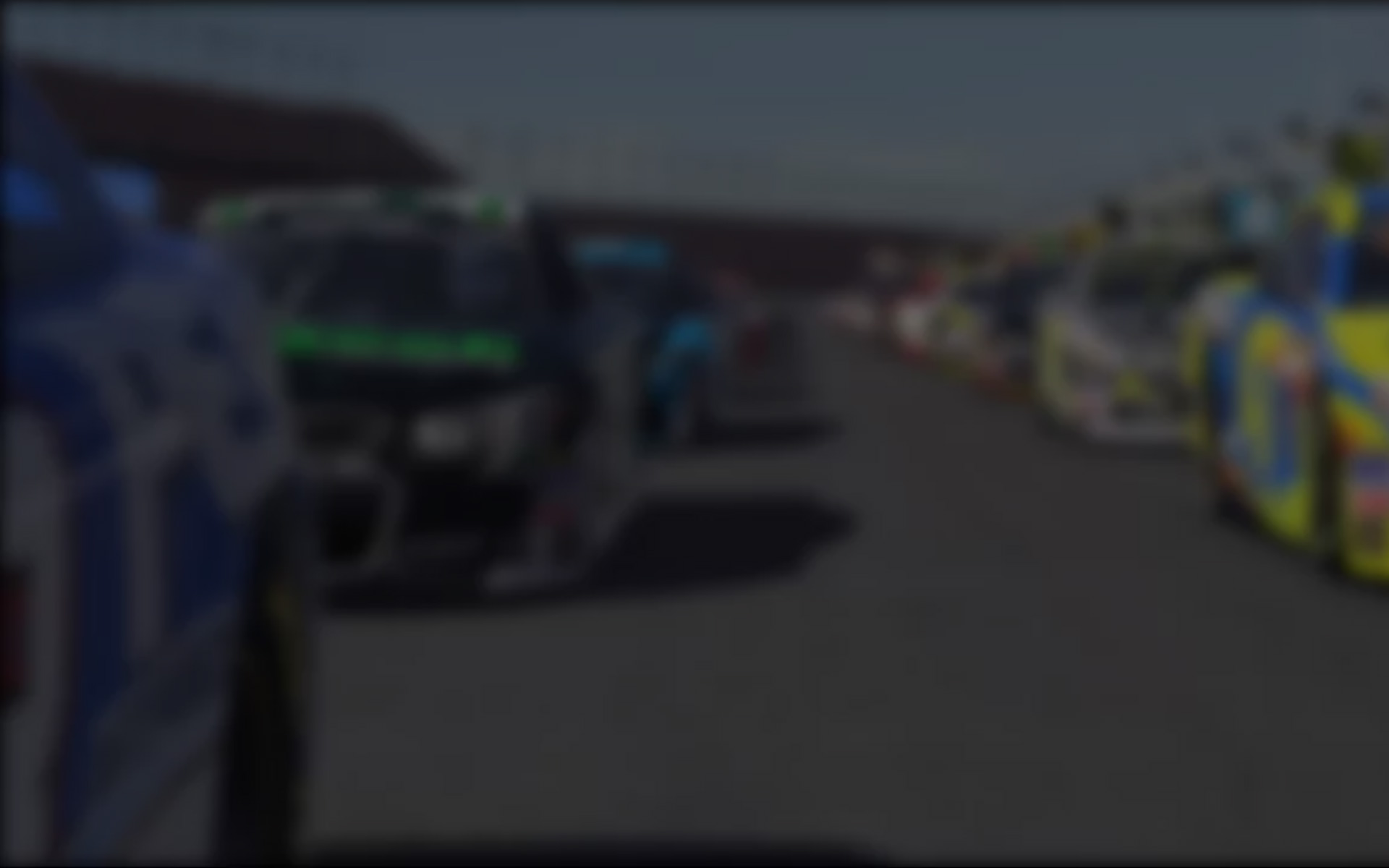 March 30th, 2016 by Jason Lofing
Two-time champion Ray Alfalla (Slip Angle Motorsports) took his first checkered flag of the 2016 NASCAR PEAK Antifreeze Series in dominating fashion at Auto Club Speedway. Alfalla started on the outside pole and quickly asserted himself as the driver to beat by taking the lead on the opening lap from pole-sitter Cody Byus (The TEAM) and totaled a race-high 66 circuits at the front.
PJ Stergios (Last Row Motorsports) finished second, five seconds behind Alfalla at the checkers for his fourth top-five finish in as many races. Kenny Humpe was third, his second top-five finish of the season. Allen Boes (Deadzone) finished fourth and David Rattler (LockDown Racing) played an alternate pit strategy to earn a fifth place result.
"This is one of my favorite tracks, and it feels nice to bring it home with the win," said Alfalla.

Two weeks after a caution-free event at Phoenix, the caution flew twice in the first nine laps for a pair of incidents. First, Timmy Hill was sent spinning after contact with Justin Bolton. Hill was able to continue to a mediocre twenty-third place finish. Just a few laps later, Dillon Raffurty veered hard into the outside wall on the restart after experiencing technical difficulties. The crash would collect nearly a dozen cars and end the race for five sim racers, including Raffurty who was credited with forty-second place.
After the two quick cautions the rest of the 125-lap race was run caution free, giving drivers with speed on the long run an advantage while also allowing varying pit strategies to play out. With tire wear once again a huge factor, drivers near the front chose to pit well before fuel became an issue.
On the first run Alfalla fired off quickly and built a gap to the rest of the field but slowly began losing his gap as the run wore on. Since Alfalla was on a three-stop strategy his total time given up was quite minimal and after performing some adjustments to his car, his long run speed improved in later runs. Despite the early troubles on the long run Alfalla was never seriously challenged on speed the rest of the race.
With the race seemingly in hand, other drivers lacking the outright speed to keep up with Alfalla tried a riskier two-stop pit strategy. Rattler and Andrew Fayash were two drivers willing to try the counter-strategy and Rattler in particular found success with it. Although his car was not as fast as the leaders, his long run speed was competitive and one less trip down pit road than the leaders saved him nearly 40 seconds on track.
Instead of being stuck mid-pack, Rattler wound up leading 34 laps and was leading as late as Lap 111 before Alfalla overtook him on fresher tires. Though he fell short on picking up his first NASCAR PEAK Antifreeze Series win, a top five was just what Rattler needed as he moved up to twelfth in the series standings.
With a quarter of the 2016 season in the books, a quintet of drivers is in position to battle for the series title. PJ Stergios and Alfalla are tied for the points lead, 11 points ahead of Boes. Jake Stergios is another three points adrift, followed by Chris Overland, who sits four markers behind the second Stergios brother.
Consistent top-five finishes have separated the front five drivers from the pack. Nick Ottinger, who is sixth in the championship, is 25 points behind fifth and 48 points, a full race, behind the leader.
In two weeks the rest of the field will look to close in on the front five as the series heads to Texas Motor Speedway. The fast 1.5-mile track is aero-dependent and notoriously tough to pass on, making qualifying and pit strategy of high importance. Can past champions Humpe and Tyler Hudson spoil the fun of the top five, or will Texas see familiar faces at the front once again? Find out in two weeks' time when the NASCAR PEAK Antifreeze Series takes to the Texas high-banks on iRacingLive!
En Francais!
Alfalla revient en tête du championnat à égalité grâce une victoire sur l'Auto Club Speedway
Le double champion Ray Alfalla (Slip Angle Motorsports) a décroché son premier drapeau à damier de la saison 2016 en NASCAR PEAK Antifreeze Series sur l'Auto Club Speedway, après avoir dominé l'épreuve. Parti de la première ligne, Alfalla s'est imposé comme l'homme à battre en prenant la tête dès le premier tour au pole-sitter Cody Byus (The TEAM), avant de mener 66 tours au total.
PJ Stergios (Last Row Motorsports) terminait deuxième à cinq seconds, enregistrant son quatrième top 5 en autant de courses. Kenny Humpe finissait troisième pour son deuxième top 5 de la saison. Allen Boes (Deadzone) terminait quatrième et David Rattler (LockDown Racing) décrochait la cinquième place grâce à une stratégie décalée.
« C'est l'un de mes circuits préférés et c'est agréable de repartir avec la victoire en poche » commentait Alfalla.
Deux semaines après une course sans neutralisation à Phoenix, le drapeau jaune sortait deux fois dans les neuf premiers tours pour des incidents. D'abord, Timmy Hill partait en travers suite à un contact avec Justin Bolton. Hill parvenait à repartir et terminait à une décevante 23è place. A peine quelques tours plus tard, Dillon Raffurty percutait violemment le mur lors du restart à cause d'un problème mécanique. Une douzaine de voitures étaient impliquées et cinq pilotes se voyaient contraints à l'abandon, dont Raffurty qui était finalement classé 42è.
La course de 125 tours se poursuivait sans neutralisation jusqu'à l'arrivée. Les pilotes avec des voitures réglées pour les longs relais prenaient donc l'avantage tandis que plusieurs stratégies de ravitaillement apparaissaient. L'usure des pneumatiques jouait encore un rôle primordial et les pilotes de tête ravitaillaient bien avant d'arriver à court de carburant.
Lors de la première partie de course, Alfalla creusait l'écart sur le reste du peloton avant de perdre peu à peu son avance, à mesure que son relais s'allongeait. Comme il avait opté pour une stratégie à trois arrêts, il ne perdait finalement que peu de temps sur la concurrence et, après avoir effectué quelques ajustements sur sa voiture, il améliorait ses performances sur les longs runs. Malgré quelques difficultés pour maintenir le rythme en début de course, Alfalla ne rencontrait aucune véritable résistance durant le reste de l'épreuve.
Devant sa domination, d'autres pilotes tentaient une stratégie risquée à deux arrêts pour compenser leur manque de vitesse pure face à Alfalla. Rattler et Andrew Fayash faisaient partie de ceux-là et Rattler gagnait son pari. Bien que sa voiture ne soit pas aussi rapide que celle des leaders, il parvenait à garder le rythme sur les longs relais et gagnait quarante secondes en effectuant un passage de moins par les stands.
Au lieu de rester coincé dans le peloton, Rattler se retrouvait en tête et menait 34 tours avant qu'Alfalla le double au 111è tour grâce à ses pneus plus frais. Il ratait de peu une première victoire en NASCAR PEAK Antifreeze Series, mais un top 5 se révélait suffisant pour remonter à la 12è place du classement général.
Arrivés au premier quart de la saison 2016, cinq pilotes sortent du lot pour disputer le titre. PJ Stergios et Alfalla sont à égalité en tête, 11 points devant Boes. Jake Stergios, le frère de PJ, compte trois autres unités de retard et Chris Overland le suit à quatre points.
Les top 5 réguliers ont permis à ces cinq pilotes de se démarquer. Nick Ottinger, 6è du championnat, se trouve à 25 points de la 5è place et 48 points de la tête, soit une victoire pleine.
Dans deux semaines, la concurrence essaiera de refaire son retard sur le Texas Motor Speedway. L'aérodynamique joue un rôle majeur sur ce circuit rapide d'1,5 mile où il est difficile de dépasser, ce qui rend les qualifications et les stratégies de ravitaillement d'autant plus importantes. Est-ce que les anciens champions Humpe et Tyler Hudson peuvent jouer les trouble-fêtes dans le top 5 ? Ou verra-t-on encore des visages familiers aux avant-postes au Texas ? Vous le saurez dans deux semaines sur iRacing Live, quand la NASCAR PEAK Antifreeze Series attaquera le banking du Texas !
---
You may also like...
---