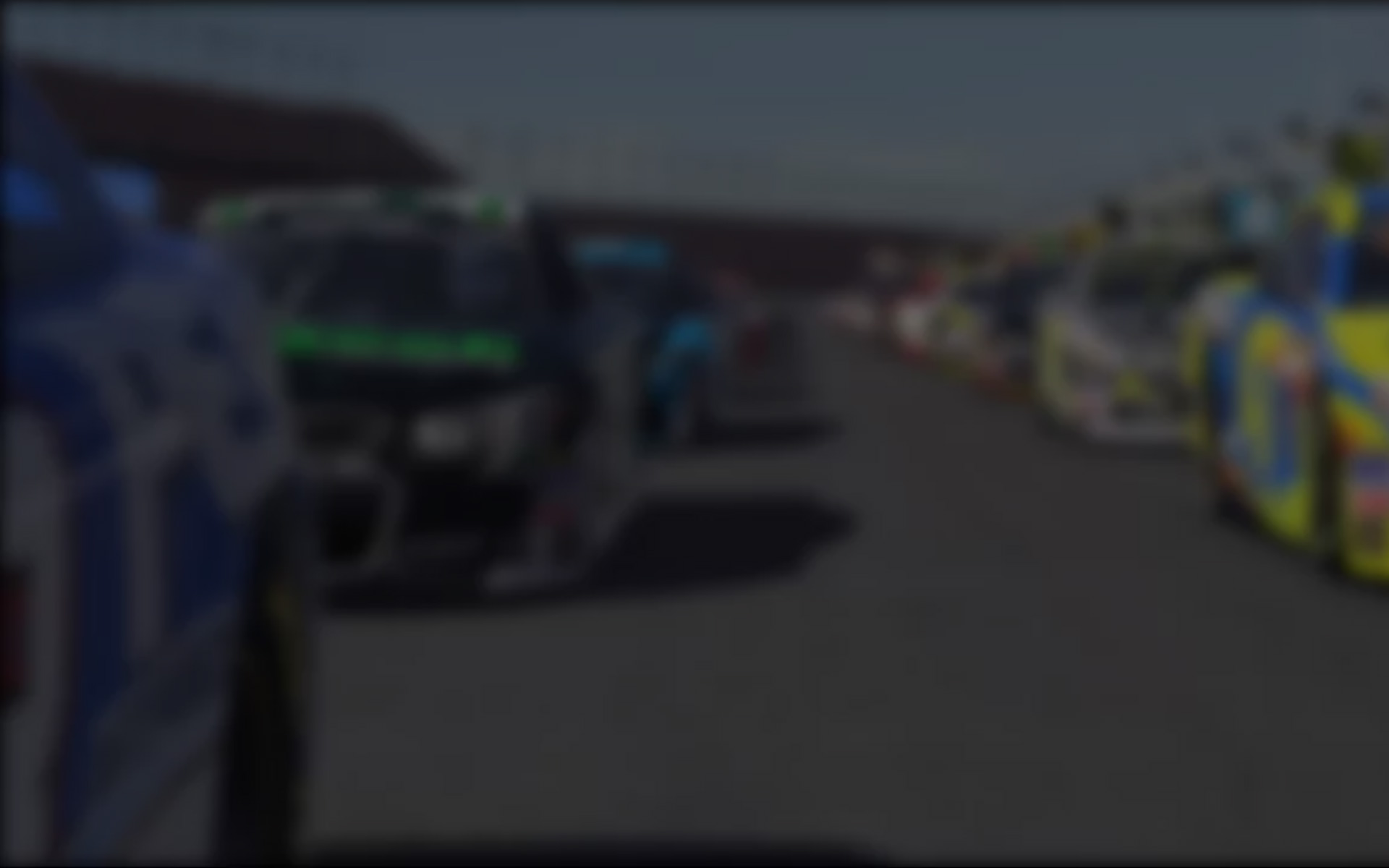 Taking full advantage of the absence of front-runners Greger Huttu, Hugo Luis and Atze Kerkhof, Italy's Fulvio Barozzini scored his first 2013 iRacing World Championship Grand Prix Series victory at the virtual Indianapolis Motor Speedway. In an accomplished pole-to-flag drive, the MMM sim-racer was able to capitalise on some first corner dramas to claim are largely unchallenged run to the finish.
Starting on pole with a lap time of 1:06.689, Barozzini saw his position at the front challenged as soon as the green flag dropped, with the likes of Luke McLean and iWCGPS débutante Yuho Abe getting alongside, as the trio approached Turn One. Barozzini looked set to lose his number one spot at the corner entry, but then McLean made contact with Yuho's left-rear wheel, sending the Asian into a spin, and allowing the pole-sitter to maintain his position.
Whilst the leader was showing a clean pair of heels to the rest of the field, drama was to greet many through the opening turns of the race. Firstly Aleksi Elomaa and Yudai Narumi made contact, making them an obstacle in the middle of the track. As cars scurried left and right, My3id's Andre Boettcher was confronted by both disabled Williams-Toyota FW31's, and despite heavy braking, made contact with the protagonists. Whilst this was happening, Radicals' Paul Ilbrink had looked to have negotiated his way around the carnage, only to be collected by Miguel Martin, whose avoiding action across the grass had sent him spinning back onto the track into the Dutchman's path.
With the dust still settling around Turn One, Barozzini and Mogar Filho were creating a breakaway tandem, with the likes of Martti Pietila, Max Dell 'Orco, Matthias Egger and Davy Decorps giving chase. By lap five, Barozzini and Filho had established a healthy advantage of four-seconds over their pursuers. Once the leaders embarked on their tenth lap, lapped traffic was coming into play, which allowed Barozzini to establish a healthy advantage over second position.
On lap 43, Barozzini headed to pit-lane for his only scheduled stop of the race, and by the time everyone else had completed their service, he was back in the lead by 12 seconds. With no nearby challenges to his lead, the Italian was able to calmly see out the remaining 30 laps, and collect the chequered flag with that same dozen seconds in his pocket.
"As expected, my start was terrible," Barozzini explained post race. "My rear tires spun and the revs dropped. I tried to save the spot from Luke but failed. I got back to the left side of the track, prepared to let Yuho and Luke by. . . . and I saw both flipping away in my mirrors. I don't know by how many inches they missed me and I don't want to know! Everything went like charm, strategy was OK, so I brought the car home in a somewhat 'fake' first place. Shame for the Turn One accident because the race for the lead could have been more interesting, but I prefer a 'boring' win like this for sure."
"The race for the lead could have been more interesting, but I prefer a 'boring' win like this for sure." — Fulvio Barozzini
Although Radicals' Filho had been the early lead-chaser, it was Stephen Michaels who would claim the second step of the podium with an epic race to the line. In the opening five-laps, the American had made his way to sixth place with passes on Decorps and Dell 'Orco. He was then faced with a three-second deficit to fifth position, held by Fabio Do Carmo, who was under the wing of Pietila. Michaels caught the duel for fourth place by Lap 13, but as he faced the pair of virtual Formula One cars through Turn Four, Jeremy Bouteloup took his chance and slipped past him. As Bouteloup and Michaels began Lap 20, they'd both been promoted a position by passing Pietila. It was at this point that Michaels moved back up to fifth, passing the Frenchman in Turn One. A trio of laps later, fourth became third for the Twister-Racing team member when Do Carmo headed to the pits.
On a charge, Michaels then reeled in and passed Egger in third place in just a handful of laps. By the time he was heading for his pit-stop on lap 41, he was on the gearbox of Filho in the runners-up position. After taking service, Michaels continued his unrelenting pace, and on lap 50, moved into second with a pass on Filho around the outside of Turn One. Although the American was able to continue his immense pace, at the front Barozzini had carved out such a margin that Michaels could not catch the leader before the end of the eventful 73 lap race.
"After my pit I accidentally took four more laps of fuel that was not needed and could get me through for 78 laps," Michaels told inRacingNews. "It didn't stop me to catch Mogar since he was four-seconds away and so I did catch him after some laps. He held the inside defensively, so I didn't care and went for the high side with the guts to out brake him and not waste time. I tried to see if I could break the distance between Fulvio and myself but I couldn't and there was not much time to do so sadly. I kept thinking I had a chance for a first win since this was the one chance to get a win."
After losing his spot to Michaels, Brazilian Filho continued to struggle for pace, enabling Egger to catch up. Then on Lap 60, Filho was awarded a course cutting penalty, which meant he had to yield his potential podium finish to Egger. Without a second invitation, Italy's Egger broke away and cruised to the line, for his best finish of the season.
"My race was simply perfect, zero errors, and one of the fastest paces of the race," Egger enthused after the race. "I must thank my team-mates that helped me so much during this week! This podium is so nice I still can't believe…I knew that Indy is one of my best tracks, maybe it suits my style, but a podium is simply astonishing."
For Filho, it continued to be a nerve-racking few laps of the race, with Daniel Lopez and Bouteloup hot on his tail. Lopez had worked his way up from twenty-second on the grid to the top-ten by Lap 15, and was in a net position of seventh by the time he completed a long first stint on his forty-fifth circuit. With fresh tires and brimmed with fuel, Lopez caught and passed Bouteloup on Lap 62, before catching up to Filho in fourth. With time running out, the South American searched high and low for a way past Filho, but the Radicals racer defended valiantly to hold his position to the flag, with just half a second gap over Lopez and Bouteloup.
During the early stages of the race, Decorps progressed from twenty-second to eighth by the time he made a pit-stop on Lap 43. For his second stint, the Frenchman had his mirrors filled with Pietila's Williams-Toyota FW31 as they fought for eighth. With 10 laps remaining, Decorps and Pietila occupied seventh and eighth respectively, when Dell 'Orco suffered technical issues that would send him into the back-straight fence and into retirement – positions they would hold to the chequered flag.
Rounding out the top 10, Jason Lovett and Ben Cornett made huge leaps up the order. When the green flag dropped, Lovett was in twenty-third, whilst Cornett occupied a spot on the fifteenth row of the grid. Taking advantage of the opening corner incident, the pair made huge gains in the opening stages, that would see them eventually come to the finish in the top-ten.
With 11 rounds of the iRacing World Championship Grand Prix Series now complete, Huttu remains atop of the standings on 661 points, despite missing the Indianapolis event. Likewise, Luis continues to lead the chase on 599, with Jake Stergios leaping into third on 427, at the cost of the absent Kerkhof. Round 12 brings sim-racing's elite road racers to Twin Ring Motegi, where the front-runners will be looking to get back into the points scoring groove. You can follow the action live at iRacing.com/live and read all about it here at inRacingNews.
---
You may also like...
---