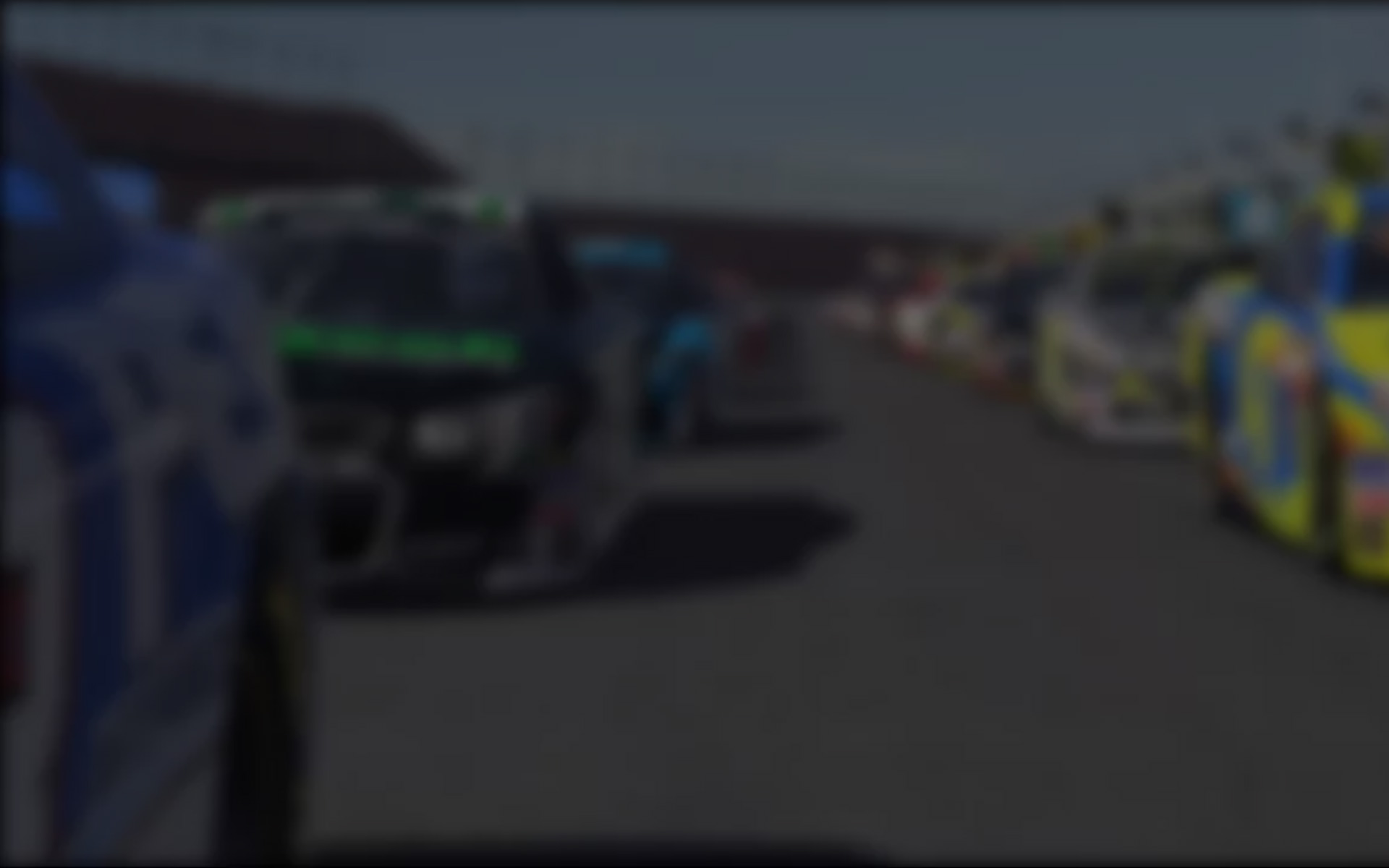 There are always three given races each year for us on the #05 team:  1) The race where Nick is in his own zip code and walks off with a win; 2) The race where we get into such a heated argument that I stop pulling tearoffs on Nick's windshield; and 3) The race where absolutely nothing goes as planned.  The first one is basically just an hour-long party.  The second is entertaining to everyone except for us.  The third is the real test of how well we can overcome problems.  The second race in the 2014 NASCAR Peak Antifreeze Series was  scenario #3.  It made the Daytona race look like child's play.
I arrived on our teamspeak server around 8:00pm, pulled out my notebook and took a look at last year's race to see what happened.  Oh yeah, now I remember:  Nick's internet connection dropped and he went bowling in Turn Three, took out four cars, disconnected, and came back in the server saying, "Hey why are we under caution?"  So those notes were useless.  I had made some fuel system tests earlier in the week, giving me a very good idea of what this new build did as far as fuel consumption (Don't forget that I almost made a huge mess at Daytona over fuel mileage!), so I quickly laid out a green-flag pit stop strategy.  We were going to be one lap short if it went green all the way, so I told Nick to save gas as much as possible.
Turns out all of that didn't matter.  Around 8:30pm, Nick was supposed to go qualify, but at 8:30 and 5 seconds he said, "Well qualifying ain't going to go well!"  Peter Fisher and I both asked, "What did you do?" to which Nick replied, "May have signed up for Carb Cup qualifying instead of PEAK Series qualifying…we're in the show though!!"  My head immediately hit the desk I was sitting at, while Peter asked, "Well did you get the pole for the Carb Cup?"
I was not amused, and asked Nick, "Did you not realize there were fewer people regis…how many people were registered for that?  Three?  Four???"  "It was just me, actually!" Nick responded.
GREAT.  So pit strategy went out the window, but we'd finally have that early pit box I've always wanted.  You know, silver lining and all that.  We all got into the race server (NASCAR PEAK Antifreeze Series not Carb Cup) and were fairly silent until Nick said, "You two are going to have to remind me that I have an early pit box tonight."  Believe me, I made sure he knew he had pit stall #42 every single time he crossed between the yellow cones.
"May have signed up for Carb Cup qualifying instead of PEAK Series qualifying . . . we're in the show though!!" — Nick Ottinger
On the grid, Nick tried to play up this pep talk that was dripping with sarcasm, "Well fellas, qualifying didn't go so hot, we're gonna have to pass a lot of cars here tonight. Let's just be patient and we'll make it to the front."  When the pacing group got to the third turn to start the race, Peter broke in with, "Thanks for the help this week Matt, thanks for showing up to the right track for the race Nick."
There was face-palming all around.  We pushed away the fun and games once the green flag dropped because we had to seriously focus on what we were doing in order to pass the 40 cars ahead of us.
It didn't take long for Nick to fall into his rhythm; he was passing cars every chance he got.  No contact, no damage, just methodically working his way through the field.  Despite Nick's cautious methods to pick-up positions, the same could not be said for others on the track.  While Nick made his way through the field, Peter and I were constantly pointing out problematic areas on the track.  Cars three wide all around the track, drivers bumping into each other, and some even stopping for a hamburger in the center of the corner.
At one point, I watched as the two cars ahead of Nick decided they could fit a third beside them, and then Nick decided there was room for a fourth.  Despite Peter and I having a panic attack, it turned out to be a good decision, as two of the four cars touched and triggered a massive crash behind Nick to bring out a caution.  By then, Nick had made his way past half of the field, up into the 20s and was still one of the fastest cars on track.  I brought him back down pit road, filled up the car, and threw-on four brand new tires so he could attack the remaining contenders.
This pit stop turned out to be the cornerstone for the rest of our race because of how the tires looked after they came off the car.  Nick had been complaining that the car was very tight in the center moving to loose-off as the banking fell away.  Typically, this is a sign that the crossweight is too high for Nick's driving style, so I checked the temperatures.  As it turns out, the left-rear and right-front tires were hotter than the left-front and right-rear, so I scheduled a wedge adjustment for the next stop to counter that issue.  However, after only five or six laps, that option got axed when Nick said, "Splitter's hitting the track."  Some of you may remember the 2013 Homestead race, some may not, but here's the short version:  Nick's car hit the splitter at Homestead, too.  I adjusted the crossweight to help the car's handling and wound-up taking a car that was in the lead and making it so that it had no chance of being in the lead.  That crossweight adjustment also adjusted the ride heights in the front of the car and caused the splitter to hit even harder than before, thus giving Nick even more push despite removing wedge from the car.
With the crossweight adjustment banished from this race, I asked Nick to dial-in some rear brake to help free up the car on entry as well as removing some of the brake pressure on the front.  This shift rearward allowed him to use the brake less, causing the right-front not to build up pressure as fast and delaying the tight-center condition he saw earlier.  It worked, but only a little.  The car still hit the splitter on the track hard, and there was no way to avoid it . . . or fix it.  Despite that, Nick took the lead and I started working on our final pit stop.
Like in Daytona, I expected everyone to run a long final stint and pit with 10 or so laps remaining.  But also like Daytona, I was wrong.   Again.  It wasn't long after Nick took the lead that drivers started pitting, and with the extra speed from new tires, we were going to be forced to pit sooner than we expected as well.  I wanted to go to Lap 159, but once cars started driving back onto the lead lap, I told Nick that we had to pit immediately.  We needed a short stop as well because we waited so long, so a four tire stop was out of the question.
The car was still very tight, so we decided on two tires to free it up over the final 15 laps.  We did the same thing at Homestead and it freed up the car too much, making the car nearly un-drivable.  The same thing happened tonight at Las Vegas.  I gave Nick enough fuel to get to the finish and set the right-side tires to be changed.  Once he got up to speed though, it was very clear that the two tires loosened up the car too much yet again, and Nick had no choice but to start letting faster cars pass.  Our car was just too loose, and it was not good enough to compete with the cars coming by on fresh tires.
We finished a respectable 10th place.  Not too shabby considering where we started.  Considering what happened last year, we'll gladly take 10th place.  Nick literally passed every single driver who participated in tonight's online race, netted a few bonus points, and showed that we still have the ability to take a bad situation and turn it into a decent finish . . . even if our driver was something like 2000 miles away!
---
You may also like...
---