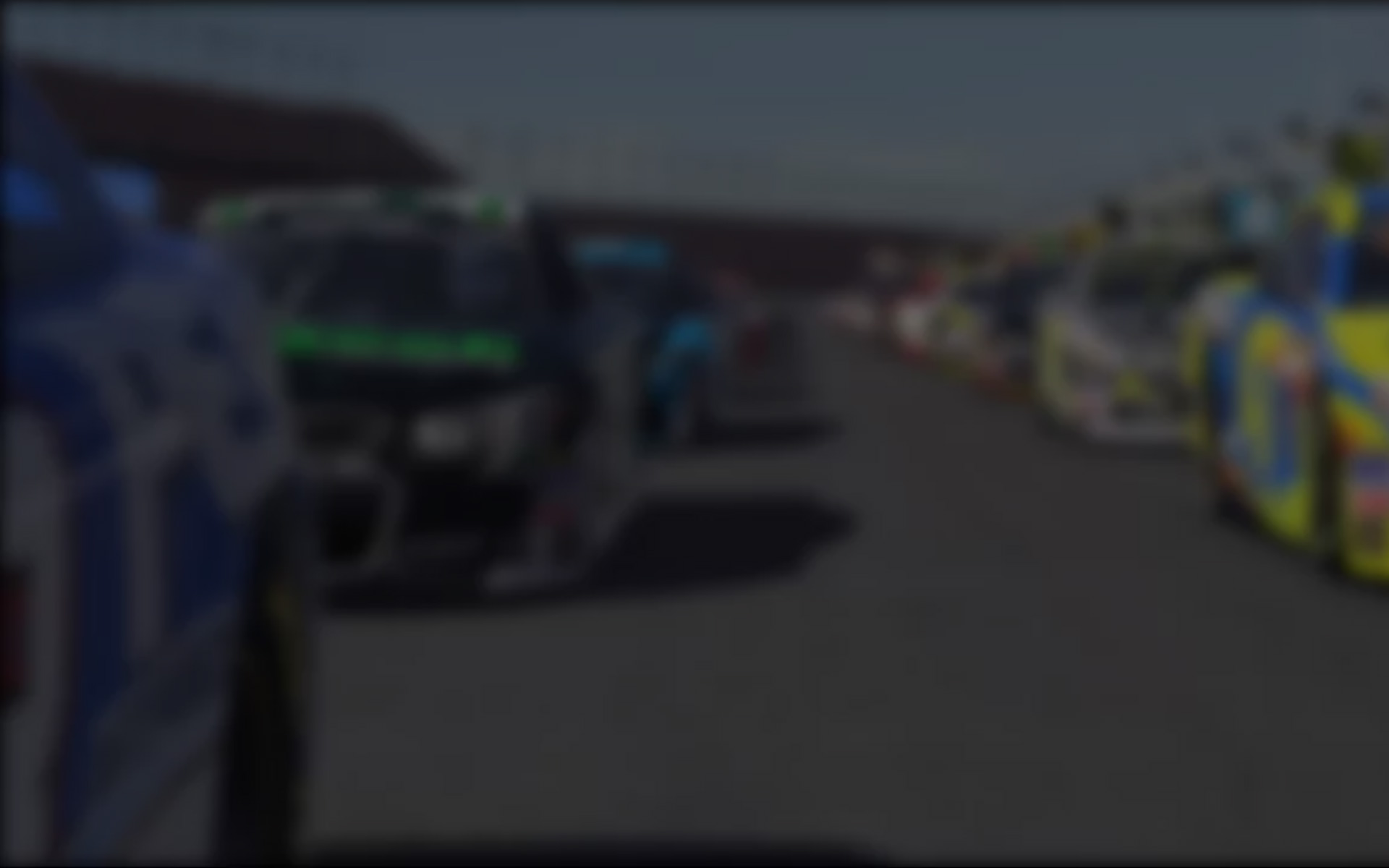 Week 3 of the NASCAR iRacing.com Late Model Series brought the sim-racers to Stafford Motor Speedway, in Stafford Springs, Connecticut.  This ½ mile track with long sweeping corners would test the sim-racers for 50 laps.  With tire conservation in mind, drivers had to take an easy entry into the corners and try not to push up into the outer lanes to help save the right front tire for later in the race.  The feature race of the week would see Bill Martin start from the pole with Jacob Linkiewicz to his outside, followed on the second row by Todd Sipe and Bryan S Fallen.
When the green flag waved Martin wasted no time getting clear of Linkiewicz and leaving him in the clutches of Sipe who got to the quarter panel and kept Linkiewicz on the outside.  As they entered into Turn 3 the top five went single file trying to run down Martin who stretched his lead to half a dozen car lengths.  On Lap Seven Linkiewicz dove under Sipe into Turn One in an effort to grab second spot.  As the cars approached the apex they both slid up a full groove but, coming out of the corner, Linkiewicz completed the pass.  While that was going on Brian Tedeschi passed Fallen, who was battling a extremely loose machine, and set off  in pursuit of  Sipe, who was still looking to regain second.  For the next 40 laps these sim-racers would duke it out with no one driver gaining a clear advantage until the later laps of the race when their tires' performance faded. Martin coasted to a five second win over Linkiewicz, while Sipe would finish third some two seconds further behind followed by Tedeschi and Fallen.
Handling played a key in this race as sim-racers faced a tight-center, loose-off condition, some worse then others.  Parker Traves failed to get a handle on his car and from Lap Five he spent majority of his laps pushing up in the center of the corner and finding himself sideways on the exit.  Before he could complete Lap 18 he spun in of Turn Two and decided he'd had enough, pulling off the track to end his day.  David Richer was one of the few sim-racers who didn't have a handle on things to stick it out the finish, coming home a dozen laps down but showing tenacity as he fought the handling for so many laps.
The bottom half of the top 10 shuffled spots through out the race, mainly as Jarrid Boiros fought his way through the field from P11.  Boiros was hoping the race distance went just a few more laps as he had to settle for sixth after catching — but failing to pass — Fallen for fifth.  Jeff Hoggard maintained his starting spot and finished in seventh.  Although he would passed Timothy S Clagg in the early running he had nothing for Boiros as he charged through the field.  Richard Cobb also came through the field nicely, gaining five position from his starting spot to finish eighth, while James Babb was the final car one lap down in ninth followed by Travis Gilbert3 the only sim-racer two laps down.
Overall points battle after three weeks.
1. Ty Majeski  – 499                    6. Tyler Price – 431
2. Bill Martin – 462                    7. Darrel Hamlin – 418
3. Stan Bragg Jr – 455               8. Kenneth Smith3 – 413
4. Tim Bills – 439                       9. OJ Dumpier – 401
5. Kevin J Myers – 433            10. Joe Schafer Jr – 398
---
You may also like...
---