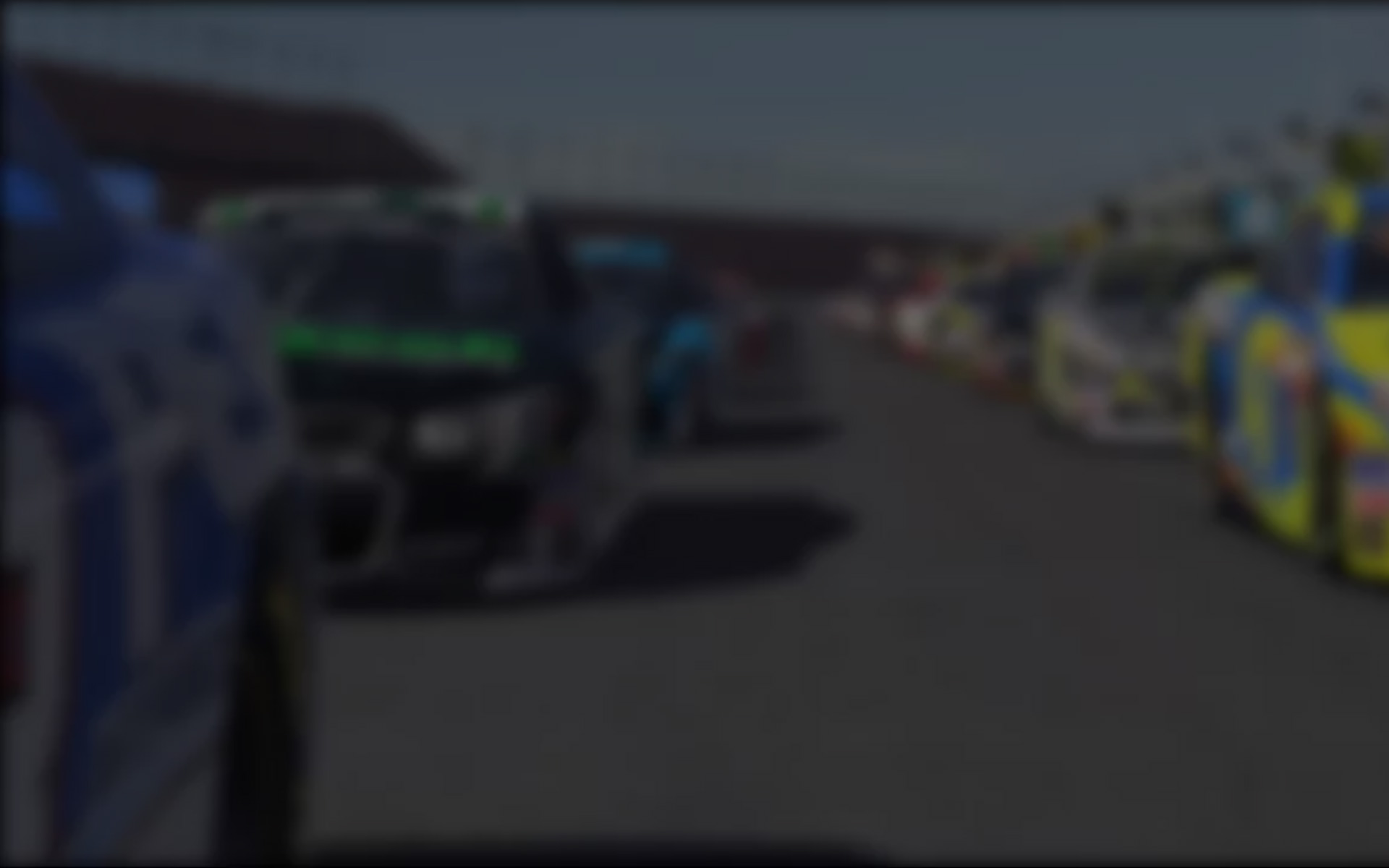 With the excitement that Bristol brought to the iRacing.com Sprint Car Series last week, it would seem any other track would be a nice vacation from the stresses that Thunder Valley usually exhibits on sprint drivers. However, with the second visit to Lanier National Speedway this season, Week 11 showed just as much intensity between the series regulars, along with creating a tough proving ground for many newcomers.
The week's festivities started on Tuesday, where Alan Binder returned in full force after a shocking accident-filled race week at Bristol that broke his streak of incident-free races. Binder hit the pavement at Lanier by qualifying a best lap of 12.543s to take the pole position. By running a 12.605s lap, Fred Lampela would also be looking for redemption with a guaranteed front-row position after a stressful Week 10.
Tuesday's field showcased 14 sim-racers who were set to brave the tricky corners of Lanier's 3 / 8 mile oval. After the green flag flew, many drivers eventually found themselves facing the wrong direction after fighting very loose cars. Four caution flags flew, but it was Binder finding his groove once more as he crossed the finish line first after leading all 50 laps. Dustin Herner found himself in second place after the smoke cleared, resulting in a significant jump in the point standings. Christopher Hedlund took third, while Brett Waldrep and Dayton Gank rounded-out the top five respectively.
Thursday sported the biggest field of the week with 19 drivers, including all of the biggest names of the series. The online race was far without incident, as five caution flags waved resulting in the race running under pace laps for half of the event. When under the green flag, however, the race was a classic battle between Binder, Vinnie Sansone, and Fred Lampela. On one of the many restarts, Lampela lost grip, spun his tires and  found himself facing more than a dozen sprints speeding to the green flag. Miraculously, nobody else was involved in the incident.
"[I] gassed it up a bit too much on the restart and looped it," Lampela confessed. "I think I psyched myself out a bit – another lesson learned."
Lampela dropped back into the field after the spin, which left Sansone to discover if he had anything for Binder. When the checkered flag fell, it was Binder once again taking the win, with Sansone finishing second.
Sansone didn't seem surprised in post-race interviews: "The guys get faster and faster each week," he said. "I found out how strong [Alan] was up there and was going to have to settle for my second place this race."
Steven Hunter crossed the finish line in third, while Michael Lampela and Michael Clement survived the mayhem by finishing fourth and fifth respectively. Eddie Walczyk, who had mechanical and electrical problems during the race, summed up Thursday's event accurately: "[It] felt like a Bristol race!"
"[It] felt like a Bristol race!" — Eddie Walczyk
Binder would sit out the race on Sunday, leaving room for someone new to visit victory lane for the week. The front row proved to be the group to beat, as Fred Lampela and Sansone battled it out for most of the race after the green flag fell. It was a classic showdown, as the two powerhouse sprint drivers at times raced wheel-to-wheel for multiple laps at a time. With only one caution flag flown, there was plenty of time to race for track position, and Sansone and Lampela gave the spectators (and drivers behind them) quite the show to watch. Sansone eventually worked his way around Lampela, but Lampela eventually lost grip and saved his car from spinning around. The save was not without cost, however, as he lost crucial distance to his rival's famous orange-and-blue machine. Sansone crossed the line in first, snagging a very well-deserved win, with Lampela finishing .5s behind in second.
Sansone was thankful for a memorable clean race in victory lane.
"[It] felt good to be battling for the win again," he said, "and to have a good short track race like that, only made possible with the type of guys you see in the iRacing Sprint Car Series."
Jack Breuker made his return to the iSCS with a third place, and newcomer Leila Wilson raced her way up from 10th place to finish in fourth. Michael Williard2 claimed another great run after rebounding from an earlier spin by rounding-out the top five.
In a change-up, Sunday held another race later in the day. It was the smallest official field of the week with only eight drivers making the grid, but held the biggest SOF of the week (2260). At the end of the race, it was Michael Lampela holding-off the field to take the win. Pro/WC oval racer Florian Godard finished right on Lampela's heels for a second place finish with Joni Hager placed third and Pro/WC road driver Petteri Kotovaara fourth ahead of Thomas Mitteer II.
Binder stands strong in the points lead with 1334 points, while Sansone remains in second, now -43 points away. With only one race left in the season, it may be clear to some as to what the outcome may be for the iSCS 2012 season 2 championship standings, but with the track record the sprints have in the realm of excitement, who knows what may happen at Irwindale Speedway in Week 12. Catch the conclusion of Season 2 next week on iRN!
---
You may also like...
---