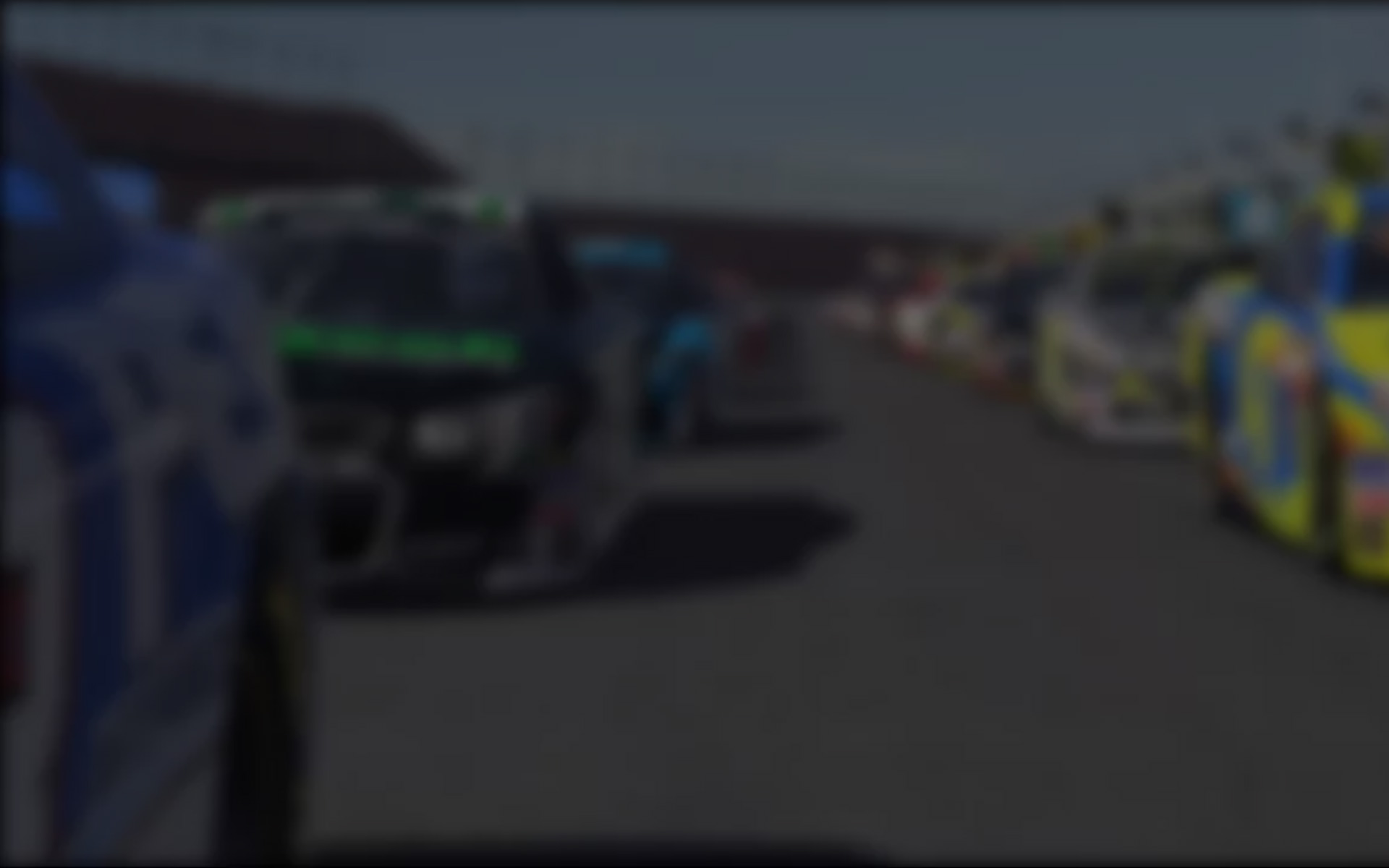 Irwindale Speedway holds a distinguished spot in the hearts of sprint racers. Within the ranks of iRacing, it is widely considered to be one of the best tracks in the schedule for the sprints, as well as being difficult to master. As the iRacing.com Sprint Car Series moved into Irwindale for the season finale, sim-racers knew this was the last chance to make a showing for themselves. For Alan Binder, who held a 43 point lead over two-time iSCS champion Vinnie Sansone, this was his time to shine once again.
In Week 12 of the iSCS, attendance was up as 76 entries materialized for the week's seven online races that went official. In a series that is used to an average of 3-4 races per week, the sight of so many sprints on-track was energizing. Festivities started on Tuesday, with qualifying once again dominated by Binder, who set his place on the pole position with a 16.035s fast lap. On the outside front row, it was series veteran PJ Stergios with a time of 16.068s.
Tuesday's top event featured a split, with 24 drivers ready to take on Irwindale. In the top split, which was the highest strength of field (SOF) event for the week (3070), Binder took the checkered flag in first place after leading all 50 laps. Placing second was Pro/DWC driver Sansone with Joe Quinn coming home in third. Steven Hunter scored a great points race by finishing in fourth ahead of Christopher Hedlund.
In Tuesday's bottom split, Steve Linder made his comeback by visiting victory lane after weeks with electrical problems plaguing his performance. With three cautions and tight racing in the front of the pack, Linder lauded the excitement factor of the race. "The bottom split race on Tuesday night was awesome," he said. "I could tell the guys were having a lot of fun."
"I could tell the guys were having a lot of fun." – Steve Linder
Brett Waldrep was the runner-up to Linder, and Glenn Cray crossed the finish line safely in third place. Chet Wheeler Jr. and Douglas Berryman rounded-out the top five respectively.
Tuesday featured a third event, headlined by top points runners Sansone and Fred Lampela, with a field of 10 drivers. With Binder out of the picture, it was Sansone capturing the win by leading all 50 laps of the event. Lampela finished 1s behind the winner in second place, while Brandon Buchberger and Glenn Cray finished on the lead lap in third and fourth respectively, and Michael Denton finished a lap down in fifth.
Sansone was not only happy with his win, but extremely impressed with what he saw in the entire season. "Good season overall," he said, "a rebound from last season's crash and burn for me. Great to see the number of splits this time, and with all the big things happening for 2012 Season 3, it can only get better."
Thursday brought another 1-2 punch from Binder and Linder. Thirteen drivers raced in the top split, but the famed flames of Binder's sprint dominated the event once more, never once dropping from the first place spot. It was the definition of Alan's season, as he captured the iSCS title with Thursday's run. PJ Stergios finished in second place, less than a second behind Binder. Sansone held his third place position, while Scott Green and Michael Clement finished fourth and fifth respectively.
The racing was clean up front in the bottom split of Thursday's main event, as the six top finishing drivers all finished without a single incident point scored. Linder led a field full of new and old faces for the entire event, and finished a full 2s ahead of Andy Crane. Glenn Cray and Douglas Berryman had a close battle for third spot, with Cray finishing ahead of Berryman.  Paul Mepyans rounded out the top five.
Thursday also held what iSCS drivers are currently calling the "Bonus Race" of the night. In the last week of the season, Irwindale gave birth to a new winner of the series. Scott Kelly won his first ever sprint car event, leading all 50 laps of a caution-free race. Dylan Schriner finished in second, -3s behind Kelly. Rookie driver Leila Wilson scored a third place finish. Glenn Cray, who kept the pressure on Kelly early on in the event, fought a loose race car but held on to a respectable fourth place finish ahead of Joseph Hogan III.
Kelly was exhausted but grateful after the event. "Don't let anyone tell you that running flat out in a sprint for 50 laps straight isn't tiring," he said. "I couldn't ask for a better rookie season. Many thanks to Vinnie for the constant assistance with setups in the forums, and everyone else that has given me pointers this season. I'm not sure there's a better group of drivers to compete with."
"I'm not sure there's a better group of drivers to compete with." – Scott Kelly
Sunday hosted the season finale, with 10 drivers competing for their last chance to win big in Season Two. Wheel-to-wheel racing abounded, but when the checkered flag fell, it was an almost-photo finish as Petteri Kotovaara lost control on the final corner coming onto the front straight. Steve Linder put the hammer down to pass Kotovaara before the checkers, but ended up colliding with Kotovaara's out-of-control sprint. When the smoke cleared, it was Kotovaara who was scored in first place, with Linder -.077 seconds away from sweeping the week. Douglas Berryman came home without a scratch in third place, while Jack Breuker and Thomas Zinninger completed the top five.
With the second season of 2012 completed, drivers can take a breather before the next long haul of sprint car action. None deserves it more than Binder, who scored his fourth consecutive iSCS championship, along with etching new records in the iRacing scorebooks. Top sprint drivers such as Sansone, Fred Lampela, along with promising series up-and-comers such as Petteri Kotovaara and Steve Linder are no doubt pledging to put more pressure on Binder next season. Be sure to come back to iRN in two weeks to see what the iSCS has in store at the season opener at Phoenix International Raceway!
iSCS 2012 SEASON 2 TOP 10 STANDINGS
1. Alan Binder            1389
2. Vinnie Sansone        1315
3. Fred Lampela        1101
4. Steven Hunter        1001
5. Scott Green            967
6. Mike Iannarelli        894
7. Petteri Kotovaara        860
8. Brandon Buchberger    850
9. Michael Lampela        844
10. Tom Downey        835

iSCS 2012 SEASON 2 DIVISION CHAMPIONS
Div. 1 – Alan Binder
Div. 2 – Fred Lampela
Div. 3 – Michael Lampela
Div. 4 – Michael Willard2
Div. 5 – Andy Crane
---
You may also like...
---