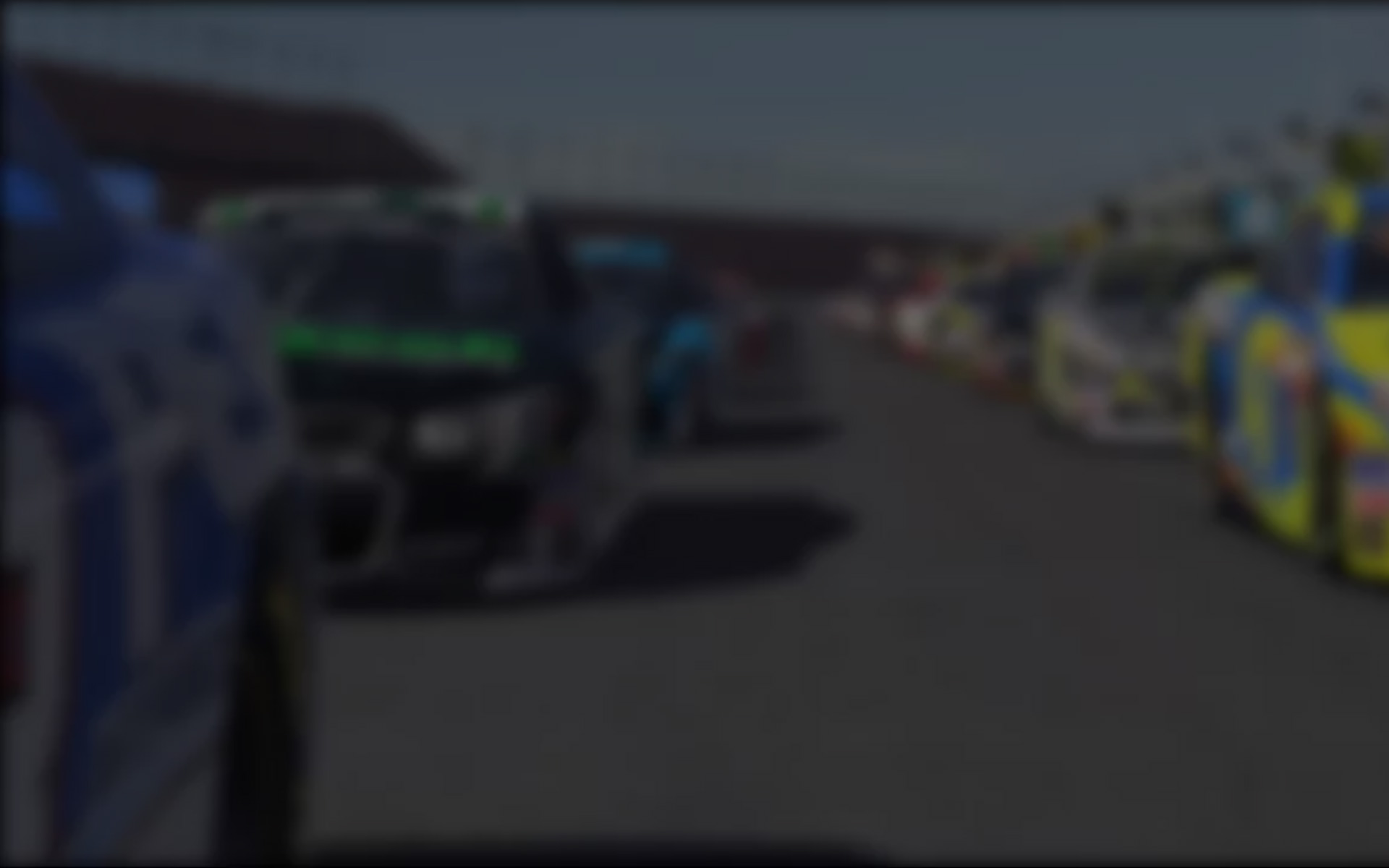 After a long, tumultuous NASCAR iRacing.com Series World Championship season, Joey Brown was not about to let another win slip away. Two weeks after dominating at Michigan only to lose due to fuel strategy, Brown found himself out front once again, this time at Atlanta Motor Speedway.  And this time he made sure he came out on top in a spectacular last lap battle with Brandon Hauck and Tyler Hudson.
Brown dominated the race, never being challenged for the lead until the last round of pit stops were in the book. Hauck, who had been matching Brown's pace but was trailing by a couple seconds, decided to short pit and took the lead. Brown pitted nine laps later and caught Hauck with 22 laps to go, but by then his fresher tires did not have enough of an advantage to complete the pass quickly. Instead he found himself locked in a side-by-side battle with Hauck, with Hudson in third slowly reeling-in the two leaders.
Hauck and Brown stayed door-to-door for seven laps before Brown tried to look for another way by. Two laps later, he got a good run to the inside of Hauck and completed the pass. Hauck looked inside a lap later, but could not make it stick and it looked as if Brown had the race won. Despite his inexperience in the NiSWC however, Hauck would not go quietly. With three laps remaining, he made one last try at the lead, diving low on Brown entering Turn Three. The two ran side-by-side once again, with Hauck ahead by a nose as the two took the white flag.
"Craziest race ever . . . don't really know what to say." – Joey Brown
Then things got interesting.
Entering Turn One the final time, Hauck took a higher line than Brown expected and the two made contact. The hit shot Brown into the outside wall and slowed Hauck enough for Hudson to get a run at him. Hudson looked low and Hauck tried to shut the door . . . too late.  They made contact, sending Hauck into the outside wall and out of the race with a twenty-third place finish.  The contact also cost Hudson, who slowed enough that Brown roared around him on the outside exiting Turn Two. Hudson, still seeking his first NiSWC victory, tried one last desperate move in Turn Three. He got to Brown's back bumper and gave it a shove, but Brown held on for his second win of the season.
"Craziest race ever," said Brown. "Had a fast car but overall I think Hauck was a tad quicker. Really good race overall; don't really know what to say. I would have been content finishing third."
"Phenomenal car, big thanks to everyone on One Up." said Hudson who settled for second. "I wanted that really bad, and did all I could do. There are so many things that could have gone differently and I would be in victory lane."
Jared Crawford finished third, more than four seconds behind Brown, with Kevin King taking fourth ahead of Ray Alfalla.
"I wanted that really bad, and did all I could do." – Tyler Hudson
The race had major implications on the NiSWC championship fight. Alfalla, whose win two weeks ago at Michigan already put him in control, pulled even further ahead after Brian Schoenburg finished a distant P11 and terrible nights effectively ended the championship hopes of both Nick Ottinger and Marcus Lindsey. Lindsey went too aggressive with his grille tape and blew his motor in the opening laps. He finished forty-first. Ottinger had connection issues all race and ended up 38 laps behind in thirty-sixth place.
Alfalla now leads Schoenburg by 38 points with Hudson slotting into third, 55 points out of the lead. A twelfth place finish moved Michael Conti into the top five, 74 points behind Alfalla. He sits five points in front of Lindsey with Ottinger an additional 16 markers back.
With only four weeks remaining in the season Alfalla looks to be on his way to a third straight title. The only driver within one race of him in the points is Schoenburg, but he has shown no sign of being able to gain 38 points in the remaining four races. Everyone else has to hope Alfalla makes a mistake or has terrible luck; otherwise the battle is for second.
Chicagoland Speedway is next on the schedule and starts the season's stretch drive. The first of three online races held one week apart instead of the customary two weeks, it will challenge drivers to use their testing time wisely, especially those who are still in the running for a top five position in the points. Alfalla won both races at Chicagoland in 2012, but with Brown riding his current hot streak, everyone – the championship leader included — will have to be on the top of their game to keep pace. Catch all the action on iRacing Live and MRN.com!
---
You may also like...
---