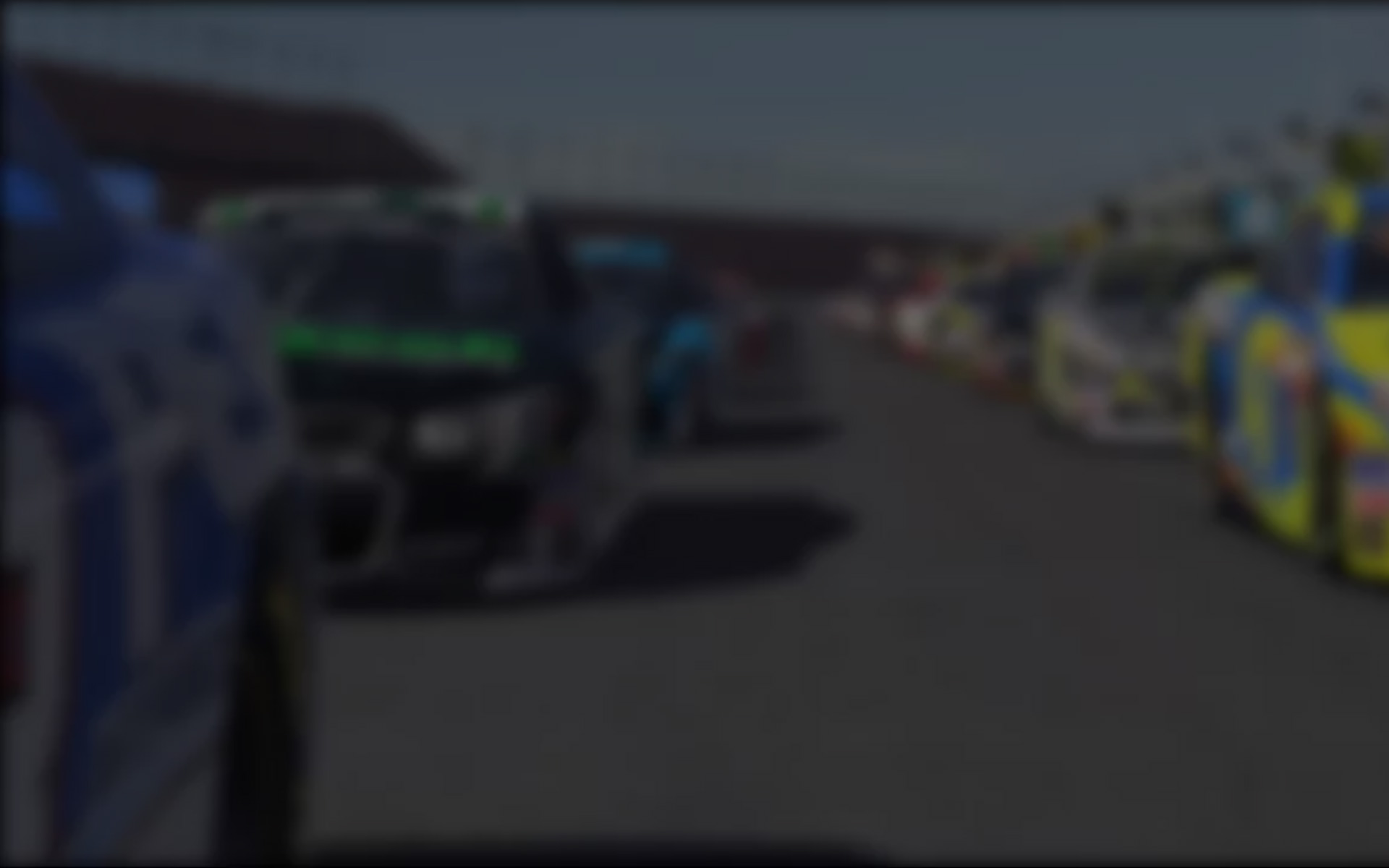 All News: Sim Racing News
---
January 8th, 2010 by DavidP
We've gotten approval to build the Pratt & Miller Corvette C6.R GT1 car!  SWEEEEET!  OK, what's first?  Hmmmm. Dyno sheets.  That's the most important thing, right?  That beautiful sounding motor, deep and rumbling, with earth-moving torque and acceleration.  Now that sounds like fun! Getting the power to the ground is next, so what gearbox does … Read the Rest »
December 28th, 2009 by DavidP
"The Lady in Black" lived up to her name during Week 21 of the iRacing Pro Series Oval. Many of iRacing's top drivers received her infamous "Black Stripe" early and often. Although this was the iPSO's second trip to the tricky Darlington Raceway, many pros still found themselves searching for the secret of how to … Read the Rest »
December 23rd, 2009 by DavidP
This week marks the beginning of drivers dropping their worst results from their season points score in the case they have run every iRacing Pro Series Road Racing event to date.  This means over the remaining five weeks of the iPSRR we could see quite a lot of movement in the top 50.  However, this … Read the Rest »
December 22nd, 2009 by DavidP
Virtual Version of Historic UK Circuit Open to Racers World-Wide Located in Kent, 30 miles outside London, and internationally known as a classic road-racing circuit, Brands Hatch is now be available to simracers worldwide through iRacing.com's internet-based virtual-racing service.  Every detail of the historic circuit, including its dramatic elevation changes and challenging mixture of fast, slow and medium-speed corners, is reproduced with millimeter accuracy. "Motor racing fans throughout the UK and across the world love Brands Hatch," noted David Scott, Race Operations Manager for MotorSport Vision Racing, the company that owns and operates Brands Hatch and other British road-racing facilities.  "Our RaceMaster driving experience lets visitors come to Brands Hatch and enjoy some laps behind the wheel of a BMW M3 and F1-style single-seater race car.  Through iRacing's virtual version of the circuit our fans everywhere can get to know Brands Hatch from that same perspective and enjoy great wheel-to-wheel competition with other fans and real-world racers.  And of course, with iRacing's extreme degree of precision in reproducing Brands Hatch, the hundreds of competitors who race on these tracks every year will have the ability to tune up before they get on track." iRacers can now test their mettle at historic Brands Hatch. iRacing will award a RaceMaster Driving Experience voucher to one of its UK-domiciled members.  Every member of iRacing's Club England who purchases Brands Hatch ($14.95 USD) between now and January 31, 2010 will automatically be entered into a lottery for the voucher.
December 21st, 2009 by DavidP
Series of 14 Virtual Events to Track Real-World Counterparts Starting next month members of iRacing.com will able to participate in the iRacing World Tour, a series of same-weekend virtual versions of more than a dozen of the world's top motorsport events.  Beginning in January with the Grand-Am Rolex 24 at Daytona International Speedway's road course, and then continuing with the Daytona 500 in February, the Mobil 1 12 Hours of Sebring in March, and including the Indy 500 and British Grand Prix at Silverstone, iRacers will have the opportunity to compete in a total of 14 events ranging from American short-track classics to Formula One and Australian V8 Supercars.  The series concludes in November with the running of the NASCAR Sprint Cup Series finale at Miami-Homestead Speedway.
December 14th, 2009 by DavidP
Week 19 of the iRacing Pro Series Oval blew the iRacing Pros to the Windy City of Chicago. The high banked, one and a half mile oval promised to be exciting for the competitors, but nobody could have expected what Wednesday night had in store for them. Wednesday night, which is usually the most popular … Read the Rest »
December 10th, 2009 by DavidP
When it comes to race tracks that provide a road-racing driver with the perfect balance of challenge and pure fun, it's hard to beat Mid-Ohio Sports Car Course.  And soon this classic road-racing facility will be available for racing and practice to members of iRacing.com's motorsport simulation service. Mid-Ohio was about the last major permanent road-racing facility in North America not either in our inventory or in production," said Steve Myers, iRacing's executive producer, "and our members were pretty vocal in letting us know they wanted it.  So, we're pleased to be able to provide the many fans of Mid-Ohio Sports Car Course – both current and future iRacing members – with the chance to put themselves behind the wheel of a wide variety of race cars on a millimeter-accurate virtual version of this historic road-racing circuit." Myers noted that survey-accurate laser scanning of Mid-Ohio had been completed earlier this fall and said he expects the track to become available in the iRacing inventory sometime during the summer of 2010. All of us are pleased with the notion that racing fans all over the world will soon be able to race on a virtual version of Mid-Ohio Sports Car Course," said Michelle Trueman Gajoch, president of track owner TrueSports, Inc.  "And we think many of our existing fans will really enjoy the opportunity to see what it's like to drive on track.  That's why in addition to the traditional benefits of our VIP Race Pass – including general admission, grandstand seats, paddock passes, pit access and other benefits – for 2010 we're including a free 30-day iRacing.com membership.  Now our VIP Race Pass holders will really have an inside look at racing at Mid-Ohio Sports Car Course." One of the most active road-racing facilities in North America, Mid-Ohio is home not just to the sports cars that are in its name, but to virtually every form of road-racing machine around.  In addition to Sports Car Club of America and other amateur road-racing competition, in 2010, Mid-Ohio will host a round of the IZOD IndyCar Series, the American Le Mans Series, the Grand-Am Rolex Sports Car Series, AMA Pro Racing, the SVRA-sanctioned Vintage Grand Prix and the AMA Vintage Motorcycle Days.
December 1st, 2009 by DavidP
This week marks the end of r-ovals for the remainder of the season . . . much to the delight of many who have targeted them from the get-go as weeks to drop. However, the racing has been pretty good over this mid-season period with some of the drivers not minding these types of tracks … Read the Rest »
December 1st, 2009 by DavidP
Two celebrated race tracks half a world apart are set to become a part of iRacing.com in 2010.  Circuit Zolder, a home of the Belgian Grand Prix during the 1970s and '80s, will join Silverstone, Brands Hatch, Oulton Park and Zandvoort among iRacing's first European circuits, while Oran Park Raceway will pair with Phillip Island as the first two Australian facilities on the service.
November 11th, 2009 by DavidP
Brad Davies continued his dominance of the iRacing Pro Series Oval  in Week Fourteen competition, scoring a season high twelfth win at Daytona International Speedway on Wednesday evening to open up a 359 point lead over Josh Parker, his closest pursuer.  Parker lost ground to Davies, but not through want of effort, as his week's … Read the Rest »