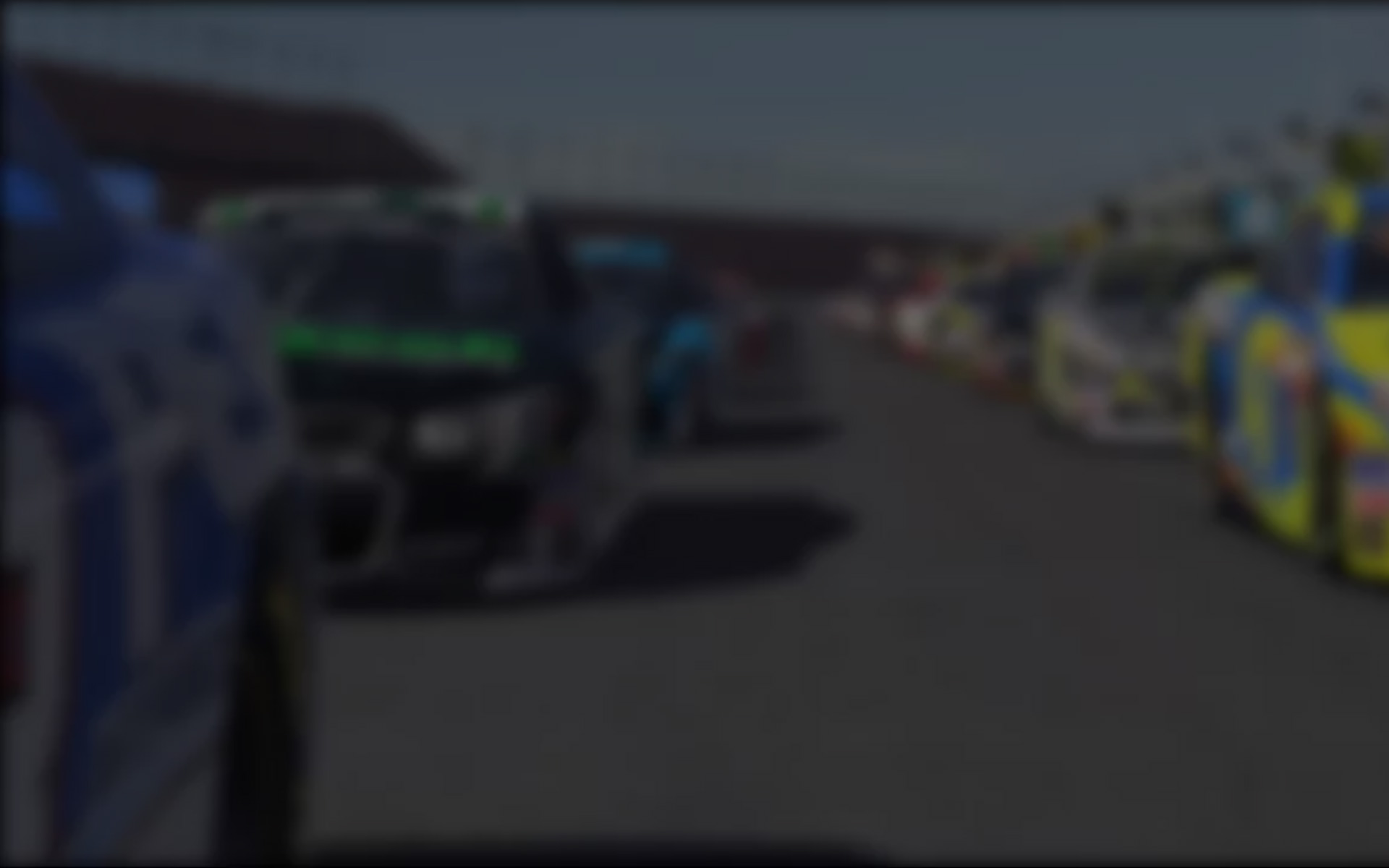 The legendary Oran Park Raceway hosted Round 9 of the iRacing.com V8 Supercars Series and the action kicked-off from the start of the race.
Taking the pole position was ANZ Motorsports driver Beau Cattell with a time of 1:04.043. Next to Cattell on the front row of the grid was Kamikaze Racing Team driver, Michael Fulcher. The second row of the grid was comprised of Ian Ford of Demidov Motorsports and Mitchell McLeod of 4Motorsports. Rounding out a very close top-five was James McKnight of SDC Motorsports.
Although he had an impressive run to take the pole, Cattell's launch was anything but. In what could best be described as a 'late start,' Cattell didn't get the power down in time and was totally engulfed by Fulcher before they reached the first turn. Taking defensive measures early, however, Cattell closed the inside gap off to Ford who was looking to follow in Fulcher's footsteps.  Able to tie off one of the loose ends, Cattell stopped Ford's advance by Turn One but Ford refused to give up. In a non-stop assault on Cattell's rear bumper, Ford harried Cattell all the way to Turn Six before ceding the second spot and enabling Cattell to begin his pursuit of Fulcher.
For McLeod, things weren't going as planned early on in the race. Although he started in the top-five, the former champion soon found himself in tenth after a costly off-track incident at Coca-Cola Corner at the start of Lap Three. Able to get back on track cleanly, McLeod soon found himself in slower traffic.
Oran Park is famous for its slippery surface but also for its limited overtaking opportunities. The track is narrow, and there are few places to attempt a pass outside of Shell and Recaro Corners. However, McLeod eventually found himself behind George Maris. Attempting a dangerous pass on the inside of Champion Curve, McLeod gave Maris room but the back end of Maris' Ford Falcon snapped out, causing the nose to turn in towards McLeod. The two made contact, McLeod appeared to over-correct and came back into Maris sending both cars off track. Although Maris was able to get it back into the pits for repairs and finish the race two laps down, the incident caused McLeod to retire from the online event eight laps down.
Further back, there were intense battles going on throughout the field. One in particular – which came down to the final lap – was a three-way battle for eighth between Joshua Burdon of Team JFF Racing and Synergy Sim Racing drivers Todd Parkes and Dave Oliver. On the closing lap, Burdon's solid lead vanished as Parkes and Oliver braked hard and late going into Coca-Cola Corner. This put all three drivers nose-to-tail as Burdon led the train through the last lap. Parkes was all over Burdon trying to pressure him into a mistake. Approaching the final corner, Parkes made one last dive down the inside of Burdon and pulled-up alongside. Without the room to secure the grip needed to lay the power down, however, Parkes couldn't make the pass "stick;"  instead Burdon was able to use more track and get on the power first.  He thus crossed the finish line .15 seconds ahead of Parkes to finish the race in eighth. Oliver, on the other hand, let his Falcon run out a little too wide and found the wall. Nevertheless, it could be argued that Oliver, who started in twentieth position, concluded a monumental run by finishing in tenth and by doing some celebratory wall-surfing.
Back up front, Cattell and Fulcher were having a fierce dice of their own. After his tire-burning start, Fulcher continued to lead well into the race. It wasn't until Lap 17 that things started to heat up. Heading into Shell Corner, Cattell aligned himself for an inside pass. Fulcher gave him room rather than risk a race-ending incident on the slippery circuit.  Not that he unconditionally surrendered, however.  Fulcher came back two laps later and reclaimed the position from Cattell at Champion Curve and up the hill at Dunlop Bridge.
Fulcher continued in the lead until Lap 24. In what could only be described as an honest battle, Cattell and Fulcher came out of Coca-Cola Corner side-by-side and into Shell Corner as such. Fulcher still held the inside line as they raced towards Champion Curve but Cattell performed a successful crossover on the dogleg of the turn. As they headed toward Dunlop Bridge, Cattell now held the inside line and retook the lead from Fulcher. After that, Cattell dropped the hammer and rode away with the win.
It was an impressive race between the two skilled drivers and,while he was no doubt disappointed not to notch the win, Fulcher had the consolation of  earning his highest championship finish yet this season. By the end of the race, Fulcher had also led the most laps (21) and set the fastest time with a 1:04.880. Not too far behind in the race standings was Ford who completed the podium in third position. McKnight would gain the position vacated by McLeod to finish in fourth with Aaron Hamilton rounding out the top-five.
This Australian SoF race had a strength of 3327 and was split three times. The top-five finishers from the other splits are as follows:
Split 2/SoF 1878
1-      Scott Conners
2-      Sam Compton
3-      Luke Betts
4-      Paul Gorrell
5-      Brenton O-Brien
Split 3/SoF 1130
1-      Tony Clarke
2-      Michael Barron
3-      Tim Craghill
4-      Katie Rose Taranto
5-      Mark Fee
Week 9 of Season 3 is history. Now, it's time once again to MAKE history and face the epic but daunting Mount Panorama Circuit. For 31 laps around this 4 mile circuit, drivers will attempt to navigate the 23 hair-raising turns which make up Week 10. Laced with history, Mount Panorama (aka Bathurst) will host an historic week of sim-racing as this will most likely be the final official race week for the current V8 Supercar model. With next season slated to be a shortened season (see post here) this could in fact be the final 12-week season we see for some time.
With only three weeks remaining in Season 3, drivers are looking to put the finishing touches on their standings. And with just their eight best weeks counting out of twelve, drivers have a chance to make up for past race incidents by completing races with better results. Although McLeod sits high in the championship leader board, you can bet he will be striving to conquer The Mountain during Week 10 to take home another championship. Don't expect drivers like Cattell or Fulcher to roll over, however. Needless to say, Week 10 at Bathurst will be one you won't want to miss!
---
You may also like...
---