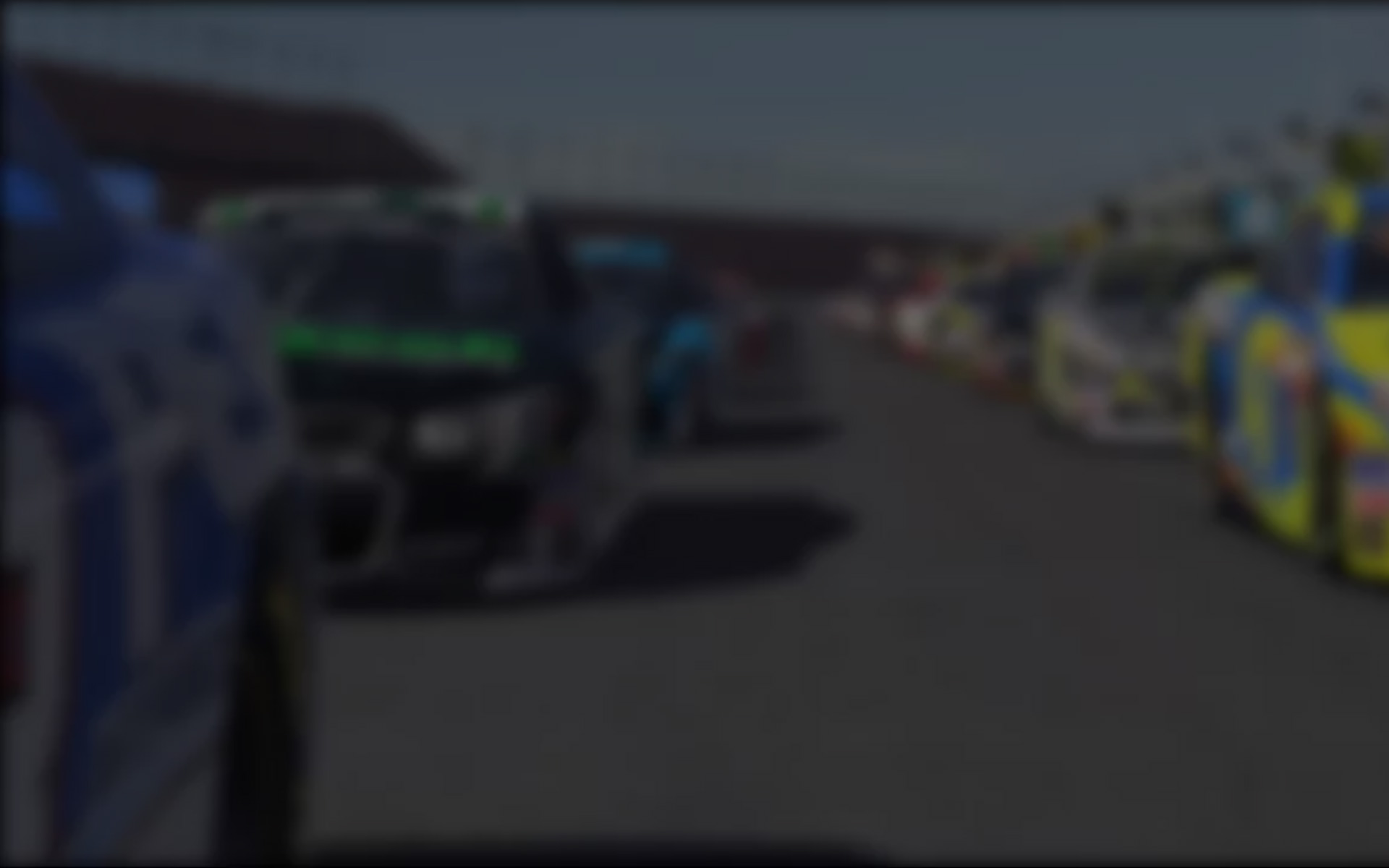 Week Seven of the 2015 Season 1 iRacing.com IndyCar Oval sent the series Kentucky Motor Speedway. Exactly 100 sim-racers took to the track in the "Bluegrass State" throughout a week of sim racing when aero-push, cautions, handling, lapped traffic, pit strategy, pit entrance and exit, pit road penalties and tire wear were just some of the storylines.
Ryan Norton (Florida) started on pole with Rob Unglenieks (Michigan) on his outside. Matt Pawelski (Pennsylvania) grabbed the inside of Row Two ahead of Christopher Demeritt (New Jersey) fourth, with Vick Caudill (Michigan) rounding-out the top five starting positions.
The top four had a good start as they quickly gapped Caudill by several car lengths. Caudill slowly reeled-in Demeritt, but was unable to make a move for fourth as the caution waved. Further back in the pack, Ray Kingsbury (New England) pushed way up the track exiting Turn Two and slammed into Stefan Remedy (Canada). The impact sent Remedy airborne into the wall, before his Dallara DW12 landed on all four wheels. Remedy attempted to limp back to pit road before slowing to a stop against the Turn Three wall. The resulting caution was the catalyst for a split strategy as most of the front runners stayed on track, while Brandon Trost (Pennsylvania), Seth Eggert (Carolina) and others pitted.
Norton and Unglenieks enjoyed excellent restarts, even as Demeritt snuck past Pawelski. Not content with P3, Demeritt went on to pass Unglenieks on the outside a lap later, as Pawelski aero-pushed into the outside wall. Pawelski damaged his right side-pod, and fought to regain control of his car as he dropped behind Caudill. Meanwhile, on fresh rubber Trost had jumped from sixteenth at the restart, to ninth in only five laps. He continued his march to the front, and squeezed between a battling Erich Moraga (Texas) and Frank Levick IV (New England) to reclaim the seventh position.
Next, Trost set his sights on Pawelski who was fighting to control his damaged DW12.  When Pawelski drifted off of Turn Two and chased his car down the backstretch, Trost, saw an opportunity, and dived low into Turn Three.  Unfortunately, Pawelski had no idea Trost was below him and came down across his nose. Pawelski fought to save his car and over-corrected into the outside wall, triggering another caution that saw everyone elect to pit.
Norton, Demeritt and Unglenieks were off to the races on the following restart while Trost hesitated giving Caudill an opportunity to grab P4. Trost, immediately returned the favor, as the two swapped positions for the next several laps until Caudill broke free. Behind them. Kingsbury, Joe Hassert (Midwest), and Nigel Marneef (Benelux) battled for sixth spot.  Kingsbury swung by Marneef as Hassert attempted to follow suit to no avail. This allowed Kingsbury to break away as Hassert and Marneef battled for position with Marneef holding the latter at bay as the field began to spread out.
Green flag pit stops began on Lap 58 with Trost the first of the leaders to call for service. Norton pitted a few laps later, and was busted for speeding. After serving his penalty and leaving his pit box, however, the black flag did not clear, forcing Norton to duck back onto pit road a few laps later to serve his penalty for a second time. Demeritt and Unglenieks pitted a lap later, with Caudill ducking onto pit road on Lap 71, leaving Kingsbury, Eggert, among others on track. As Caudill pulled into his pit stall, Levick spun into the path of Trost and Montgomery Spencer (Carolina) while exiting the pits. Both drivers had nowhere to go and slammed into Levick while Marcel Gagne (Canada) slowed to avoid the wreckage, only to be rear-ended by David Warhurst (Georgia). When the virtual dust and carbon fiber settled, five destroyed Dallaras littered the backstretch, with many others trapped a lap down.
Those on the lead lap elected to pit, with Ray Kingsbury earning a black flag for exiting a closed pits. Caudill led the field back to the green, with Eggert now in second. Many elected to take the wave-around, however, in a strange moment, Anthony Obrohta (Mid-South) hesitated for several seconds, forcing Norton and others to drive around him, before Obrohta finally passed the pace car himself.
Caudill had an excellent restart, as he gapped Eggert by several car lengths by Turn One. Moraga immediately looked for a way around Eggert, who took a defensive line. Patrick Taylor2 (Canada) saw the opportunity, and attempted to pass both sim-racers but it was Moraga threading the needle between both Eggert and Taylor to claim second. Aaron Kitterman (Illinios) attempted the same, only to check-up as Eggert drifted down in the center of the corner. Kitterman squeezed by Eggert a lap later, with Kingsbury following suit. Eggert quickly fell back as Demeritt, Marneef, and Unglenieks worked their ways by as the field began spreading out for the final time.  Indeed, it looked as if the top seven would remain unchanged but, coming to take the white flag, Demeritt slid up into the outside wall, allowing Marneef and Unglenieks to fly by him.
Caudill thus won the 2678 Strength of Field by 5.158 seconds over Moraga, earning 171 points for his win. Kitterman finished third ahead of  Kingsbury with Marneef rounding out the top five finishers. Kingsbury was the hard charger of the race, finishing twelve positions ahead of where he started. The tough break of the race went to Pawelski, who ended-up twenty-fourth after starting third.
A total of 16 sim-racers earned a win throughout the week in the digital Bluegrass State. Daniel Kendall (Illinois), and Nate Baker (Indiana) won a week high two races each before the series packed up for a virtual trip from Kentucky Motor Speedway, west to "Sin City" and Las Vegas Motor Speedway.
---
You may also like...
---