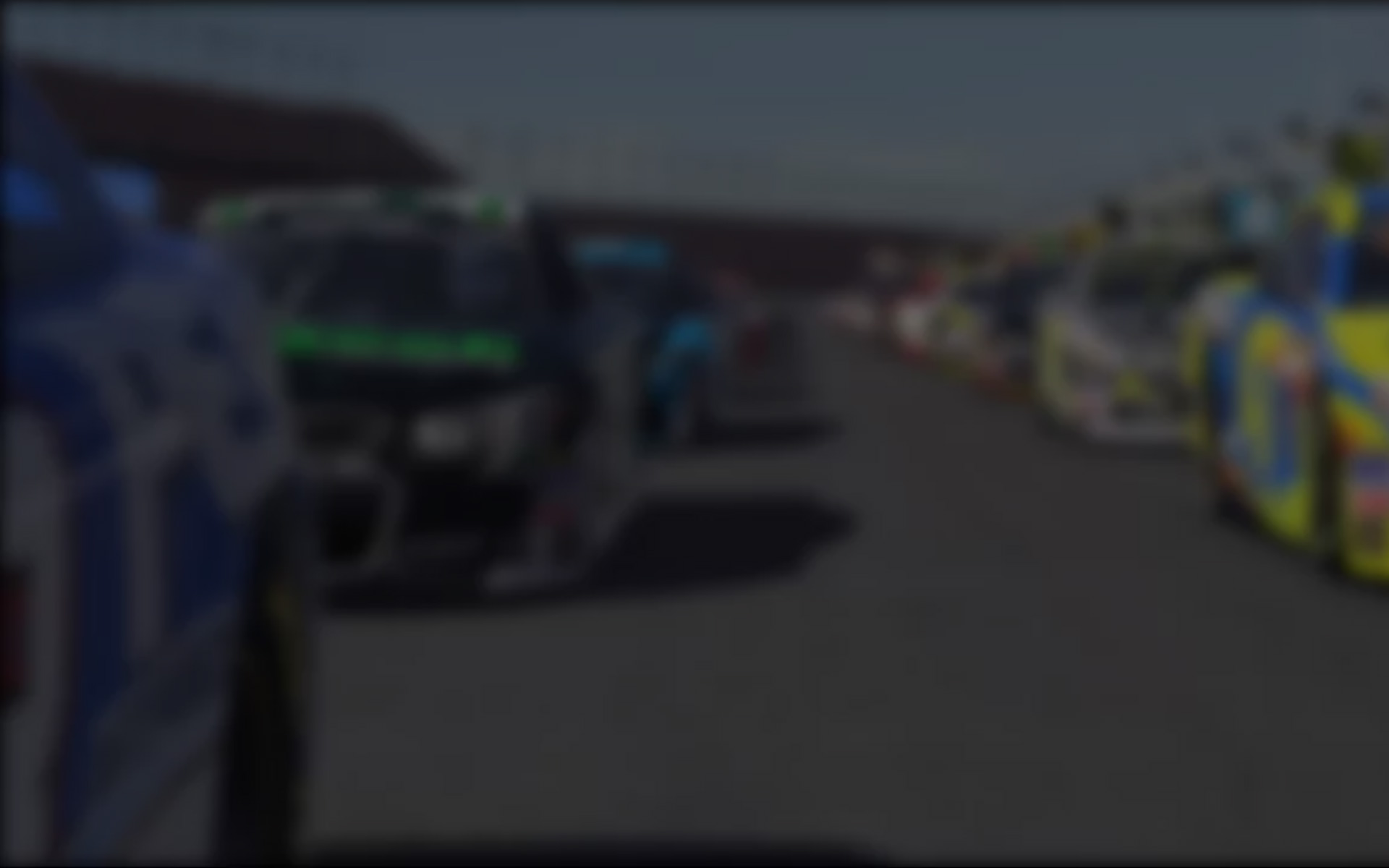 Week six of the Red Sox Racing League's 2011 Season Two schedule produced another exciting race as fourteen drivers braved the hazards of Barber Motorsports Park in Alabama.  The track is both fast and demanding.  It is also lined with oversized art featuring insects which loom in the infield sections to remind drivers of the dangers they face for overdriving the corners!
The first five races of the season have seen three different drivers claim victories, but Clifton Cockrell beat them all when he seized the night in the "Sweet Home Alabama 34" event.  Hampered by a fifth place start, Cockrell concentrated on driving the track instead of his competition.  The idea was to ensure he would be in position to take advantage of any mistakes by the lead pack.  His strategy paid off handsomely.  Cockrell was able to negotiate the track without incident and took the lead spot on lap twenty-two after watching two other drivers give up their position as the race leader.  He eventually led ten laps on the way to his first victory in the league.     
Despite the mishaps which allowed Cockrell to capture the win, the top qualifiers at Barber managed to stay in contention for most of the race.  Brian Irby earned the pole position with the only sub-1:04 lap as he posted an incredibly fast lap time of 1:03:990.  Les Turner was next on the grid with an impressive lap of 1:04.296.  Jim Albertson (1:04.680), Justin Kirby (1:05.083), Clifton Cockrell (1:05.370) and John Koscielniak (1:05.447) filled rows two and three.  The remaining grid positions were filled by Justin Lukes, Terry Daul, Jeff Sharp, Andrew Feldman, William Kabela, Divina Galica, Ed Sutcliff, and Kevin Kyle. 
Things got off to a clean start, but it didn't take long for the track to start taking a bite out of the field.  Lukes was the first victim when he caught a curb on the exit of Turn Eleven on Lap Two.  His momentum carried the car into the tire barrier.  The incident dropped him from fifth, all the way back to thirteenth position, but did not end his night.  Lukes eventually worked his way back to a top-10 finish.
Feldman was next driver to miscalculate the track's dangers.  His spin on Lap Five seemed harmless enough, but the evening just got worse for the normally calm driver as he ended up collecting thirteen incident points on his way to a 7th place finish. 
Lap Six saw Koscielniak do a beautifully executed 360 spin in Turn One.  He didn't hit a thing, and maintained track position.  Kirby gave up a position to Galica when he went off track and made contact with the wall coming out of Turn Thirteen on Lap Seven.
Kyle gave the crowd reason to gasp when his car went airborne on Lap Nine.  Clearing the tire barrier on his way off track, Kevin did score bonus points for style before retiring for the evening.  His early exit meant a last place finish for Kyle.
Galica gave up tenth position to Sutcliff after a spin on Lap Eleven.  Four laps of relative calm were broken up when the race leader, Irby, blew Turn Fourteen and gave up the lead as his car made contact with the tire barrier.  The accident dropped Irby to seventh place, but he was able to regain the lead later in the race.  His lead evaporated once again two laps later with another visit to the tire barrier, and he was forced to settle for a fifth place finish.
Lap Seventeen saw Feldman spinning after a brush with the curb in Turn Twelve.  He was able to continue driving without damage.  Two laps later, Kirby also fell victim to the same corner which had bitten his teammate on Lap Fifteen.
Feldman gave up two positions when he spun again on Lap Twenty-Two.  Kabela and Lukes both drove past Feldman's stationary car before he rejoined the action. 
Turner was leading at this point of the race and tried to calculate when he would have to pit for fuel and tires.  He gambled on a pit stop on lap Twenty-Two.  Cockrell was running in second place and was within striking distance, but he elected to remain on the track as Turner pitted.  His decision proved to be the winning move as he would eventually come out of the pits ahead of Turner who chased him all the way to the checkers.
Jeff Sharp's hopes for a top-10 finish were dashed after his car hit the barriers on the exit of Turn Fifteen on lap Twenty-Four. 
Irby's bid for a podium finish ended when he spun again in Turn Fourteen on Lap Twenty-Eight.  Incidents continued to pile up as the race wound down.  Albertson almost missed out on a podium finish when he was tagged from behind as he took the white flag.  The incident was caused as Lukes tried hard to join Sutcliff and Kabela in their battle for eighth place.  "I thought Jim saw me coming and was letting me past since he had third place locked down.  I misjudged his speed and almost ruined his night.  I'm glad he was able to keep going after the contact!"
Clifton's margin of victory over Turner was a mere .546 seconds.  "I was real happy with my first win as it just kinda fell into my lap actually.  We had a great start behind Jim and I was willing to just settle in.  Being at Barber, you don't want to tempt the track at all.  You can feel as comfortable as you want but one slip up more than likely means the end of the day for you!  I noticed that at around Lap Ten, I was keeping right up with the 2nd and 3rd place cars."
"Brian had already set sail, so I started planning my pit stop.  Do I go early or go when the car in front goes?  It is always a tough decision.  It turns out that I settled to follow Les, but changed my mind as I was about to enter the pits.  Staying out turned out to be the winning move because I was 2.1 seconds ahead of Les when I exited the pits!  The only thing that kept me in front was that I was able to focus on just driving the track because there weren't any cars in front of me to worry about."  Cockrell's win bumped him up to 6th place in the overall standings.
Turner's second place finish gave him enough points to overtake Irby and Thomas in the point race.  He left Alabama in first place with a mere one point lead over Irby.  "I needed less than a 1/2 pound more fuel to beat Cliff tonight.  I had to pit or I would have sputtered into pit lane the next time and he stayed out.  I thought for a moment that he might run out of fuel, but he pit next time by and just plain beat me out.  I chased him hard after we passed Brian.  I am sure he knew we were there lurking at the end.  I set out to race the track tonight, and accomplished our goal of another solid incident free TeamDraft podium finish."
 
Cockrell and Turner both finished the race without an incident.  Kabela was the only other driver to accomplish that feat. 
Albertson drove a very consistent race to cross the line in third place.  His last lap mishap was caused by the fact that "Gentleman Jim" eased up on his pace to allow the battle between Kabela and Sutcliff to play out without his car becoming an issue for them.  His courtesy allowed Lukes to catch Albertson.  Lukes was running in tenth place and trying hard to catch Sutcliff/Kabela, so disaster was narrowly avoided when he misjudged Jim's slower pace exiting the final corner. 
It was Albertson's birthday, so the last lap excitement could have ruined an otherwise brilliant night of driving by the elder statesman of the league.  "Well, the old guy had a nice birthday present at sunny Barber Park.  After qualifying 3rd and getting off to a good start, the race was fairly uneventful for many laps.  Les and I watched as the leader pulled away and then suddenly he was gone.  His mistake left us in first and second.  Clifton soon joined the fray and began putting pressure on me.  I missed a braking point and braked just in time to run part way into pit road.  I had to reverse back to the track, so it was game on from that point."
Unfortunately the pit crew was taking part in the 65th birthday party for Jim, so when he came in for service they loaded the car full of fuel by mistake.  Slowed by the extra weight, it looked desperate for him, but Jim managed to find enough speed get back into a solid 3rd place finish.  "I like this track, and once again enjoyed some great racing with my fellow competitors.  It was a great ending to a great day."
Fourth place went to Koscielniak.  "My team principle told/ordered me to bring the car back in one piece, not several pieces like at Homestead!  One thing I've learned at Barber is to stay off the curbs and keep it on the pavement no matter what car you're driving.  I tried hard to race the track and not the other cars tonight.  I found the limit during practice and stay well away from it during the race in order to bring the car home clean.  I tried to put myself in a position to get a decent finish and let circumstances dictate the rest."
"I thought my night was over when Justin spun, but as luck would have it, the farm wasn't for sale this time.  I was able to recover from my blunder in Turn One (forgot to stay off the curbing) and just settled into a position with a comfortable gap between the car in front and the car behind me.  At least this time I don't have to rebuild my car for next week's race.  Congratulations to the podium finishers!"
Only Cockrell, Turner, Albertson, and Koscielniak finished the race on the lead lap.
Irby crossed the line one lap down in fifth place, a miraculous outcome considering he collected six incident points along the way and had more than his share of brushes with the tire barriers.  Daul (6th), Feldman (7th), Kabela (8th), Sutcliff (9th), and Lukes (10th) all finished one lap down.
Galica (11th) finished two laps down.  Sharp (12th) finished three laps down and was the last car still running at the end of the race.  Kirby (13th) and Kyle (14th) rounded out the finishing positions watching from their respective pit boxes. 
RSR drivers travel to Australia for next week's event, the "Outback 31" at Phillip Island Circuit.
Rags to Riches Series News
In other Red Sox Racing League sanctioned events, the Rags to Riches Series drivers took their Chevrolet Monte Carlo's to Martinsville Speedway for the 40 lap "Party at Marty".
Justin Kirby took the pole position with his Black Magic Motorsports team-mate Brian Irby alongside on the outside of the front row.  HDRL team members Terry McCuin and Mark Plank filled the second row, while Kevin Kyle of TeamDraft rounded out the top-5 grid positions.
Kirby lead all 40 laps en route to his third straight victory in the Championship.  McCuin appeared to have something for Kirby, but suspicious electrical failures for both HDRL team-mates at the half way point saw both "The Tank" and "The Sheepherder" out of the race and finishing in 10th and 11th places respectively twenty-one laps down at the end of the day.  Irby took the 2nd spot, just 2.5 seconds adrift of his team-mate.  Wilbur Gildersleeve Jr. ran a solid event and finished in 3rd place.  Kevin Kyle and Bill Pawluckie rounded out the top-5 finishers.
It is worthy to note that all the RSR oval drivers did a fantastic job at this tough venue finishing the race incident free.  Martinsville can be a difficult place to finish with all the fenders still on the car.  To see every car in the field without a scratch at the end of the event was quite a feat.
The Series continues to move up to bigger venues as the season progresses. Next stop along the way is the "InRacingNews.com 30" event at the Magic Mile in Loudon New Hampshire.
RSR F1 Series Overall Standings after six races:
http://www.ileaguerace.com/champ/show_champ/Red-Sox-Racing-League/125
RSR TNT Series Overall Standings after six races:
http://www.ileaguerace.com/champ/show_champ/Red-Sox-Racing-League/149
RSR YouTube Video Channel:
http://www.youtube.com/user/draftin11?feature=mhum
---
You may also like...
---