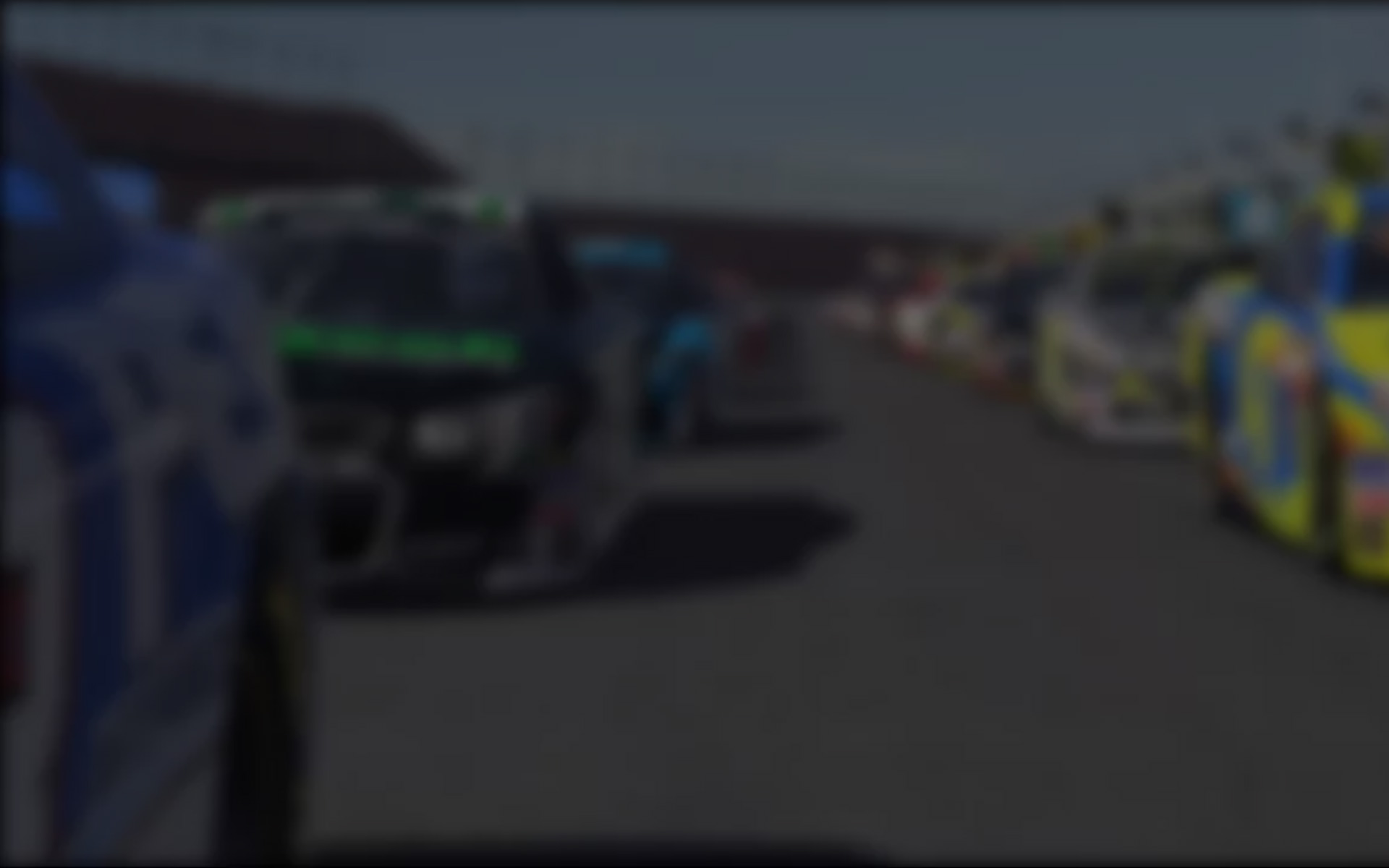 June 28th, 2017 by Richard J. Clarkson
The old adage, "Rubbin's Racin'," was on full display in Saturday night's 9:15 p.m. top-split finish of the iRacing NASCAR Camping World Truck Series sim-race at the virtual Iowa Speedway.
Christian Cookson claimed the win, ruffling some feathers in the process.
"Need to learn how to hold your line next time, three," dominant sim racer of the event, Kenneth McCullough Jr. said.  "Next time I'll put you in the wall!"
The final shootout to the checkers came with only three laps to go.  McCullough Jr., after leading a race-high 29 laps, chose to restart from the inside line.  His Peach State-sponsored Silverado cleared Cookson's digital GM Goodwrench Service Chevy into One.  But on corner exit, it was Cookson's four-wheeled mechanical monster gaining steam, digging into the asphalt, propelling the New Englander door handle-to-door handle with McCullough Jr.  Wicked hard contact ensued: Cookson's right front nipped the left rear of McCullough Jr.'s truck.
Coming to the white flag, Cookson made his move.
His truck shot to the left just after the start/finish line, pulling out, looking to the inside of McCullough Jr., and also blocking the run from the truck behind, Parker Alexander.  Alexander made contact with the rear bumper of Cookson's machine.  But Cookson never let off.  He pinned his right foot to the floor and drove it in deep… too deep, some would say.
Cookson's truck broke loose.  He swiveled his hands, trying to catch it, chasing his black-and-silver sim-truck up the track.
Entering One, Cookson's truck washed up, slamming into the side of McCullough Jr.
McCullough Jr. pedaled hard, slipping and sliding in the gray of the racetrack.  He stabbed the gas and tried to come back on the outside, striking the GM Goodwrench Service Silverado of Cookson in the right rear.  Alexander now to second, McCullough Jr. romped down the backstretch.
Entering Three, Cookson's tail kicked sideways on the high line.  Alexander went for the win, his Realtree/Cabela's Chevrolet Silverado chugging hard down low.
McCullough Jr. hadn't given up, either.
The Georgian spiked the throttle on his 650-horsepower sim-truck and gallivanted into Three, inches from Cookson's rear bumper, the image of payback out his windscreen.  McCullough Jr. found his target, punching Cookson's truck in the backside.  But, unfortunately for McCullough Jr., his efforts were in vain.
The Georgian, McCullough Jr., spun out: his red sim-truck looping round and around.  The seventh and final yellow flag of the race.  The field was frozen, Cookson's black-and-silver Chevy out front, his 76th oval win of his iRacing career.
Alexander finished in the runner-up spot, followed by Shane Pregler, Steves Arvisais, and Jyi Hatterick rounding out the top-five.
Alexander's feathers also appeared to be ruffled.  After the race, he said, "You need to learn how to not cut people off, bud (Cookson).  That wasn't cool."
Hatterick, the race's Phillips' Biggest Mover of the Race Award winner — climbing an impressive 19 positions from his starting position, shotgun on the field — chimed in, too.  "There was no way he (Cookson) was getting through that corner," he said, "how hard he drove it in there."
"Nah," McCullough Jr. replied, "he know what he was doing."
Cookson didn't shy away from the controversy.  From the virtual Gatorade Victory Circle, trying on make-believe hats and wiping away invisible beer from his eyes, he said: "Rubbing someone up in the corner, wrecking someone… Yeah, I drove it in deep, but there was one to go going into Turn One, like what do you want me to do?  I didn't put him in the wall and wreck him.  I literally hit 'em."
McCullough Jr. responded, lighting the fire to a new rivalry, "Hey," he said, "if that's how you want to race, that's the way we'll race."
The race was slowed seven times for 31 laps.  Four drivers assumed the point: Cookson, McCullough Jr., Pregler, and pole-sitter, Matt L Cole.
Daniel Jackson4 finished sixth and Andrew Walker finished seventh.
From A Dig Motorsports' driver, outside pole-sitter, and pilot of The Black Dahlia Murder/Snap-on Chevy, Scott Smith6 finished eighth.  He was available for comment after the race.
"I freakin' love Iowa!" he said.  "Hell, wished I could've brought home a better finish for all my androids, but shoot, I had a blast out there tonight.  Searchin' fur grip, battlin' side-by-side, tryin' out the low groove, meanderin' up t'thuh top side… more fun than'uh catfish in a fresh mud bath, I tell ya… yeehaw!"
Smith6 continued: "I'z a bit too far back to really see what happened up there, but damn, Sam, from the chit-chat on'thuh radio, sounded pretty intense up front!  Short trackin', know what I mean, Vern?  Next week, though… shoot, at the digital Daytona Speedway, you go'tuh rubbin' and bouncin' off folk, somebody's liable to get hurt.  Bruised egos.  Sim racing hardware turned to rubble."
Oriol Sanchez, the iScholar No. 2 Pencil Highest Finishing Class C Rookie of the race, finished ninth.  Ken Rahn completed the top-ten.
iRacing NASCAR Camping World Truck Series Results – SOF: 1959
Saturday, June 24, 2017 9:15 p.m. top-split sim-race from the virtual Iowa Speedway (starting position in parenthesis):
(16) Christian Cookson, Chevrolet, 50 laps, 122 points.
(4) Parker Alexander, Chevrolet, 50, 116.
(3) Shane Pregler, Chevrolet, 50, 111.
(12) Steves Arvisais, Chevrolet, 50, 106.
(24) Jyi Hatterick, Toyota, 50, 100.
(11) Daniel Jackson4, Chevrolet, 50, 95.
(17) Andrew Walker, Chevrolet, 50, 90.
(2) Scott Smith6, Chevrolet, 50, 84.
(18) Oriol Sanchez, Toyota, 50, 79.
(15) Ken Rahn, Toyota, 50, 74.
(13) Brad Fink, Toyota, 50, 68.
(22) Brian Rauber, Chevrolet, 50, 63.
(19) Brandon Milligan, Chevrolet, 50, 58.
(6) Kenneth McCullough Jr., Chevrolet, 50, 53.
(1) Matt L Cole, Toyota, 50, 47.
(21) Tanner Love, Toyota, 46, 42.
(23) Mike Eplee, Chevrolet, 42, 37.
(9) Tobias Sievers, Toyota, 29, 31.
(10) Greg Nicholson, Toyota, 28, 26.
(20) Joe Altig, Toyota, 26, 21.
(8) Alex Frisosky, Chevrolet, 25, 15.
(7) Austin Carter, Toyota, 5, 10.
(5) Austin Wagner, Toyota, 2, 5.
(14) Tim Kerley, 0, 0.
---
You may also like...
---