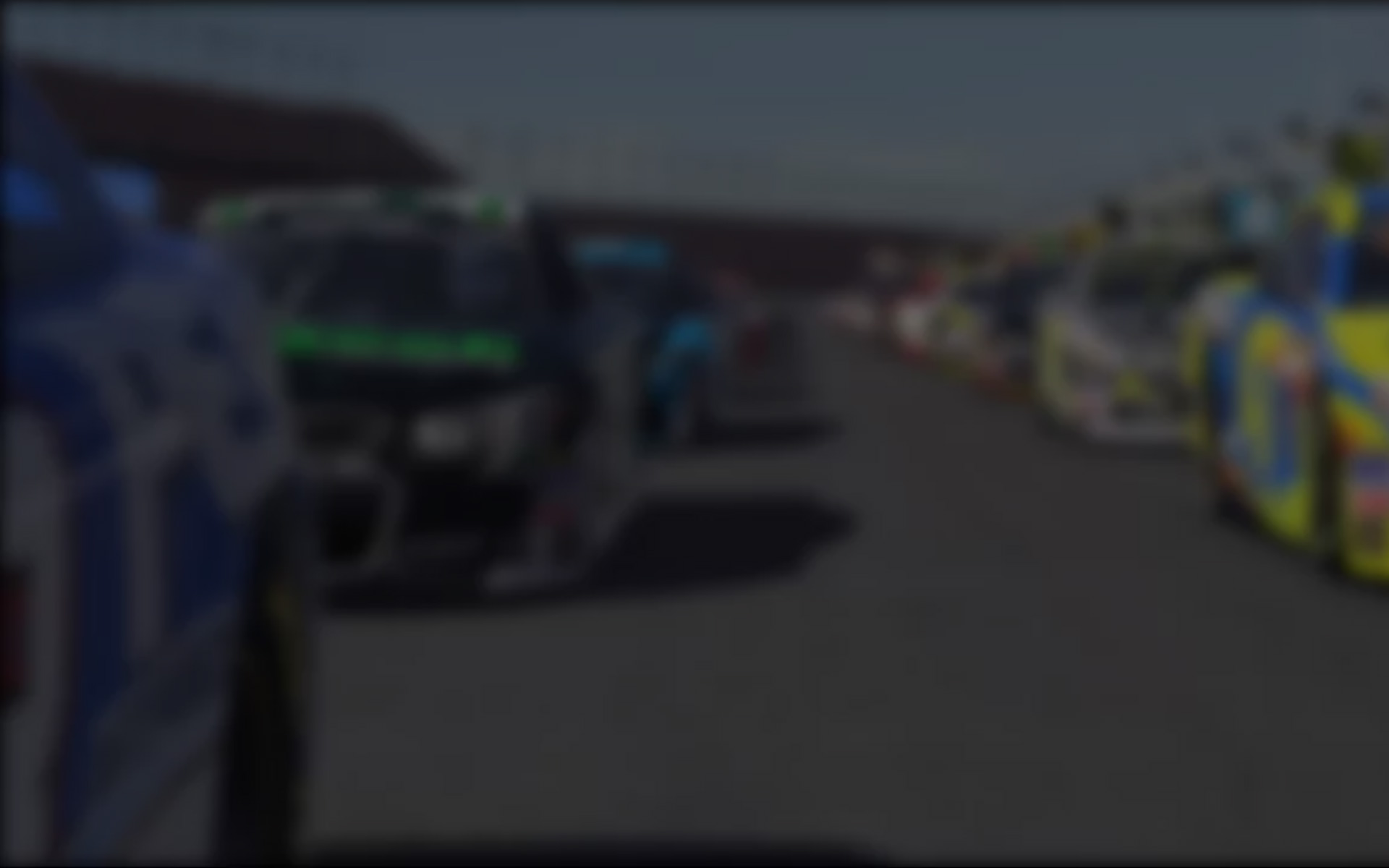 New Hampshire Motor Speedway in Loudon, NH was the location where the action took place for Week 11. Sim racers traveled to the "Granite State" in hopes of scoring enough points to knock off championship leader Jared Crawford (Michigan). During the week, 563 people attempted one race while 153 people attempted at least one qualifying lap.
"Gotta thank my VPR team mates" – Brad Mahar
Friday night's Strength of Field race featured 25 drivers and an SoF of 5084. Jared Crawford once again started from the pole and dominated the race, leading 98 of the 100 laps while also turning the fastest lap of the race. For his efforts, Crawford received 324 points. Chad J Laughton (Carolina) started and finished in the second position. For finishing second, Laughton received 310 points. Brad Mahar (New England), who needed a good week, finished in the third position after starting the race is sixth. Mahar got a much needed 297 points which will catapult him in the season standings.
"Gotta thank my VPR team mates for another bad ass set this week" Mahar said after the race. "Casey and I put in so many laps trying to find a good balance and finally an hour or so before the race we decided what we wanted to run. Macklin hammered out a solid Qualifying setup to get us up towards the top 10. Thanks to Garry Mercer Trucking Inc. (http://www.gmercer.com) and ETV for making these Friday nights so much fun to run. The competition is fantastic and I bet next season will be even better."
Casey Malone (Texas) finished in the fourth position after starting third and received 283 points. Paul Kusheba rounded out the Top Five. Kusheba, who started the race in fourth, received 270 points for his Top Five finish. Steven Gilbert (Mid-South), who started eighth, was the only other driver besides Crawford to lead a lap. Gilbert took the lead on lap 14 after not pitting under caution and led two laps before losing the lead to Crawford. The race had nine yellows for 32 laps and two lead changes.
Click here to watch broadcast.
At the end of the week, Laughton was at the top of the weekly points standings. Laughton only attempted one race, the SoF race, where he finished second and scored 310 points. Mahar was second on the week after running two races and scoring 297 points in the SoF race. Malone was third in the weekly standings after his fourth place finish in the SoF race netted him 283 points. Kusheba finished the week in fourth after only running the SoF race on Friday, which he scored 270 points. Jeremy Thornton (West) rounded out the Top Five. Thornton attempted two races on the week, scoring 256 points in a sixth place finish in the SoF race.
After 11 weeks of the season, Crawford remains at the top. Crawford has 2283 points on the season with a 110 point lead over second place Laughton. Laughton managed to shrink the gap from 233 to 110 points after a solid Week 11. Laughton now has 2174 points. Mahar jumped up from fifth to third after a solid week at New Hampshire. Mahar was able to bring his points total to 1897, 387 points out of the lead. Jason Karlavige (Pennsylvania) slipped back to the fourth position after not making a start during Week 11. Karlavige has 1808 points and trails Mahar by 89 points. Rounding out the Top Five is David Cater (Carolina). Cater was only able to add two points to his total during Week 11 and he now has 1765 points, 519 out of the lead and 44 points behind fourth.
Jared Crawford, for the eighth time this season, turned the fastest lap of the week in qualifying with a 29.794 second lap. Laughton finished the week in the second position after turning a 29.818 second lap. Malone finished the week in the third position with a 29.852 while Kusheba finished the week in fourth with a 29.912 second lap. Rounding out the Top Five was Justin Brooks (Carolina), who turned a 29.918 second lap.
With 11 weeks in the books, it's safe to say that Jared Crawford will win the championship. Crawford's next lowest drop week is 230 while Laughton's is 210. In order for Laughton to take the points lead, Laughton would need to scored 321 while Crawford scored less than 230 points (rough estimate, numbers may not be exact). With that being said, Week 12 is looking like it could be exciting because in racing, anything can happen. Week 12 of the season will be run at Chicagoland Speedway. Who will come out on top after the dust settles? Find out next week at InRacingNews!
---
You may also like...
---