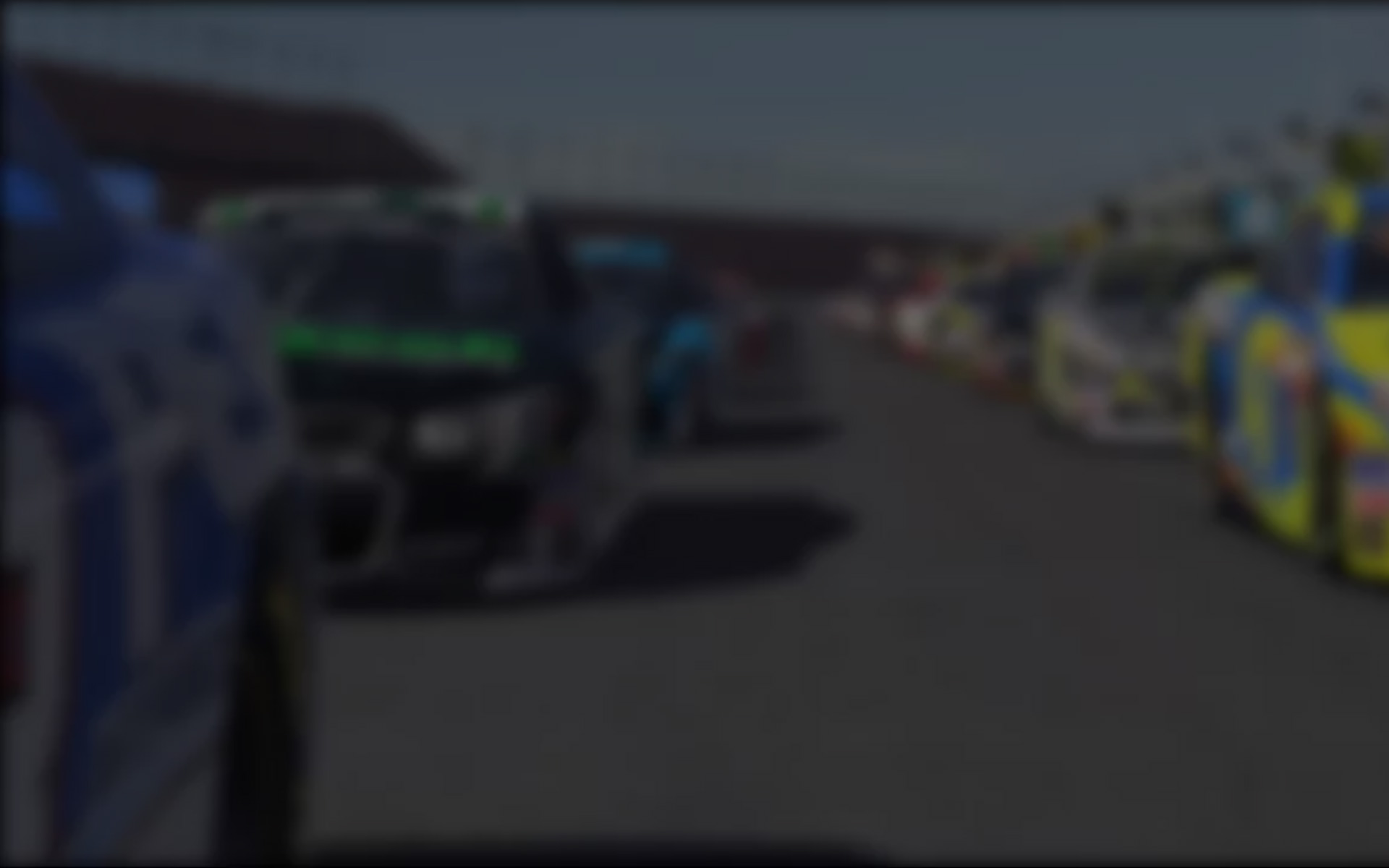 After the recent announcement that Beau Cubis has severed ties with Evolution Racing Australia (ERA) the now privateer begins his next chapter on the right foot.
Although it is home to one of only two road courses visited each season by their NASCAR Gen6 counterparts, the hillls around Sonoma Raceway echoed with the heavy roar of V8 engines of Holden Commodores and Ford Falcons in Round Eight of the iRacing.com V8 Supercars Series.  With Season 1 only four-weeks away from completion, drivers from all over the world are fighting for every inch during these final weeks.
As the cars lined up on the grid, it was the newly announced privateer, Beau Cubis, who took pole position with a time of 1:11.994. Starting alongside Cubis was veteran V8 sim-racer, Beau Cattell of Synergy Sim Racing (SSR). The second row of the grid was comprised of Vail Riches of Team TTL and Wayne Bourke of SSR as Ian Ford of ERA rounded out the top-five.
Wilsdon gets the punt
As the online race got underway, the race towards the uphill Turn Two was kept clean up front but the same could not be said mid-pack. As the cars reached the slippery braking zone, Max Wilsdon's Ford got loose and went slightly sideways.
Wilson partially recovered, only to be given an extra push by Samuel Collins. Although Wilsdon was able to make a relatively clean (but dusty) getaway after being knocked into the sand, the result for Collins was extensive front-end damage which ultimately led to his early retirement from the online event. Wilsdon would go on to finish the race in seventeenth.
Mid-pack battles
As the laps ticked away with Cubis leading from Cattell and Riches, several battles raged throughout the track. One such battle was at one point a five-way contest for sixth place between Michael Fulcher of SDC Motorsports, George Maris, Michael Schreyer of SSR, Michael Cracknell of SDC and Jarrad Filsell of ANZ Motorsports. Of the five competitors, Filsell had certainly made the most ground after starting in twenty-first position.
By Lap 24, Fulcher had begun to check-out by creating a two-second gap over his pursuers. A few laps later, Filsell was on the back bumper of Cracknell and was setting him up for a pass. On the final turn of Lap 26, Filsell made his move but Cracknell wasn't about to simply move over.
Going side-by-side across the line and up to Turns One and Two, Filsell finally made it stick exiting Turn Two. Cracknell didn't let up, however, and turned-up the pressure in an attempt to reclaim his lost position. As much as he tried, Cracknell couldn't get the move done and settled in behind Filsell as they finished the race in ninth and tenth, respectively.
Closer to the front, Cattell was under assault from Riches from start to finish but the former wasn't giving an inch. Despite Riches' best efforts, however, he wasn't able to catch Cattell by the end of the online race.
30 laps of victory
From start to finish, this was Cubis' race. After leading every lap, setting the fastest lap with a 1:12.410 and finishing with over a five-second gap to the next competitor, Cubis begins his privateer expedition on the right foot with a dominating win.
Although Riches fought valiantly for position, he wasn't able to make the move to overtake Cattell. With only .33 seconds between them, Cattell held off his opponent to take the second step on the podium with Riches taking third.
Cubis' former ERA teammate, Ian Ford, brought home fourth position after starting fifth and newcomer Ethan Grigg-Gault continued to impress as he secured a solid fifth after starting in seventh.
This Australian Strength of Field (SoF) race had a strength of 3884 and was split three times. The top-five finishers from the other splits were as follows:
| | |
| --- | --- |
| Split 2/SoF 2052 | Split 3/SoF 1155 |
| 1-David Baxter | 1- Peter Goodwin |
| 2-Alan Meyer | 2- Luke Betts |
| 3-Wayne Kendall | 3- Paolo Tisi |
| 4-Cal Whatmore | 4- Tyson Williams |
| 5-Luke Powell | 5- Jonathan Beikoff |
Zolder Waffles
Although Belgium is known for many things including its delicious breakfast delicacy, to motorsport enthusiasts, it's mostly known for two things – Spa and Zolder. Although the former is unfortunately not on the V8 Supercar schedule this season, the latter in the 'alternate' configuration is indeed both a fan and driver favorite.
As such, we can fully expect full grids this week as new and veteran drivers will be looking to capitalize on the familiar and somewhat friendly roads of Circuit Zolder – or at least as friendly as a V8 Supercar will allow them to be.
Right now, the battle for the Season 1 championship still remains close as we head into the twilight races of Season 1. Although John Emerson used an off-week this week at Sonoma, he still remains ahead with 1809 points followed by Cubis (1776) and Ford (1748).
Be sure to follow iRacingNews as we continue our coverage of the 2015 Season 1 iRacing.com V8 Supercars Series.
---
You may also like...
---