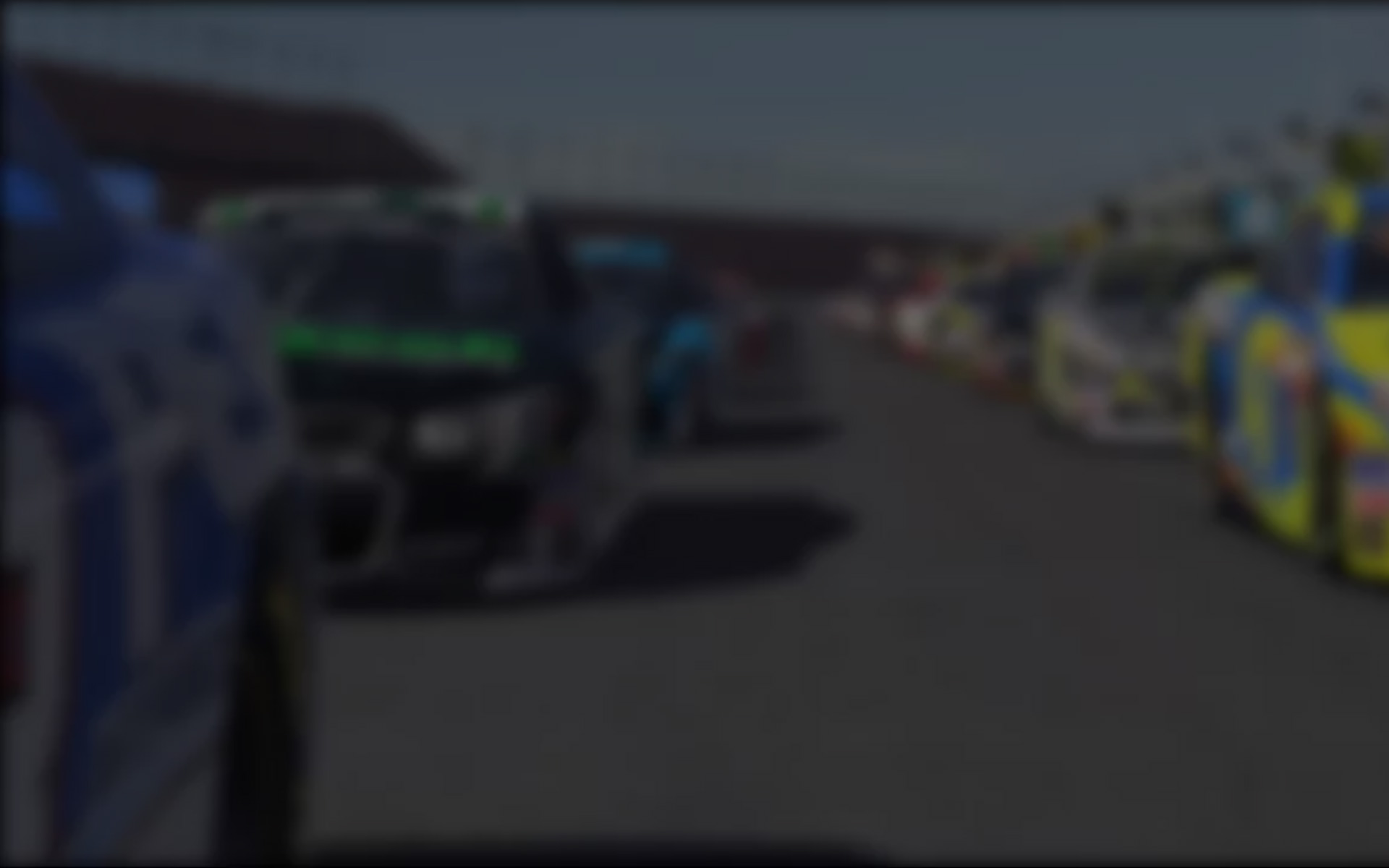 Week Five of the iRacing.com Street Stock Series headed to the Tricky Tri-Oval known as Concord Speedway.  Although this week saw low participation and only a handful of races take place, we did see championship leader, OJ Dompier take to the track looking to hold onto his top spot.
The longest online race on the Street Stock schedule took off to a great start with Dompier, Joey Booker and Cristiano De Sá making an early break to lead the pack.  Further back Nick Holt and Nathan Bellaire ran in fourth and fifth position ahead of Dennis Buxton, Nathan Taback and Jean K Wondracek.
Buxton was on the move, catching Holt and Bellaire by Lap 10 and engaging in an exciting fight for the top five and, with Booker continuing to lead from De Sá and Dompier, the race looked to be set for a long green flag run.
The first of the lapped cars came into play me up for the three front runners, with Holt now leading the second pack from Buxton and Bellaire. Taback and Wondracek still trailed in seventh and eighth, hoping for a yellow to regain their distance on the leaders.  Unfortunately, when the yellow flew, it was for Taback, who got loose exiting Turn Three and caught the inside wall.  In addition to giving the sim-racers a chance to catch their breath, the resulting caution enabled Wondracek to take advantage of the Lucky Dog and regain the lead lap.
Less fortunate was Bellaire, who seemed to pick-up some damage and brought his car down pit road to have a check over by his pitcrew, while Tabecks crew try to pull his body work back out so he could rejoin the race.
On the restart, De Sá got an incredible jump off the outside to take the lead from Booker with Dompier falling in line in P3, trying to prevent anyone else from gaining on the lead trio.
Bellaire was another to get a great restart, leaving Holt and Buxton behind to fight for fifth, while Wondracek trailed in P7, happy to sit at the back and settle for points. Only five laps after the restart Buxton managed to get loose on the exit of Three before being collected by Holt, the resulting damage to both cars leaving their pace in question on the restart.
On the restart De Sá timed it just right to bolt to a gap on Booker and Dompier.  And after running in the bottom half for the opening stages of the race, Bellaire was into fourth and catching the third place car of Dompier.   Meanwhile, Wondracek was looking to pass the damaged cars of Holt and Buxtons in an effort to gain more vital championship points.
Up front, Booker was trying to pressure De Sá into a tiny mistake so he could get his nose down the inside to make the pass, all the time knowing that one mistake on his part could see Dompier relieve him of second place.  However, Booker and De Sá pulled away Dompier, turning the event into a two horse race, one that saw Booker pressure De Sá into a mistake in Turn One and take the lead on Lap 73.
Not about to give-up, Da Sa made a dive into Turn One and got it all wrong, taking the leader around with him to bring-out the third caution of the race and enable Dompier to re-join the battle for the win.
With 10 laps remaining, De Sá led Dompier to the restart with Booker third – at least until he disposed of Dompier to move into the runner-up spot –while Bellaire ran fourth, pushing harder every lap to try and get that final podium position.
With five laps to run, Booker was all over De Sá, going high, going low but unable to find a way past the lead car.  For his part, De Sá held his line well and defended hard until a mistake on the final lap enabled Booker to get a nose on the inside.  But that was as close as he would come, as De Sá managed to hold Booker at bay crossing the line for the checkered flag.
Dompier came home in third after being dropped off the pace on the restart while Bellaire took fourth from Buxton who rebounded from his early crash to take P5.
Full result can be found here.
---
You may also like...
---