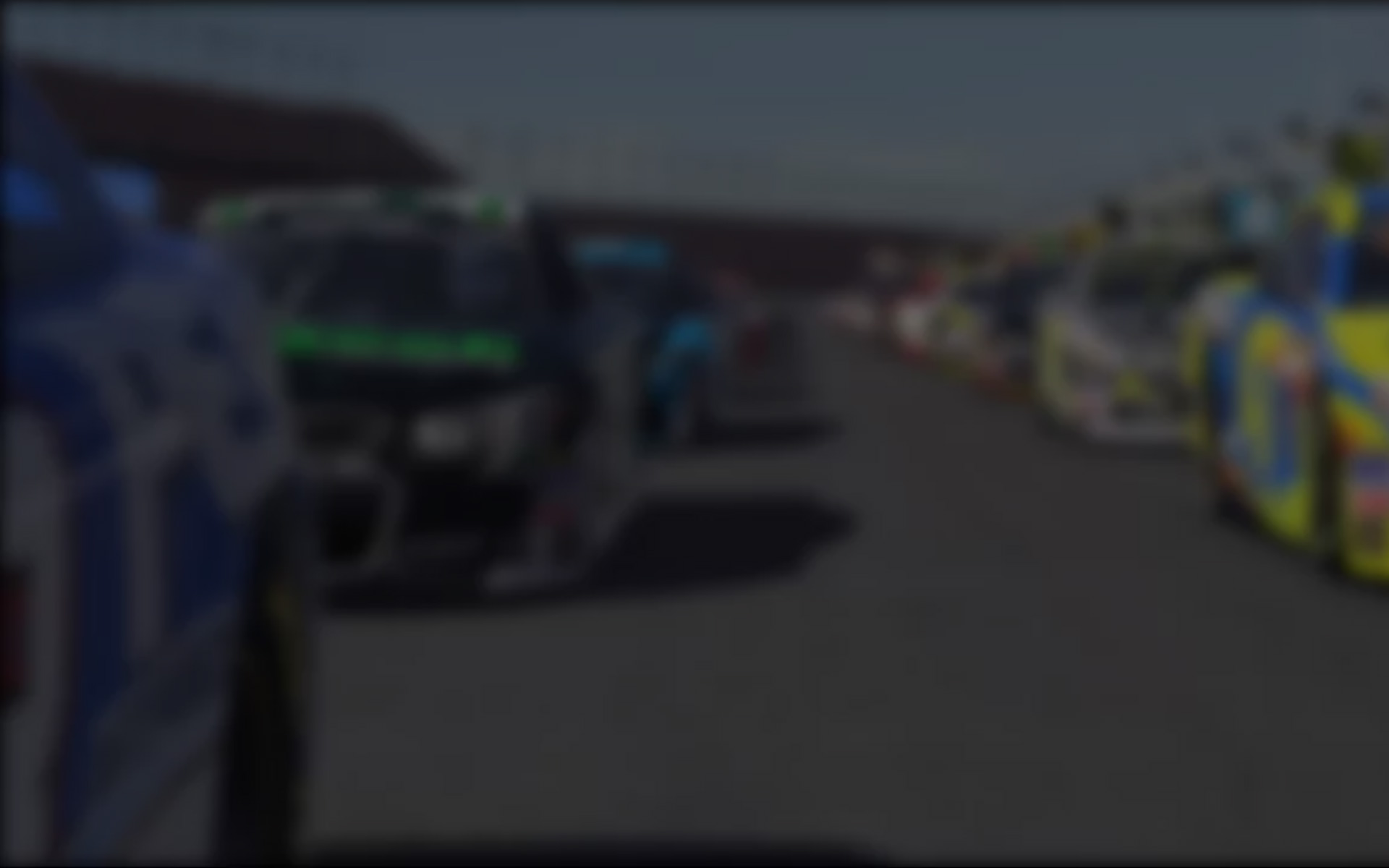 June 22nd, 2017 by Richard J. Clarkson
Brandon DeTemple captured his seventh win of the year on Sunday night—83rd of his career—leading only one lap, the most important one—the last one, in the top-split, 9:15 p.m. iRacing NASCAR Camping World Truck Series race.
With five to go, DeTemple trailed leader, and dominant sim-truck of the race, Bricen Barker, by two seconds.  Then the third—and final yellow flag of the race flew for debris.  The leaders stayed on track, anticipating a short run to the checkers, a one-lap shootout.
Barker nailed the restart and gapped the field heading into the first turn.  But on corner exit, his digital Chevrolet Silverado washed high and scraped the outside retaining wall.  DeTemple cranked his wheel hard to the left and motored past, into the lead, unchallenged across the stripe.
The battle for second, however, had heated up.
Scott Smith6's The Black Dahlia Murder/Snap-on Chevy, while just having recently managed to jolt down the backstretch, the middle truck in a potentially troublesome endeavor, roared into Three on the high side of Justin Egan's JEGS Toyota Tundra.
The two sim racers slammed doors, their V8s bellowing at one another like rivals.  Egan kept his truck tight against the curbing and rocketed off of Four.  Smith6 tried to fight back, but his ponies were strangled on corner exit.
Egan finished second, Smith6 third, followed by Barker, and Chris W Watkins completing the top-five.
The race was slowed three times for 11 laps.  Barker led a race-high 45 laps.  Egan led four. DeTemple led the one that counted the most.
DeTemple, somewhat frustrated that he wasn't able to win the race on outright speed alone, said in Gatorade's Virtual Victory Circle, "I wouldn't say it was a good win, but thank you."
The New York sim-racer wasn't down in the dumps for long though, the smell of burnt rubber wafting from his truck's rear hides, he ended his celebration with some simple words: "A win is a win!"
Third place finisher, The Black Dahlia Murder/Snap-on Chevy piloted by the Floridian, Smith6, owned by From A Dig Motorsports, had some comments on his wild last lap.
"Got a clean restart there," Smith6 said.  "Then we got down into One, and things got hairy."
Behind Smith6, Rafael Trindade wheel hopped his digital Toyota Tundra and got out of shape.  When the Brazilian's truck caught the rumble strips, he overcorrected, shooting his race machine up the track, right in front of the pack.  Dustin McGrew and Jordan Ashelin were both collected, dashing their hopes of a good finish.
"Exiting One," Smith6 said, "shoot, I found myself on the high side of Egan with a monstrous run.  I kept 'er flat to the floor.  Even bounced it off the fence!  But I never lifted."
Smith6's black-and-white truck pushed the issue three-wide down the backstretch.
"I had to," he said.  "I'z goin' fur the win, man.  When the leader slapped the wall and stacked up the field, I didn't even think twice.  Just reacted.  Pointed 'er for that hole and went to town.  I think me and Egan made a bit of contact.  But here at Gateway, rubbin's racin', bud."
Doug Roth finished sixth.  And finishing in seventh place was Mike Eplee.
Eplee earned the Phillips Biggest Mover of the Race Award by gaining thirteen positions.  Until the final restart, Eplee and his digital Chevrolet spent most of the race outside the top-ten, until he was able to make hay, deftly maneuvering around the chaos of Trindade's incident, earning the Carolinian his second-best finish of the sim racing week at the virtual Gateway Motorsports Park.
Jared Seybert finished eighth, followed by Michael Dullard, and Kory VanHorn in tenth.
Seybert had a strong run going until lap 28 when the first round of pit stops commenced.  Up until that point, the Texan had been riding around the 1.25-mile computer generated racetrack in the fourth position.  But a miscue on pit lane cost him dearly.  He restarted tenth, and for the remainder of the race, ping-ponged back and forth from seventh to tenth, finally settling on the eighth position.
He and Eplee made heavy contact with one another after the finish line, an apparent miscommunication between Seybert and his spotter atop the grandstands.
Next week the series heads to the digital Iowa Speedway for more short-track sim-racing action.
iRacing NASCAR Camping World Truck Series Results – SOF: 2379
Sunday, June 18, 9:15 p.m. top-split sim-race from the virtual Gateway Motorsports Park (starting position in parenthesis):
(5) Brandon DeTemple, Chevrolet, 50 laps, 146 points.
(1) Justin Egan, Toyota, 50, 138.
(2) Scott Smith6, Chevrolet, 50, 131.
(3) Bricen Barker, Chevrolet, 50, 124.
(7) Chris W Watkins, Toyota, 50, 116.
(8) Doug Roth, Chevrolet, 50, 109.
(20) Mike Eplee, Chevrolet, 50, 102.
(4) Jared Seybert, Chevrolet, 50, 94.
(19) Michael Dullard, Toyota, 50, 87.
(13) Kory VanHorn, Chevrolet, 50, 80.
(6) James Tartanian, Chevrolet, 50, 73.
(17) Brant Morrow, Toyota, 50, 65.
(9) Dustin McGrew, Chevrolet, 50, 58.
(12) Chad Willet2, Toyota, 50, 51.
(18) Rafael Trindade, Toyota, 49, 43.
(15) Jordan Ashelin, Toyota, 49, 36.
(14) Bryan Tong, Toyota, 49, 29.
(11) John Schilling, Chevrolet, 6, 21.
(10) Matthew Treske, Toyota, 6, 14.
(16) Mark Ludwick, Chevrolet, 5, 7.
(21) Jonathan Lazelle, 0, 0.
---
You may also like...
---