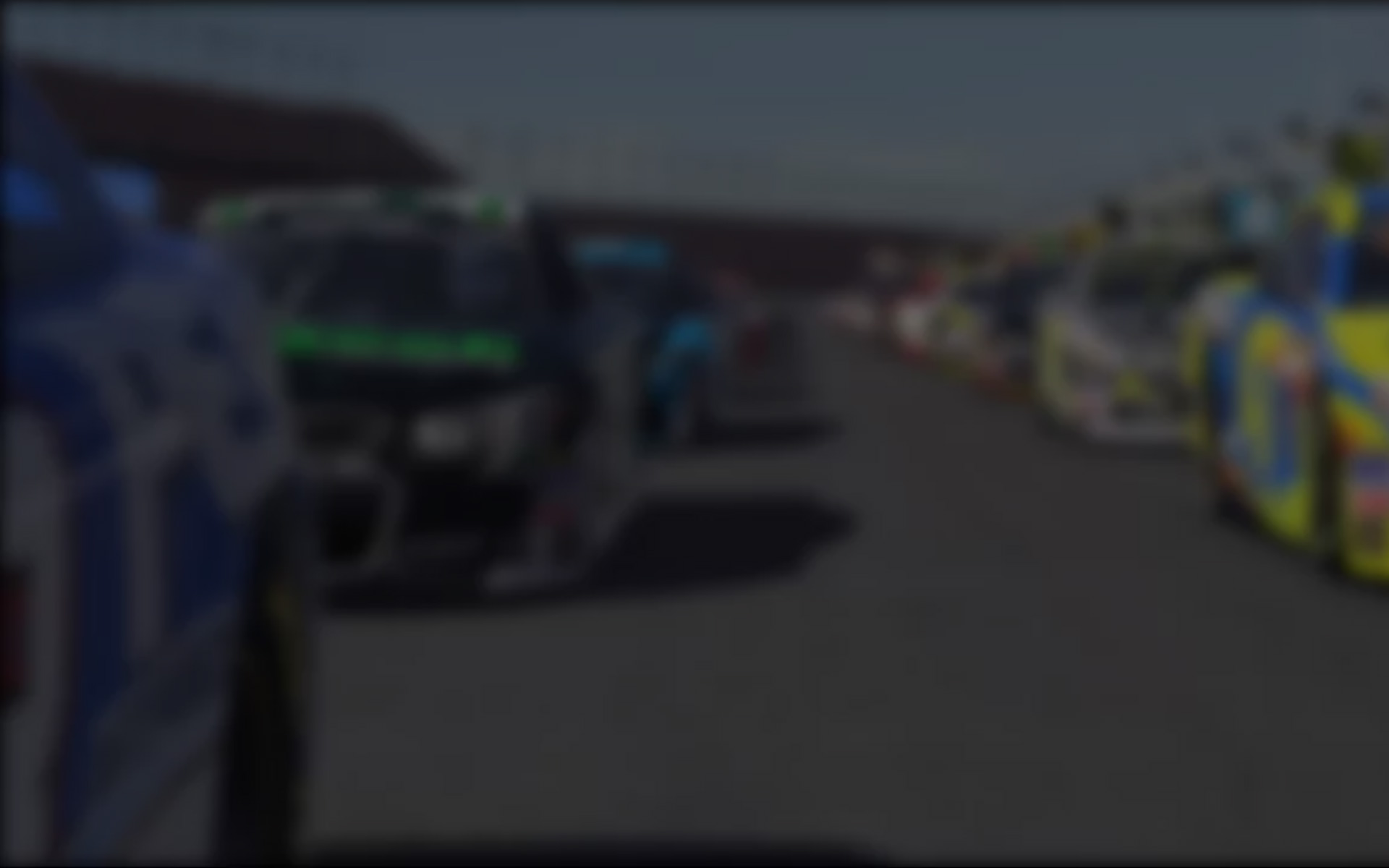 Round 12 and the season finale of the iRacing.com V8 Supercars Series presented by BigPond was held in England at a 4.2km roller coaster of a race track known as Brands Hatch.  Madison Down had all but secured the online racing championship heading into this round and with ANZ Motorsport securing the team championship in the first race of the week, the remaining events were a show for the feature.
Shane van Gisbergen snatched pole position from team mate Justin Ruggier with a 1:26.846 as Down posted third fastest time with Scott McLaughlin and Richard Hamstead starting out of fourth and fifth for the main race.
Van Gisbergen got the jump on everyone into Paddock Bend while Ruggier fell in behind his team mate with Down trying hard to pass.  Hamstead got the better of McLaughlin before taking to the outside of Down through the Druids Hill hairpin.   The job of moving him from fifth to third done, Hamstead set-off in pursuit of Ruggier. Muggleton got the jump on his two team mates on the row ahead to slot-in behind McLaughlin through Druids. Then when Down was left out wide, McLaughlin followed Hamstead through moving Down back to fifth just ahead of his three team mates.
An action-packed first lap saw Mitchell McLeod get into the back of team mate Troy Cox through Graham Hill Bend . . . but it wouldn't end there as, coming through Stirling's Bend, Hamstead would cop a serve from behind and then another one spinning him around, while Down took avoiding action. With Hamstead sliding back across the track to the left, Muggleton had nowhere to go apart from into the side of Hamstead, ending his day.  Brad Ryan tried to take full advantage of the situation but Down got the run on the main straight, regaining his position from Ryan and slotting into McLaughlin's wheel-tracks.  While all this was unfolding, up front the gap between van Gisbergen and Ruggier hovered between one and two seconds.
Lap 12 saw the battle between McLaughlin and Down heat up even more when the presumptive champion got a run on McLaughlin and took to the outside on the approach to Hawthorne Bend.  As the corner neared, McLaughlin tried to squeeze Down off the road and hit his front end.  The contact pitched Down into a slide and sent McLaughin off the road, allowing Ryan and McLeod to move in front of him.
Three laps later we saw a rare error by the TTR Falcon when Down put a wheel off into Hawthorne and ran wide, allowing both Ryan and McLeod to get through.  Down would retake McLeod again on lap 19 into Clearways, allowing McLaughlin to move along past the Tatts.com car as well and the battle between Down and McLaughlin would resume. The battle lasted until Lap 22 when McLaughlin ran wide on the exit of Druids, giving Down the margin he needed and allowing McLeod to close up on the back of McLaughlin.
With all this happening in the pack, Van Gisbergen cruised to a relatively easy win ahead of team mate Ruggier with Ryan coming home third place after the drive of the night! And his first main race podium finish. Down finished an eventful race in fourth (to take his fourth championship in five seasons!) as McLaughlin rounded- out the top five with Mitchell McLeod, Vail Riches, Curtis Chippeway completed the top eight.
A good comeback drive by Hamstead netted a ninth place finish — and runner-up to Down in the championship — with Shaun Kelly rounding out the top ten.
Down took the championship with 2046 points, more than 100 markers clear Hamstead (1907) with Muggleton (1837) enjoying his career best finish in third place on the podium.  Not that he had it easy, as Ruggier finished just 12 points behind Muggleton on 1825 points.   Meanwhile, McLaughlin took the Division 2 title — and fifth place overall — with 1788 points.
Vail Riches came home in sixth place in the championship with 1626 points as McLeod would have a better finish to the season and end up in seventh place overall with 1450 points.   Lazy Man Racing drivers Brad Ryan and Josh Smith completed the Division 2 podium in second and third, but finished in the eighth and ninth spots in the overall championship, while the first (and only) international in the top ten would be Chad Chastain.
Top Five Drivers – Championship Points – Overall
1.    Madison Down – 2046
2.    Richard Hamstead – 1907
3.    Joshua Muggleton – 1839
4.    Justin V Ruggier – 1827
5.    Scott McLaughlin – 1788
Split Two Winner:  Jon Latham
Split Three Winner:  Billy Raymont
You can watch all the replays on www.v8sonline.com.au
---
You may also like...
---