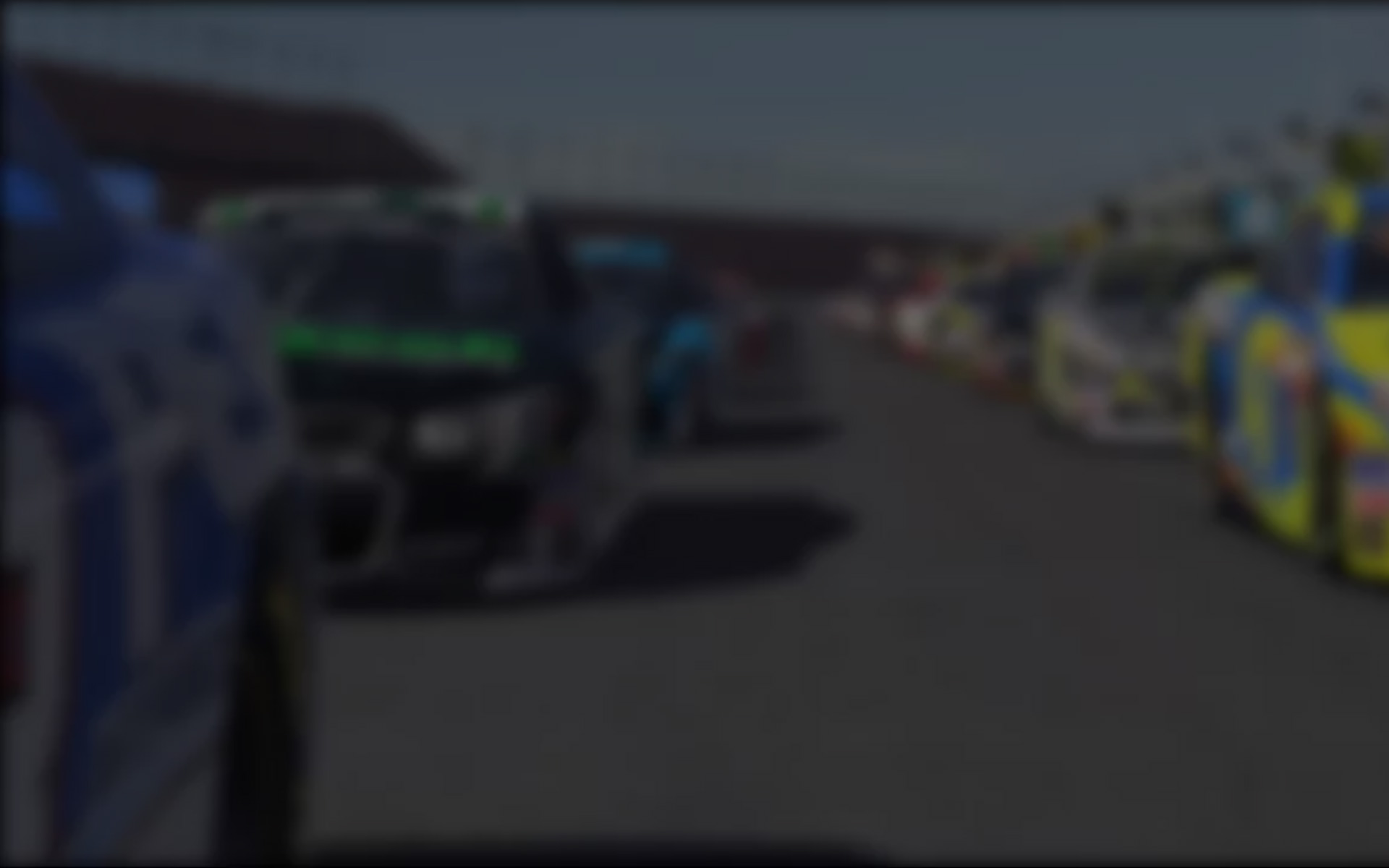 Round One of the iRacing.com V8 Supercar Championship took the teams and drivers into the UK and Oulton Park. Richard Hamstead was now the driver to beat when he claimed his second championship, edging out Madison Down and Justin Ruggier for the 2012 S4 crown.
Down would top qualifying with a blistering 1:35.772 while Hamstead claimed second on the grid, just ahead of Ruggier by .010. On returning to the series Joshua Muggleton would start from the second row with Vail Riches and George Maris on the third row. John Emerson and Michael Fabian would start P7 and P8 from Mitchell McLeod and Scott McLaughlin.
Down led the field into Old Hall with Hamstead on his tail.  With everyone mercifully getting through the first few corners cleanly, the pack went into single file as Hamstead looked to pass and take control.  Down wasn't having any of it, however, and kept the defending champion at bay holding him off.  Going into the second chicane for the first time, McLaughlin lost the rear and spun on the exit, falling down the field in the bargain.
The first DNF belonged to My3id racing's Aleksi Elmoaa who went off through Turn Four and hit the tyre wall, rolling his car and forcing him out of the race. Lap Seven and Emerson would be the first driver to pit in a bid to get some clean air and undercut some of the front runners with fresher tyres. The following lap saw a few more drivers follow suit, with Marlon McMullen, Jon Latham and Mitchell Abrahall taking to pit lane.
Down would be the first of the front runners to pit on Lap 10, with Ruggier following him in even as Hamstead stayed out for one more lap.  That move would cost Hamstead a couple of seconds and a position to Ruggier over the course of the pit lane cycle.
The second DNF and a race changing moment came on Lap 12 when Down caught Samuel Collins who had yet to pit and was a bit slower.  After losing time following Collins through the first chicane, Down drove in deep into the second chicane to get the pass done.  Collins ran a little deep into the chicane as well; ditto Ruggier who went in a little too hot and hit the back of Collins spinning him 'round and allowing Hamstead to regain the position he lost in the pitlane cycle.
For his part, Ruggier incurred some damage from this accident and all but ended his chances of winning the race with Down now holding a couple of second gap to Hamstead.
Further back, Marlon McMullen was the first of two drivers to blow his motor when he down shifted a little too quickly into Old Hall.  Eight laps later Abrahall's engine let go entering Cascades, ending his night.
Down had no such problems and claimed the opening round, winning both Monday night online races after struggling all last season to get a victory.  Down in the UK today was able to get back to his best. Hamstead came home second, 1.8s behind Down and five seconds clear of Ruggier who limped home sporting the damage suffered in the middle of the race. Muggleton continued his good form on return to the series with a fourth place ahead of Riches and Emerson, while McLeod held-off Fabian for P7 as Robert Hartley and McLaughlin rounded-out the top 10.
Hard Charger once again goes to Carwyn May who didn't pit at allm saving around 20L of fuel and managed to move up from 18th to 12th.
Top Five Drivers – Championship Points – Overall
1.    Madison Down – 271
2.    Richard Hamstead – 258
3.    Justin V Ruggier – 246
4.    Joshua Muggleton – 242
5.    Vail Riches – 226
Split Two Winner: Michele Curina
Split Three Winner: Timothy Hancock
Split Four Winner: Adrian Stratford
Split Five Winner: Phillip Jones2
Broadcast done by the crew at www.v8sonline.com.au
---
You may also like...
---