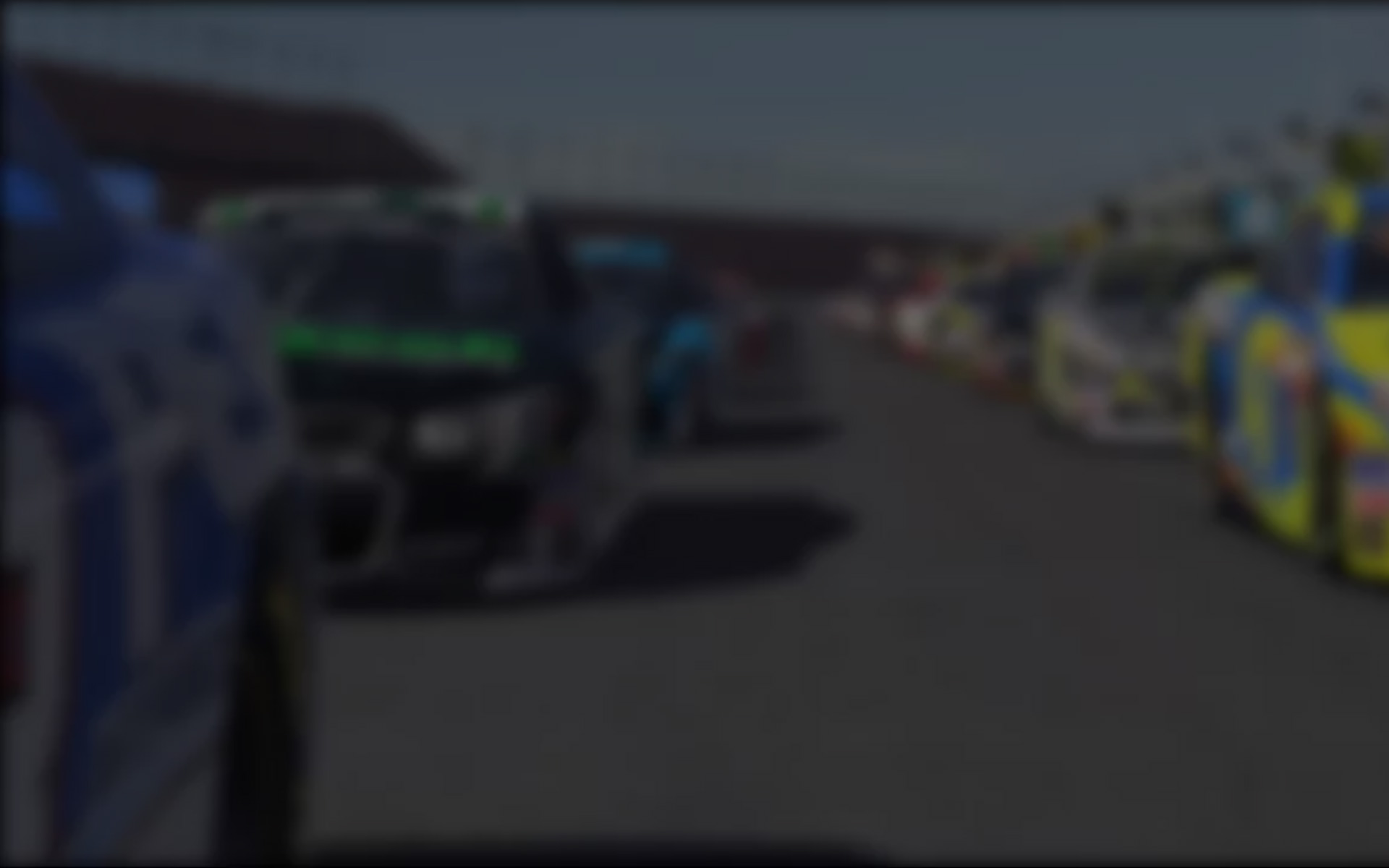 Round Eight of the iRacing.com V8 Supercars Series presented by BigPond went to Belgium's world famous Circuit de Spa-Francorchamps. With Madison Down taking victory in the last round in Japan the question was whether he could continue on or if Justin Ruggier would climb back to the top step of the podium.
In qualifying it was Down taking pole position at 2:23.232, with Ruggier close behind with a 2:23.488 while a career best qualifying saw Curtis Chippeway start in third position ahead of Joshua Muggleton and Vail Riches. Chad Chastain took sixth on the grid ahead of Richard Hamstead and John Emerson with Mitchell McLeod and Shaun Kelly rounding-out your top ten.
When the lights went green Down led the field into the La Source hairpin.  He showed the way through Eau Rouge, but Ruggier got the better run and, with the slip stream, was able to pull-off a pass into Les Combes to take the lead.   Although the start had been very clean, with no contact, it wouldn't take the drivers long to start trading paint.  Chastain and Riches went door-to-door through the final chicane, allowing Emerson to go three wide down the start/finish straight.  Unaware Emerson was next to him, Chastain moved to the left and hit the rear of the TTL Falcon, spinning him across the track and into pit wall ending his day on Lap Two.
But the contact wouldn't stop there, as David Hingston missed his braking marker into La Source and hit the back of Simon Black's CST Australia Falcon as well as the  Red Rooster Falcon of Marlon McMullen eventually forcing all them to retire during the course of the race.
The craziness continued as Down received a "slow down" through Eau Rouge, handing second place to Muggleton.  Muggleton's stay in P2 was not to be long-lived, as he out-braked himself into Les Combes and took the long way 'round – giving back the position to Down.  Then upon re-entering the traditional line, he went side-by-side with Hamstead for third.  They would stay side-by-side for the remainder of the lap.  Into the final chicane, Hamstead covered the inside line but – just behind – Chastain would be in the thick of it again when he hit the back of Riches.  Then it got worse when Brad Ryan accidently got into the back of Chastain, spinning him around, ending Chastain's day and sending Ryan back down the order.
When all the dust settled to start Lap Three, Ruggier was leading over Down with Hamstead and Curtis Chippeway battling for third.  Muggleton was back in fifth with Riches just behind and George Maris in seventh on his return to the series after a long break.
Lap Eight saw Muggleton's day come to an end when he clipped the pit wall whilst heading down the straight into Eau Rouge, sending his car into a high speed spin. Riches was able to just squeeze by but the unlucky Maris couldn't spot where Muggleton was spinning to due to the smoke and hit the TT-R car ending both of their days.   The incident was also a wake-up for McLeod and Kelly, who arrived into Eau Rouge and had to take avoiding action.
Just as the race settled again it was that time of the race: pit stops! Down came in at the end of Lap 10 with Hamstead, McLeod and Kelly following suit. As Paul Gallen tried to enter pit lane he clipped the pit entry tire wall and rolled his car into retirement. On the following lap Ruggier reacted to Down's earlier stop and came in, with Chippeway and Riches in his wake.
On track Down was pushing to try and undercut Ruggier.  Coming into the Bus Stop chicane, however, Wayne G Hewitt got sideways and, in an attempt to save it, slowed dramatically.  Unfortunately, Down couldn't avoid hitting Hewitt and so lost any chance of undercutting Ruggier.
Just as everyone thought Ruggier's pit crew had done an awesome job by increasing the lead to five seconds plus, Ruggier re-entered pit lane.  It turned out that an incident during his last visit resulted in the car dropped off the jacks before it was fully fueled.  This extra stop cost Ruggier half a minute and handed a win to his championship rival.
Thus Down took the gifted win with open arms for his third win on the season and increased his championship lead over Ruggier as they head into the drop rounds. An amazing performance by Can-Am driver Curtis Chippeway secured a career-best second place finish while Hamstead took the last spot on the podium, just edging-out Riches.
Ruggier returned from his extra stop to take fifth ahead of Kelly who drove a very strong online race and finished in sixth place.  McLeod didn't have the greatest night and came home in seventh with Matthew Nethercote making a return to top split with a strong eight place finish. After the Lap Three contact, Ryan was able to fight back to finish ninth while Samuel Collins rounded-out your top 10 finishers. Craig Hunter, Marty Atkins and Carwyn May completed the top 13 and lead lap finishers.
Top Five Drivers – Championship Points – Overall
1.    Madison Down – 1997
2.    Justin V Ruggier – 1938
3.    Mitchell McLeod – 1795
4.    Joshua Muggleton – 1718
5.    Vail Riches – 1471
Split Two Winner: Dylan Carroll
Split Three Winner: Dale Neish
Split Four Winner: James N Scanlan
Also this week the crew from v8sonline has teamed up with Glacier TV to broadcast the races in HD!
The full race replay is now on YouTube and in HD! It can be found here
You can catch the racing live from 8:15pm AEST Monday Nights on www.v8sonline.com
---
You may also like...
---