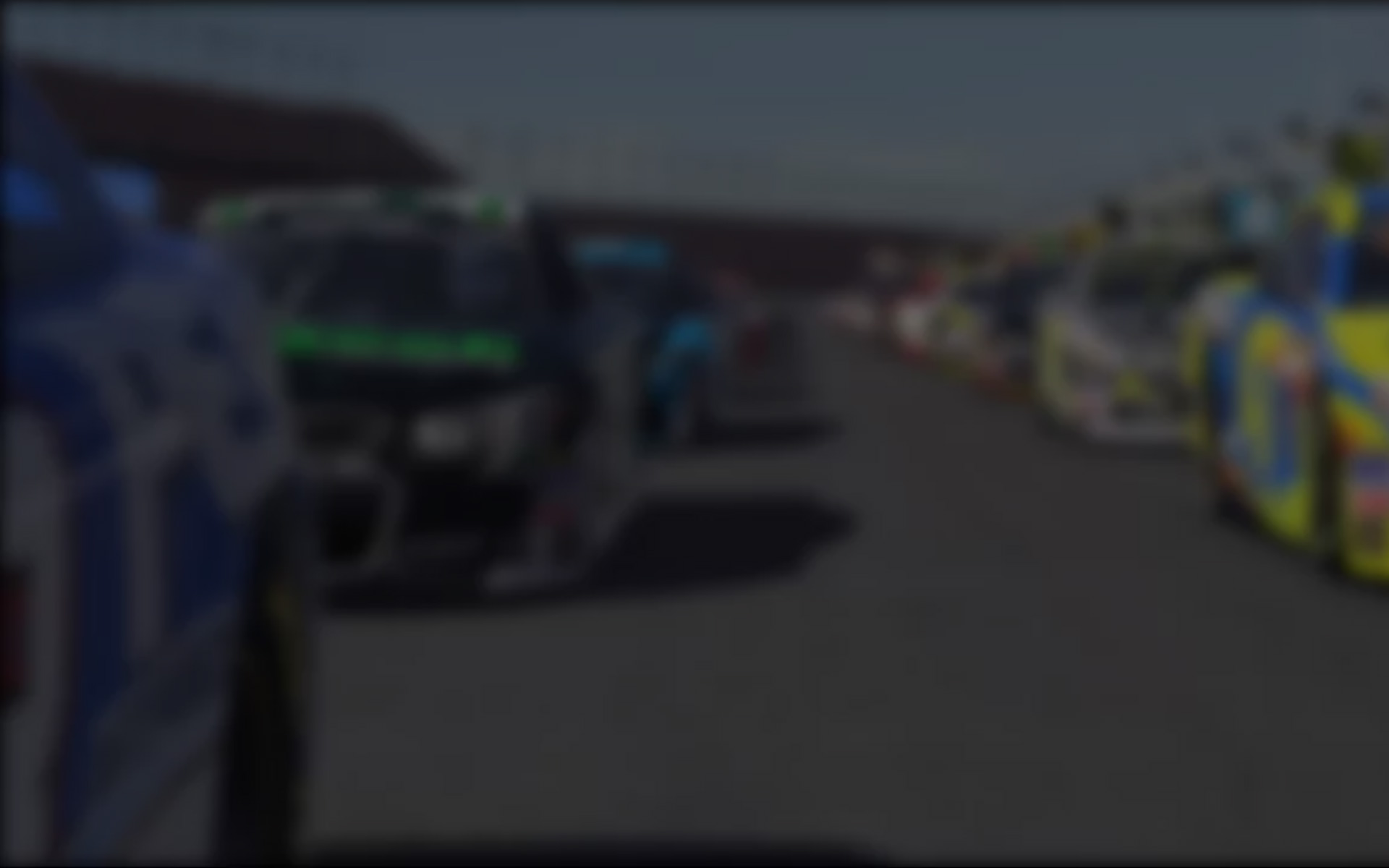 Round 11 of the iRacing.com V8 Supercars Series presented by BigPond returned the States with a visit to 4km, 12 turn Road Atlanta.  A long back straight made it difficult to develop a setup which would be fast through the turns and fast on the back straight, but a lot of people traded straight line speed to keep corner speeds high.
Richard Hamstead missed another week of online racing, basically handing Madison Down the series championship.    Not one to back into a title, Down would all but secure the race win when he qualified on pole in the dying minutes of the session, besting Justin Ruggier's time with a 1:21.696.  Ruggier would start second with a 1:21.799 while team mate Scott McLaughlin would start third on his return to the series.  Vail Riches and Joshua Muggleton captured the remaining top five spots on the grid for the main race.
As the lights went green, everyone got away cleanly with Down leading Ruggier and McLaughlin through Turn One.  Muggleton made the move on Vail as Riches got trapped on the outside would dropped to fourth while, further back, Mitchell McLeod bogged down on the start and lost spot to Brad Ryan.  However, McLeod had a lot more straight line speed over Ryan and reclaimed the spot on the long run back to Turn 10.
The only accident to occur on the opening lap involved the Can-Am Motorsports driver Chad Chastain who copped a hit from behind by Omar Soto and would have to fight back through the field.
Next time around Curtis Chippeway had a major spin through the downhill Esses.  Christopher Osborne and Shaun Kelly checked-up but Soto was a little too late on the brake and hit the back of Kelly's Rent.com.au Ford Falcon, ending his chances of a decent result.
Series newcomer Pablo López would round-up Riches, who had no straight line speed compared to the Radicals driver.  But coming onto the main straight López got a bit out of shape enabling Riches to get up the inside and re-take the position back into Turn One.  Thanks to his straight line speed advantage, López would overtake Riches once again on the back straight and this time hold the position.
Osborne day came to an end on Lap Seven when Soto hit his right rear coming through Turn One, resulting in the race's first DNF.
Into the back straight chicane on Lap Seven, Riches missed his braking point and had to take avoiding action to miss López.  Riches received a 'slow down' penalty for his troubles, dropping him behind McLeod and Ryan in the serial.
Lap 13 saw McLeod alongside López in an outbraking effort heading into the chicane.  After successfully negotiating the first part of the corner, McLeod understeered into the side of López, forcing Pablo to run wide and drop back behind Ryan and Riches.
Up front, Down was pulling away from the ANZ Motorsport duo of Ruggier and McLaughlin as Muggleton ran a solitary fourth.  The battle for fifth to eighth was still very undecided.   Lap 14 saw Ryan get out of shape exiting the Esses and fall behind Riches into the clutches of López.   López took full advantage of the opportunity, going inside of Ryan heading onto the back straight and regaining one of his lost positions.
There was no such drama at the front, as Down would took the flag after a  dominant display to all but secure his fourth iRacing.com V8 Supercar Series Championship.  Ruggier and McLaughlin would join him on the podium, while  Muggleton earned another solid finish in fourth place as team mate McLeod would held-off Riches for fifth.  López' action-packed debut resulted in seventh place finish with Ryan, Mitchell Abrahall and Jason Brunton rounding out the top ten.
Top Five Drivers – Championship Points – Overall
1.    Madison Down – 2046
2.    Richard Hamstead – 1907
3.    Joshua Muggleton – 1824
4.    Justin V Ruggier – 1778
5.     Vail Riches – 1626
Split Two Winner:  Robert Hartley
Split Three Winner:  Leon Tander
Split Four Winner:  Ed Cullen
The Final Round of the iRacing.com V8 Supercar Series Presented by BigPond will be at Brands Hatch!  And you can watch all the action live from 8PM AEST
live on www.v8sonline.com.au

---
You may also like...
---