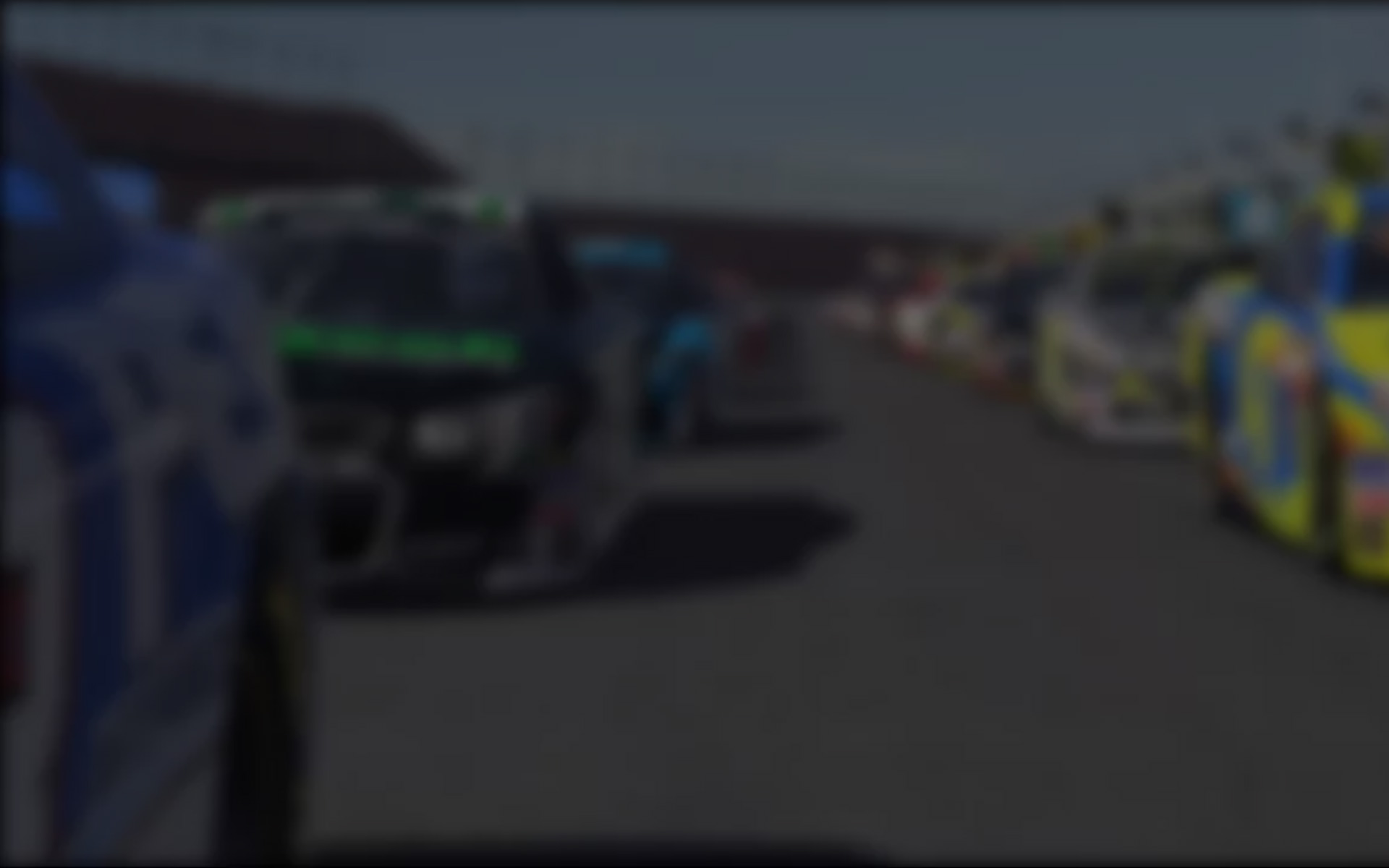 Round 2 of the 2012 Season 1 iRacing.com IZOD IndyCar Series rolled into Kentucky Motor Speedway for the Follow @TopSplitIndycar 180.  While the online racing series visited the Bluegrass State for the first time last year in broad daylight, this season saw the Dallaras under the lights at the fast and sweeping 1.5 mile speedway.
This week drew 42 sim racers to Kentucky, with the the top split featuring 21 drivers and leaving some regular competitors locked-out of the race.  Each week the level of competition seems to rise and the minimum iRating required to just make the show increases. Case in point: Cary Bettenhausen, who finished sixth in the overall standings last season after making every race, was relegated to the second split.
In qualifying, the front row was claimed by INtense Sim Racing teammates Niles Anders and last week's pole sitter, Chris Cahoe.  Anders earned the top spot by a mere .002 seconds from Cahoe.  Rounding-out the top five were Tim Doyle, Shaun Stroud and series newcomer, Mitch McCracken.
Anders bolted into the lead at the start of the race with the top three happy to run single file.  By Lap 13 the top six had built a two second gap over the second pack of cars.  On Lap 25 though, things started to shuffle up front and the drivers began to see what they had.  Stroud, who had fallen back to fifth at the start, was slowly working his way to the front, passing a car here and there until finally getting past Cahoe for the second position behind Anders.  Doyle, after making a couple attempts on position, fell back a number of places, settling into the fifth spot with Aawg right behind him.
Lap 39 saw the first of five yellows fly when Cory McLemore pulled onto the track after exiting the pits and caused last week's winner, Michael Peters, to swerve hard to avoid him and collect Robert Bohanek in the process.  An irritated Peters, as well as Bohanek, were both finished for the race.
As a result of the yellow, Stroud managed to beat Anders off pit road and assumed the lead.  On the restart many positions started to change.  Those who were initially in the second pack now had another shot at the front and some took advantage of their opportunity.  Second place starter Cahoe fell back to as far as sixth while third place starter Doyle fell to ninth with Aawg just ahead of him.
Meanwhile, those who took advantage of track position as a result of the yellow were making some noise and advancing toward the front.  Jeffrey Koolbergen had worked his way from eighth at the start up into the top five while 11th-starting Matthew Lambertson was coming on strong and challenging for the top spot.
Misfortune struck for several of the front runners on Lap 71, though.   Contact between Koolbergen and Goke coming off Turn 2 left Aawg with nowhere to go but into the wall . . . hard.  Also involved were Gary Borkenhagen and Randy Crossno. While Crossno managed to continue with minor damage, it was over for Koolbergen, Aawg and Borkenhagen.
The resulting yellow flag pit stops on Lap 72 figured to get everyone to the end.  Not so fast . . .   While battling for second position two laps after the restart, McCracken and Lambertson came together exiting Turn 2, collecting Stroud and Cahoe.   Lambertson was forced to retire, but McCraken managed to come away unscathed while Stroud and Cahoe were also able to carry on, albeit with some damage.
Amid the mayhem of the last caution, Doyle slipped through into third position for the restart behind Anders and McCracken, with Jonathan Goke fourth and 19th-starting David Sockrider rounding-out the top five.
The Lap 82 restart saw Doyle slip past McCracken and set his sights on Anders.  Anders did everything he could to protect his lead and fought tooth-and-nail with Doyle to retain it.  Racing hard on Lap 89, McCracken was able to get past Doyle for second but Doyle charged back around to get another shot at Anders.  The two were inches apart each lap with Doyle trying everything to get by Anders.  Lap 93 saw the pair enter Turn 3 with Anders low and Doyle high.  With Doyle slightly ahead Anders lost control and spun around in the middle of the corner, sweeping McCracken up into the wall with him.
During the fourth yellow flag period, second place runner Goke darted into the pits leaving Doyle in the lead on older tires.  Cahoe moved-up to second, having pitted during the third yellow of the race to fix wing damage from his involvement in the earlier accident.    That put the running order for the restart on Lap 99 as Doyle, Cahoe, Sockrider, Mark Schutte (who started 14th) and Goke.
Doyle was able to get some space between him and Cahoe on the restart.  Goke quickly worked his way to third and tried all he could to get around Cahoe's Dallara in hopes of getting a shot at the lead.  The two would close on the leader a few times but Doyle was able to hold them off before the fifth and final caution flew with only two laps to go, sealing his win with Cahoe and Goke rounding-out the podium.
Race Stats
Laps: 120
Pole:  Niles Anders
Lead changes:  3
Cautions: 5
Caution laps: 18
Lap leaders: Anders 1-40; Stroud 41-50; Anders 51-93; Doyle 94-120
Margin of victory: 01.061s
Hard charger: David Sockrider (15 spots)
Biggest loser: Robert Bohanek (11 spots)
Laps led: Anders (83)
Fastest lap: Goke, 24.438 (Lap 102)
Top 5
1.  Tim Doyle
2.  Chris Cahoe
3.  Jonathan Goke
4.  David Sockrider
5.  Mark Schutte
Cars finishing: 12
DNF: Bohanek, Peters, Josh Ringer, Koolbergen, Aawg, Borkenhagen, Lambertson, Joe Branch, McCracken.
---
You may also like...
---