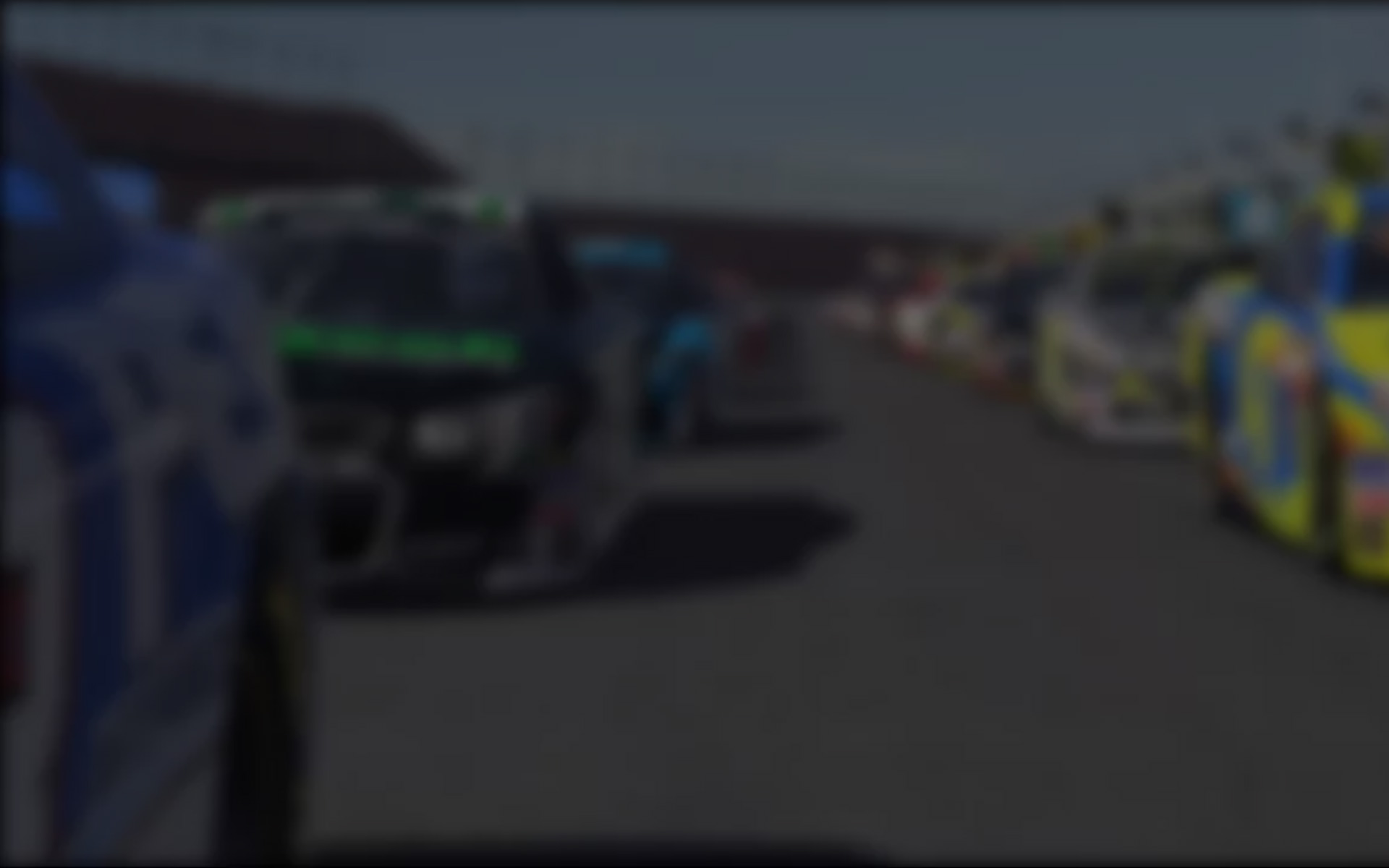 Editor's note:  As most readers are aware, shortly after the introduction of its digital version of the Dallara DW12, web site problems forced iRacing.com to cancel its online Indianapolis 500.  XCAL Racing, a first-year iRacing league, experienced the same disappointment as their fellow iRacers at the cancellation of one of the year's most highly-anticipated sim-races. Thus was born the XCAL Indy 500 . . .
With hundreds of people desiring one of the coveted 55 starting positions, a three day long, non-stop qualifying process was established to set the top 48 drivers for the big show. Positions 49 through 54 would be offered to drivers who had previously qualified in the iRacing top spilt and the final spot would be filled by the driver making it in through Thursday afternoon's "Last Chance Qualifying" race held right before the 500. Qualifying saw original top split pole sitter Yang Ou better his qualifying time from last week by almost a full second to also take the pole for the XCAL Indy 500. Rounding-out the top five in qualifying were new qualifiers Marko Penttinen, James Lehman, Steven Whetten and another original split qualifier Wyatt Gooden. Falling back on a provisional was Tim Doyle, who has been a staple in the Indy 500 top split since iRacing released the original Dallara IndyCar. Other notable names using provisionals included Connor Cross and Zsolt Nagy.
Going into the race Thursday the talk amongst the fans was whether or not Doyle would be able to come up from deep in the field, avoid incident and be able to renew his rivalry with his close friend and teammate Ou. However, just minutes before the race, Ou found out he would be unable to make the starting grid and as a result had to forfeit his pole spot to Penttinen. With iRacing's most dominant IndyCar driver no longer in the field, the story line focused on whether the inaugural XCAL Indy 500 would see an upset winner or if "Sir Doyle" conquer once again.
The green flag flew at about 7:33 PM EST and Marko Penttinen took the lead from the pole position. He would hang onto it after a couple of early restarts from incidents occurring in the mid-pack only to finally surrender the lead when he came down pit road for fuel on Lap 15. This began the game of strategy among the front runners as several drivers laid claim to leading early laps. Ben Kelly-McAuley, assumed the lead and stayed out the longest on the first fuel run, leading 11 total laps. It was Doyle, however, who stole the fan's hearts as he made his back-to-front journey complete in just 22 laps.
The first half of the race featured several lengthy green-flag runs but those did not deter the amount of action we witnessed for the top position. No one leader could pull a great distance away from the field as drivers were able to take advantage of each other's tow and were constantly slip-streaming past each other for the lead lap after lap. In total, 11 drivers swapped the top spot a total of' 42 times!
Lap 54 saw 2014 iRacing top split qualifier Connor Cross get caught up in an incident when several cars attempted to pit, jamming-up the pack he was running behind. Cross then bumped one of the cars in front of him, damaging to his front wing and sending his car out of control at the next corner. Unfortunately, that ended his quest for a win at the "Brickyard."
Through pit strategy the mid part of the race saw XCAL regular, Richard Hollyday, leading a large chunk of laps. Through one of XCAL's generous sponsors, the driver leading on Lap 107 would win the "107 and Counting…" award. Lap 107 actually fell during a caution in which Richard stayed out, low on fuel, to lead the lap and win the money. Unfortunately, on the next lap, the field went green and Hollyday was forced to pit as the leader coming to the green flag. Hollyday would fall two laps down as he was assessed a pit penalty on that stop, effectively eliminating him from contention.
After Hollyday's problems, the two dominant drivers assumed the top spot. Penttinen and Doyle pulled away from the field and led the next 26 laps until we saw a full round of green flag pitstops take place. Both top drivers completed their stops without any issues and continued to lead until Huston Hamer took a whirlwind of a wreck, getting stuck in one of iRacing's repetitive tornado spins.
Through more pit strategy, XCAL fans were given much to cheer about as Michael Cosey Jr. brought them to their feet. He took his pink DW12 to the front, swapping the lead with Andy Jennings and Penttinen over the next 10 laps, leading six of them. Cosey then lost control coming off Turn Four and collected Jennings while battling for third. Both spun down pit road without causing a yellow, but destroying both of their chances to win.
Once Doyle made his way back to the lead on Lap 155, he and Penttinen would led every lap of the final 45 as they declared they were the top bachelors of the milk bath.
A late race caution flew and setup a five lap shootout. On green, Marko jumped out to a 0.8 second lead but on the backstretch Tim mowed that deficit down and took back the lead in Turn 3. Penttinen then made several attempts to dethrone Doyle but each time Sir Doyle was able to run a higher line and get a run off the corner. Gooden and "Last Chance Qualifier" transfer Eke David also joined in the fight with three laps to go but were unable to make any headway against the two dominant leaders.
"Three wide, swapping the lead and positions, all with no contact among any of us. Doesn't get any better than that!" — Tim Doyle
The final lap saw Doyle make his car extremely wide as he blocked several attempts from Penttinen to make a race-winning pass. Gooden was able to take advantage of the disruption of momentum to make it a three wide finish at the end, but was unable to improve his position.
In the end it was Doyle taking home the $100 cash prize, with Penttinen earning $30 for second and Gooden collecting $20 for his third place efforts. Other drivers to finish on the lead lap were Eke David, Richard J. Music Jr., Carl Burk and XCAL regular Paul Coleman Jr..
Between swigs of milk in victory lane Doyle gave a tip of the hat to Gooden and Penttinen.
"We were able to work together through various stages of the race and at one point we had a nice break away from the rest of the field. We even had a green flag pit stop which really separated the field, but unfortunately that all went away with a yellow bunching us all back up again. On the restart, Marko pushed me out to another breakaway until the next yellow. From there the race was on!
"Some really good stuff by Wyatt and Marko those last few restarts. Three wide, swapping the lead and positions, all with no contact among any of us. Doesn't get any better than that!"
The XCAL Indianapolis 500 was XCAL's first publicly open event and it has been received extremely well across the iRacing forums and in post-race interviews. To view what all the drivers and fans are excited about, you can watch the race at http://www.xcalracing.com/indy/results/ and post your feedback on youtube, in the iRacing forums or through the contact form on XCAL's website.
---
You may also like...
---