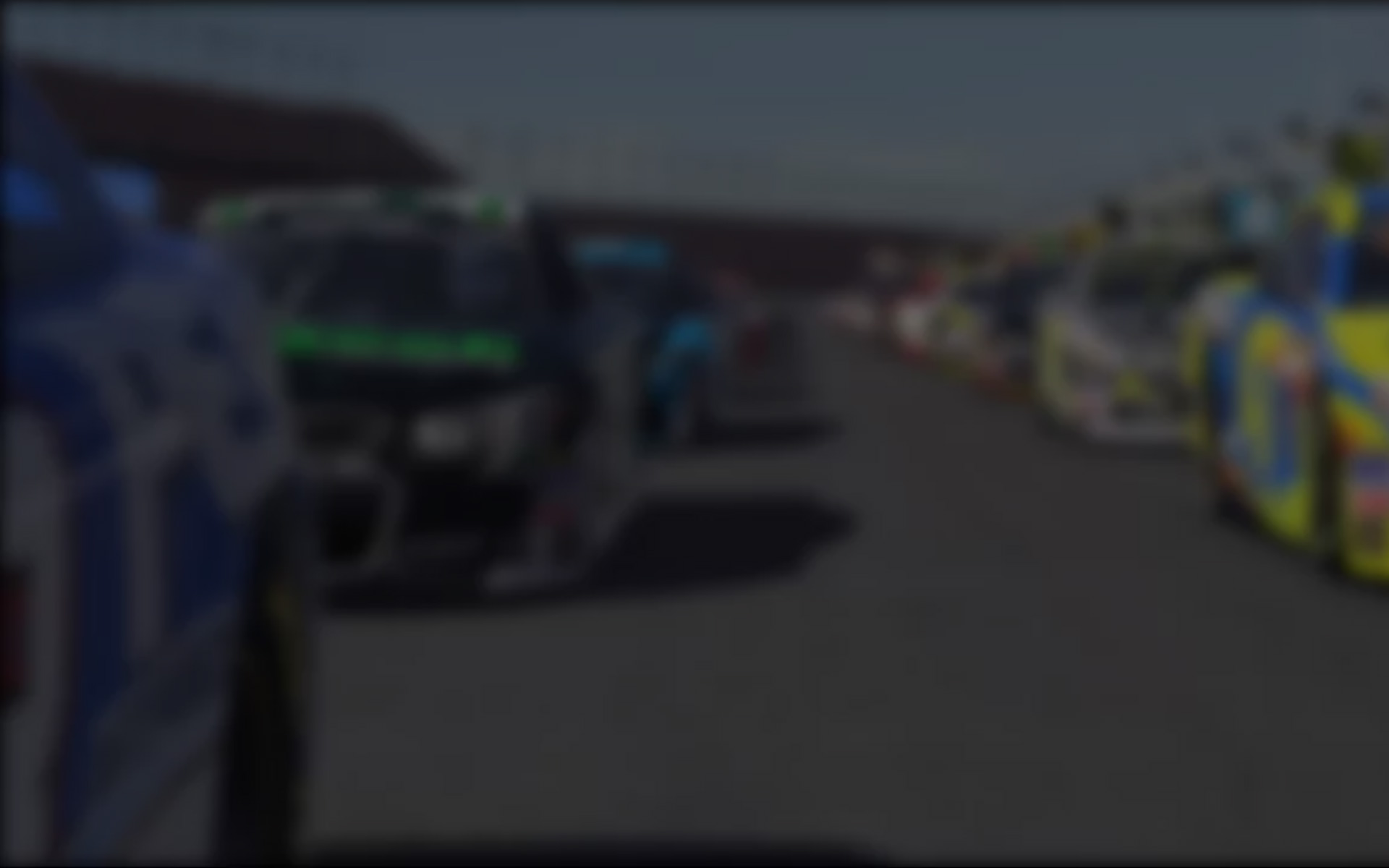 September 14th, 2010 by DavidP
Claiming his third win of the iRacing Pro Series Road Racing (iPSRR), Matthias Egger took maximum points in his Ford Falcon V8 on the Brands Hatch Indy Circuit in Round Ten of series. The Italian bounced back from a collision with Vincent Staal to claim the victory in his second race of the week.
"I realize that overtaking him [Staal] was impossible so I remain back and hoped for an error," Egger explained post-race. "The error came in Turn One, I go inside for Turn Two but I was very far from the ideal line and missed the braking point. I went directly in a four tires-slide into Vincent and realizing that was a very bad move I let him pass in the next corner. Unfortunately his car was broken more then mine, but despite of this I remain back because I was a little sad about the incident. David Williams then come from behind a lot faster and follow me in an anticipated pit-stop. I returned in the track in first position because Vincent pitted a lap after me, then I realized that David made an error, so from here was all very easy."
Benelux Club Member Staal who was making his second race appearance of the week, recovered from the incident at the tight Druids Corner (aka Turn Two) to take the chequered flag behind Egger, making it two runners-up spots from two starts.
Although Jesse Nieminen took a victory in the first race of the week ahead of Staal, the Scandinavian was awarded just 278 points due to the strength of field. "I had a nice qualifying battle with my team-mate Vince during the week and was happy to end-up on pole for the race with him right behind in second," Nieminen shared with inRacingNews. "At the start Klaus (Kivekäs) got up to second place and was staying really close to me during the first stint. In the second stint Klaus made some mistake in the last corner and Vince was able to get to second place. After that I had some breathing space and was just praying that I wouldn't get disconnected or have my pc crash or something. I caught a bunch of lapped cars right during the last five laps of the race but didn't want to interfere with their fight and on top of that risk having an accident, and as I had four-five seconds of gap to Vince I just took it easy and finished safely behind them, giving F1RST Racing our first one-two in the Pro Series."
Leaving the Brands Hatch circuit with barely a straight panel on his Ford Falcon, Richard Crozier chalked up 25 incident points in his pair of races during Week 10. Although that didn't stop the Scotsman taking 258 points, the fourth highest of the week, the iRacing Drivers World Championship Road Racing racer was left to explain his starting technique, that saw him gain several spots at the green flag. "When everybody starts checking up, I see as that there's a gap and I know it's legal on road courses to pass before the line but after the green, might as well go for it," said Crozier.
At the end of the day the three places I made up there (which I probably would have anyway given my difference in race pace) were small beans compared to the other four [positions] when everyone died in Turn One."
Earning 239 points from his solitary race of the week, Kivekas was positive about his podium finish, despite being involved in contact with the aforementioned Nieminen. "I'm still happy with third place considering the wreck could have ended a lot worse," the Scandinavian wrote this week. "I got a good start and passed Vincent before Turn One. I followed Jesse and I felt I was even a little bit faster but that might just have been because of the draft. After about 20 laps Jesse had a bit of a moment in Turn Four, this caught me by surprise so badly that I didn't really manage to react in anyway, although, there was plenty of time to avoid the contact. I drove straight into his back which sent me off track and I got a 'slow down' signal. I also got damage from the contact which caused me a lot of trouble during the rest of the race. The car wouldn't turn right under braking but on throttle it overstressed quite badly. This caused my tires to wear a lot more and driving was harder as well."
With a fourth place finish in his lone race on the Brands Hatch Indy Circuit, Marcus Saari took 237 points from a race he described as his "Luckiest points, ever."
The Scandinavian had several excursions into the gravel traps, dropping as low as eleventh position, before mounting a comeback to the top five. "I couldn't believe my eyes when I noticed that 16 laps before the finish Jonathan [Salhani] was there around four to five seconds in front of me," shared Saari post race. "After all my mistakes I was back to square one with much fresher tyres. So I pushed hard and cut the gap in every lap. I finally caught him three laps before the finish. A lap later I got quite a good exit from Turn One and went for a move in Turn Two. It was quite optimistic. Jonathan closed the door completely and we collided. He spun and I could continued taking the fourth place."
Taking his first top five finish of the season, Joao Vaz collected 215 points to end the week as the seventh highest points scorer at the UK virtual-circuit, ahead of England's David Williams, Australia's Jonathan Salhani and Germany's Maximilian Vietmeier.
Despite failing to make an appearance in Week Ten, Luca Masier continues to dominate the iRacing Pro Series Road Racing standings with 2463 points to his name, a margin of 167 over Kivekäs. With only eight weeks of results registered, Egger and Nieminen look set to leap-frog Kivekäs when drop-weeks take effect, with the pair sitting a menacing 170 points behind the Scandinavian.
Round Eleven of the championship heads to the Ford Falcon V8's native home, with a trip to Australia's Phillip Island circuit and stark contrast to the tight confines of the Brands Hatch Indy track.
---
You may also like...
---