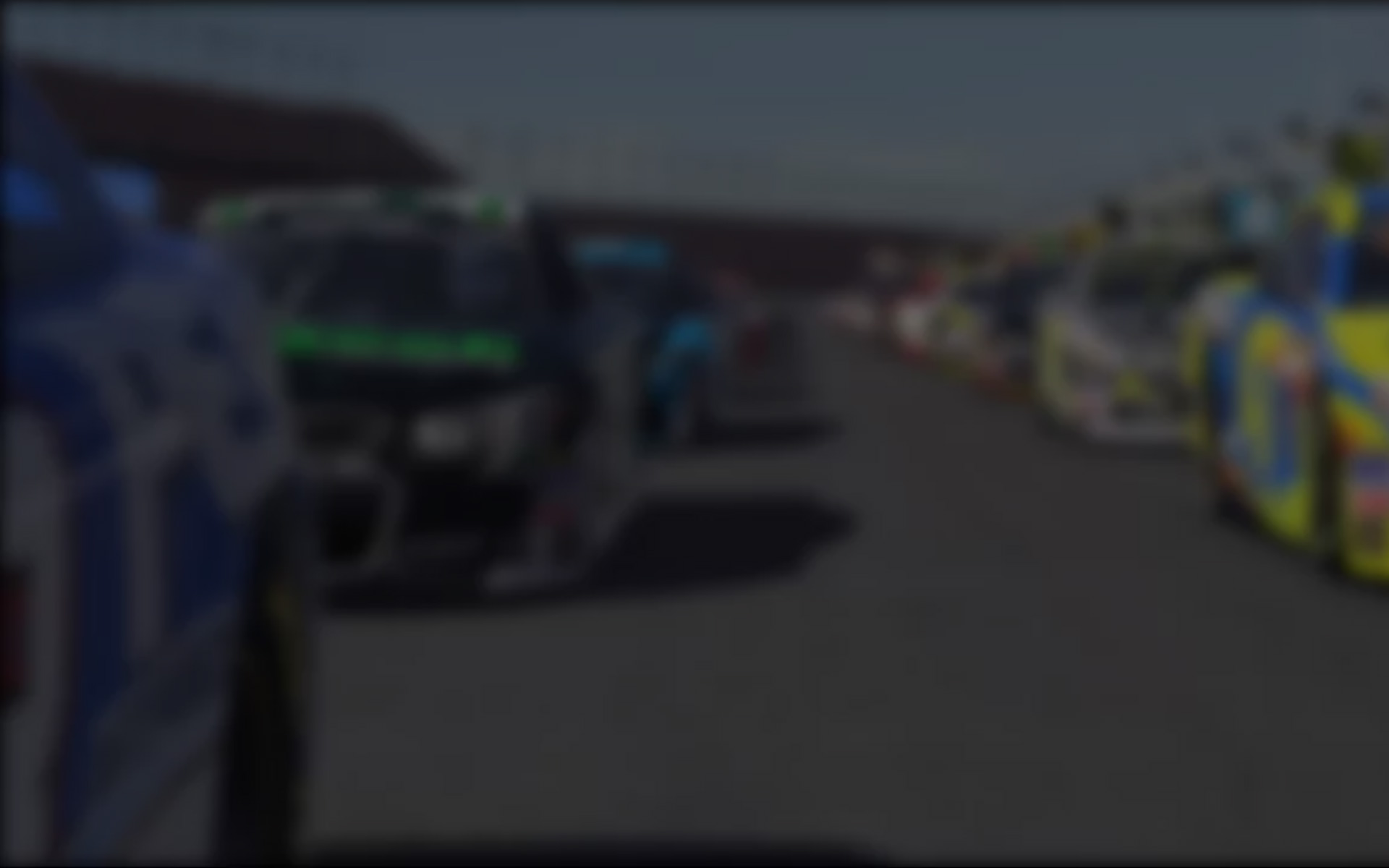 September 12th, 2014 by JaimeB
Recent history has shown Japan's Okayama International Circuit to be a thrilling venue for the UK&I Skip Barber League, with no shortage of dramas and masterful sim-racing.  So with just 14 laps separating the grid of over 30 F2000s from green lights to checkered flag, not even pole position could guarantee a good result.  That didn't deter Simon Povey in qualifying, however, as he took pole position with his teammate Simon Hulbert in third, and championship leader Sebastian Job splitting them in second.  Wojciech Swirydowicz made an impressive return to the league in fourth position while race winner Graham Carroll started in fifth.
As the lights went green and clutches dropped, the racing started with Hulbert and Job swapping positions and Job opted for the outside line into Turn One.   Hulbert tried a dive up the inside, but didn't have enough exit speed to take the position.  A bit farther back Fahim Antoniades was suffering from technical issues which caused him to blink his way into the dirt at the exit of the first corner, where he lost three positions, dropping him to tenth.
In the opening lap Carroll got a tow from Swirydowicz before the Turn Five hairpin and was able to move into fourth with relative ease while Marc Mercer did the same to Richard Avery just behind (both moves done with the outside line).  Job tried to use the inside line on Povey but was denied at the next turn.
By just the third lap Carroll was harassing Hulbert for third place and took it handily under braking for Attwood Curve.  Just ahead there was a side-by-side battle for the lead between Job and Povey, enabling Carroll to grab the slipstream from Povey coming out of the corner while Hulbert did the same on Job.  By the end of the long straight all four cars were alongside one another and they made it four-wide (at 120mph) into the Turn Five hairpin.  Carroll braked latest and, when Hulbert ran deep mid-corner, swooped through with the inside line and, beyond all comprehension, went from fourth to first in the space of two corners.
Antoniades' race went from bad to worse on Lap Four when Luiz Silveira missed his braking for Turn Five and hit the back of Antoniades, causing him to spin.  Adding injury to insult, Silveira then got stuck on Antoniades' sidepod which caused George Lambert to hit him lightly as well.
After the excitement at the front, Carroll led from Hulbert and Povey until Lap Six when Hulbert drove his SSR entry into the lead around the outside line at Turn One.  Ever the skilled dog-fighter, Carroll came back at Hulbert later that same lap and regained the lead.  Not far behind the fierce battle for the lead, an equally intense duel between Swirydowicz and Avery for sixth place led to contact at the final corner which sent Swirydowicz into a slide.  He counter-steered majestically and drifted the corner in true Japanese style but sadly ended up in the pit wall where he dropped far enough back that he retired after completing one more lap.
After Swirydowicz' dramatics, Mark Jarvis in what was now seventh thought he might have a run on Avery into Turn One for sixth.  He pestered Avery through Williams corner and the Moss 'S', but when he tried to force Avery defensive into Attwood contact ensued sending Jarvis into a spin and off the track (thankfully without damage so he was able to continue his race).
Hulbert resumed his battle for the lead with Carroll on Lap Eight with (once again) the outside line for Turn One and looked to have the move done but Carroll grabbed the inside line for Attwood.  The two used very different lines for the corner and when those arcs intersected the resulting contact lifted the right side of Hulbert's F2000 and caused him to lose positions to Povey, Mercer and Job.
Mercer continued his charge the next lap when the battling Povey and Carroll had a poor exits out of Attwood.  An opportunistic Mercer split them on the straight to take the lead with Job attempting to follow behind.
Mercer held the lead for the rest of Lap Nine and all of Lap Ten, but at the start of Lap 11 Carroll made a move for the inside line at Turn One.  Alas, he braked a bit too late and carried a bit too much speed into the corner, colliding with Mercer and sending both of them off the track with Carroll coming off worse of the two.
The thrills continued on Lap 11 when Job used the slipstream to challenge the Team SSR drivers into Turn Five.  Job pulled-off a thrilling maneuver on both drivers to take the lead of the race heading into Revolver, but with the purple Simons in hot pursuit.  When Hulbert tapped the rear of Job heading into Piper he lost second place to his teammate Povey.  Both Povey and Job oversteered exiting Piper and Hulbert attacked on the short run down to Redman, taking the inside line.  They entered Redman three-abreast with Hulbert on the inside and Job on the outside (and Avery just behind and looking to capitalize as well).  Coincidentally, two major events occurred within the space of a second.  First up was Job who experienced a minor explosion from the rear of his car, immediately followed by billowing black smoke from his exhaust.  Next came Hulbert, who outbraked himself into the corner and spun, allowing Povey to take a normal racing line and swoop into the lead.
As the leaders started Lap 12 Povey was back in the lead while Dominic Brennan was now into second place after a relatively quiet race spent tailing the top three.  Mercer was just behind Brennan and Avery had a bit of a gap ahead of him to Mercer.  Avery was pushing hard, obviously, and made that apparent when his engine also failed, but at the exit of Attwood and with less than three laps remaining.
Brennan did his best to keep the multi-season champion behind him, and fought valiantly to hold on to second place, but eventually succumbed to Mercer on the penultimate lap, while Povey used their battling as an opportunity to pull a gap.  As the checkered flag fell Povey finished nearly four seconds ahead of Mercer with Brennan just a few tenths back to secure a much-deserved podium.  Jarvis recovered well from his incident with Avery to finish in fourth while Hulbert also managed a recovery drive to salvage fifth, not far ahead of Lambert and Clive Armstrong.  In the points Job retains his lead but only by four points after his DNF and Povey's win catapults him into second place as Job's new rival.  Brennan was the other big winner for Week Five as he climbs four positions into fifth place with 60 points, tied with George Wiseman.
---
You may also like...
---