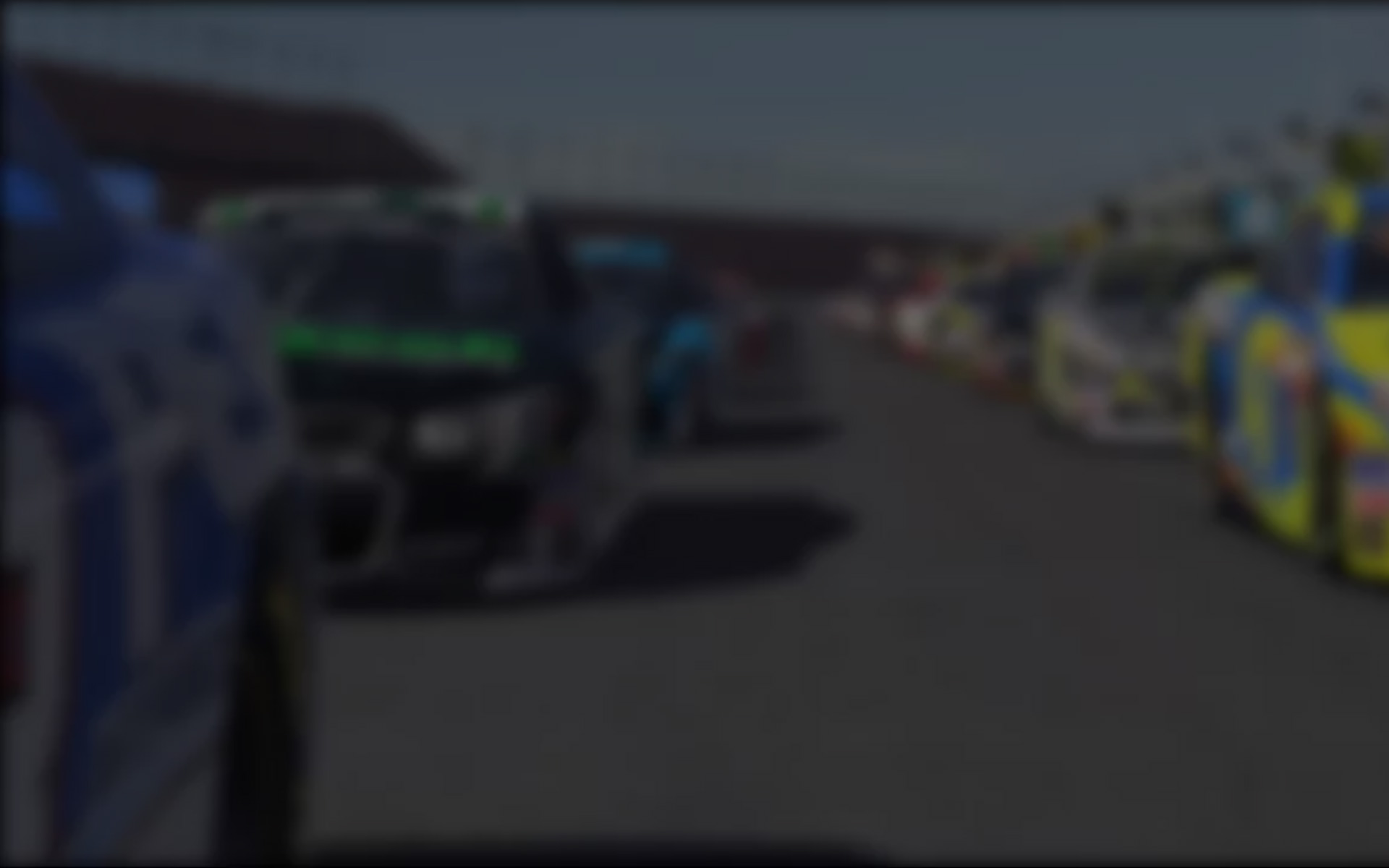 June 6th, 2016 by Renaud LACROIX
The last round of the European MX-5 Cup took place on the Lime Rock circuit, utilizing the chicane on the exit of the Climbing Turn. This topographical detail proved to be crucial as it heavily weighed on the outcome of the race for, while Kamil Franczak, Piotr Smialek and Giuseppe Curri have enjoyed relatively trouble-free runs to the podium, such was not the case for their rivals.
With a fantastic 59.537-second lap, Franczak claimed another pole position. Only Jesus Sicilia threatened the Polish sim racer, .134s behind the pole-winning time. Curri and Smialek shared the second row, albeit more than half a second off the fastest time.
Given his astonishing qualifying pace, it was no surprise to see Franczak take-off perfectly at the start and open the gap over the rest of the field through the first corners. After keeping Curri at bay in Turn 1, Sicilia became the first casualty of the infamous Lime Rock chicane. He caught a little too much curb, lost control of his Global MX-5 and hit the wall head-on. Amid the resulting confusion, Curri fell down the order and Smialek grabbed second position. On the next lap, at exactly the same spot, championship leader Aday Coba-Lopez took to the inside on Thibaut Vernice.  The French sim racer closed the door and clipped Coba-Lopez' left-rear, sending the Spaniard spinning in the middle of the track. Trapped between other cars, Jérémy Bouteloup could not avoid violent contact with Coba-Lopez.
Meanwhile, Franczak escaped from the pack and set about growing his advantage, lap after lap, over Smialek, Vernice, Adria Perez Soler and Curri. Although he seemed to have suffered very little damage from his contact with Coba-Lopez, Vernice couldn't hold-off the group behind him. Perez Soler soon found an opening with Curri following through with a flawless move on the inside of Turn 1. Morgan Banks and Tamas Buzas also joined the party, passing Vernice as they battled for a top five spot.
We hadn't heard the last of the chicane, however, as any over-optimistic driver who cut the corner was immediately penalized. Perez Soler learned this the hard way and was ordered to slow down momentarily, dropping him to the tail of the train.
Halfway through the race the three leaders each ran alone.  Franczak was dominating the race with a five second margin over Smialek who, in turn, had gotten rid of Curri.  Behind the Italian sim racer though, the chasing group grew ever larger and the battles heated-up. Buzas assumed the lead of the group for a few laps before Vernice relieved him of took fourth place.
To everyone's surprise, Sicilia resurfaced after a long struggle with Gérald Chevalier, Bouteloup, Kristian Kwietniewski, Dawid Nowakowski and András Király. He nudged Harald Stadler out of the way, then continued his heroic charge by passing Perez Soler, Banks and Buzas. With one minute to go, only Vernice was left in his line of fire. When the French sim racer protected the inside entering Turn 1, Sicilia forced him against the curb. The Global MX-5s traded virtual paint a couple of times, almost sending Sicilia into a barrel roll. Vernice thus retained his fourth place while his rival drifted across the grass and rejoined the track behind Buzas and Banks.
Blissfully unaware of the drama unfolding (far) behind him, Franczak cruised to victory with more than 10 seconds in hand over Smialek with Curri securing the final step on the podium.  Vernice and Buzas came home fourth and fifth while Sicilia salvaged a top six finish after passing Banks in the last corners. Perez Soler, Stadler and Király rounded-out the top 10.
Franczak (2464 points) thus captured the regular season championship from Coba-Lopez (2423) with Curri (2157) claiming third overall.  However, the big prize(s) remain to be decided.  The top twenty sim racers in the overall standings will have the opportunity to compete in the Eliminator grand finale on Thursday, June 9 at 4:30 PM Eastern (20:30 GMT) at Mazda Raceway Laguna Seca in a race that will be broadcast on iRacingLive. The others to qualify for the finale include Bouteloup, Pablo Lopez, Evan Maillard, Sicilia, Kwietniewski, David Williams, Smialek, Nowakowski, Perez Soler, Dave Gelink, Ruben Fanarraga, Brice Michelon, Banks, Norbert Leitner, Király, Krisztian Mikle and Buzas who stole the last qualifying spot from Stadler with his fifth place finish at Lime Rock.
Wherever they finished in the regular season standings, only the three top finishers at Laguna Seca will be invited to take part in the European MX-5 Final Shootout in Barcelona, Spain, from July 1-4.  Then and there, they will undergo training at Mazda Space and the Parc Motor Circuit with real world track time (including skills and technique training) as well as simulation racing. The three iRacers will be assessed by Mazda Motor Europe on their combined performances, with the European MX-5 Cup champion – as chosen by Mazda – qualifying for the once-in-a-lifetime opportunity: a potential starting spot in the MX-5 Global Cup Final at Mazda Raceway Laguna Seca later this year.
European MX-5 Cup : une dernière manche qui n'a pas déçu
par Renaud LACROIX
La dernière épreuve de l'European MX-5 Cup s'est déroulée sur le tracé du Lime Rock… avec la chicane à la sortie du Climbing Turn. Ce détail topographique revêt une importance particulière tant il a pesé sur le résultat final. Si Kamil Franczak, Piotr Smialek et Giuseppe Curri ont connu une course relativement tranquille pour monter sur le podium, il n'en est pas allé de même pour leurs adversaires.
Avec un formidable chrono de 59''537, Franczak décrochait une nouvelle pole position. Seul Jesus Sicilia parvenait à s'en approcher, à seulement 134 millièmes de seconde derrière lui. Curri et Smialek se partageaient la deuxième ligne de la grille, mais à plus d'une demi-seconde de la pole.
Il n'y avait pas non plus de surprise au départ quand Franczak s'envolait devant le peloton et se détachait dès les premiers virages. Après avoir repoussé l'attaque de Curri, Sicilia ouvrait la liste des victimes de la fameuse chicane quand, après être monté sur le vibreur, il perdait le contrôle de sa Global MX-5 et partait tête la première dans le mur. Curri perdait des places dans la confusion et Smialek en profitait pour passer deuxième. Au tour suivant, au même endroit, Aday Coba-Lopez, en tête du championnat, attaquait Thibaut Vernice à l'intérieur, mais le Français refermait la porte et accrochait son adversaire qui partait en travers au milieu de la piste. Pris au piège, Jérémy Bouteloup ne pouvait éviter de le percuter violemment.
Pendant ce temps, Franczak s'échappait et augmentait son avance tour après tour devant Smialek, Vernice, Adria Perez Soler et Curri. Même s'il ne semblait avoir que peu de dommages suite à son contact avec Coba-Lopez, Vernice ne pouvait contenir le groupe derrière lui. Perez Soler trouvait l'ouverture et Curri réalisait une manœuvre parfaite à l'intérieur du virage 1. Morgan Banks et Tamas Buzas se joignaient bientôt à la fête pour disputer une place dans le top 5 en passant Vernice à leur tour. La chicane n'avait pas dit son dernier mot et les pilotes trop optimistes étaient vite pénalisés pour avoir mordus un peu trop au-delà du vibreur. Perez Soler en faisait l'amère expérience et devait ralentir, laissant repasser le petit train en pleine bagarre.
A mi-course, les écarts commençaient à se creuser aux avant-postes. Franczak écrasait la course avec plus de cinq secondes d'avance sur Smialek qui lui-même s'était largement débarrassé de Curri. En revanche, à quelques longueurs derrière l'Italien, le groupe de chasse ne cessait de grossir et la lutte s'intensifiait. Buzas en prenait le commandement pendant quelques tours avant que Vernice ne le détrône pour s'emparer de la 4è place.
Sicilia refaisait alors surface à la surprise générale. Après une furieuse bagarre dans le groupe de Gérald Chevalier, Bouteloup, Kristian Kwietniewski, Dawid Nowakowski et András Király, il dégageait Harald Stadler de la trajectoire avec un coup de pare-chocs puis continuait sa charge héroïque en passant successivement Perez Soler, Banks et Buzas. A une minute de l'arrivée, il ne lui restait que Vernice en ligne de mire. Le Français protégeait la ligne intérieure en abordant le premier virage et Sicilia le serrait contre le vibreur. Les Global MX-5 se touchaient à deux reprises et Sicilia manquait de partir en tonneau. Vernice conservait sa quatrième place, mais son adversaire faisait un passage dans l'herbe et revenait en piste derrière Buzas et Banks.
Franczak terminait la course sur un rythme de croisière avec une dizaine de secondes d'avance sur Smialek. Curri montait sur le podium devant Vernice et Buzas. Sicilia sauvait un top 5 en repassant Banks dans les derniers virages. Perez Soler, Stadler et Kiraly complétaient le top 10.
Franczak (2464 points) reprenait la tête du championnat devant Coba-Lopez (2423) et Curri (2157). Les vingt premiers pilotes pourront participer à la course éliminatoire qui se déroulera jeudi prochain à 20h30 GMT (22h30 heure française) sur le circuit de Laguna Seca. Les autres qualifiés sont : Bouteloup, Pablo Lopez, Evan Maillard, Sicilia, Kwietniewski, David Williams, Smialek, Nowakowski, Perez Soler, Dave Gelink, Ruben Fanarraga, Brice Michelon, Banks, Norbert Leitnr, Kiraly, Krisztian Mikle et Buzas qui a soufflé la 20è position à Stadler dans la dernière course.
Peu importe le classement du championnat, seuls les trois meilleurs de la finale à Laguna Seca se qualifieront pour l'European MX-5 Final Shootout à Barcelone, du 1er au 4 juillet 2016.
---
You may also like...
---