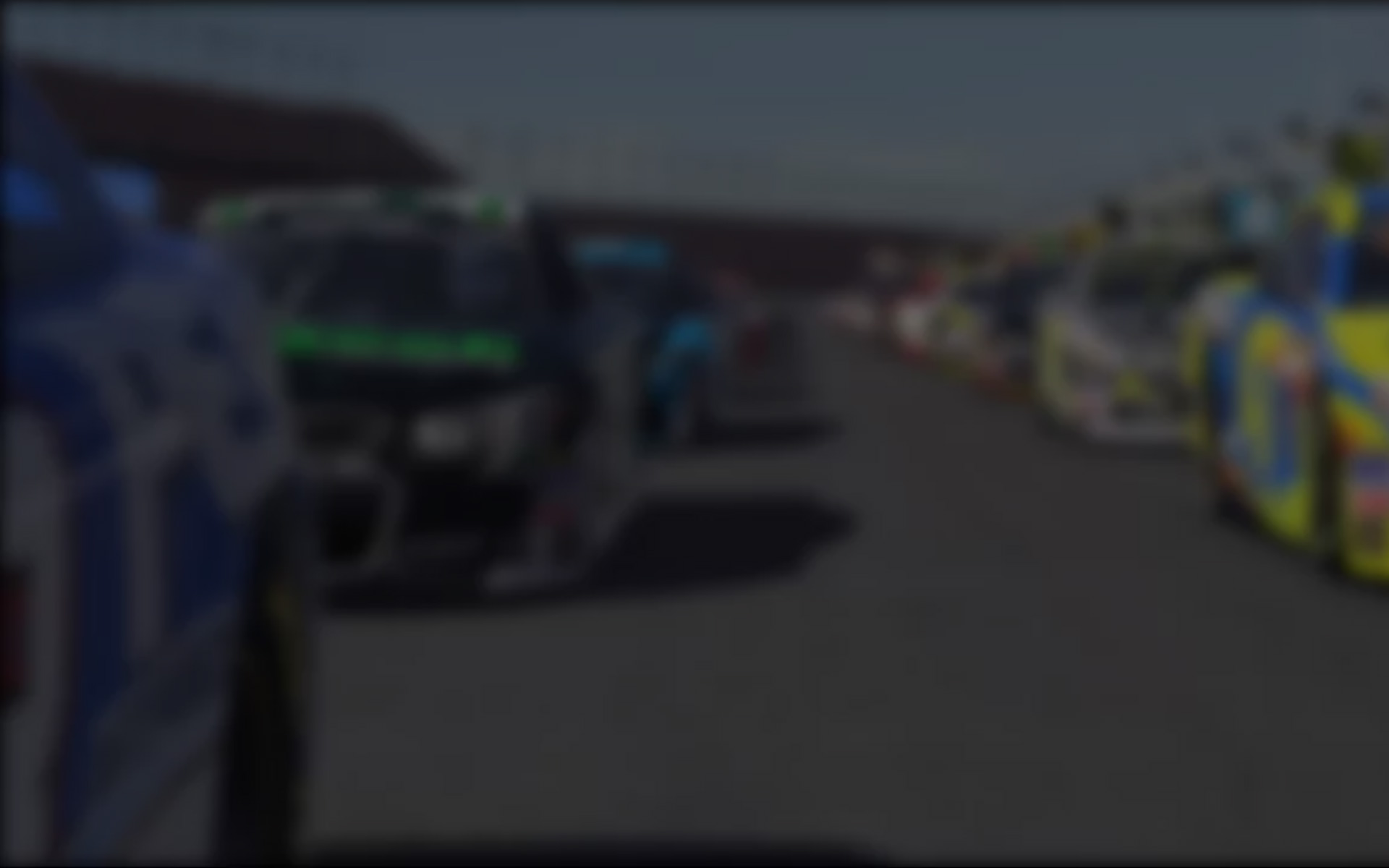 Round Two of the 2013 iRacing.com World Championship Grand Prix Series at Interlagos produced a noteworthy "first" when Stephen Michaels disconnected from the event.  While it's not unusual for a driver running a lap down in P30 to withdraw from a race, the fact it was the first time Michaels failed to finish in the top ten of an iWCGPS event is remarkable.
True, it's not as if the 18 year old high schooler from Ballston Lake, NY has scores of iWCGPS races under this belt.  On the other hand, from the moment he qualified for his first iWCGPS race at Mid-Ohio in the latter part of 2012, he has been a fixture at the sharp end of the field.  How sharp?  Michaels qualified and finished ninth in his iWCGPS debut.  He did even better the next time 'round at Road Atlanta, planting his Williams-Toyota FW31 on the grid beside pole-winner Riku Alatalo (and ahead of the likes of Greger Huttu and Hugo Luis) before a mature drive to fourth in the race itself.  And thanks to top tens in all the remaining races, he finished P20 in the 2012 iWCGPS standings – in just six races mind you – to punch his ticket to the 2013 series.
Humble to a fault, Michaels concedes he exceeded expectations, especially his own.
"When I joined iWCGPS, I thought that I would be not good enough for the field in the series . . ."
"When I joined iWCGPS, I thought that I would be not good enough for the field in the series," he says. "I had a new PC at the time which I thought helped me a whole ton with no low FPS or anything like that. The first two races I was at least happy that I finished and had my goal set to try making it into top 25 and helping my teammate Fulvio Barozzini on MMM!!! (Mortadella Motor Mission) team."
For the remainder of 2012 and early 2013, MMM was the little team that could, with Michaels and Barozzini coordinating private test sessions 4,000 miles and five time zones apart.  Not only did the partnership produce a slew of top tens for Michaels, it saw Barozzini finish P10 in the 2012 standings and helped propel the Italian and the American to 11th and 14th in the 2013 standings, respectively.
That said, Michaels has arguably been somewhat less competitive so far this season.  Apart from a sixth place in the opener at Spa and last week's fourth place run at Sebring, he hasn't cracked the top ten.
"It was my confidence I had but most of all the right feel on my setups for Sebring and Spa," he explains. "I felt as though I was able to push more with the setups for Spa and Sebring. At tracks like Phillip Island, Road America and Interlagos I was just too nervous to try concentrating on getting up into the field for top 10 start and finishes."
Huttu and, to slightly lesser degree, Luis are threatening to runaway with the championship but, conversely, the battle for the "lesser" positions is as fierce as ever.  Indeed, Michaels sees the 2013 competition as being stiffer than last year.
"I would say that 2013 iWCGPS is bit more tough then 2012 iWCGPS just from how close everyone is to each other in qualifying laps and race stint times," he says.
Michaels' fortunes may be on the upswing as he recently parted company with MMM in favor of Twister Racing, where he hopes to have the resources to compete with the more established names in the iWCGPS on a regular basis.  The move seemed to produce immediate results, as that P4 at Sebring came under the Twister banner.
"My plan for Twister-Racing is to try finding a good program of telemetry," he says.  "I feel as though it's the one thing I am missing to being right where teams like Team Redline and My3id Gaming are in the front rows. I do plan to try making little bit of improvement with being consistent with the car.
"What I do now for Twister is work by myself in test sessions and not in public sessions. I figure out what feels right for me under my setup and what fuel strategy I can pull for the race. After figuring out my setups I practice at least from one hour to four hours. I still try to minimize my time I take for practicing."
Of course, it's a two way street as Michaels also leant a helping hand to new teammates Tommy Nilsson and Muhammed S Patel in the iRacing.com Grand Prix Series at Sebring last week.  The fact that Nilsson (four) and Patel (two) combined for half a dozen wins suggests the partnership is already bearing fruit.
Michaels is no stranger to the iGPS, having scored nine wins in the series and finishing third overall in the 2012 Season 2 points race.  And lest you think Michaels is a Williams-Toyota FW31 specialist, be aware he has plenty of wins in other categories to his credit, particularly the IndyCar Road and Prototype/GT Challenge.
"I used to enjoy cars like the HPD, Ford GT, McLaren MP4-12C, Corvette C6R, Riley Daytona Prototype, Mustang FR500S and Dallara IndyCar, he says. "I lost the interest only because I was most attracted to the F1 car."
That's hardly a surprise, given that Formula One – real and virtual — has long been a driving force in Michaels' attraction to racing.
"I have followed the rich history of Formula 1 ever since there were drivers like Jim Clark and Jackie Stewart."
"I've liked F1 cars for a long time and have followed the rich history of Formula 1 ever since there were drivers like Jim Clark and Jackie Stewart racing, and I still follow Formula 1 today" says Michaels.  "Road racing in cars like the F1 has been what I really loved a whole lot.
"What attracted me to sim-racing was real racing. When I was young I watched many races from NASCAR to Formula 1 and other racing series out there back in the days. Video games like Gran Turismo series, RFactor, GTR2, GT-Legends, NASCAR 2003, Arca 08 attracted me to sim-racing as well."
Although Michaels hopes iRacing can serve as a gateway to a "real" racing, he's not pinning all his hopes on the sim.  In addition to his conventional high school studies, he is learning the ins and outs of automotive mechanics at the Capital Region BOCES
"My goal is to get into real world racing and try building a career," he says.  "I am learning auto mechanics so I know how I can fix my race car but (also), since I like cars in general, to get a job with fixing cars. I do not have any real world racing experience even though it would be an amazing experience to drive in a race car. I plan on trying to make a career and make my way up to a series like Grand Am or maybe Formula 1."
And when he's not sim-racing, studying or working on cars, Michaels can be found playing on his PS3, fishing, hiking, at the beach, enjoying Chuck Norris jokes, working-out — especially on ATVs and ATCs – watching Top Gear, reading car magazines or listening to Iron Maiden and Iced Earth.
And, in his spare moments, thinking about how to come to grips with Watkins Glen, the next stop on the iWCGPS schedule.
"This is my home track, but I have never been really good with Watkins Glen" he admits.  "It's been my worst track but I do hope to try finding something to at least be in the top 15 of the grid. At Watkins Glen I will be only happy that I finish with some points instead of being crashed out from my own mistake."
Relatively modest goals to be sure, but in keeping with Michaels' outlook for the remainder of the 2013 season.
"I plan to try doing the best I can and finish all my races in the #20 Twister-Racing car with sponsors Obutto and Thrustmaster," he says.  "My expectations are to try making up for my bad races with top ten to top five finishes in the next races, from Watkins Glen to the end of the season."
Given his record to date, it would come as no surprise were Stephen Michaels to exceed expectations — his own most of all – beginning at Watkins Glen.
Catch all the iWCGPS action at Watkins Glen this Saturday at 10 am (14:00 GMT) on iRacing Live.
---
You may also like...
---