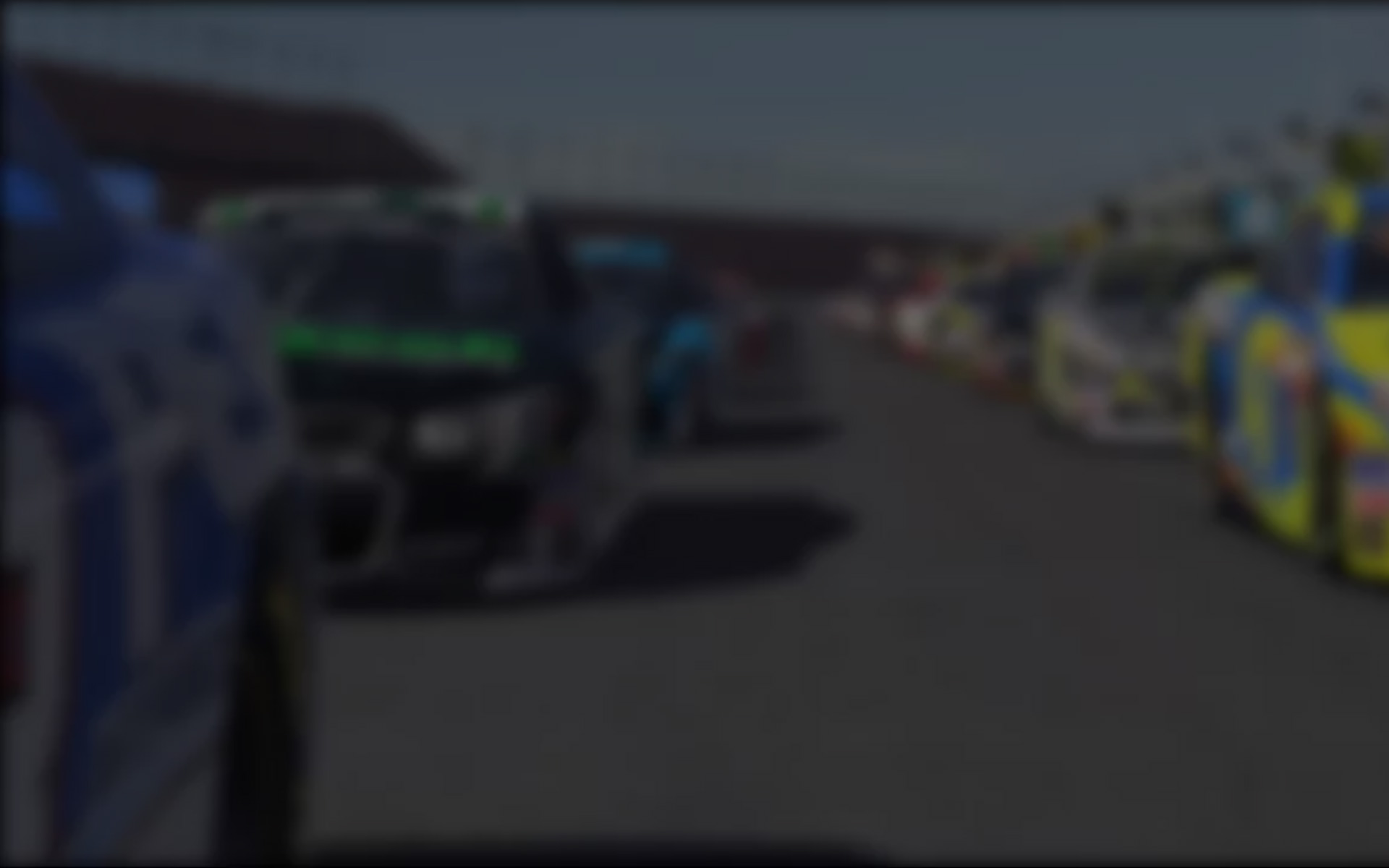 In a flawless display of driving skill, Mad Cow Racing driver, Michael Fabian, toppled the winning streak of Mitchell McLeod with a dominant win at Oulton Park.  With McLeod coming into this race as the driver to beat, Fabian put one on the former champ with a dominance of his own.
Starting on pole position with a lap time of 1:30.626, Fabian was all set for a good run as he out-qualified fellow front row starter McLeod. Starting in third was Hi-Tec Sim Racing's Beau Cubis followed by Trans-Tasman Racing (TTR) driver, Tony Autridge. The top-five starting order was rounded out by Kurt Stenberg of Kustom Image Motorsports.
From the drop of the green, it was all Fabian all the time. Getting a perfect launch, Fabian wasted no time building a lead on McLeod and the rest of the field.
At the same time, there was some trouble further back down the order as Kamikaze Racing Team (KRT) driver, Corey Preston, was having all sorts of issues. Going a bit too wide into Old Hall, Preston briefly drove his Ford Falcon off into the grass. Although he quickly regained the racing surface, it was a costly mistake as he began losing positions after starting in seventh. A few seconds later, however, Preston again found himself off track,  this time making contact with Ian Ford of Demidov Motorsports upon re-entering the track. By the end of Lap One, Preston had slipped to twelfth position.
Fierce battles were erupting all over the narrow track and drivers fought tooth-and-nail for every inch they could get. One such battle – which seemed to last for almost the entire race – featured Hi-Tec Sim Racing driver, Sanjin Delalic and Jake Burton of Kustom Image Motorsports. Burton, who started in twenty-first position, was on a roll and moving through the field at a very consistent pace. Eventually, he caught up to Delalic who started in fourteenth. Burton stayed behind Delalic for several laps until Delalic made a mistake on Lap Eight. Midway through Cascades, Delalic went wide and slightly sideways after entering the corner too fast. This gave Burton the chance he was looking for as he capitalized on Delalic's mistake. Making the clean pass, Burton moved up to twelfth.
The ensuing battle lasted for the duration of the race as Delalic fought to retake his lost position. By the final lap, the two drivers had successfully passed a few other competitors without missing a beat in their own fight and finished with .4 seconds between themselves. Burton was able to complete a stellar performance which saw him move up 11 positions to round-out the top-ten with Delalic finishing just behind him in eleventh.
Elsewhere, KRT's troubles continued as Sam Collins got loose coming out of Clay Hill on Lap 14.  Rounding the slightly uphill to downhill corner, Collins got on the gas too soon at the peak of the hill, resulting in wheel-spin.  The action sent Collins into the left side wall which caused considerable damage. Able to wheel it back to the pits, Collins would unfortunately retire from the online event.
For SDC Motorsports driver, Martin Carroll, everything seemed to be going right at first. After starting in eighth, Carroll had worked his way through the field to eventually find himself in the top-five which is no easy feat in the top Strength of Field (SoF) race. Unfortunately, what appeared to be an internet connection issue forced Carroll out of the race, albeit temporarily.  What started off as an excellent run by Carroll was cut short as he ultimately finished in eighteenth position and one lap down.
Back up front, the dominance illustrated by Fabian at the start of the race was still much in evidence and continued to be as he took the win. Although not impossible, Fabian had done something that only the best sim-racers in the world can brag about by the end of the race. He started in pole position, set the fastest lap with a 1:31.159 and won the race — all without a single incident.
Someone give that man a hat!
Indeed, even the former champion, McLeod, had nothing for Fabian as he finished over seven and a half seconds behind. Cubis and Autridge finished where they started in third and fourth, respectively, while Fabian's teammate, Nathan Bey, completed the top-five.
This Australian Strength-of-Field (SoF) race had a strength of 3428 and was split three times. The top five finishers from the other splits are as follows:
Split 2/SoF 1975
1- Michael Cracknell
2- Jason Scandolera
3- Denis Gataric
4- Graeme Phyland
5- Glenn R Boyd
Split 3/SoF 1171
1- Scott Tate
2- Jeff Gauci
3- Tony Lynch
4- Brian Borg
5- Shane Best
With Week 4 of Season 3 now completed, the iRacing.com V8 Supercars Series heads to Upstate New York for popular Watkins Glen International. The track's Classic configuration features only seven turns, 2.45 miles of racing surface and a lot of room for flat-out racing. A track with a long history of excellent racing, we can expect an increase in participation as this track usually draws more of a crowd.
As we're now officially 1/3 of the way through Season 3, several more weeks of sim racing and incredible tracks await. Although the season has been relatively dominated by McLeod, it's still anyone's to take as Fabian proved this week. We definitely look forward to seeing who will come out on top for Week 5 of the 2014 Season 3 iRacing.com V8 Supercars Series!
---
You may also like...
---