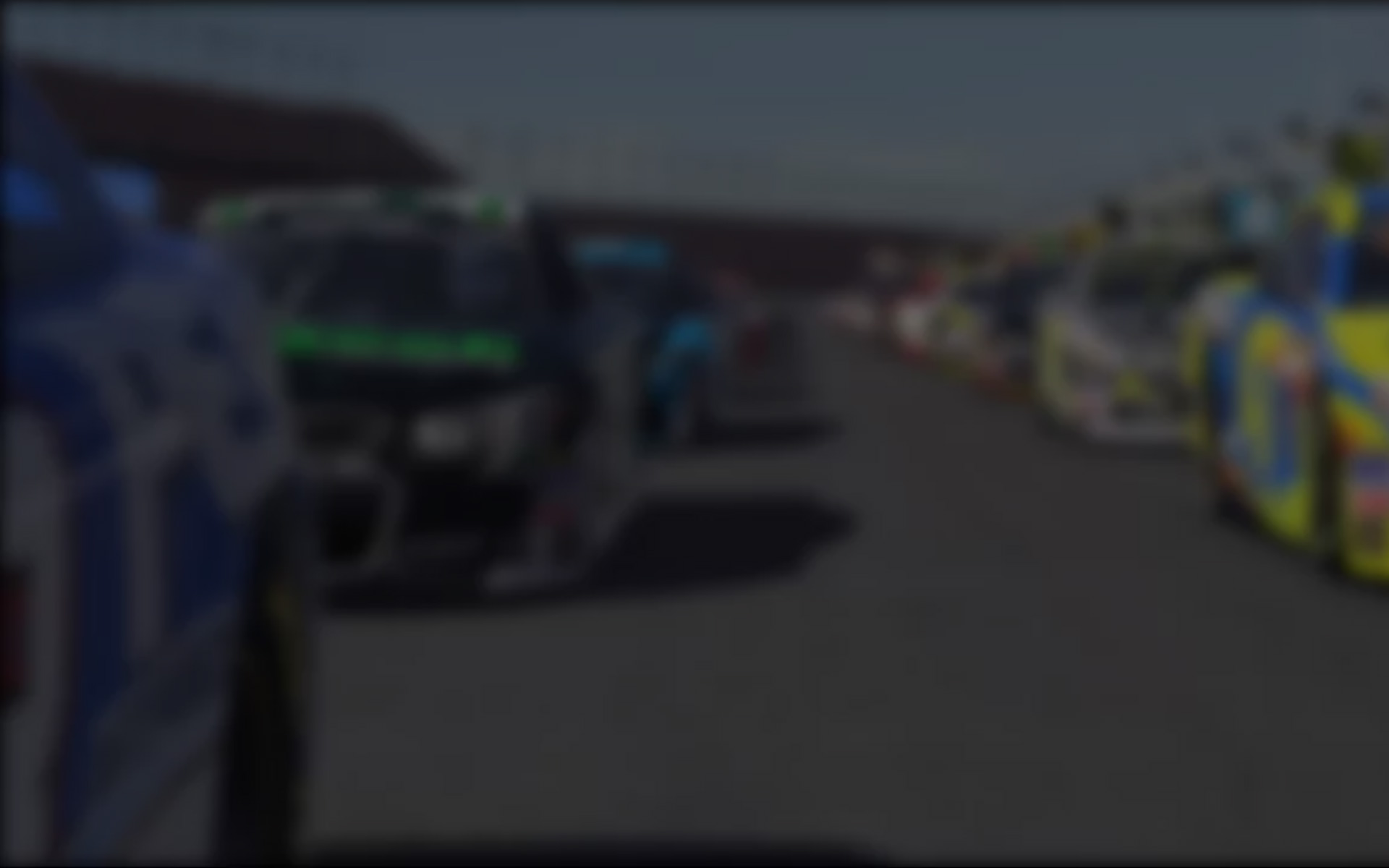 New Smyrna Speedway played host to the first week of the NASCAR iRacing.com Limited Late Model series.  At just 0.48 miles in length New Smyrna is home to some of the major short track events in Florida including the World Series of Asphalt Stock Car Racing and the Governors Cup.   The events this week would not be any different for the sim-racers.  Being the first week of the season, many new faces entered the series looking to learn while the regulars looked to rejoin many battles from the previous season.  In the 3086 Strength of Field race a couple limited late model regulars shared the front row, with Ty Majeski rolling off in P1 while Stan Brag Jr would line up beside him in second.
At the green flag Majeski and Bragg drag raced into Turn 1 but Bragg was no match for Majeski on the high side.  Majeski completed the pass going into Turn 1 and never looked back, leading all 60 laps of the race.  In contrast, the battle for second through fourth though would take 60 laps to settle . . .
Kenny Smith3 cleared Bragg to move into second with, Spencer E Burns following suit to drop Bragg to fourth by Lap 3.  On Lap 10 Burns slipped-up and got sideways coming out of Turn 2, opening the door for Bragg.  Going into Turn 3 Bragg took to the inside and pushed-up into Burns, causing him to get sideways and drop all the way back to ninth.  This enabled Kevin J Myers to catch-up and start pressuring Bragg for third spot.  As the laps wound down Smith3 came under heavy pressure from Bragg until lap 41 when Myers saw an opening and ducked under Bragg for third.   His sights set even higher, Myers immediately started applying pressure to Smith3 despite facing similar pressure from Bragg.  On Lap 48 Myers got an opening on Smith3 but was unable to complete the pass as he had to bail out of the move to avoid contact when he pushed up the track.
For the next dozen laps each of the three drivers took their shots at trying to make a pass before each one resorted to "mirror driving" on the final lap to hold their position.  Myers was unable to capitalize on a late exit slide by Smith3 coming out of Turn 2.  A similar fate befell Myers out of Turn 4 but Bragg was only able to get up to his quarter panel as they crossed the line.   The top 5 where the only ones to go the full distance with Majeski winning handily over Smith3, Myers and Bragg with Jose Mejia coming home fifth.
The  contest for sixth through tenth raged for the majority of the 60 lap race, with Bryan Narducci and Scott Schrader engaging multiple times during the race. Lap 15 saw Schrader would give Narducci a slight bump going into Turn 1 after having the door shut on the pass multiple times.  By the time they got out of the corner Schrader had cleared Narducci, but going into Turn 2 Narducci returned the favor, pushing Schrader  high and bouncing him back to eighth.
Still recovering from his earlier incident, Burns now went to work on Narducci and, on Lap 20, would complete the pass for sixth.  14 laps later, Schrader worked his way back to Narducci and got to his inside as they raced down the back stretch into Turn 3.  But as Schrader drifted-up Narducci pinched down resulting in contact.  This time Narducci was on the losing side as he spun, although he got it facing in the right direction by the exit of Turn 4.  However, he would later pull-off and finish 19 laps down.
Todd Sipe had been lurking quietly around all this action.  With three laps to go, however, he got under Schrader on the exit of Turn 4 and cleared him going into Turn 1 to take seventh spot.  That move finalized the latter half of the top 10 with Burns in sixth ahead of Sipe, Schrader, Marek Ondarek and C Andrew Barber.
Top Ten overall championship points after week 1
1. Ty Majeski  178                                         6. Kenny Smith3 148
2. Stan Bragg Jr 170                                     7. Jordan T Hyland 145
3. Darrel Hamlin 167                                   8. Bill Martin  145
4. Kevin J Myers 154                                    9. Rob Bryant  143
5. Cody Thompson 151                               10. Cruise Caudell  138
---
You may also like...
---