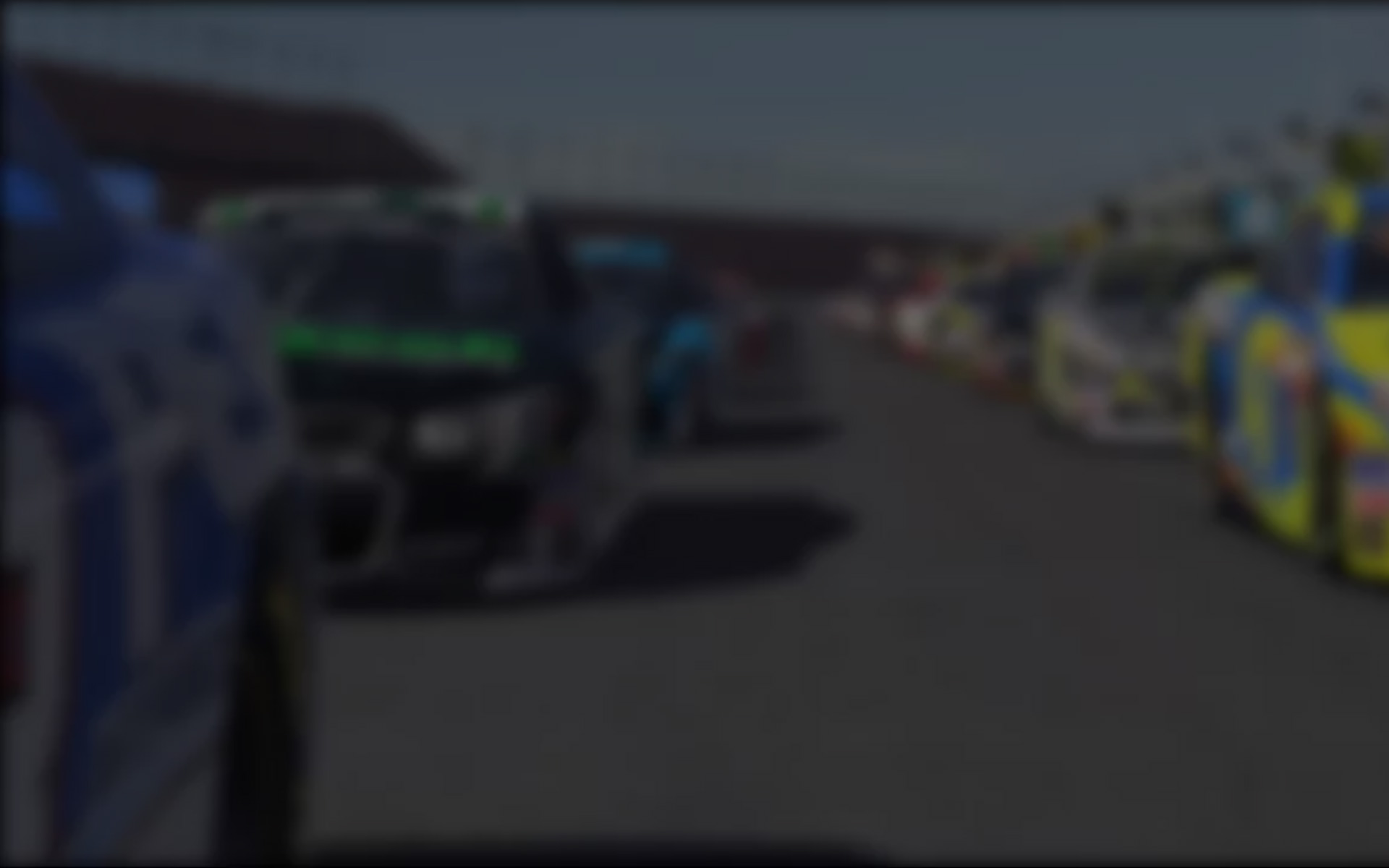 CLASSIC TEAMS CHAMPIONSHIP
ROUND 6:  ZANDVOORT, THE NETHERLANDS.
FRITSCHE, HULBERT SHARE PODIUM FOR FERRARI
The Classic Teams Championship was back on classic ground this week at Circuit Park Zandvoort in Europe; the sand dunes of the Netherlands' coastline having been a setting for the F1 circus until 1985, although on a very different layout to the one used over the past week. There was also a lot more on-track action than last round with 13 official online races involving 63 registered drivers. Zandvoort's narrow, opening corners caused a few tense moments throughout, but in the end again it was the racing that was the real hero.
QUALIFYING
Dominating the qualifying as he has done every round he's run was Fritsche (Ferrari), this time posting a 1.24.284s lap and heading a back- on-form Nixon in his Lotus by just 0.3s. On the second row were Ruokola's Williams and Ligier's Valantiejus, back after sitting out Round 5 and with Ruokola ending up just 0.02s ahead of the erstwhile championship leader. Row 3 saw the second Williams of Jaques and new Ferrari recruit Hulbert, Jaques backing-up Ruokola well just 0.16s down with a 1.28.868s lap. Hulbert on debut for Ferrari was struggling on the slippery sand-swept circuit, but still managed to head his former team mate Moreira (Eden Chevron) albeit by only 0.09s, Moreira being the leading Aurora Series runner in 7th. Next up, first man in the 1.25s, and 8th fastest in this incredibly competitive field was Schmidt (Lotus), who has proven to be somewhat of a qualifying specialist so far this season.  A new face in the top ten this time around was Schwecke, the Australian reveling on the fast sweeps of Zandvoort.  Unfortunately. his overall result would again be hampered by his not being on the grid for the highest SOF races at the end of the week. Last of the top ten qualifiers was Nicol, (Interscope Shadow) another man we would not see again for the week. Missing also for Ligier was Herfjord (again). His commitment must be coming under scrutiny, and his team will be expecting a great result from him come Spa. Fastest of the Div 3. runners was again Maguire (Fittipaldi), Div 4. honours went to his team mate Incledon. Div 5. belonged to Estes' Merzario and Div 6+ was (as usual) Kauhsen territory thanks to the efforts of Baley.
RACE WEEK
Qualifying is key at Zandvoort and, thanks to his scintillating pole time, Fritsche was once again looking like the favourite. And if you'd put money on him you'd have done well, 203 points being more than enough to place him on the top step of the podium at week's end. Second was Valantiejus with another good round dropping just 18 points to the reigning champion. Third was an excellent result for Hulbert in his first race for Ferrari, and 176 points being more than he expected on a track he admits he has trouble clicking with. Hulbert was also relieved to have improved his starts in between rounds. Fourth went to a deserving Jaques (Williams) who, once the drop rounds come into play, should be right in the championship mix. Nixon had some good races but unusually never crossed the line in first place this week.
Of the front runners the only race winners were Valantiejus and Fritsche. Moreira (Eden Chevron) is now the class of the Aurora runners and finished up in 6th place outright, just ahead of an impressive Beyer (Tyrrell) in 7th scoring a season best 141 points. In an unfamiliar 8th spot was Ruokola (Williams), a few small misdemeanours resulting in a large number of lost points. Alfa Romeo were a little off their normal pace this week, but Garese managed to again score well, 9th and 130 points a good outcome after qualifying 16th. That final elusive spot in the top ten this week went to Schwecke (ATS), back after a few weeks astray.  Schwecke was fast all week and, had he run the high SOF races surely would have been top 6 material.
Notable performances also came from Patriksson (Ram Tit-Bits) with 103 points for 17th place, Incledon with a great second split win, 99 points and a top twenty finish and Warmington, whose first run for Surtees outshone new team mate and last week's star Van Velsen. It'll be interesting to see whether the pendulum sways back in Belgium.
Also worth a special mention was Pelzer's efforts as third driver for Williams, his 76 points and top score of the Div 6+ runners as a Div 7. driver an excellent reward for the team. Others to post season best points hauls were Estes (Merzario), Ovaskainen (Wolf), Schmidt (Kauhsen), St Peter (Madom), Schrader (Ensign), Tincani (Wolf) and Scott (Brabham). Race winners included Valantiejus, Fritsche, Incledon, Garese, Ventura (Renault) and Schwecke (ATS). Also returming to the series amongst the Aurora runners was Henry (Ram Ultramar) and he tasted success immediately with a win of his own.
DRIVERS CHAMPIONSHIP
The top three positions remain unchanged as a result of the week that was Round 6. At the halfway point in the series Ruokola continues to lead but it's a slim lead of only 40 points over second placed Valantiejus, particularly as the latter will have a round in hand when we reach the drop weeks. Third is Hulbert, now at Ferrari we expect him to lift his game and both score for himself and steal points from challengers to his more illustrious team mate Fritsche who sits right behind him on the championship table. Fritsche's 203 points jumped him from seventh to fourth and, ominously for his competitors, he sits there with two drop rounds in hand.
In the battle of the mere mortals Garese (Alfa Romeo) has taken over the running from Roberts (Interscope Shadow), the pair fifth and sixth respectively but there is only a mere 8 points in it. Seventh belongs to the leading Renault of Lavecchia, closely trailed by Beyer (Tyrrell) now eighth and up four positions after his week-long love affair at the beach. Ninth belongs to the Lotus of Schmidt again performing well but dropping a couple of spots on his qualifying result. Into the top ten this week comes De Rooij (Samson Shadow) the first of the 'third' drivers and another who looked a lot more at home here than they did in Japan.
Biggest movers this week were Schwecke and Moreira, both advancing up the table eleven positions. Pelzer (Williams) had a blinder week and jumped eight spots, while Buscher (Brabham) again put in a sterling effort to move seven places closer to the front. Van Velsen (Surtees), St Peter (Madom), Ovaskainen (Wolf), Pelzer (Brabham) Patriksson (Ram Tit-Bits), and Jaques (Williams) all stepped-up five places.
CONSTRUCTORS CHAMPIONSHIP
Alfa Romeo still lead but the margin is smaller than ever. Just three points separate them from a charging Williams team in second. The latter closing seven points at Zandvoort. Amazingly, third position is still occupied by the Ligier team. With only one driver scoring over the last two rounds they will be exposed in the closing rounds. Stable in fourth is Renault, but gaining ground this week is Lotus up another two positions to now sit fifth. In sixth is Tyrrell, also moving up two spots and tied for seventh is Interscope Shadow and Fittipaldi. The former another with only one runner. Ninth and first of the Aurora teams is Penthouse Rizla but they're currently just a single point ahead of Eden Chevron.
AURORA SERIES
With Hulbert now out of the picture after having been drafted by Ferrari, Strang now leads the Aurora crew from teammate Arnall. Patriksson is beginning to come to grips with his ride and leads Moreira by just 2 points, the pair of them the class of the true series 'rookies.' St Peter again had a great week and lies 6th ahead of Van Velsen.
DRIVER OF THE ROUND
Pelzer/Williams. The 'Rookie' Brabham driver turned-up the wick on his performance at Zandvoort scoring almost double his best ever previous performance.
---
You may also like...
---