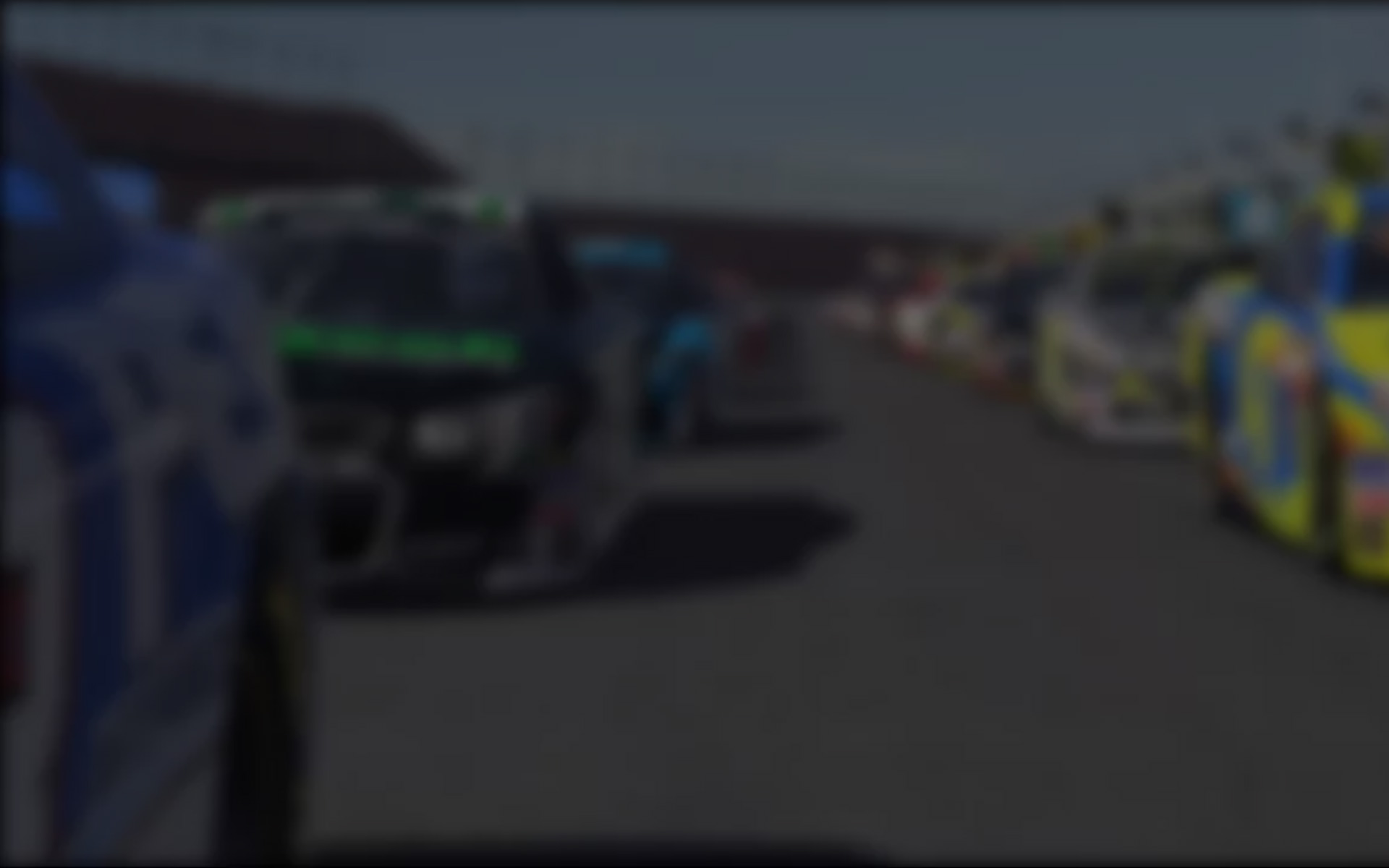 Some people know him as an artist, others know him as an aspiring racer, and others know him as Bedo.  Racing out of New York City, 33 year old Bedo Magardichian's passion for sim racing knows no bounds. A member of iRacing since 2008, it took less than a month for Magardichian to reach victory lane for the first time on iRacing. The victory came at Summit Point Raceway in the former Advanced Solstice Challenge Series. Since that victory on July 17th in 2008, Magardichian has taken the checkered flag first 26 more times, and has 96 total top five finishes in 156 starts.
Impressive statistics aside, sim racing is just one facet of Magardichian. Learn more about Bedo in this week's edition of Get to Know…
Q:    What first attracted you to racing?
A:    I've been fascinated with cars and racing since I was very little. There is something very special about driving race cars. It's not just about the thrill of going fast and the competition, but about chasing something else that's unique to each of us. It's hard to explain what that is, but anyone who is a true race car fanatic knows what it is.  It's also what makes it addictive. Extremely addictive.
Q:    When did you start sim racing and how?
A:    I've been playing racing games since the early '90s. My first game was Accolade's Test Drive; however, I started to get serious in 1998 when Gran Turismo came out.  I made my very first wheel out of a Frisbee and a disassembled PlayStation controller. It was quite the DIY concoction, but eventually I saved enough pennies and bought a Mad Catz Dual Force Wheel.
After a couple of years, I graduated to a Driving Force Pro, and from there things only got more serious. I was a huge fan of the Gran Turismo series all the way through GT4, until I got a proper gaming PC and started playing sims like GTR, GTL, LFS, and a bit of GPL.
Q:    How invested, would you say, are you into your sim racing?
A:    It's hard to say exactly, but thinking back over the years I've spent more on my pretend race car than the average person will spend buying a real car.  With my most recent upgrades being HE Pro pedals and an AccuForce wheel hopefully you get a sense.
Naturally I often get asked, "So why don't you just buy a real car?"  The funny thing is that I have a real car. It's nice and it's sporty, but since I live in NYC I can hardly enjoy it due to the constant congested traffic and poor quality of the roads.  It's simply unrealistic to get any sort of driving enjoyment where I live, so instead I enjoy my fast driving at home. It's unlimited, it's relatively cheap, and I can drive virtually any car I want, and as fast as I want. 🙂
I've also made many friends over the years playing racing games, and especially iRacing.  I'm currently part of the Fusion Motorsports racing team, which is comprised of friends I've met here on iRacing and friends who I've met at various track day events.
"I made my very first wheel out of a Frisbee and a disassembled PlayStation controller."
I also find sim-racing to be a very rewarding and educational hobby for me. I never imagined I would be reading whitepapers on shock dampening, or digging through various book in search of how FFB devices work. I've learned quite a bit from this hobby and I'm also constantly amazed at the things other members have to teach me.
Last time I learned something driving my real car was not to drive 85 in a 55. Wasn't a cheap lesson either.
Q:    Your most memorable race on iRacing and why?
A:    It has to be the 24 Hours of Daytona. It was the first I made my very first wheel out of a Frisbee and a disassembled PlayStation controller. 24 hour race I've ever been part of, and a historical moment for sim-racing. I'm sure it's the most memorable race for many iRacers. Since this is the obvious and generic answer, before there was team and 24 hour racing, my most memorable race was from the early days in the Jetta Cup.  It was a fierce battle for first in the final laps at Mosport.  I was fending-off the season champion who was ranked more than triple my iRating at the time. It was a fierce, but clean battle, and miraculously I was able to hold him off. It was this type of quality racing that has made it so memorable for me and has always drawn me to iRacing over any other sim.
Q:    What other hobbies do you have outside of sim racing?
A:    I like to draw. For some time I drew cars exclusively. People from my car club would send me pictures of their cars and I would draw "car-traits" of them. Then they would go to their local cars and coffee meetups and show them off. It was fun and I got to meet quite a few interesting people with some very interesting cars.
Q:    What job do you have in real life?
A:    I'm a software engineer, but to most people I just play with my computer all day long.
Believe it or not racing games got me into it. I started back in college trying to create my own racing game. My own "Gran Turismo" if you will, under the cryptic codename "Type-S" because I didn't know what to call it.
I used my project as a means of learning C++ and OpenGL during my first year as a CS major. My goal was to make a free and mod-friendly racing game that took place in a more urban environment than just race tracks. A very few might remember it from the old days of RaceSimCentral.com, as I had a tiny section in there for myself under the privateer projects sub forum. It was an unrealistically ambitious goal, and at the time, being young and naive, I had little clue about just how ambitious it was.  Fortunately I learned enough programming to get a real job so I had to abandon the project.
I continue to work as Software Engineer but unfortunately I haven't touched 3D game programming in over 10 years.  That hasn't stopped me from enjoying playing racing games of course, and I enjoy them now more than ever.
Q:    If you were given the opportunity to race in real life, would you take it and why?
A:    Who said opportunity? Where? When?? Who sent you?!?
Q:    Most exciting thing you've done in real life?
A:    I was very fortunate couple of years ago through the immense generosity of a good friend of mine to experience driving the SLS GT3: The #96 Intercontinental driven by Mikka Hakkinen at the 6 Hours of Zhuhai, no less! It was the greatest moment of my life. Even Ben Cornett can attest to it!
Unfortunately racing is too expensive for me (even if I were to become a millionaire) and requires sacrifices I can't make anymore.  Instead, I try to attend a racing school or a track day once a year in order to get my ya-yas out. The rest of the time iRacing fills the void.
I often get asked how applicable my virtual racing is to driving a real race car or a road car on track.  From a theoretical point of view, I think it's very applicable. When I attend such events, I'm often surprised how much other student drivers don't know about driving around a track; especially when it's things they could have easily learned from a simulator costing no more than the sandwich they brought with them that day.  For example, apexes, knowing when to brake, when to turn in, and just knowing the terminology.
"Last time I learned something driving my real car was not to drive 85 in a 55. Wasn't a cheap lesson either."
Going from a sim to a real race car was a very surreal experience for me. From all the years of sim racing, I felt right at home very quickly, despite not having sat in a race car before. Ever.  Going from the race car to the sim though, was quite the dulling experience.  The race car is an unimaginably raw and brutal experience.
When playing the sims, people just can't feel nor appreciate the sheer forces involved. It's not uncommon for a sim racer to say "Oh, this car is so slow on the track and has no brakes" even if it matches the pace of the real car 100%.  I can tell you from personal experience that hammering on the brake pedal from 160mph down to 30 on the back stretch of COTA in a road car is quite the pants (expletive) experience.  The same thing in iRacing is quite boring and numbing by comparison.  Even so, I've found iRacing to be a valuable tool in learning tracks before driving them for real.
Q:    Name one place you want to visit this year.
A:    The Nordschleife. Like all car fanatics, it's on my bucket list.
Q:    Name a sim racing related goal you would like to accomplish in 2015.
A:    I would like to start racing more official races again. I have been focusing on leagues the past couple of years and haven't committed to any official sessions for a long time. If you look at my iRacing profile, you'll see that I have long abandoned my iRating and Safety ratings, letting them slip into a dead pulse.
Q:    Name a real life related goal you would like to accomplish in 2015.
A:    Go outside more…wait, who am I kidding? iRacing with DX11 will have better graphics than real life!
Q:    What is one thing you absolutely want to see iRacing add this year?
A:    I'd like to see iRacing add more dynamic elements to racing. More dynamic track surface, marbling, debris, flat spotting, etc. Basically, all of the small elements that make racing more exciting, immersive, and interesting. Obviously it might be unrealistic to have all of them this year, but I know they're working on it, as well as the DX11 port.  I'm sure iRacing will deliver "soon."
Q:    Tell us about your family.
A:    I'm happily married to my beautiful wife who has been tolerating my hobbies and "car-tivities" over the years. I love her very much, as it really takes a special person to understand why you'd spend more money on your fake car than your real car.  Yeah, that's why I kept her.
---
You may also like...
---