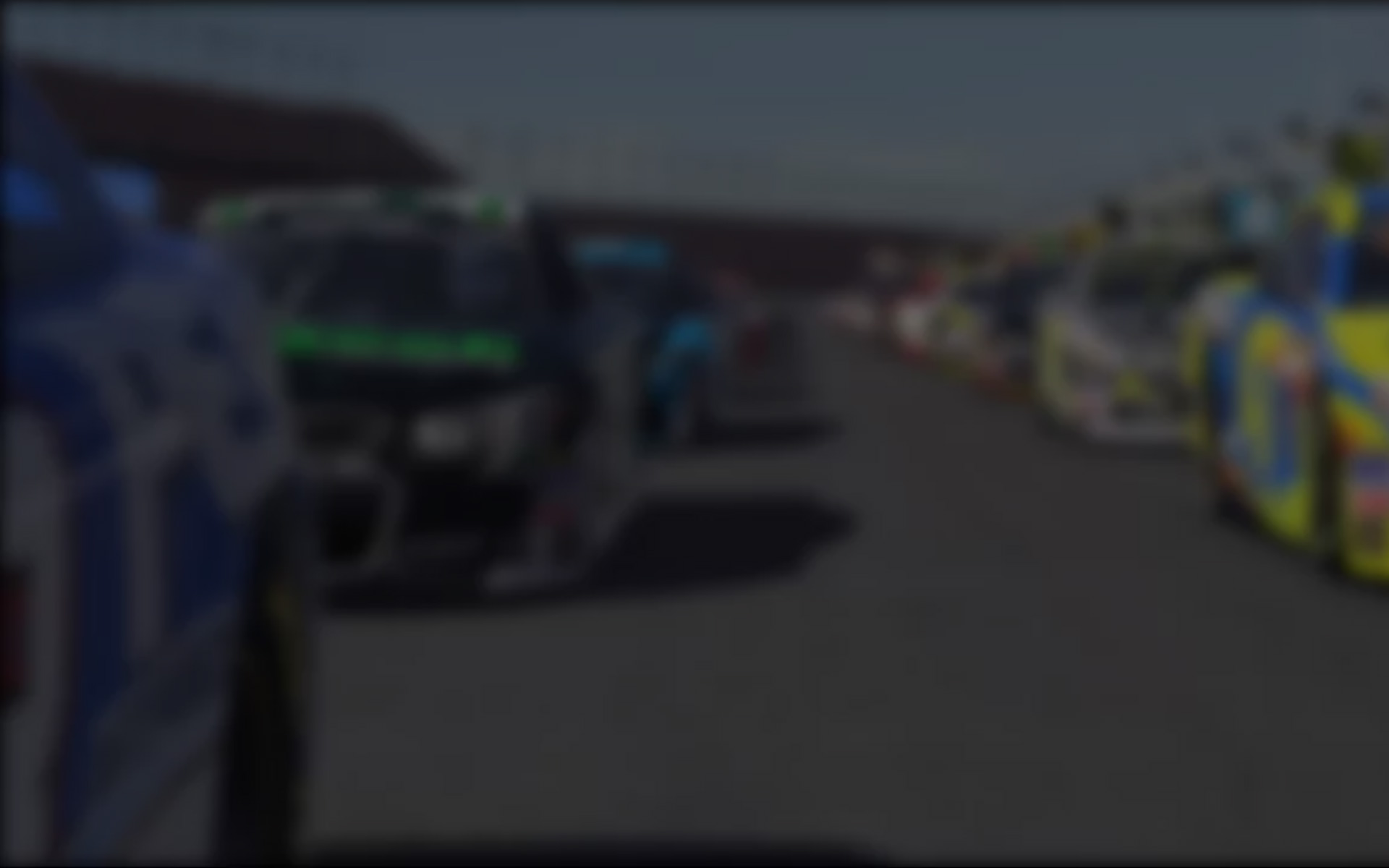 A member of iRacing since October of 2009, Iowa's Dylan Schmidt has crafted some pretty impressive career statistics, with multiple victories on ovals and road courses alike. He has 48 career oval victories and six official road course victories, with his first coming in this month of 2011 at Lime Rock Park.
Father of a four year old daughter, Schmidt does more than race when he is on the site. You can regularly see him painting cars and posting them and now you, can learn more about him in this week's edition of Get to Know…on forums or on Trading Paints for anyone to use. Schmidt definitely goes the extra mile when it comes to contributing to the iRacing community.
Q:        How long have you been sim racing?
A:        I've been sim-racing for four years, if you don't count PlayStation games (which I don't).  All of my sim-racing experience has been with iRacing.
Q:        How did you get started in iRacing?
A:        I saw iRacing on YouTube, and just fell in love with it.  I was never satisfied with PlayStation's version of a racing AI, and their damage models were always a joke.  How hard is it to drive the low line and use other cars as brake cushions?  No challenge at all.
Q:        Which race car driver in any racing series do you like the most?
A:        I'm a diehard Dale fan.  First it was Sr, now Junior.  The last 10 years have been tough to be a Junior fan… kind of like cheering for the Cowboys.  This looks to be a good year though.  I also like Tony Stewart:  He says what he wants and he's got the attitude to back it up, and I respect that.
"It would be pretty damn sweet to take the McLaren around Zandvoort.  That would kick 23 kinds of butt."
Q:        What type of hobbies do you do outside of iRacing?
A:        I recycle electronics for precious metals.  Basically that means I enjoy destroying the things that give me the most grief in life.
Q:        What is your greatest accomplishment on iRacing?
A:        This is a tough one.  I won Darlington last year in the NASCAR iRacing Series, and that was a big deal to me, but every win is pretty special.  Overall though, I'd have to say that being able to give back to the community is my biggest accomplishment.
Q:        What car and track combination on iRacing would you like to drive in real life?
A:        As much as I love oval racing, I'd have to say that it would be pretty damn sweet to take the McLaren around Zandvoort.  That would kick 23 kinds of butt.
Q:        What type of racing do you like to watch on TV?
A:        Any type of oval racing is my drug of choice, but I also enjoy motocross and anything else that has to make a jump to complete the course.
Q:        How do you think your fellow iRacers see you?
A:        I know I've made some enemies, some people don't like how outspoken I can be when I feel strongly about something.  I'd like to think though that I've earned the respect of the majority of my peers, and that whether they like me or not, they know that the things that I say and do come from the heart and are meant to try to achieve something better for all of us
Q:        What are three things that people on iRacing probably don't know about you?
A:        This is a tough one.  I'd say that the things that most people don't know are also the things that I generally think of as character flaws.  I'm very awkward in social situations, I have problems with being creative when I need to be, and my mouth tends to run a lot faster than my brain sometimes.
Q:        What is your favorite racing series on iRacing and why?
A:        I'm all about the NiS open series.  When iRacing released the fixed NiS last year, I jumped all over it.  Before that, I was running NASCAR Class A and B series and was generally frustrated with the lack of seriousness in the races.  They were too short and there wasn't ever anything at stake.  Now, with the NiS, everyone is working towards Pro and that makes things much more interesting.  The races are longer, so the wreckers have more time to take themselves (and usually some of the faster cars) out, which hopefully leaves me patiently waiting in the wings to take the win… or at least a top 10.
Q:        If there was one thing you could change about iRacing, what would it be?
A:        I know that most people would say the tire model, or the damage model, or dynamic weather, or whatever. The biggest problem that I have with iRacing at this point is the officiating in the big series.  I know that it's a big job, and it's a job that comes under a lot of criticism from everyone any time a decision is made.  I also know that there is a lot that goes on behind the scenes that nobody knows about except the officials.  I think that if the officiating process were handled in a more transparent manner… if the stewards were more vocal within the community at large and gave us more information about who, what, why, and how, things would be different.  I think in this area, maybe it would be more appropriate to use NASCAR as a model.  These are just my thoughts, but the entire process frustrates me.
Q:        What is one thing that you love the most about iRacing?
A:        I love the community in general, and the painting community in specific.  I've met a lot of people through iRacing that I wouldn't have otherwise.  Every day I get to hang out with the guys from LRM, or paint a car and post it on TradingPaints.com for anyone to use, and I feel like I'm giving back.  And that's a great feeling.
Q:        Overall, how do you rate your success on iRacing?
A:        My success?  There's always room for improvement.  I'd have to say as a racer, it has taken a long time, but I'm finally starting to develop.  As a painter, iRacing gives me a creative outlet and a community to interact with, and I've had great success in that arena.  As a coach and spotter, I've never had more fun.  Thank you iRacing.
---
You may also like...
---