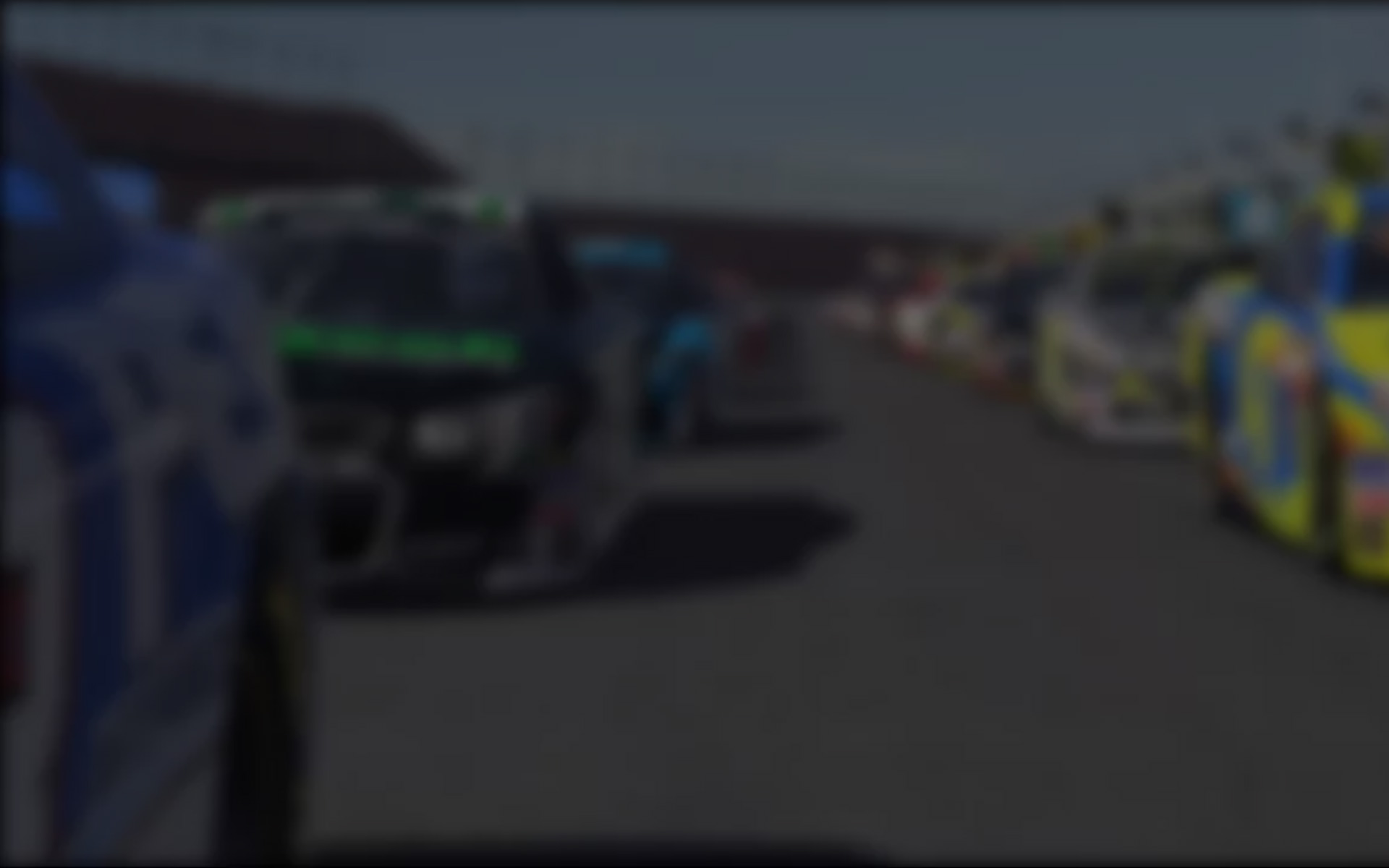 An iRacer since February of 2013, and a racer at heart, Ethan Moore has enjoyed a lot of success in life and on the virtual track. Moore, a 23 year old Texas native and Mechanical Engineering graduate, first visited victory lane on iRacing on August 1st, 2014, at the Richmond International Raceway in the NASCAR iRacing.com National Series. Two months before, he finished first in Mazda Cup Series event at Okayama International Circuit for his first triumph on a road course. Moore spends most of his time on iRacing competing in the Pacific Majors club. When he isn't on iRacing, you can find him kart racing or spending time with his girlfriend and dog. Learn more about iRacer Ethan Moore in this week's edition of Get to know…
1) What attracted you to racing in the first place?
I have been into racing since before I can remember. I actually started off with monster trucks when I was a toddler. I saw a commercial when I was really young and begged my dad to take me. I wasn't even potty trained yet and he told me that only big boys that use the toilet can go. My parents claim that when they picked me up from daycare the next day the lady in charge of my room said it was like I was potty trained overnight. My father reluctantly took me to Monster Trucks the next month. From there I was exposed to Motocross and picked up an interest in NASCAR. Over the years I have become more interested in sports car racing because of emphasis on technology advancements.
2) When did you start sim racing and how?
I first got into racing games with Need for Speed Underground 2 in 7th grade. I my buddy picked it up for GameCube and I fell in love. I fell into Forza once I got an Xbox 360 because of the more serious physics in the game. I never raced online though until college because I never had Xbox live and when I tried it I hated it.  At the time, I did actually use an old Xbox 360 wheel and pedals that Microsoft sold. I never felt comfortable with the height when they were on a desk so I would drive with the wheel in my lap. My Junior year of college I saw the World's Fastest Alien special on TV one day when they put Gregger Huttu on track in the Start Mazda at Road Atlanta. It was immediately my next interest. Come to find out there was a 3mo free trial from Cadillac going on at the time to support the new CTS-VR that iRacing had released. I grabbed the free trial and ordered an adapter to run my Xbox wheel on my computer. Unfortunately I didn't have the time to support a hobby like this at the time and I let my 3 month trail expire. When I graduated a year later I dumped something like $2500 into a new computer and Fanatec setup.  I haven't stopped since.
3) How invested, would you say, are you into your sim racing?
On the monetary side of things I have probably spend somewhere in the realm of $3500 in sim racing as a whole. That is probably $5-600 in content and $2500-3000 in in hardware. Although I attended the iRace4Life seminar in Dallas last March and won an Obutto R3volution and SimPedals courtesy of Main Performance PC. In all, I probably have $5-6000 worth of hardware with that setup. Time wise I don't put too much time into iRacing every week because life beckons. Although I have a strong focus on The Pacific Majors and will spend several hours preparing for those races on weeks when the races run. I do try to get on Saturdays once a week and try to stream whatever I am up to at the time on Twitch (Twitch name: WTxR3dn3ck).
4) Thanksgiving was a couple of weeks ago and as we are heading towards the end of the year, what are you thankful for?
This is a big one for me. I have had a really long year. I was laid off in February due to the oil market crash and ended up having to move from West Texas to Northern Alabama mid-summer. I think the first things I am thankful for are my girlfriend and my family for helping me though this year, both financially and emotionally during the spring and summer. Not only that, but my girlfriend is currently having to put up with a long distance relationship because of my move. I am thankful as well for my dog. I got a new puppy just 3 days before getting laid off and as much of a terror as she can be she gave me a reason to get up on a normal schedule every morning. I'm also thankful for my job. I did not think I would be able to recover and land another job before the end of the year. It has been a blessing.
5) What other hobbies do you do outside of sim racing?
I wish I could give you more on the hobby front but I spend most of my time either talking to my girlfriend or playing with my dog. Since I have moved I don't get to see my girlfriend all the time like I used to so we talk as often as we can. I did get into kart racing at the end of last year and was able to finish 2nd in a 2 hour endurance race but there is nowhere good to race in northern Alabama as far as I have heard yet so that is currently on hold. I do also enjoy some more casual games at times because I can just pick them up and not worry about being any good at them.
6) What real world job do you have?
So I graduated from college in May of 2014 with a bachelor in Mechanical Engineering and immediately started working at a chemical manufacturing plant that supported the oil industry. I literally had 1 day between graduation and my first day at work. It was a true blessing to have a job out of school although I would have preferred a week or two break. As I mentioned I got laid off in February and got my break, for 6 months unfortunately. In June I got an interview as an Engineer at Boeing and took off for Alabama at the end of July. So I have only had my current job for a few months. I have always enjoyed engineering design and would love to work in a race engineering position as race strategy is probably my strong suit in iRacing.
7) Funniest moment you have had on iRacing?
This actually happened quite recently. With the addition of the new "Free Content" I ran a Dallara Dash race for fun to burn some time on a stream. I have never been a huge fan of the DW12 and have never driven the older car before but was able to qualify on outside pole at Charlotte, don't ask me how. In those unofficial fun races qualifying up front is key to not being destroyed in the first couple laps since nobody cares about putting their car in bad places. Now I knew the car had lots of power and should have been a little bit more aware of what I was doing, but for some reason when the green flag dropped so did my right foot. All the way to the floor. In second gear. The car immediately took a nose dive for the wall and I had to have taken out a quarter of the field. It was pretty embarrassing despite the fact that it was just a "fun race."
8) Most bizarre moment you have had on iRacing?
I think the coolest thing, not really bizarre is getting to interact with real life drivers every day. There are guys like Dylan Murcott that are constantly around the forums. It is fun to hear their point of view and a great way for them to interact with fans and grow their following as driver. Glenn McGee is probably another good example with the Mazda Road to 24 last week (praying for good results on that for him). It is also a place for more "grassroots" guys to get a start with the right contacts and opportunities. In a sport where it is really all about who you know it is a great place to meet people and capitalize on opportunities that wouldn't exist without this mixture of users.
9) If you were given the opportunity to race in real life, would you take it and why?
I probably would take the chance and see how I fair. I would be pretty nervous about getting in a race without as much practice as possible. I would probably be more suited for the technical side although in my kart racing I felt very comfortable at the track and never really had much of an issue. Mentally it is the same thing you face in iRacing at every race. You calm your nerves and the driving just comes to you like you have done it before. When you are on track everything is very emotionless and logical. You learn to focus on what is about to happen and forget the things that have happened, both good and bad. Dwelling on the past distracts you from the present and that is when you make mistakes. The same goes for emotions. When you get upset with the other drivers you make poor decisions and that is when accidents happen. Racing is a very mental sport and the racing in iRacing does a great job of simulating the mental side of racing.
10) What's the most memorable thing that has happened to you or that you've done this year?
A couple things would definitely be moving to another state and I am taking a trip to Disney World with my girlfriend for Thanksgiving. I am excited for that. I think on the iRacing side of things it would be either coming in second to Michael Smith in the Pacific Majors Coca Cola 600 in May after a great race he beat me on tire longevity and passed me with 2 laps to go. The other was stepping in for Alan Hesebeck as Captain for the Texas Team during the World Cup. It was stressful but I think I did a pretty good job of getting everything together for us to finish second in Group C while he was living in the real world.
11) What is one race you would like to see live at the track that you haven't yet?
I think I would kill to go see the Le Mans 24. I am planning to go to Bristol's night race, Talladega for the Chase race and the Alabama GP in 2016. I have very future plans to go to a race at Spa. I have a close friend that is from Belgium and his mother invited me to come whenever I would like. Being that he lives a couple hours from the track I figured I would kill two birds with one stone. I would also like to make it to the Daytona 24 at some point just to go to a full 24 hour race and hit up the Petit Le Mans while I am in the area.
12) What is your favorite moment on iRacing from this year?
I may have to say watching the World Cup final this year. The oval race was fantastic. It was probably one of the best races I have seen in real life and sim ever. The competition was really entertaining and the racing was tough. Nobody wanted to give an inch.
.
---
You may also like...
---