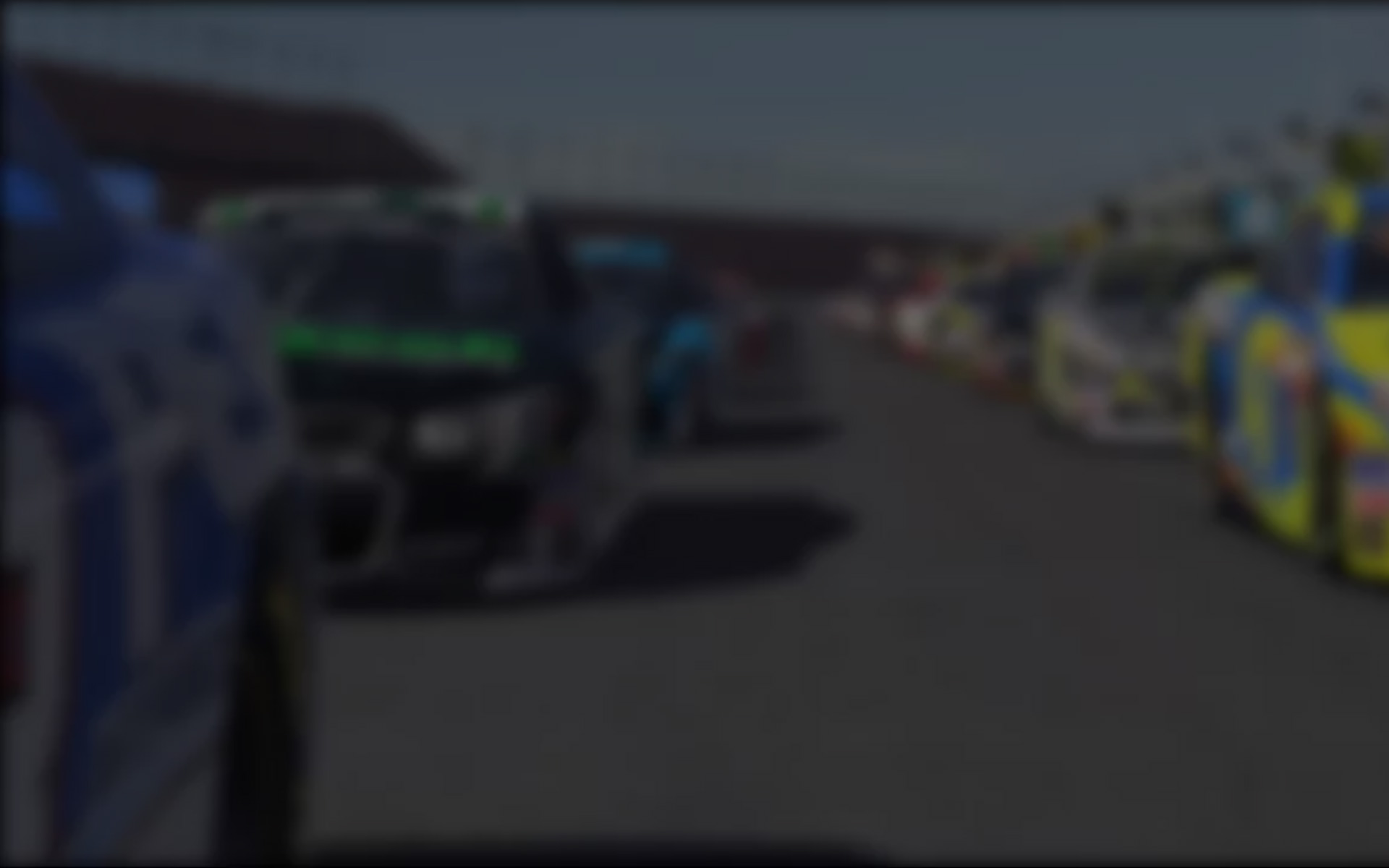 If the last name of 21 year old iRacer Francesco Rizzi seems familiar, it may be because last week we learned about his brother, Massimiliano. This week, it's Francesco's turn.
Living in Savigliano, just like his brother, he loves to drive a #08 Kellogg's liveried car, no surprise given that when he started playing NASCAR 2002 and 2003 by Papyrus his favorite driver to be was Terry Labonte in his Kellogg's Chevrolet.
Having won 91 race in 445 starts, Francesco knows how to get around iRacing fast. In addition to his 91 career victories, he has 280 top five finishes overall, giving him a top five finishing percentage of more than 60%. He also is one of the select few on iRacing to have won an overall championship in an official iRacing series. In 2013 Season 2, he scored the NASCAR iRacing Class C Fixed Overall Time Trial championship.
You can learn more about the younger of the Rizzi brothers in this week's edition of Get to Know…
Q:  How long have you been sim-racing?
A:  My sim-racing career started when I was just nine years old, with the title NASCAR 2002 Racing Season (purchased by my brother with one of those PC magazines that used to promote all kind of video games). I know nowadays sim-racing has far changed since that time and I no longer drive a Chevy Monte Carlo with my keyboard, but I tend to consider the racing games series developed by Papyrus the beginning of my passion for racing simulators.
Q:  How did you get started in iRacing?
A:  I often discuss with my brother on who discovered iRacing first. From my point of view, I found it out watching several YouTube videos, all showing the iRacing logo; but the ideas of buying a new wheel, pedals and subscribing to a site I didn't know so much about, prevailed on give it a try. From the other side, my brother always says he discovered iRacing surfing the NASCAR.com site, but thinking it was like an online flash game and therefore something he wasn't interested in. When we finally figured-out what iRacing was about and all the great features we were missing, my brother decided to join in September 2011, followed by my subscription two months later.
Q:  Which race car driver in any racing series do you like the most?
A:  I honestly think there's no just one race car driver I like the most. Talking about NASCAR, for example, I like Tony Stewart for his temper, Jimmie Johnson for being the 2013 Sprint Cup Series champion, Jeff Gordon for his winning past, along with Dale Earnhardt Jr. for the story of his and his father's lives. Same thing outside the NASCAR world, it's hard to find just one race car driver I like more then everyone else.
Q:  What type of hobbies do you do outside of iRacing?
A:  When I'm not at work or playing iRacing, I often like to hang out with my friends, even if they don't understand how sim-racing world works, complaining about races length and the amount of time passed practicing for them. At home, I usually discuss with my brother about incoming iRacing weeks, car feelings and strategies; I also listen to a lot of music and watch TV shows when I'm in mood. I go swimming twice a week and I'm probably going to start a soccer championship with my team this autumn, or at least I hope so.
Q:  What is your most memorable experience on iRacing?
A:  Well, my most memorable experience coincides with my very first race: Legend Ford '34 Coupe at South Boston Speedway. I remember practicing lap after lap, simulating the entire race and trying not to spin around the track. It worked perfectly, since I started fourth and finished first, making no mistakes. What a great way to start my iRacing career!
Q:  What car and track combination on iRacing would you like to drive in real life?
A:  Based on how much fun I had on the service, I would say Chevy Silverado at Indianapolis Motor Speedway. Honestly, I love IMS: it provides really great racing and force you to be patient, waiting for a bad move from your opponent.
"In my opinion, if you are a constant clean racer, you don't have to worry that much about Safety Rating."
Q:  What type of racing do you like to watch on TV?
A:  I would say F1 racing, since it's the most broadcast motorsport here, and I really don't like motorbike championships. Anyway, I think F1 is losing more and more interest among its fans and the attempt to patch-up things with new strange rules make these races even worse. That's why I usually end up watching NASCAR races on streaming on my computer.
Q:  How do you think your fellow iRacers see you?
A:  I'm not the kind of guy who disrespects other drivers on track, absolutely not. I race everybody how I want to be raced, and I often receive kind words for that. But when we talk about racing competition, disagreements are always around the corner and the best way to face them is having a solid group of drivers who prove and show others your real values. Thanks to those fellow guys.
Q:  What are three things that people on iRacing probably don't know about you?
A:  I'm a real all-American-kind-of-stuff enthusiast. I would like to furnish my room with vintage American gas station signboards, license plates, old advertising, everything concerned to racing and United States.
My first win ever in the NASCAR Class C fixed at Kentucky Speedway surprised me: drivers started to congratulate with me and when I told them it was my first win with the trucks, they chose I had to bring pasta and pizza in order to celebrate the victory in the proper way. Pasta and pizza for everyone, so funny!
I've never updated my sim-racing rig since when I joined iRacing in 2011, except for a 10,000 RPM tach I ordered one year ago from Pennsylvania; still using a single TV monitor, my DFGT steering wheel and pedals.
Q:  What is your favorite racing series on iRacing and why?
A:  My iRacing favourite series is NASCAR Class C fixed, because of its pupolarity and the big amount of fun these cars provide: everyone is on the same setup, in my opinion it shows the personal abilities of each driver. Also, I always prefer to race with a loose car rather than a tight one, that's why I struggle a bit with the Nationwide cars while I pull out the best from the Silverado trucks.
Q:  If there was one thing you could change about iRacing, what would it be?
A:  Definitely multi-groove racing. Guys often complain about the defective SR system, which penalize a driver even in case of a non-fault incident, but it's not different from the reality, where a race can be ruined by someone else's mistake. In my opinion, if you are a constant clean racer, you don't have to worry that much about SR.
"I can't deny I always laugh if I see (my brother) upside down in the grass or stuck in a black smoke cloud in his pit stall!"
Q:  What is one thing that you love the most about iRacing?
A:  The respect in racing: once you advance from rookie class and start competing in high strenght of field splits, the seriousness of how you're raced is grateful. Another great thing is the community: you can really feel to be part of something when you join iRacing, definitely not like an ordinary racing simulator.
Q:  Overall, how do you rate your success on iRacing?
A:  I'm pretty satisfied of my career. I'm the first Italian oval driver and I always feel like a have to do more and more in order to represent Italy in the best way possible. I'm very close to 5000 iR, something I could have never thought about when I started. Looking forward to be in the best 300 oval drivers of the world!
Q:  Have you ever raced against your brother in an official race? How do you race him differently compared to everyone else?
Yes, lots of times. My brother is my first enemy, no doubt. No matter in which position I finish a race, that position must be in front of him. We usually talk a lot during races, about pit strategies, pack racing and what happens on the track. We're enemies, of course, but we also collaborate: we try not to mess things up fighting each other uselessly with an entire field beyond us and we bump draft on super speedways. But I can't deny I always laugh if I see him upside down in the grass or stuck in a black smoke cloud in his pit stall!
---
You may also like...
---