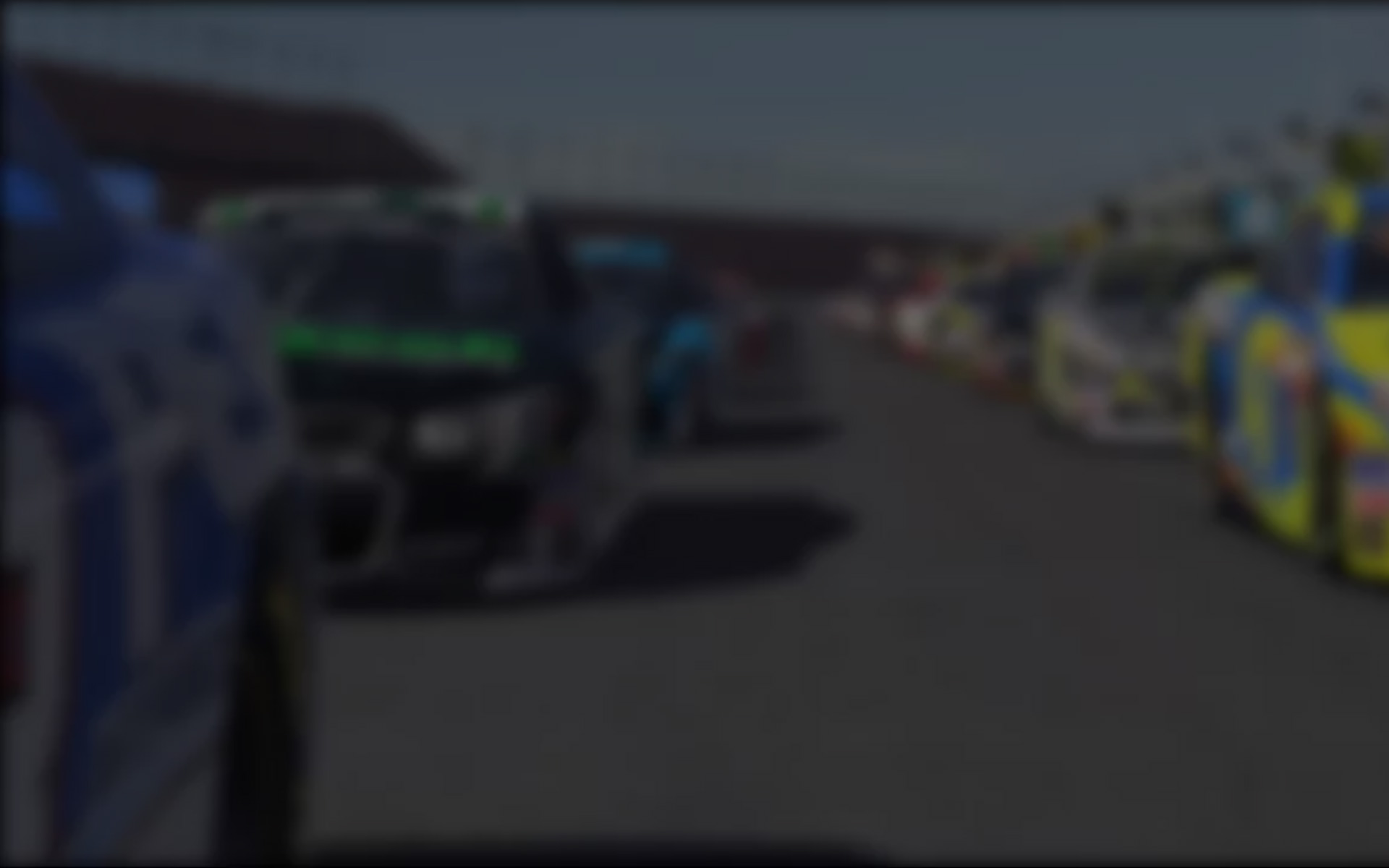 J.D Laird, a 25 year old from Anaheim, CA, may have accomplished a great deal in his sim-racing career — but he has accomplished far more in his painting career, which is the focus of this week's Get to Know. Even though you may not have known it, you have probably seen some of Laird's paint schemes at some point in time. If you watch the NASCAR iRacing.com Series World Championship races, then you'll see drivers like two time series champion Ray Alfalla, Byron Daley and Brian Schoenburg sporting cars painted by Laird.
Even if you don't watch the NiSWC (which you should), you've probably seen one of Laird's paint schemes run in the NASCAR Sprint Cup Series last year or this year. This year, he developed the paint scheme on the #33 Little Joes Autos Chevrolet Landon Cassill ran in the recent Auto Club 400. Last year Laird painted the Taxslayer.com and Sky Optics cars that Cole Whitt drove in the Nationwide series, we well as the Mountain Dew car that Dale Earnhardt Jr ran in the 2012 Sprint Cup Series.  (See the full list of his NASCAR paint schemes at the bottom of the page).
Definitely, J.D Laird knows a thing or two about painting.  Learn more about his colorful career in this week's Get to Know…
Q:    How long have you been sim racing?
A:    I started sim-racing back with the original NASCAR Racing back in 1994. That got me bit by the racing bug and I got most of the racing games made by Papyrus, including Indycar Racing 2. I made my online debut when NR2003came out and ran in numerous leagues (CRSOL, ASCORS, ESCORS, and DMP to name a few).
Q:    How did you get started in iRacing?
A:    I got started in iRacing by getting an invite to beta test from Bob Bryant. Once iRacing went public, I couldn't afford to pay for the subscription.
Q:     Which race car driver do you look up to the most?
A:    I have to respect Brad Keselowski. Seeing him coming from the start & park days, to getting a Nationwide for JR Motorsports, then signing with Penske Racing and becoming a Sprint Cup Champion three years later is pretty damn impressive.
Q:    What type of hobbies do you do outside of iRacing?
A:    I wouldn't really consider this a hobby, but I've flagged at the local quarter midget track for 10 years. I was bored during one of my races and asked if I could flag one of the practices. Little did I know that it would end up becoming something that I actually enjoy doing and lead to some pretty cool opportunities. Flagging the World of Outlaws at Las Vegas in 2009 would be at the top.
"What makes it enjoyable is being able to make your own interpretation of a sponsor . . . vibrant colors, crazy spikes, smooth lines, crazy gradients, it's endless."
Q:     How did you get started in painting sim cars?
A:    I got started painting sim cars because I got tired of waiting for some random guy on NascarNet to do my cars. So I spent the time to learn Paint Shop Pro 7 and did them on my own… which were highly horrendous. Upgraded to Photoshop and away I went.
Q:    Did you start painting sim cars and then switch to real cars are vice versa?
A:    I stared with doing sim cars. I honestly never had any intention to do real life cars because I never knew how to put myself in the right position to get the opportunity to design one in any series.
Q:    What type of racing do you like to watch on TV?
A:    I've been addicted to Formula 1 for quite a while. It started by being the only thing worth watching on TV besides the Magic Bullet infomercial before running ESCORS at 2AM HAHA. Now I actually watch the practices and qualifying as well. Last year I watched a couple F3 streams since a friend of mine is racing over in Europe. Throw in some GP2 crash fests and I'm pretty much set.
Q:    Of all the schemes you've painted on iRacing, which one are you the most proud of?
A:    Trans-Lux Nationwide car hands down. When I saw the car up close at Fontana last year I knew that it would be one on my "must do" list. After spending a couple days on it and seeing the final product in iRacing I was pretty impressed. I'm also proud of it because I believe it was one the most ripped cars from Trading Paints last year. . . not to mention sparking a couple forum brawls. I'd call that an accomplishment.
Q:    Who are some of the most "famous" iRacers you have painted for?
A:    Ray Alfalla and Richard Towler top my list being the NiSWC champions that they are. You could add Dale Jr., Landon Cassill, and Parker Kligerman because they're in NASCAR. Byron Daley and Brian Schoenburg are also on that list simply because that those are names that you hear quite a bit on a NiSWC broadcast.
Q:     How did you get started painting cars in NASCAR?
A:    I got started by getting asked by Dale Jr. to do two cars for JR Motorsports (#7 USA /We Salute You Chevy and #88 NASCAR Hall of Fame Chevy). It might have been one of the more random messages I've ever gotten that's G-rated. Those two got the ball rolling for me breaking into the NASCAR scene.
"It might have been one of the more random messages I've ever gotten that's G-rated."
Q:    What is one thing that you love the most about iRacing?
A:    Right now it's the fact that there are multiple manufactures in the cup car. I've always wonder why Ford, Toyota, and at the time Dodge, never had their name in a NASCAR simulation. With Chevy and Ford, and eventually Toyota from what it looks like via Toyota Racing on Twitter, I believe the immersion factor might start coming greater now that everyone isn't racing a Chevy.
Toyota Racing tweet: https://twitter.com/NotDamboise/status/314984110718320641
Q:    Who are some of the most notable teams you have painted for in the real world?
A:    Hendrick Motorsports and JR Motorsports, both of which through Dale Earnhardt Jr. To have the opportunity to work with those 2 organizations and have my artwork featured on their cars is incredible.
Q:    Out of all of the cars you have painted in NASCAR and in the real world in general, which paint scheme is the most famous and which one are you the most proud of?
A:    The #88 Diet Mountain Dew car. That car alone blew up my Facebook page when the car was revealed on Sports Center. It came out better than I thought it would honestly. I was hoping that it would be in Daytona victory lane in its first race out.
Q:    Can you explain to us the process of painting cars for big NASCAR teams?
A:    How I got my chances to design cars for NASCAR teams is being asked by the driver. I don't spam their inbox of various cup teams or constantly bug drivers or teams on Twitter or Facebook stuffing paint schemes in their face saying "THIS SHOULD RUN". Even though everyone you show thinks your scheme is better it may not fit the sponsor's branding requirement so it gets pushed to the side and ignored. Because of that, the main thing I have to know going into designing a car is what the sponsor's branding requirements are. Colors, logo placement, fonts, slogan uses, etc. Once you know what you can and can't do, you put the brush to the canvas and start painting away. Go through a couple revisions and then hope that the sponsor and team like the final product. A car is a rolling billboard and if that billboard doesn't meet the branding requirements to what the sponsor wants they won't approve it.
Q:    Do you think something sets you apart from other painters?
A:    I don't think anything sets me apart from any other painter. I'm on the same playing field as everyone else. Guys like Mason Baker, Alan Elwood, Kevin King, Reed Rundell, Guy Driggers, and Dave Pawlak are all on the same line as me. Every one of those guys, including myself, have different styles that we all do and are comfortable with. It's up to the person wanting the car and who they go to for it.
Q:    Overall, what is it to you that makes painting cars so enjoyable?
A:    What makes it enjoyable is being able to make your own interpretation of a sponsor. If you give two, three, four or even 10 people a sponsor to put on a certain car and run with it, they won't look the same. Everyone has their own way to attack it. Vibrant colors, crazy spikes, smooth lines, crazy gradients, it's endless. The only problem for me is when you have so many to do for NiSWC by a set deadline, it makes me rip my hair out.
Laird's NASCAR liveries
2011 #7 USA/We Salute You Chevy (Josh Wise – Nationwide – Dover)
2011 #88 NASCAR Hall of Fame Chevy (Aric Almirola – Nationwide – Iowa)
2012 #88 Diet Moutain Dew Chevy (Dale Earnhardt, Jr. – Sprint Cup)
2012 #88 Dale Jr. Foundation Chevy (Dale Earnhardt, Jr. – Sprint Cup – Charlotte All-Star)
2012 #93 Dr. Pepper Toyota (Travis Kvapil – Sprint Cup)
2012 #88 TaxSlayer.com Chevy (Cole Whitt – Nationwide)
2012 #88 Spy Optic Chevy (Cole Whitt – Nationwide – Bristol (2))
2013 #33 Chevy (Landon Cassill – Sprint Cup – Fontana)
---
You may also like...
---