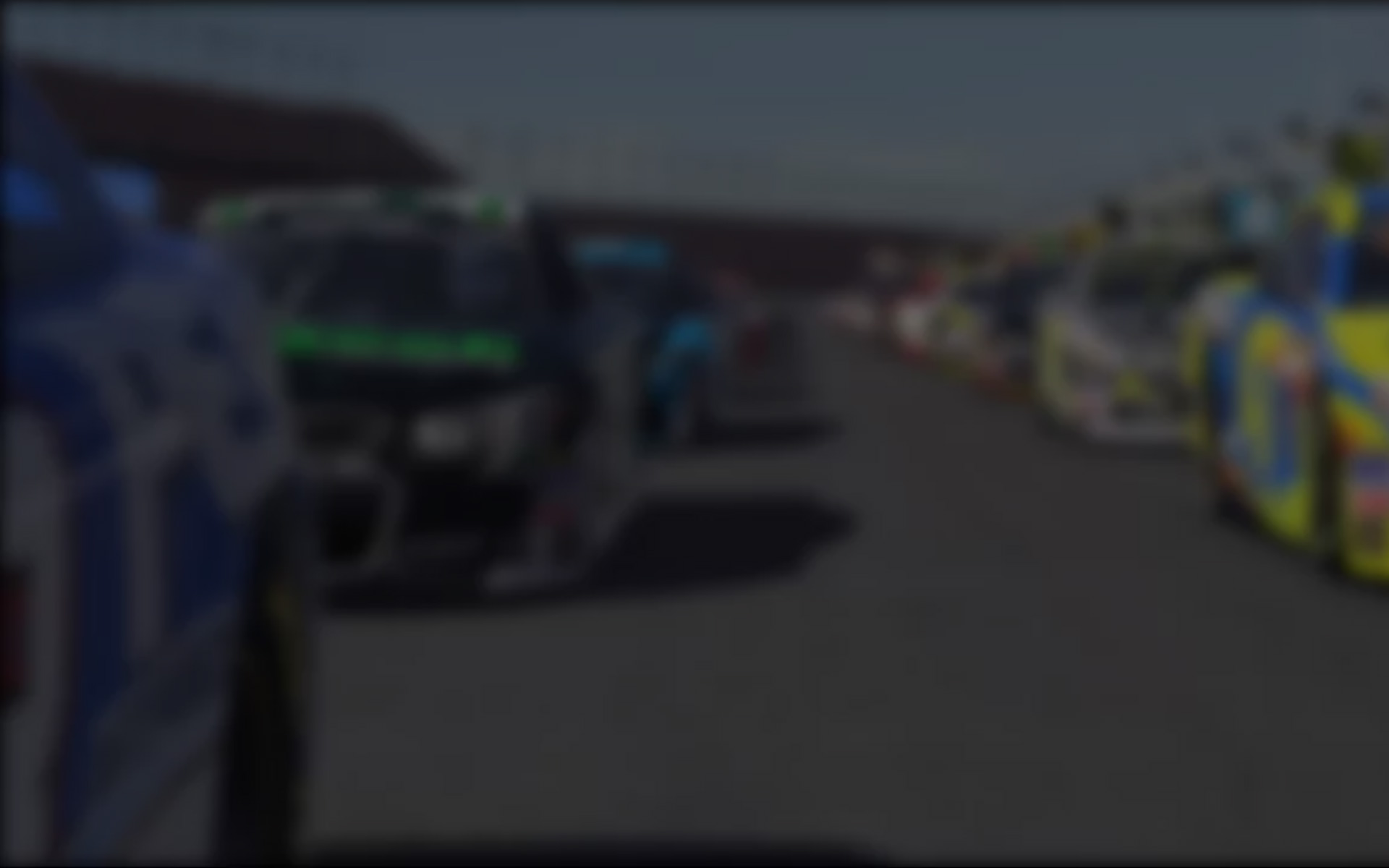 I think many of you can relate to this statement: When you first started out sim racing, you really didn't take it seriously, but then something in you made you realize that if you try, you could really accomplish a great deal. That is definitely the case for iRacer Tyler Laughlin from Knoxville, Tennessee. If you look at his career statistics, he had fairly good numbers since joining the service on December 25th in 2008, all the way up until 2011. During that stretch he averaged about a dozen oval wins and 49 top fives per year.
Something changed for 2012: Laughlin got serious. In 323 oval starts in 2012, he won 101 and scored 202 top five finishes.  So far in 2013, he has started 76 races and has earned a checkered flag 26 times, including clinching a spot in the 2013 NASCAR iRacing.com Pro Series.
I got the chance to talk with Tyler him about his iRacing career as of now and how he got to this point in this week's Get to Know . . .
Q:    How long have you been sim-racing?
A:    I have been sim-racing for around 13 years I would say. I mean I don't count the NASCAR video games as sims, but I have always been into virtual racing and just the competition and always trying to beat the best of the best. When I was five and brought home NASCAR 2000 it was all over from there.
Q:    How did you get started in iRacing?
A:    Around the year 2008, I saw Dale Earnhardt Jr on Speed showing off this simulator. I thought "man that looks amazing." How real the tracks look and how the car is so hard to drive. I always wanted more realism and finally found it with iRacing. To start it was rough, but I started taking it serious as I could last year and the results have showed.
Q:    Which race car driver do you look up to the most?
A:    Undoubtedly, I look up the Kyle Busch. His talent behind the wheel is remarkable. I always have liked him; he speaks his mind and drives with passion which most guys don't do anymore.
Q:    What type of hobbies do you do outside of iRacing?
A:    I have plenty of hobbies I like to do. I love to most of the time just go out and run with my girlfriend, but she usually kicks my butt. Every now and then I will pick up a basketball and play with some friends. My favorite to do is probably golf; I do that at least once or twice a week.
Q:    What is your greatest accomplishment on iRacing?
A:    My greatest accomplishment would be making the iRacing 2013 Pro Series in Season One. It was some good competition all season, and fighting with some of those guys was tough. It was all worth it once the season was over.
Q:    What are three things you hope to accomplish in 2013 on iRacing?
A:    This year no doubt I would like to make some DWC races I feel comfortable enough doing. I would be very happy if I can get a top 15 in one of those races too. Also I am looking to finish in the top 15 in the Pro Series and maybe get one or two victories during the season.
Q:    What type of racing do you like to watch on TV?
A:    NASCAR and some motocross that is just about it. I really can't get into Formula One or Indy Car. I will watch Monaco and the Indy 500 that's about it when it comes to other forms of motorsports.
Q:    How do you think your fellow iRacers see you?
A:    Well it depends on who you ask. Every iRacer has their own sets of rivals and allies. I feel like I race just about everyone equal and very tough. I feel like I am respected by most of everyone I race with. There are a few though that don't like me, but that's just because I really don't give that much.
"Every iRacer has their own sets of rivals and allies. I feel like I race just about everyone equal and very tough."
Q:    What are three things that people on iRacing probably don't know about you?
A:    The first would probably be that I love to golf. The second would be that I am going into college and majoring in mechanical engineering. Third would be that my age is only 18.
Q:    If you could go back and change one race in your career what would it be?
A:    The 2013 iRacing Daytona 500. I had an amazing piece and was just biding my time when me and Michael Johnson lagged and net-coded which caused a huge wreck. That ended my chances at the win.
Q:    If there was one thing you could change about iRacing, what would it be?
A:    Easily would be the overall racing. We really need dynamic conditions and the track to rubber up. If we could get multi-groove racing I would never stop iRacing. I just don't find it very fun running single file around the bottom and if you make one little mistake you lose 10 positions. We also need tire wear… Way more tire wear.
Q:    What is one thing that you love the most about iRacing?
A:    Just the close niche members we have at iRacing is the best part. The community is what makes the whole sim-racing as real as it gets. The competition and striving to be the best is what always attracted me to racing. Some people don't have the money to compete in real life and this is as close as they can get. Working your way up to the pro series is serious competition and it always makes you work harder to be better than the other competitors.
Q:    Overall, how do you rate your success on iRacing?
A:    So far, I would rate it an 8 out of 10. I never took it seriously the first four years and took some breaks every now and then. Now I have started driving the best of my ability and seeing how far it can get me, and in the Pro Series if I can get a win in my R.D. Designs Chevy I will probably bump that 8 up to a 9.5 or 10.
---
You may also like...
---