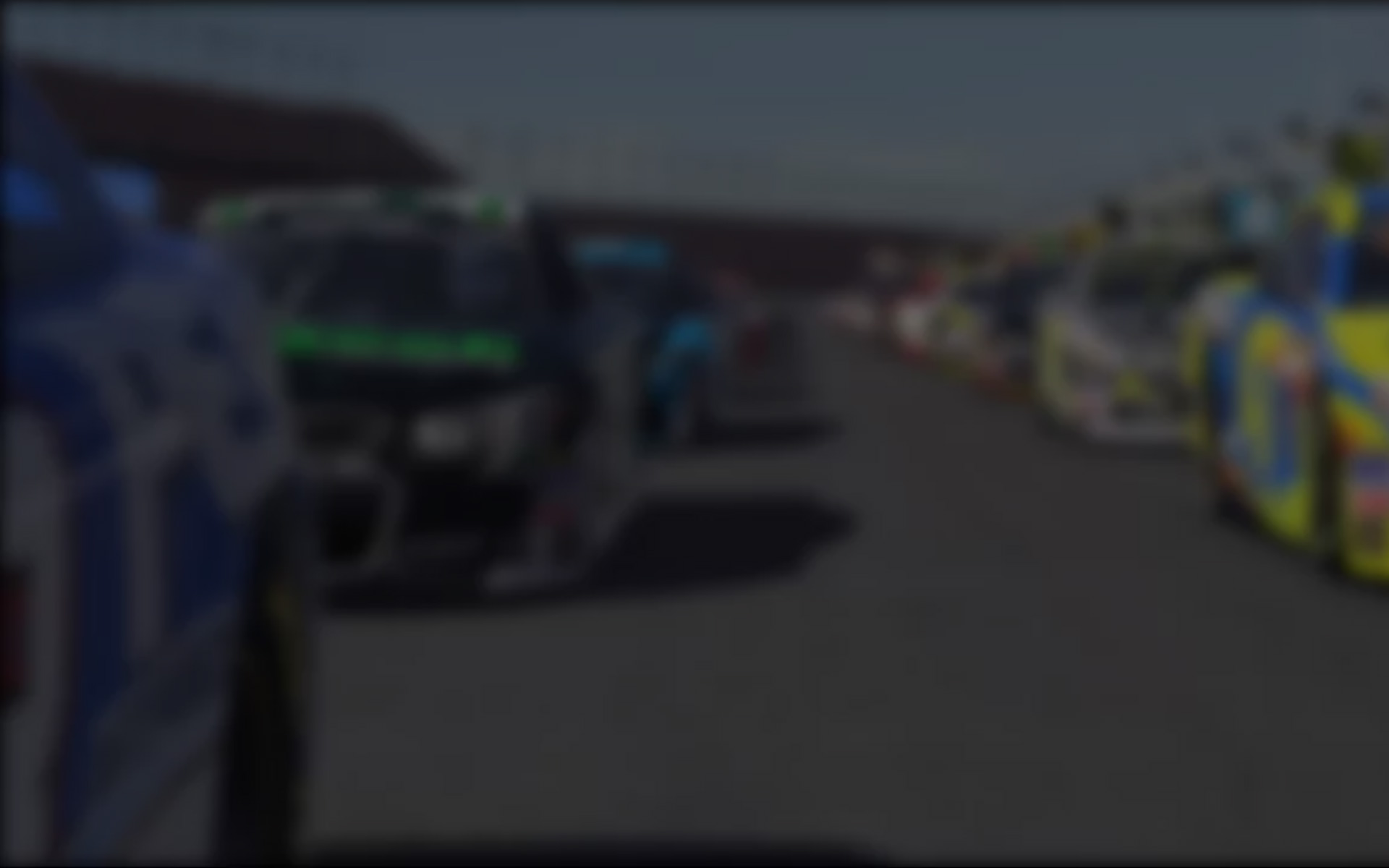 Greger Huttu scored a dominant victory at challenging Virginia International Raceway for his fourth consecutive iRacing World Championship Grand Prix Series win and, in the bargain, enhanced his already commanding lead in the series standings.  Three other sim racers – Olli Pahkala, Enzo Bonito and Mitchell DeJong – led at one time or another as pit stop strategies came into play, but in the end it was the four time world champion cruising to a commanding 12s win over a close squabble for the runner-up spot between Pahkala and Bonito that was, ultimately, decided in the Finn's favor giving Team Redline an impressive sweep of the podium positions.
Having missed the past couple of races owing to his Global Rallycross commitments, DeJong made an impressive return to the series by posting the third best qualifying time to line up alongside Pahkala on Row Two of the grid.  So much for the good news.  The bad news?  Their qualifying form afforded DeJong and Bonito an up close and personal view of the gearboxes of Huttu's pole-winning Williams-Toyota FW31 and the similar car of second fastest qualifier Martin Krönke.
At the green Huttu grabbed the lead from Krönke and DeJong with Pahkala heading a fast starting Hugo Luis and Bonito as Sebastian Job found himself bundled down a couple of spots after qualifying an impressive fifth.  Worse was in store for the Frenchman who disconnected after just four laps of online racing competition while occupying seventh spot.
By the time Job vanished from the charts, Bonito had relieved Luis of fifth place as Jeremy Bouteloup was mounting a charge that saw him advance from tenth on the grid to take up station behind Luis by Lap 12.
Thereafter the front running group maintained position until Huttu made for the pits on Lap 21, handing the lead to DeJong who despite an off-track excursion of his own, took advantage of Krönke's Lap 21 "off" to move into a short-lived lead.  When DeJong called for service a lap later Pahlaka took over the point for three laps before, inevitably, making a visit of his own to the pits, enabling Huttu to reclaim the top spot.
When the stops had sorted themselves out, Huttu enjoyed a comfortable nine second advantage over Pahkala with Bonito a further three seconds adrift just ahead of Luis.  Krönke ran in fifth a few seconds up the road from Bouteloup after DeJong injudiciously vacated sixth spot with a couple of offs and, finally, a pit stop on Lap 30, the net effect of which dropped him to P22.
There were no such dramas at the front, where Huttu was – if not exactly in cruise control – in the midst of a seemingly effortless drive, maintaining his margin over Pahkala who, in turn, was keeping a constant four to five second advantage on Bonito.
And that, to be perfectly honest, was that.  Although Pahkala again took the lead briefly on the second pit stop exchange, the status quo eventually re-established itself as Huttu motored to a flawless – not to say demoralizing – fourth victory on the trot.
Matters were far less clear-cut in Huttu's wake, however, as Pahkala and Bonito were seldom separated by more than a second over the final stint.  Although Pahkala set his fastest personal lap on Lap 52 (just .2s off the winner's fastest race lap), Bonito still managed to close to within a few tenths in the final laps.  However, the Italian could not find a way past, ultimately trailing Pahkala across the line by .6s at the end of 58 laps.  Luis came home a lonely fourth from Krönke and Bouteloup while Rocco Barone, Robin Friskopps, Andre Boettcher and Isaac Price rounded-out the top ten ahead of DeJong's handy recovery drive.
Thanks to his winning streak, Huttu has staked himself to a lead of more than a race's worth of points in the standings over the consistent but – so far in 2015 – winless Krönke, with Pahkala and Luis in a virtual dead-heat for third.  Meanwhile, a season that began with such promise for Aleksi Juusi-Jaakkola continued its downward trajectory at VIR as the Interlagos/Philip Island winner was classified as the thirty-third finisher after pitting from P22 on Lap 24 and disconnecting.
Next up is a trip north from the virtual Piedmont of Virginia to the welcoming city of Montreal – and its unforgiving Circuit Gilles Villeneuve.  A fifth straight win could well and truly stake Huttu to a fifth World Championship; then again, it's no accident the unyielding concrete on the exit of the final chicane is called "The Wall of Champions."
---
You may also like...
---