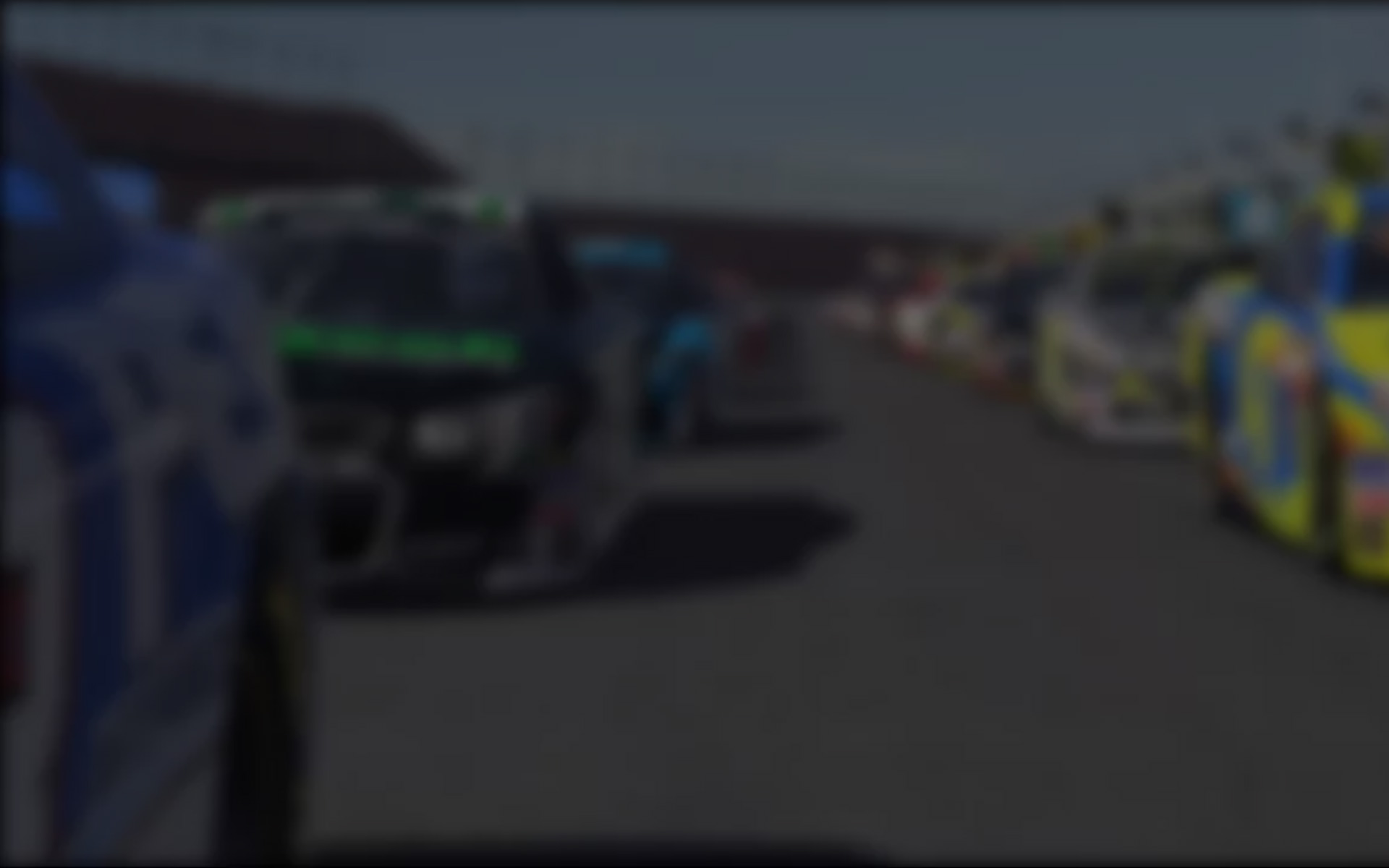 Week 5 of Season 1, 2012, and the iRacing.com V8 Supercars Series presented by Big Pond, featured 19 lap races chock full of bumps and grinds at Sebring International Raceway's notoriously rough airport track.
The action began with the customary V8SC Americas events on Thursday and Friday nights (9:45 PM EST/02:45 GMT), along with European time zone races on Friday and Saturday evenings (18:45 GMT): Curtis Chippeway won both of the V8SC Americas races, ahead of Ray Butcher and Sebastian Negele in the first, with Quinton Rethus and Chris Luckey joining him on the podium in the second. Thomas van Bussel won ahead of Kevin Duwel and Chad Chastain in the first European online race, and then won again in the second, this time ahead of Trevor Johnson and Duwel.
The top-split of the early Big Monday race (Strength of Field 3720) was won from the pole by V8 Supercars professional driver, Shane van Gisbergen, with Rens Broekman and Richard Hamstead joining him on the podium. Thomas Guerrini and Bryan Godsall won the middle and lower splits.
Van Gisbergen also had the pole for the big Big Monday event (SOF 4080), sitting on the front row with Broekman, and ahead of Hamstead—in a freshly painted bright-green Direct Clutch Services car—and a surging Simon Madden on the second row. In the middle of the starting grid, Stuart Wood, one of Hamstead's teammates, also had fresh paint on his Ford Falcon: pink, chosen to represent breast cancer research awareness.
Sebring's first corner is quite wide, and the start of the race was clean, with van Gisbergen getting away well to lead Hamstead and Broekman through. Broekman was able to make it past Hamstead on the inside into the Hairpin, taking second, while Madden's fortunes were moving in the opposite direction: already back in seventh, he'd been passed by professional Fujitsu V8 and SuperTourers driver Scott T. McLaughlin, Troy Cox, and Mitchell McLeod.
Up front, Broekman was on the move, charging up to draw even with van Gisbergen to enter the Gendebein corner with a slight lead. Broekman held the inside as van Gisbergen cut across to the apex, smashing hard into the Dutchman.  Both cars went off, but van Gisbergen got the worst of it, losing the rear and dropping to twentieth position, while Broekman rejoined in fifth. Hamstead had to check his throttle in the shuffle, and McLaughlin had taken the lead by the time the field hit the Ullman Straight.
Meanwhile, Wood's car, "Pink Hope," had gone from tenth to fifth in a little over a lap, having passed Broekman on the exit to Turn 1 at the beginning Lap 2. Broekman was not going to give up easily, however, and regained the position through the Turn 3–5 complex; this would be a common occurrence throughout the day, as drivers who gained an advantage through Turns 1 and 2 lost that advantage in the subsequent complex.
The racing was still very close on Lap 3, with McLaughlin leading Hamstead, Cox, McLeod, Broekman, Wood, Scott U'Ren, and Mick Claridge in a close pack, with Justin Ruggier and Madden leading the chase. Broekman was showing his speed again: having left Wood behind, he took fourth position from McLeod exiting the Hairpin and through the Fangio Chicane.
Hamstead had begun putting serious pressure on McLaughlin for the lead, and McLaughlin moved inside on the Ullman Straight to protect his position. The two went through Sunset Bend side-by-side, and McLaughlin again moved inside to defend. Hamstead concocted a canny ruse, however: as both cars roared down the start/finish straight, he appeared to be at a loss as to how to get around McLaughlin; then, just before the entry to Turn 1, Hamstead—followed closely by Cox—suddenly darted to the right, absolutely nailed the turn entry, carried his momentum through the apex, and had the lead before entering the Turn 3–5 complex. Close as he was to following Hamstead, Cox was not quite close enough to take second position from McLaughlin, racing with him side-by-side all the way to the Hairpin before having to yield. This was to be the beginning of a terrible run of luck for "Coxie."
Having nearly taken second, Cox had a poor exit out of the Hairpin, losing position to McLeod and, moments later, Broekman through the high-speed Fangio Chicane and fading to fifth. As bad as this was, U'Ren, with front brakes glowing hot, bumped Cox full around in the Cunningham corner, and the Trans-Tasman driver went from challenging for second nearly to the back of the field in the matter of a few seconds. So typical of V8 Supercars is what happened next: U'Ren drove onto the grass and refused to rejoin the race until Cox was able to orient himself and get under power again. While U'Ren's sportsmanship surely did little to make Cox feel better about the cards dealt him—at least in the moment—his deference was the sort of classy move one appreciates, and should be part and parcel of racing at any level. Unfortunately, Cox's car was a bit bent, and we was to spend his share of minutes in his pit stall, finishing eighteenth; nonetheless he took fastest lap as consolation (2:04.534), edging Hamstead by 0.061 for the honor (or honour, as it may be).
Back up front Hamstead had built a lead of a little more than a second over McLaughlin, McLeod, and Broekman by Lap 8, with Wood in fifth trying to chase them down. Josh Muggleton and Kris Tarrant were in contact with Wood, with Ruggier, Brad Ryan, van Gisbergen, and Madden running in a pack behind them. Van Gisbergen began to pull away from the pack, however, eventually moving up to take seventh from Tarrant. Ruggier, Ryan, and Madden ran together until Lap 14, when Ruggier lost grip through the 3–5 corner complex and dropped to eleventh. Ahead on the track at almost precisely the same moment, van Gisbergen took sixth from Muggleton.
The closing laps saw Broekman pressure McLeod for the final podium spot – to no avail—while Wood, in fifth, was coming under tremendous pressure from van Gisbergen, who had preserved his tires seemingly better than anyone (as usual); U'Ren was salvaging his race too, passing Tarrant and Ryan to get into eighth.
As was the case the previous week at Phillip Island, there was drama on the final lap, and again it involved van Gisbergen: as he pressured Wood for fifth position, the pro darted left and right, looking for an opening, until he hammered the rear quarter of "Pink Hope" at Cunningham.  Wood was having none of it, slamming the door and holding off van Gisbergen while keeping his car pointed in the right direction. A nearly identical situation then unfolded into Tower, but this time Wood locked-up the front-right wheel and van Gisbergen spun him back to seventh, clearly well-short of having the move secured.
Up front, Hamstead was victorious, with McLaughlin close enough to try a power slide exiting Sunset Bend in an unsuccessful bid to steal the win.
Josh Smith won the second-split (SOF 2514), with Christopher Osborne and Guerrini also on the podium. Paul Gallen and Paul Keeghan won the lower splits. Not already mentioned as having done so, Tarrant, Paul Mansell, and Wayne Sanderson also won V8SC races last week at Sebring.
See you at Brands Hatch, which must be counted the opposite of Sebring.
---
You may also like...
---