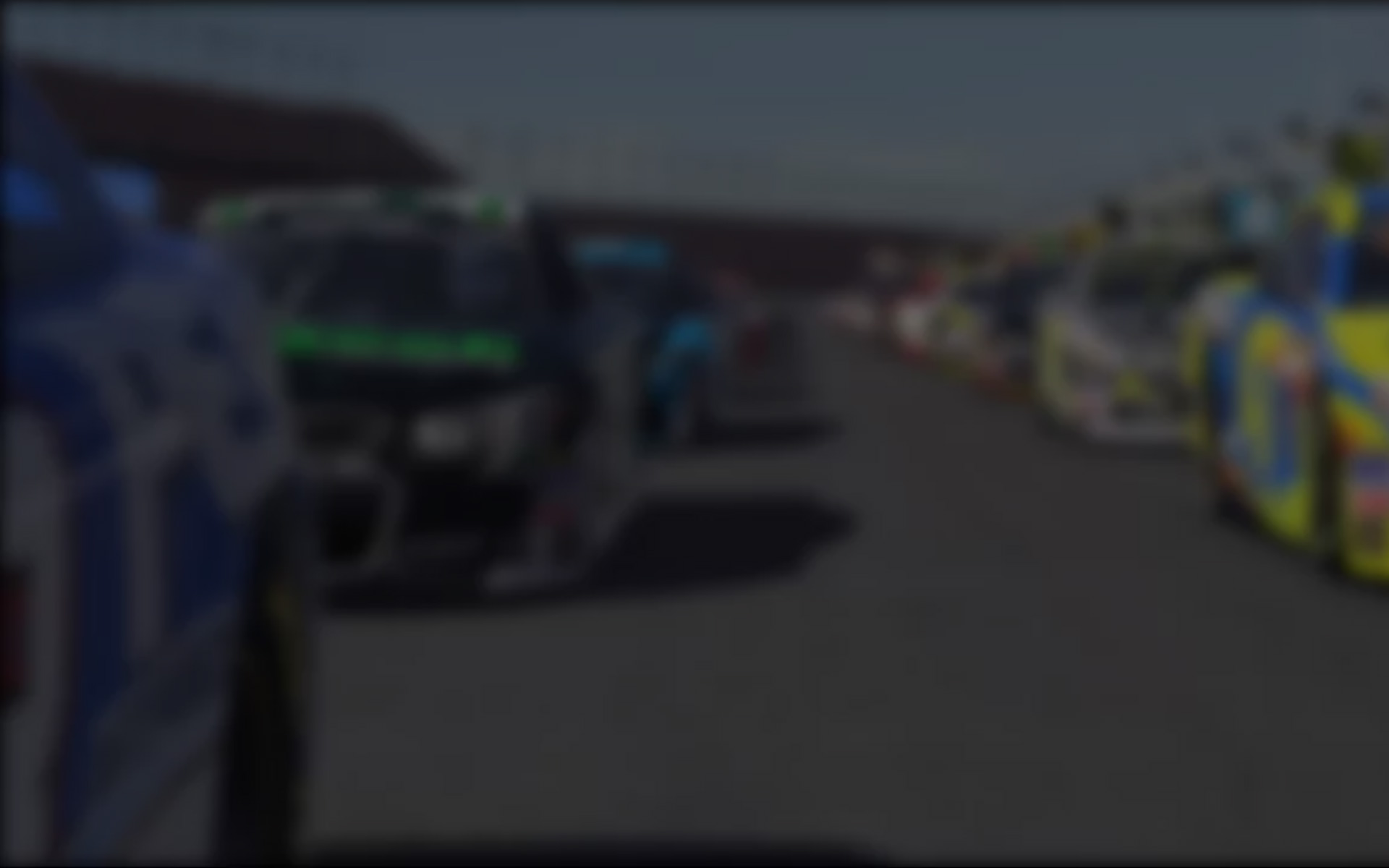 Round 6 of the iRacing.com V8 Supercar Championship took the teams and drivers to England and into a little village called Little Budworth for a week's worth of sim-racing at tricky Oulton Park.  With a new championship leader the series was starting to heat-up as the drivers tried to maximize their points before a Christmas season which usually means low strength of fields and low points.
Madison Down topped the qualifying runs with a 1:36.337 while Richard Hamstead would start from second after edging-out Rens Broekman in the final session. Vail Riches would start from fourth place with Brad Ryan and John Emerson just behind. Shaun Kelly started from seventh with Mitchell McLeod beside him on Row Four, while the last two positions inside the top ten were occupied by Samuel Collins and Corey Slade.
When the lights went green it was Down and Hamstead going side-by-side into Old Hall and this time there would be no contact as both drivers left each other room.  They continued to run in lockstep down The Avenue, allowing Down to hold the inside line for Cascades and consolidate his lead.
Hamstead was the first driver to pit when he darted into pit lane on Lap 7 with Broekman following behind.  Unfortunately for Down he forgot to pit and by the time he stopped and returned to the track on the following lap he had not only lost the lead to Hamstead but had fallen behind Broekman as well. Fourth-placed Ryan was another to visit the pits on Lap 8, a move which helped him maintain his position.
Not so fortunate was Justin Bright, the first driver to DNF from the race when he was hit by Ryan in the second chicane on Lap 10.  Bright spun around and while trying to rejoin accidently collected the other V8SFG car of Kelly.  Bright retired  then and there with Kelly parking his car four laps later.
Back up front, Lap 12 saw Broekman bobble exiting the first chicane, enabling Madison to get a run into Hislop's second chicane, move up into second and set-off in search of Hamstead.
The last driver to call at the pits would be Emerson, trying the longer stint.  The strategy worked to perfection in the early race as the fresh tyres and lapped traffic allowed Emerson to chase down the leaders and finish in second place.  This time around, however, Emerson didn't have as much lapped traffic holding up the leaders as in the previous race, so a podium finish was going to take an amazing drive equal to that of the early race.
Down pulled away from Broekman straight away and hunted down Hamstead.  In doing so, Down used-up most of his rear tyres and, by the end of the race, Hamstead was again stretching his advantage.  Indeed, the closing laps found Broekman closing-in on Down.  Meanwhile, Emerson's fresh tyres where helping him catch Ryan at a second plus each lap. He duly he caught Ryan with two laps to go but, due to the nature of this track, Ryan was able to position his car defensively to parry Emerson's advances.
Up front, Hamstead had no such concerns as he piloted the in2simgear TTL Ford Falcon to a well-deserved victory over Tatts.com driver Down with Xtreme Sim Gear Motorsports' Broekman joining them on the podium in third.  Ryan's V8SFG Ford finished fourth while Hamstead's teammates Emerson and Riches finished in fifth and sixth position. McLeod would finish in seventh position while Collins came home in eighth place ahead of Michael Fabian and Mitchell Abrahall.
Drive of the day went to Carywn May who managed to save 22L of fuel to avoid pitting, and advanced his ANZ Ford nine positions during the race.
Round 7 heads into Japan to take Twin Ring Motegi.
Top Five Drivers – Championship Points – Overall
1.    Richard Hamstead – 1509
2.    Rens Broekman – 1393
3.    Madison Down – 1256
4.    Vail Riches – 1211
5.    John Emerson – 1206
Split Two Winner: Matthew Barron
Split Three Winner: Desmond Hallam
Split Four Winner: Peter Latham
Broadcast done by the crew at www.v8sonline.com.au.  Catch a replay of the race here.
---
You may also like...
---