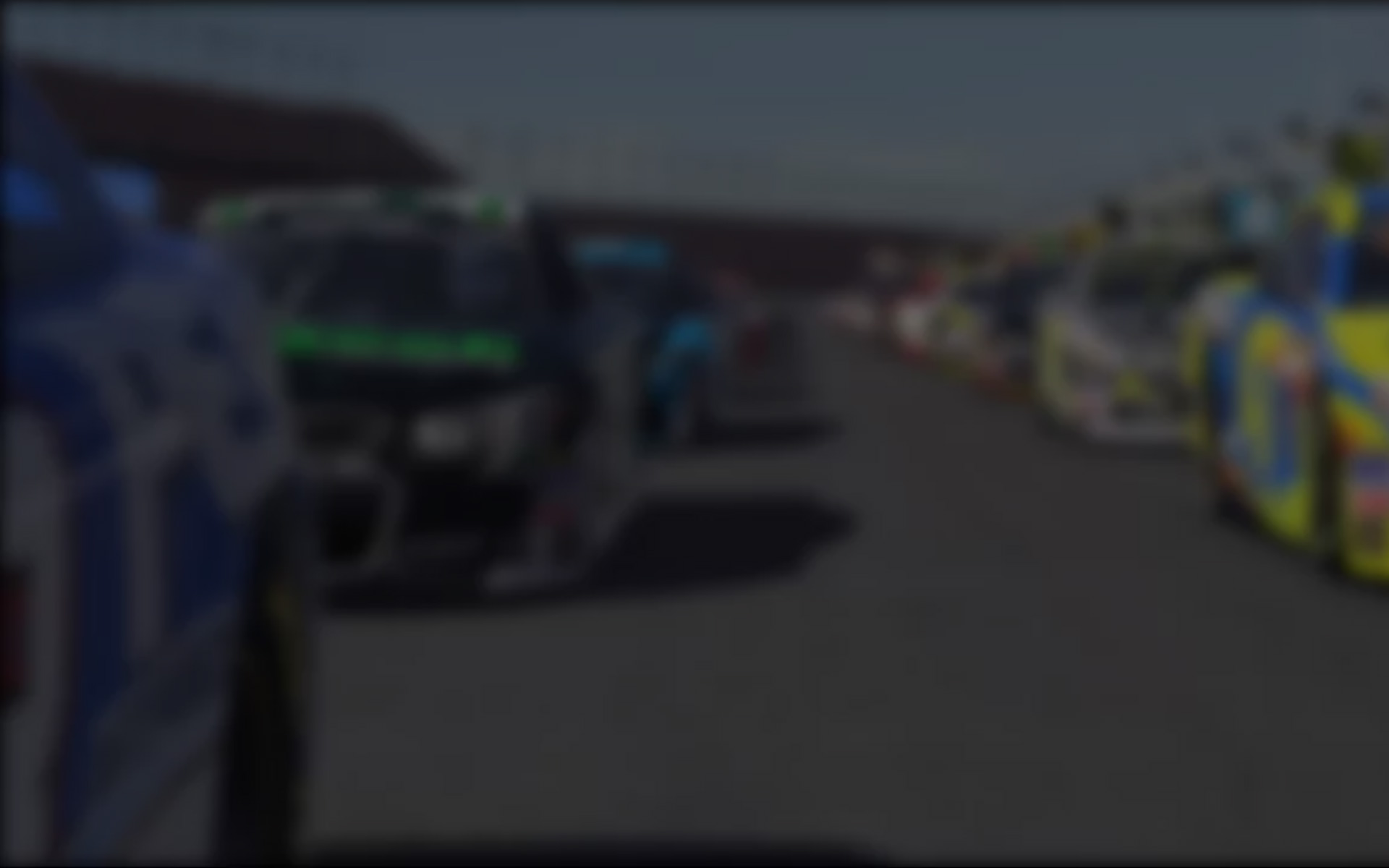 With the iRacing.com V8 Supercars Series settling in for Week 6 at the Legendary Mount Panorama, this was a race which brought out many veteran drivers who heard the call of the mountains once again. Twenty-one of some of the best iRacing.com V8 Supercar drivers showed up, but only one could truly conquer The Mountain.
Among the most difficult tracks in the world, Mount Panorama does not give out victory easily and every lap around this massive track is a hard fought battle. For 29 laps, the Ford Falcons raced for every position as tensions flared and fenders bent. In the end, it was Richard Hamstead who took home the Week 6 win and successfully conquered The Mountain in dominating fashion. With over a 20 second gap to the car behind him, Hamstead stayed out of trouble which is more than his competitors can say.
Starting on pole position with a lap of 2:06.117, Hamstead maintained his lead through the start and Hell Corner. After that, it was more a game of "come and get me" as nobody was able to successfully overtake him. The only two contenders were Madison Down and Leigh Ellis. Down, who started from third position, made a successful pass on Ellis at Hell Corner on Lap Two. By that time, Hamstead had developed a bit of a lead but Down was on the charge. By the end of the third lap, Down had closed the distance on Hamstead and was on his back bumper.
Unfortunately for Down, the pursuit was short-lived. The very next lap, Down took damage going into The Dipper and lost the ground he had gained on Hamstead. However, as he is no simple pushover, Down wasn't done just yet. A few laps later, he found himself on the back bumper of Hamstead again with Ellis joining the fray. It seems, however, that in the previous incident, Down may have taken some steering damage. As a result, he consistently outpaced Hamstead going up the mountain, but lost ground to Hamstead on the way back down.
The three leaders (Hamstead, Down and Ellis) entered pit lane together at the end of Lap 13. Upon exiting pit lane, Ellis got the jump on Down and reclaimed second spot. For Down, however, this was the beginning of the end as he slowly began falling back from Hamstead and Ellis. On Lap 22, Jarrad Filsell, who had been running a steady race, passed Down on their way through Griffins Bend.
Coming down to the final laps, tragedy struck for the second-placed Ellis as his internet connection went Houdini. Ellis would eventually rejoin the race but ultimately finished a lap down in sixteenth position. This was a huge blow to Ellis who had run an incredible race, had maintained pace with Hamstead and also set the fastest lap of the race with a 2:06.483. With Ellis out, Filsell and Down moved-up to second and third respectively with Ian Ford and Kurt Stenburg rounding out the top five.
Hamstead dominated the race from the very start. Leading 27 of the 29 laps (with Tobias Czerny leading two rounds during the pit cycle), Hamstead had it all going for him as he only acquired one incident point the entire race. Additionally, this race marked the return of V8s Online broadcast as Jay Kennedy, Daniel Briant and Kane Kraft gave full coverage of this event. Be sure to check out the link here to see a full replay of the race.
This Australian Strength-of-Field (SoF) race had a strength of 4254 and was spilt 4 times. Here are the top five finishers from the other splits:
Split 2/SoF 2172
1-Andrew Green
2-Sanjin Delalic
3-Martin Carroll
4-Todd Parkes
5-Paul Gorrell
Split 3/SoF 1549
1-Michael Parigros
2-Jason Scandolera
3-Scott Brown
4-Joshua Sawtell
5-Tony Clarke
Split 4/SoF 966
1-Shane Best
2-Taranto Twinrow
3-Jason Cossey
4-Brian Monger
5-Greg von Heraud-Parker
Officially halfway through Season 2, the battle for the championship continues to be a close one with only 146 points separating first and fifth. Beau Cattell holds the lead with 1256 followed by Shaun Kelly with 1171. The remaining top five spots are held by Marlon McMullen (1162), Ellis (1158) and Filsell (1110).
Going into Week 7, the iRacing.com V8 Supercars Series heads back to the United States for 22 laps around Sebring International Raceway. Located in central Florida, this 3.7 mile road course was originally the home of a World War II air base and is the oldest permanent road-racing circuit in the United States. This extremely bumpy track features 17 turns of various styles and should keep the drivers on their toes as they try to keep their cars from dancing across the wide-sweeping corners.
Be sure to follow iRacingNews as we continue our coverage of the 2014 Season 2 iRacing.com V8 Supercars Series!
---
You may also like...
---