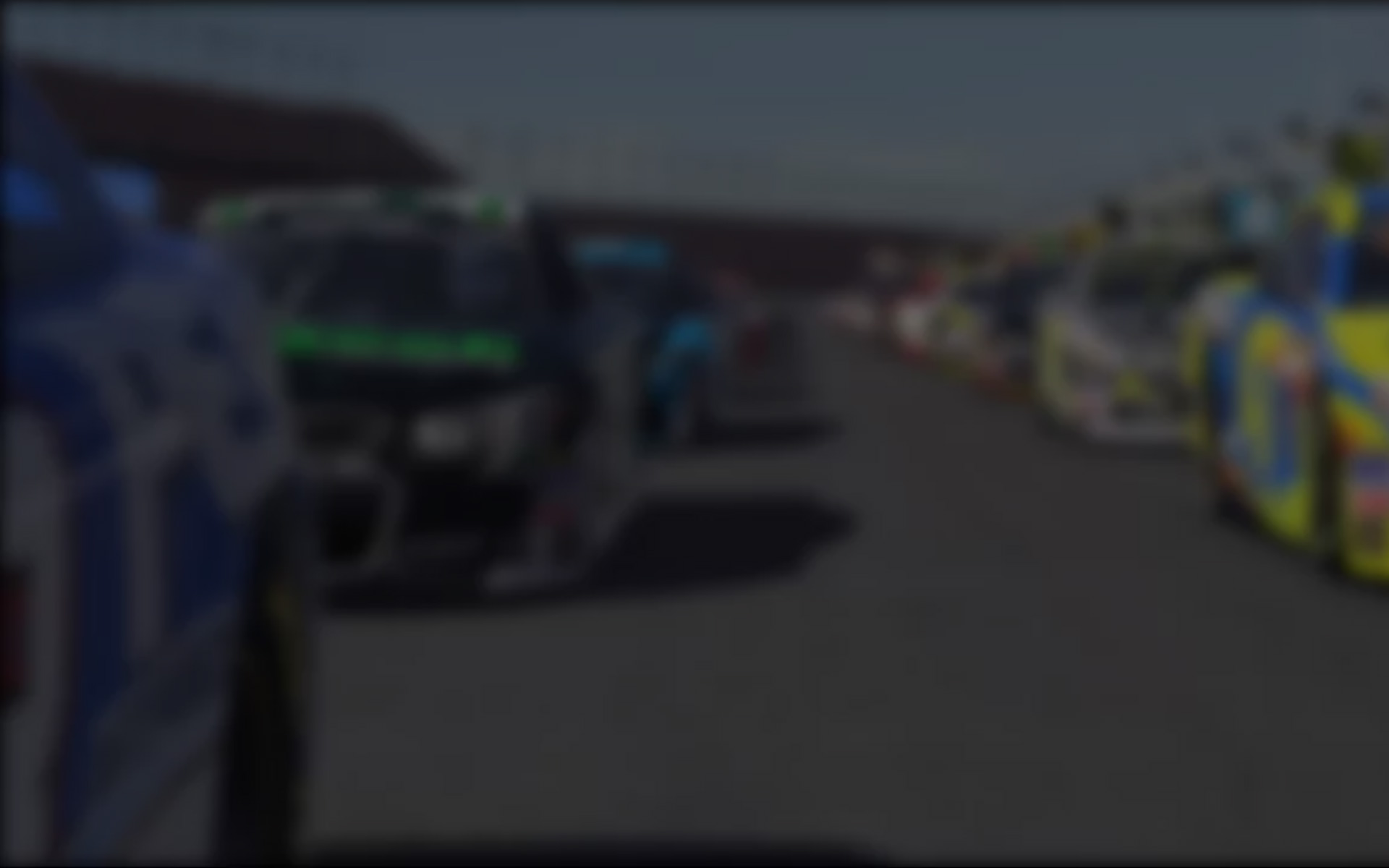 Scores First NASCAR PEAK Antifreeze Series Win
Danny Hansen survived a marathon race at Charlotte Motor Speedway last night and earned his first career victory in the NASCAR PEAK Antifreeze Series Powered by iRacing. After running at the front for much of the evening, Hansen took advantage of slip-ups by other front runners and delivered in the clutch on several late-race restarts where he out-dueled championship leader Chad Laughton.
"I'm really not sure where to even start," said Hansen. "I don't think it has really even hit me yet, such an amazing feeling to finally get a win at something I had worked so hard at for so long."
"Such an amazing feeling to finally get a win at something I had worked so hard at for so long." – Danny Hansen
Laughton had to settle for second, edging Pocono winner Michael Conti at the checkered flag. Brandon Schmidt finished fourth and Cody Byus came home with a solid fifth place.
Hansen did not lead until 19 laps to go when he passed Laughton and Justin Bolton shortly after a restart. Laughton, who led a race-high 79 of 200 laps, looked to take the lead back from Hansen but a caution flag with 18 laps remaining slowed his progress and proved to be a key moment in the event, as the rest of the online race was broken up into very short runs by frequent cautions.
The last restart was of the green-white-checker variety and began with Hansen leading teammate Conti to the green with Laughton in third. Hansen got the jump on the field and Conti slid into second, providing Hansen with a buffer between himself and Laughton, who had looked slightly faster on the short run all night. Hansen maintained a lead of a car length as he took the white flag while Conti and Laughton started to battle for second – which is exactly what Hansen wanted to see in his mirror. Laughton, even with his extremely quick car, did not have enough time to clear Conti and challenge Hansen for the win.
Early in the going, no one would have likely picked Hansen as a favorite to win even though he started from the sixth position. Ray Alfalla started on pole and led the opening five circuits before giving way to Joey Brown, who initially looked to be the class of the field. After an early yellow and subsequent pit stop, Brown came under attack by Laughton and could not hold him off.  Brown started a slow slide back in the field as his car could not keep up on the longer runs.  Finally he was involved in an accident with 12 laps to go, cutting his night short.  Alfalla was likewise destined for disappointment, eventually coming home a distant eighteenth.
After taking the lead for the first time on Lap 34, Laughton showed his muscle by being able to maintain the lead despite a strong draft which kept the leaders together. Laughton continued to lead as the race wore on toward the halfway point, but new challengers were appearing, namely Nick Ottinger and Kenny Humpe. Both drivers wound-up leading 33 laps, but Humpe looked particularly strong, especially on the long run. As other drivers started to fall off the pace late in a fuel run, Humpe maintained his speed and started to build a gap.
Unfortunately, Humpe cost himself a chance at the win when he slid through his box during a pit stop under the caution flag while leading. The miscue put him back in the field and, with his car not handling to his liking in traffic, he slid to twelfth at the finish.
Ottinger also had issues, though unlike Humpe his were not of his own doing. He chose to short-pit under green and as soon as he hit pit road the yellow flew. This forced Ottinger to drive through pit road without stopping so he would not go a lap down, which cost him all his track position and left him with too few laps to attempt a recovery back into the top five. This is when the door opened for Hansen to grab control of the race, which he did with his superb restarts.
Despite his runner-up finish, Laughton failed to build much of a gap in the standings. His lead is now seven points over Conti, who has been gaining ground since his early season struggles and climbed from seventh to second in the standings with his third place finish. Conti is tied with Jake Stergios who continued his consistent start to the season with a quiet run to eighth at Charlotte. At the back end of the top five, Ottinger overtook Humpe for fourth and now sits just a single point behind second spot. Humpe is another four points adrift and sits only one marker ahead of Alfalla, who dropped from second to sixth after his poor run.
After back-to-back exciting finishes, the NASCAR PEAK Antifreeze Series heads back to a short track as Dover International Speedway is next up on the schedule. With teams still struggling to figure out the new build, it would not be a surprise to see some familiar faces at the front of the field. One driver absent from the front lately has been defending series champion Tyler Hudson. He was involved in another accident early in the going at Charlotte and now finds himself twenty-fifth in the standings. Will Conti and Hansen continue their strong runs, or will there be another new face in victory lane? Tune into iRacing Live in two weeks' time to catch all the sim-racing action from the high banks of The Monster Mile!
---
You may also like...
---