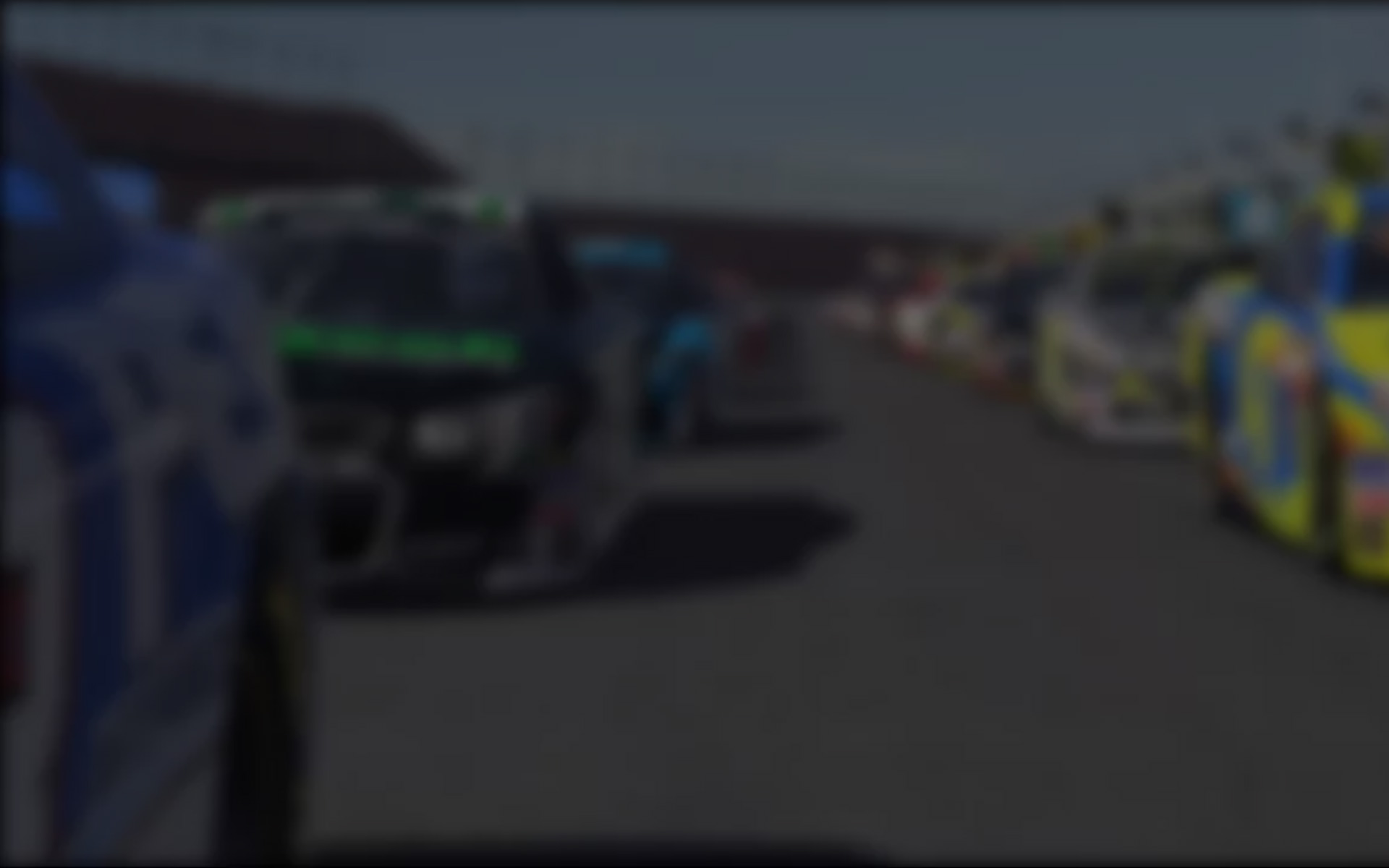 October 9th, 2017 by Richard J. Clarkson
Real-life Legends car racer, Corey Heim, won his 19th oval victory of the year in iRacing's running of the NASCAR Camping World Truck Series at the virtual Las Vegas Motor Speedway.
Heim, the 15-year-old from Georgia, better known as the "Badger," led 29 laps and started outside pole for the 2848 SOF race.
On lap 16, Heim made his move: Leader, Jesse Atchison, overwhelmed by the pressure Heim was putting to the back of his Toyota, slid high in One and Two and gave space for the Badger to claw his way past.  Over the course of two more caution flags and subsequent rounds of pit stops, Heim never relinquished the lead and outdueled and outdrafted Victor Bartlett and David Wiseheart to the checkers – respectively, Bartlett and Wiseheart finished second and third.
Scott Smith6, the Florida sim-racer piloting From A Dig Motorsports's The Black Dahlia Murder/Snap-on Chevrolet Silverado, finished fourth.
"Shoot," Smith6 said, standing beside his digital race hauler, "that was more funner than'uh baby marsupial hoppin' on'uh tiny trampoline!  Git 'er done!  Yeah, we'z been gitten' er done, alright.  Last week we finished runner-up.  Another top-five this week."
"Hell," Smith6 continued, "passed a lot of damn make-believe race trucks in this one.  Started 19th.  Reckoned I needed to come from the back and work on my passin' skills.  Know what I mean, Vern?  Shoot, any old dimwit can run fast by his self, but, start 'em in the back, make 'em pass some other folk, yeah, that's when the real drivers show up.  And I always show up.  Shoot, even after some fellar talkin' 'bout America ain't great slams into the side'uh me and makes me pass 'em all back again… yeah, I show up."
Smith6 improved 15 positions from where he started earning him honors of Phillips' Biggest Mover of the Race.
After Atchison got passed up by Heim, he stayed tucked up beneath the Georgian's tailgate, waiting for the draft to cyclone him past.
With 18 laps to go, however, Atchison, while locked into a five-truck, nose-to-tail battle for the lead, cycloned into the wall.  An attempted bump draft had gone awry.  Bartlett, his Hooters Chevrolet sniffing the lead, drove deep into Three, locked onto the rear bumper of Atchison's truck.  But, before the duo could rocket off Four and challenge Heim for the lead, contact.
Also collected in the fracas were the other three trucks in the five-truck lead train: Anthony Burroughs, Cornelius Scott, and Tyler Sifford.  Michael McLain and Gabriel Calhoun also sustained damage.  After starting on pole and leading the race's first 16 laps, Atchison, nicknamed "Eugene aka Worst Luck in iRacing," finished 15th, the last truck on the lead lap.
Michael Taylor rounded out the top-five.
The 45-lap sim-race endured three caution flags for 12 laps at pace car speed, one lead change, and an average lap time of 46.046 seconds; the race finished in 34 minutes.
Levi Zielinski finished sixth followed by Teddy Wykle in seventh and Michael Morris6 in eighth; David Naughton finished ninth; Calhoun finished tenth.
The series is at another mile and a half track this week: Charlotte Motor Speedway.  So, grab a drink and fill up your snack bowel, hook up your hardware, and hit the track!
---
You may also like...
---